1969 was a big year for Orange Amplifiers. It was when we found our mojo, what we call the Voice of the World.
50 years on we take a look at the world of Orange and how together we've shaped the Voice of the World.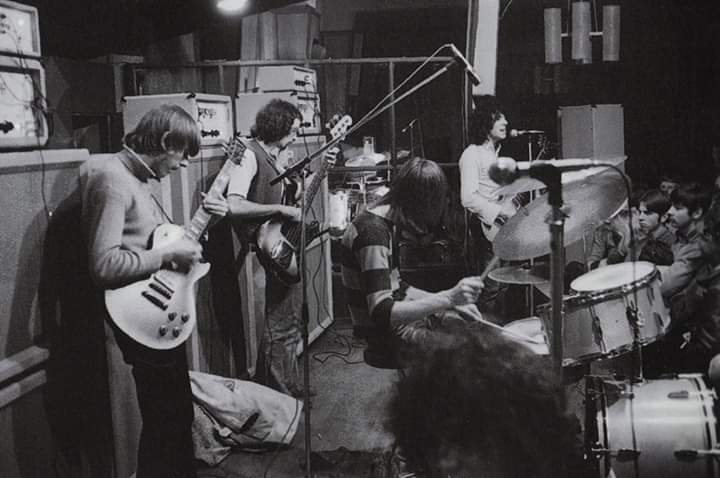 Having started by making super clean lead amplifiers Orange soon began to look for ways to increase the 'perceived' volume at the request of our customers. Our equipment gave out a true 120 watts RMS but lower-powered models from other manufacturers sounded louder.
The solution came to Orange Amplifiers CEO Cliff Cooper after a meeting with a leading ear specialist in London's Harley Street.
The brain can register distortion as pain in order to protect the mechanism of the ears. The jagged harmonics produced by the distortion work the ear's conducting bones harder, and this is perceived by the audio nerves as an increase in sound level. The original Orange amps were especially clean sounding with very little distortion. In order to correct the situation, we gave the amp a lot more gain and modified our circuitry. These changes gave birth to the 'Orange sound' – best described as 'fat' and 'warm' – more musical and richer in harmonics, with a unique saturation in the mids.

Cliff Cooper
Success soon followed with a boom throughout the 1970s, but changes in circumstances meant that by the end of the decade production had almost stopped. Yet Orange Amplifiers remained at large and were gathering an unseen legion of fans.
The Voice of the World was resuscitated in 1997 when Britpop pioneer Noel Galligher visited Cliff Cooper and now Technical Director Adrian Emsley in Denmark Street where Cliff ran a shop. Noel wanted to add more crunch to his vintage OR120, eventually leading to the development of a new amplifier, the OTR. This heralded the second coming of Orange. This was closely followed by the AD series in 1998.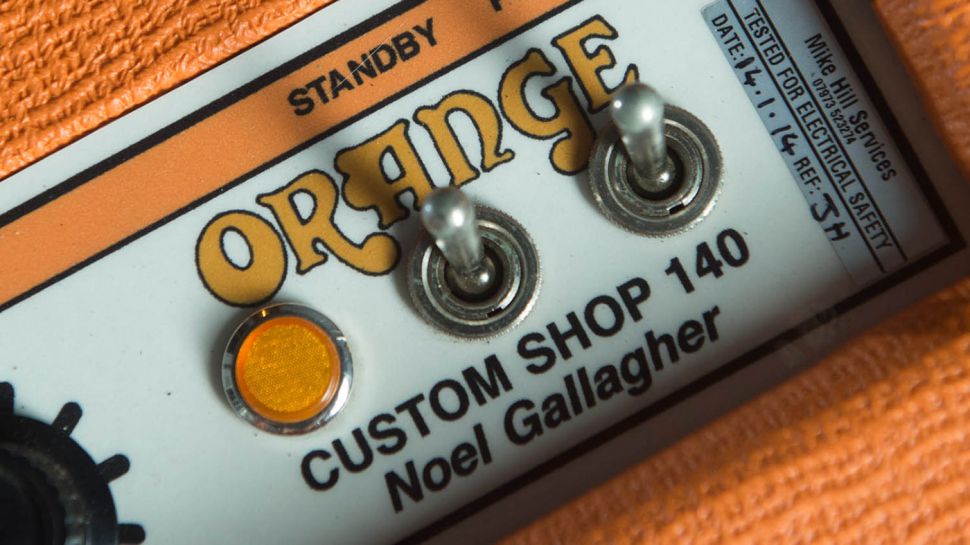 In a world far, far away from Britpop, stoner rockers were also adopting vintage Orange within their wall of sound. The embers of Orange Amplifiers, smouldering in the limelight of yesteryear, went from a flicker to a roaring flame when an Orange OR120 was featured on the album insert of Sleep's 1998 release 'Dopesmoker'.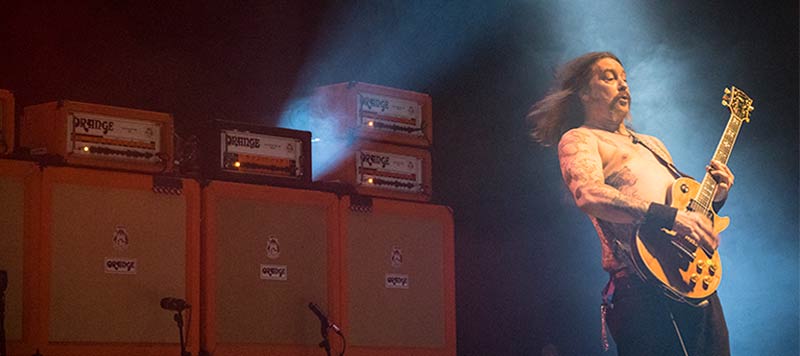 Since the 90s, Orange Amplifiers and the Voice of the World has become synonymous with music from every genre: Country to Metal, World to Jazz. Even from our humble beginnings, Orange has always been a David and Goliath-like story, we're not just a business full of execs in suits, with Orange it's personal. We've done all the jobs possible: roadie, performer, rigger, producer, repair engineer; in other words, we understand your voice, it sounds a lot like ours.
Shaping the Voice of the World
1.     Built to last, our speaker cabinet design went beyond the designs at the time. 18mm birch-faced marine ply, a central baffle post and tough Orange vinyl was the standard we set. It still remains to this day.
2.     Wooden skids replaced plastic casters. No more broken wheels and the skids act as a coupler, enhancing the bass response.
3. Orange Amplifiers own our factories, unlike other OEMs who use contractors we're able to manage every step of the production process in house, irrespective of the country of manufacture.
4.     By over-specifying on the transformers, we reduce the amount of heat building up inside your amplifier, meaning longer operational life. 
5. Those very transformers prevent the amplifier from throttling the output signal, which means passing the whole frequency spectrum without losses to the top and bottom of the range.
6. Almost all our amplifiers (bar the Terror Bass) feature a tube buffered FX loop ensuring the signal chain isn't compromised at any stage.
7.     Analogue is the standard, that means no digital modelling. Only the highest quality components and that all-analogue design is what brings Orange Amplifiers tone to life
8.     We created the first-ever digital amplifier with the OMEC Digital back in 1974.
9.     While we launched don't mess with what's inside the amp we've brought the same commonsense Orange thinking to the digital era with the OMEC Teleport, a latency-free AD/DA converter, marrying up old and new technology and super simple to use.
10.  We justify our all analogue circuitry through what makes Orange 'Orange'. Just switch the amp on and you'll get what we mean, no tone hunting required. Simply plug and play.
11.  Built for international touring artists as well as home use, wattage switching options are designed into many of our amplifiers. Also this feature is ideal for pushing your amp to the edge.
12. Experimentation is our bag, take for instance the Rocker 32 which features a two 10" Voice of the World speakers which can run in mono, stereo or even patched one side wet and the other side dry.
13. Speaking of those Voice of the World speakers. What makes them unique is a very fast and tight bottom end that speeds up with more overdrive, alongside a vintage sounding top end.
14. Our flagship Rockerverb MkIII is built on three generations of development based on user feedback, featuring a four-stage 'dirty' channel that gives mid-range crunch the more you crank it.
15.  We've also led the revolution of lunchbox proportions with our now discontinued Tiny Terror heralded as "the most important guitar product in the last 30 years" – Guitarist Magazine. Although you can't buy the original anymore, we now do a 30-watt version, doubling the power!
16.  Innovation is something we're proud of, and we're keen to support innovators too such as Kelby Ray of The Cadillac Three. His lap steel rig brings out both the highs and the lows taking the grit of the AD200-MK3, and the crunch and full-bodied mid-range of the AD30HTC and OR15H.
17.  It's not just Kelby who's at it with innovation. Tom Petersson of Cheap Trick's monster rig features both Orange bass and guitar amps pushed to their limit, Petersson's sound comes from when the amp is "about ready to blow up", but they don't blow up…
18. See number 5.
19.  Orange Amplifiers, valve or solid-state, are made to bring out the expression in your playing, offering a dynamic low-end with a focused mid-range and harmonics that are present across the full frequency spectrum.
20.  Most amps are black. We can do black, we prefer Orange though.
21.  Our solid-state amplifiers are based on achieving that classic British Orange valve tone, only much lighter.
22.  We might over-engineer our equipment, but that's why we're on the rig list for most major equipment hire companies.
23. One example of why is that we lay extra-thick PCB traces (Rock and Roll, I know!) to prevent impedance from building up unwanted heat.
24.  Alongside the lunchbox design, we also recognised that people are using pedals more and more. So we created the Pedal Baby 100 which gives you all that Orange clean tone in a portable unit, leaving you to add whatever you need on top. 
25.  It's as much the genius that creates our technology as it is people we learn from that makes Orange Amplifiers the Voice of the World.
https://orangeamps.com/wp-content/uploads/2009/10/Voice-of-the-World-Gold-Label-Speakers.jpg
2001
3000
Jamie Smith
https://orangeamps.com/wp-content/uploads/2018/04/Orange-Pics-logo-307px-279x103.png
Jamie Smith
2019-12-18 16:00:03
2019-12-17 23:48:13
One World, One Voice: Orange