El Amir and the Orange Acoustic PRE on tour …
Hi Folks, my name is Amir John Haddad – El Amir, flamenco guitarist and multi-instrumentalist currently touring with Hans Zimmer's new show "The World of Hans Zimmer".
This show requires many different sounds and instruments for each song. We are performing Hans´s most famous film scores such as Pirates of the Caribbean, Gladiator, Pearl Harbour, Mission Impossible, Rush and many more. Therefore I am in charge of all electric guitars, Flamenco and nylon guitars, Greek Bouzouki and the Ukulele!!
In the first place it is a huge honor and joy to be featured as one of the soloists for this new show and with it comes the responsibility of having a good and solid sound. The important thing is to achieve that the sound of your instrument fits into the mix, the musical concept and even cuts through in big arenas. For this tour, I need various instruments.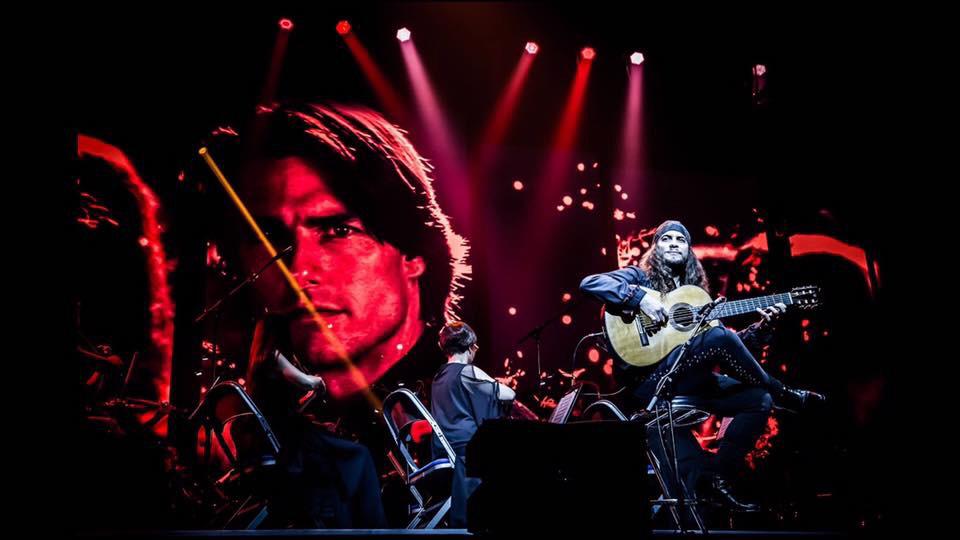 The electric side is covered with my two electric guitars. One is an old Fenix Strat by Young Chang. Actually it is the first guitar I bought when I was 14 years old. I upgraded and customized it with new Seymour Duncan pickups, Schaller Vintage bridge, new jumbo frets, new wiring, electronics, knobs, etc. The other one is a special edition by Samick with Avalon inlays and amazing woods, it is more like a PRS Style guitar with double humbuckers.
For the acoustic set I have chosen to bring my El Amir signature flamenco guitar built by Jose Salinas. It is a guitar made with very old cypres and an amazing sounding cedar top which gives me the warm and yet punchy attack I love. It is powered by the amazing Carlos Amplification custom VIP DM with a piezo and condenser mic inside. I use the flamenco guitar in songs like "Mission Impossible", "Pearl Harbour" or "Gladiator".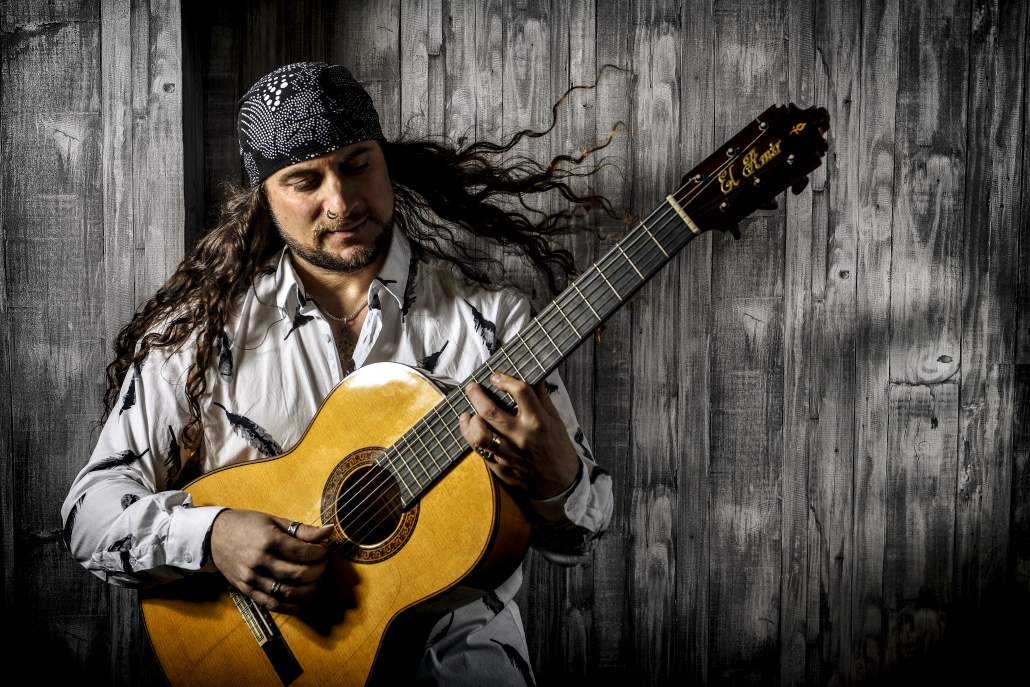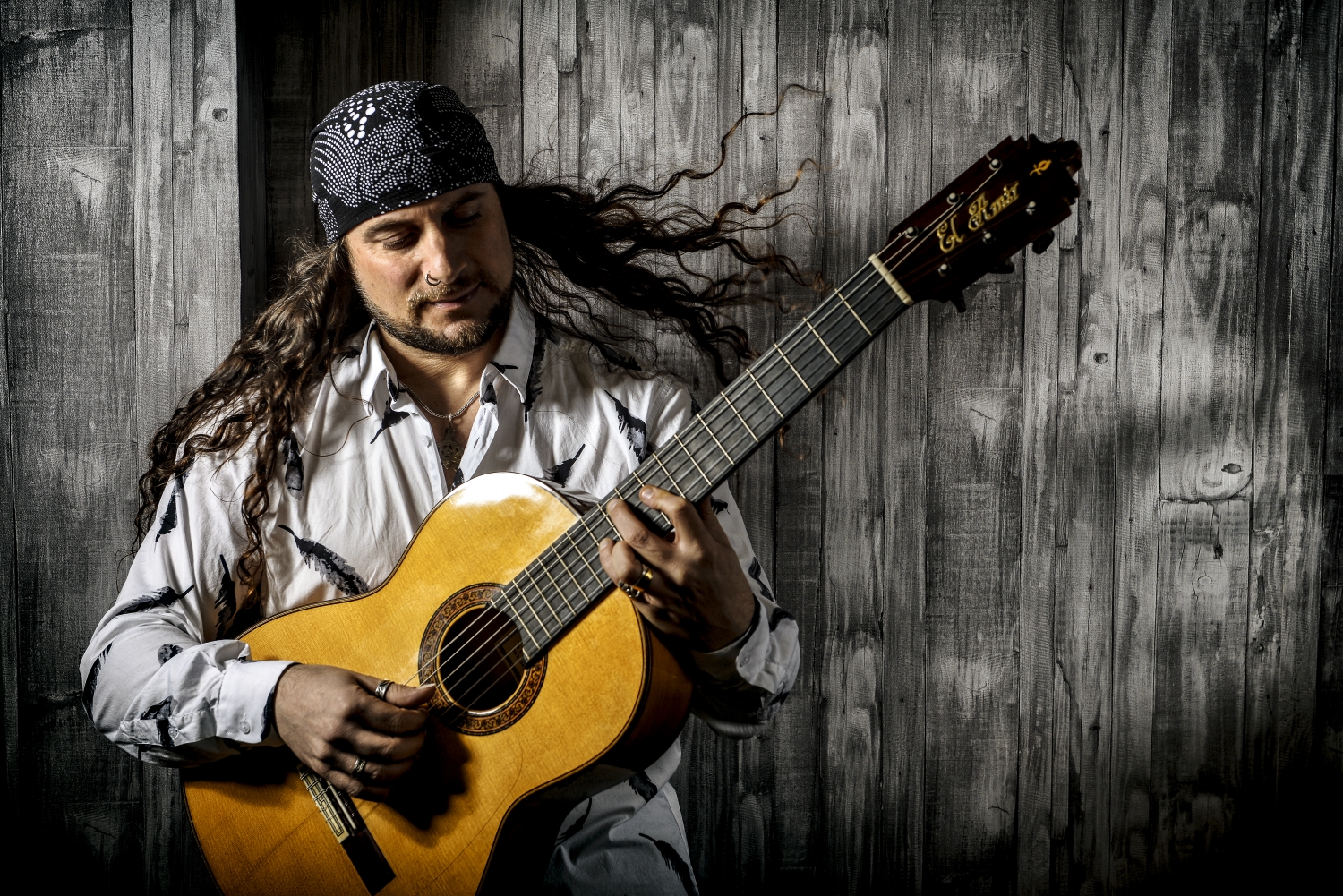 For some of the other songs such as "The Holiday" or "Spirit" besides the electric guitars I am using a new electric nylon guitar called the Nylocaster. These guitars are actually Stratocasters with nylon strings modified by Ben Woods and have a special (and secret) passive piezo. No volume nor tone knob, just pure piezo sound!! I am endorsing his guitars and so far the result is very very good. My greek bouzouki has a great Schaller acoustic pickup. It delivers a very round acoustic sound.
And NOW ladies and gentlemen!!! I have to tell you the ultimate secret I am using on this tour to make my acoustic setup sound the way it sounds now!! It was important for me to achieve a huge and clear sound that would still have all the intimate aspects of an acoustic instrument. The emotion of sound has to be just right to express yourself properly. Not too long ago, actually, at Winter NAMM 2019 I was approached by Danny Gomez from Orange to try the new pedal called the Orange Acoustic Pre. As you all know it is a twin channel device with separate EQ settings, individual inputs and outputs, frequency shapers and many more features.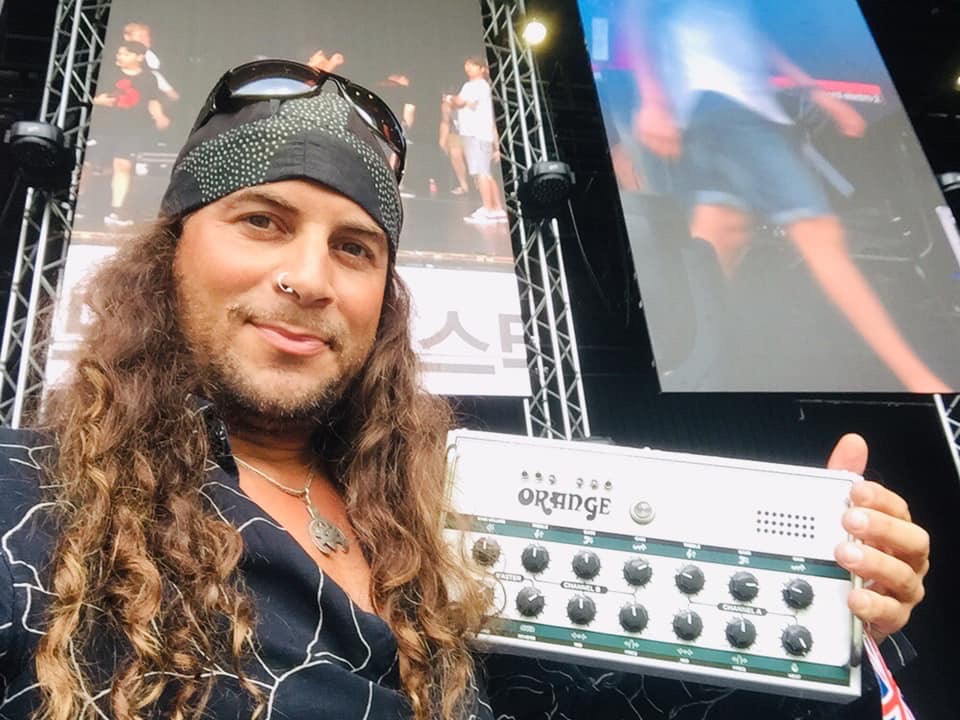 The interesting thing that captured my attention was the "Heat button" with adjusts the amount of valve sound you want to add to your line. This was one of the key element (if not the one!) for me to have a powerful line signal and yet being able to enhance the sound with a warm and natural touch. I have always been playing my flamenco guitar in front of a mic, which I still do in Mission Impossible, so I needed a great preamp that would help me to enhance the line in order not to lose that acoustic vibe of the instrument and make it fit and blend perfectly into the orchestral arrangements and symphonic sound of the show. I am running all three instruments, the flamenco guitar, the nylocaster and the bouzouki through the Acoustic Pre.
On my pedalboard, I also have a tuner (obvious …laughs) a chorus, delay, line selector (to set the output signals of each instrument equally) and an additional EQ for when using the Bouzouki (you need a little extra kick there for the mid & treble). I am very happy with the result of this sound combination and the Acoustic Pre is an authentic and reliable "working horse" for these live situations. The feedback and reactions on social media about my playing and sound on this tour have been overwhelming and very positive so far. That should be a good sign, I guess!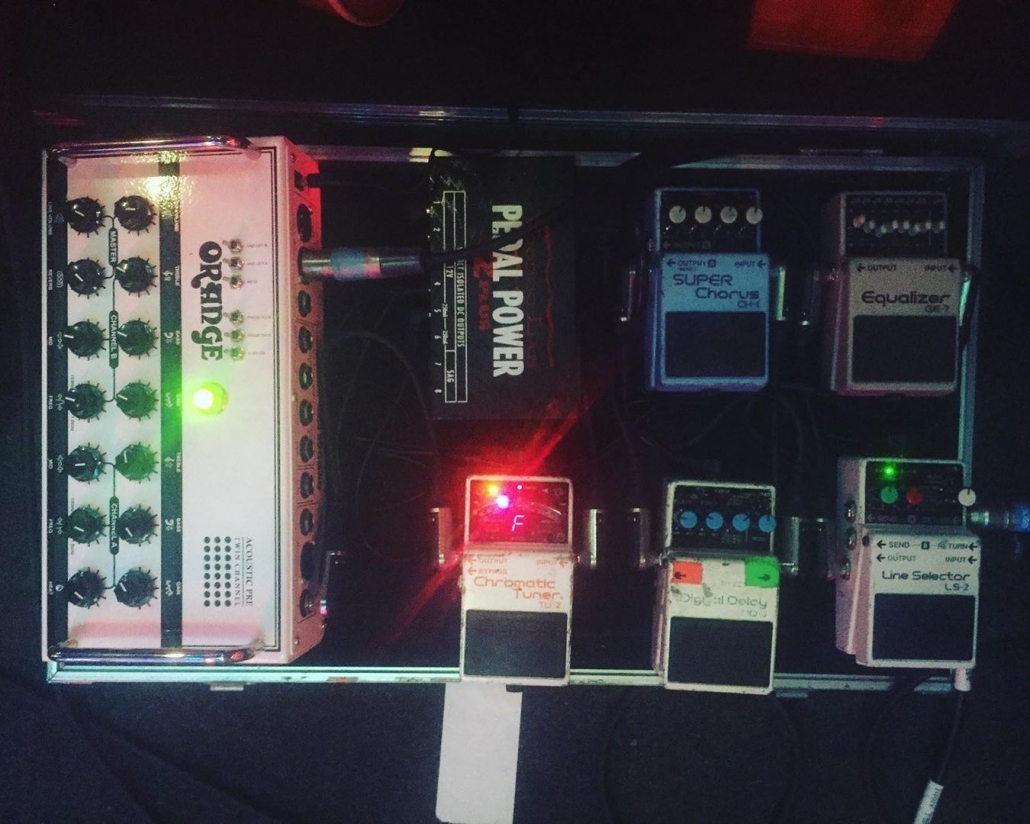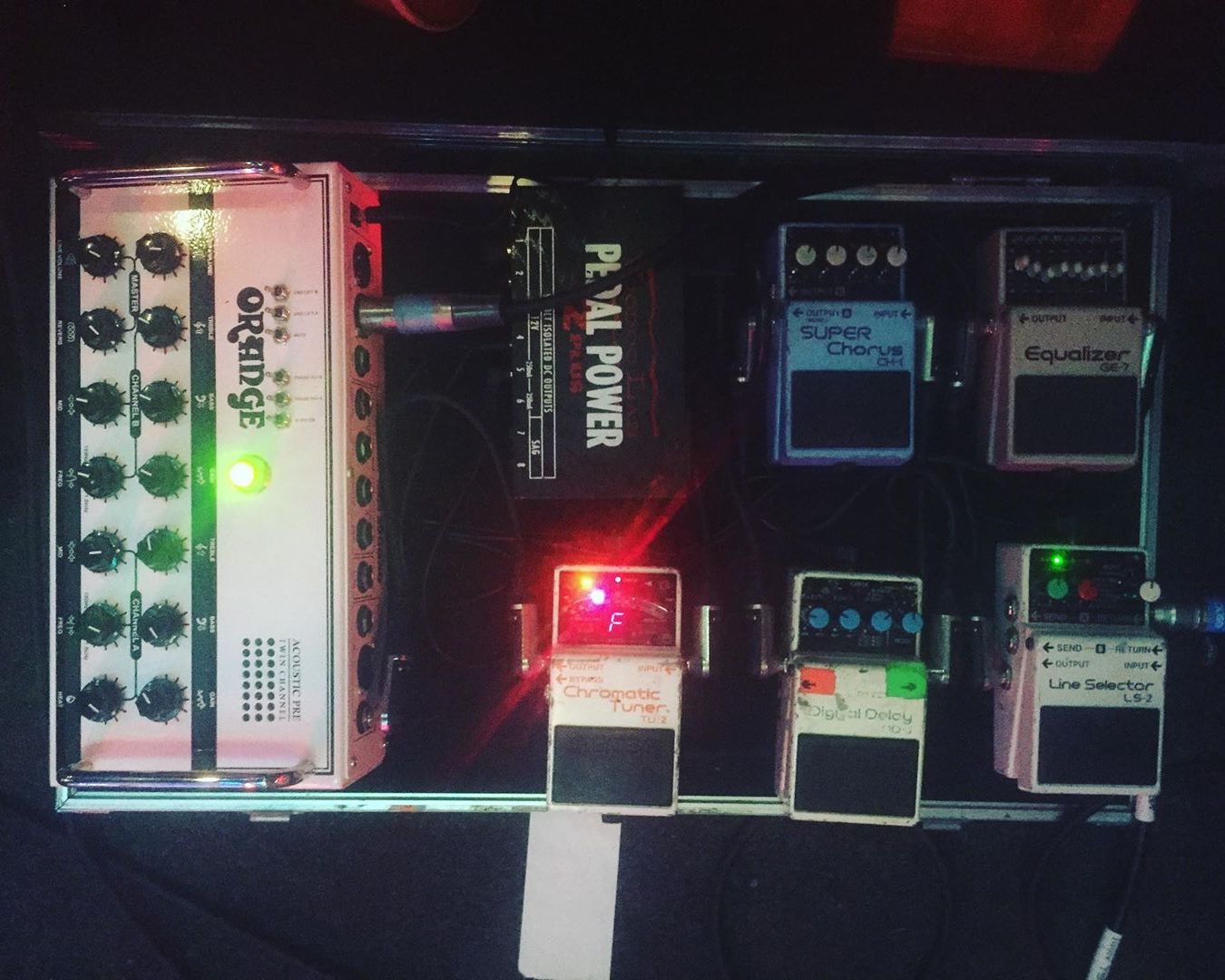 I am happy to share this experience and knowledge with you! Music, sound and creativity have no limits and we all have to learn from each other in order to grow!! All the best Folks and hope to see you soon live!!
Yours truly,
https://orangeamps.com/wp-content/uploads/2019/11/El-Amir-Acoustic-PRE-20.jpg
1333
2000
Danny Gomez
https://orangeamps.com/wp-content/uploads/2018/04/Orange-Pics-logo-307px-279x103.png
Danny Gomez
2019-11-20 14:30:14
2019-11-21 09:06:02
El Amir and the Orange Acoustic PRE on tour …