As we're all well aware Orange is known around the world for making kick-ass amps. But that's not where their abilities end and in recent years they've also produced some mean pedals…and they're all right here for your pleasure.
TWO STROKE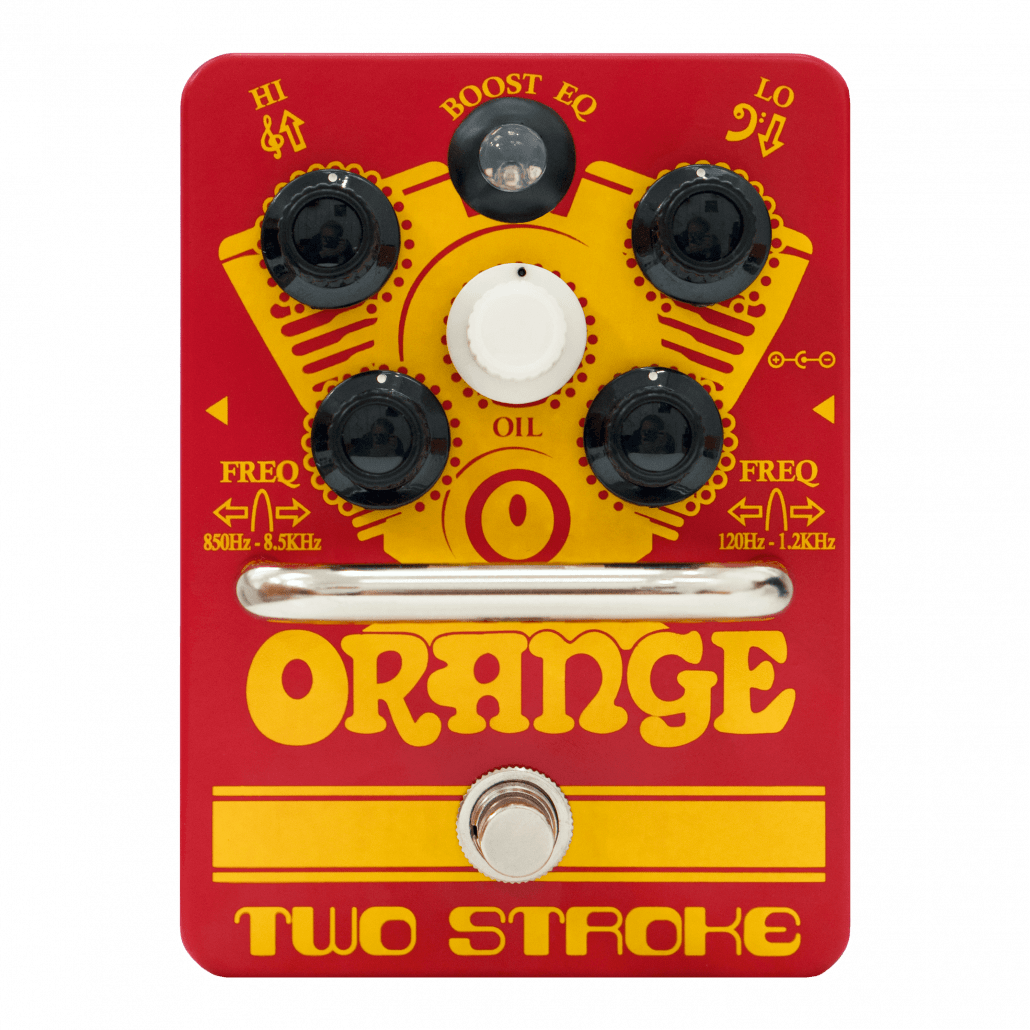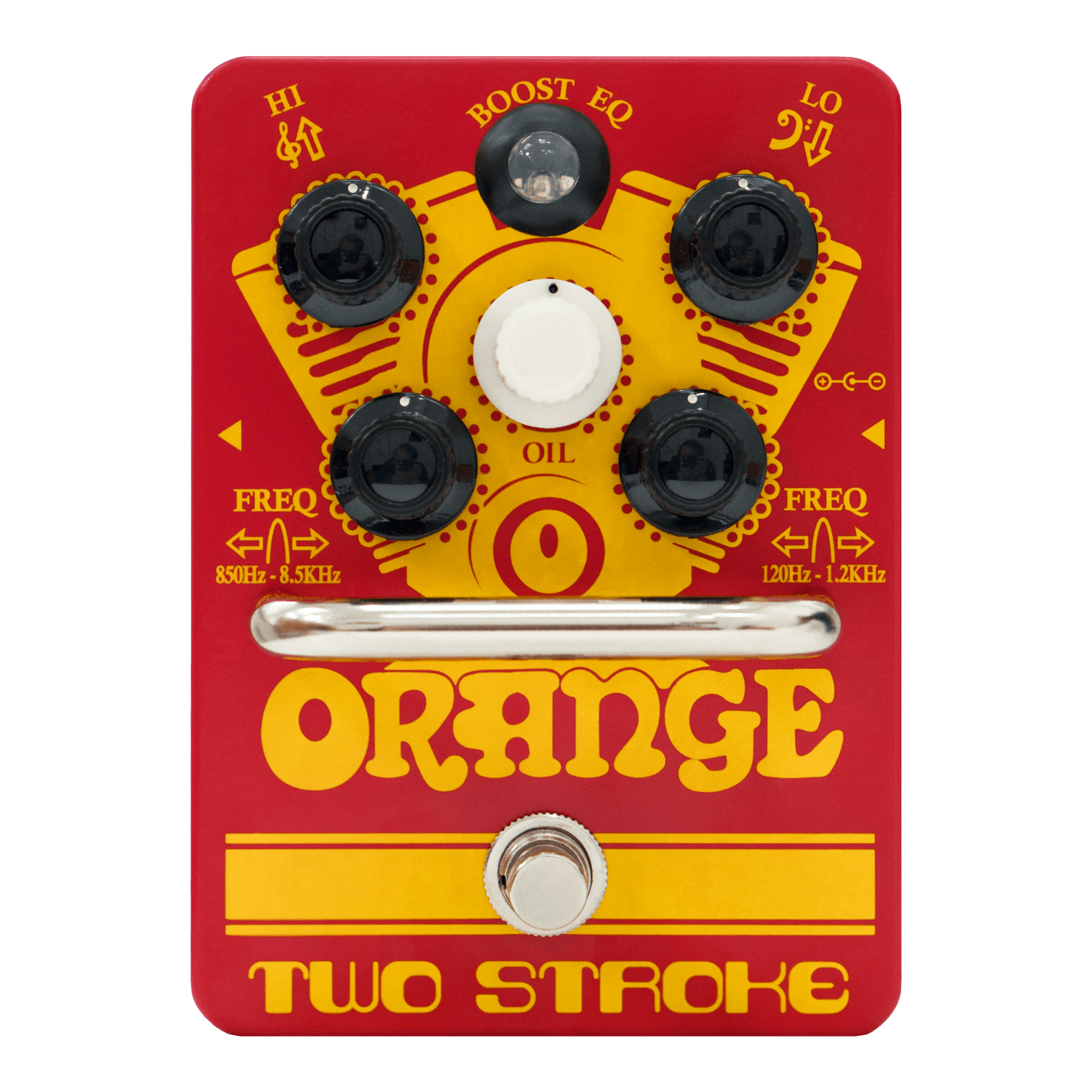 12DB CLEAN BOOST
ACTIVE DUAL-PARAMETRIC EQ
TRANSPARENT BUFFERED BYPASS
Orange's version of a 'clean boost' pedal combines an active dual-parametric EQ and up to 12dB of output boost. The Two Stroke is ideal for fine-tuning your sound or pushing your amp's front end; subtle tweaks can add an extra dimension to solos, whilst more aggressive use of the pedal's EQ can sculpt entirely new sounds. The Two Stroke can add an extra channel to your amplifier or re-voice your guitar's pickups completely. Crank the high mids to jump through the mix, cut the low end to remove the woolliness that normally occurs with traditional boost pedals, or leave the EQ flat to hear more of what you already like.
The Two Stroke is also great for bass and acoustic guitars as a practical tool to remove unwanted 'honk' or feedback, making this pedal a valuable addition to any musician's setup.
FUR COAT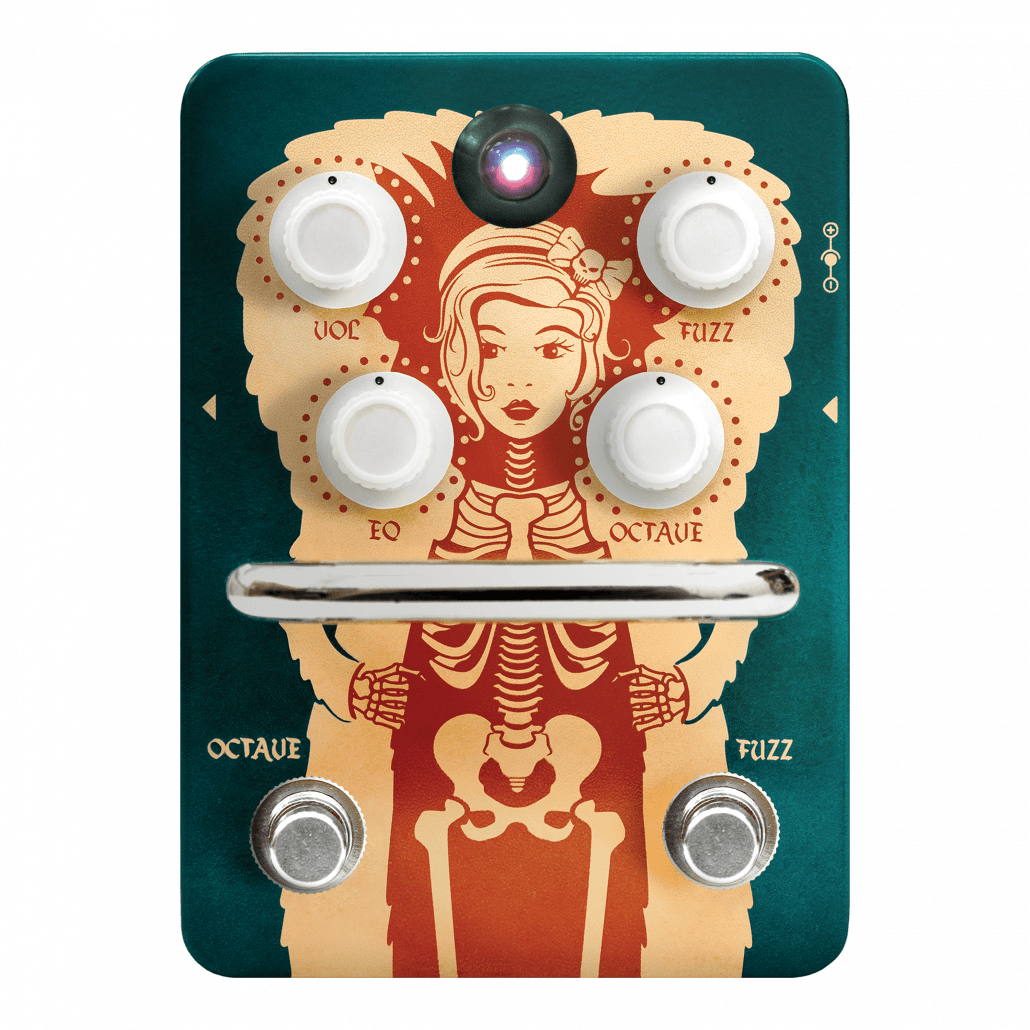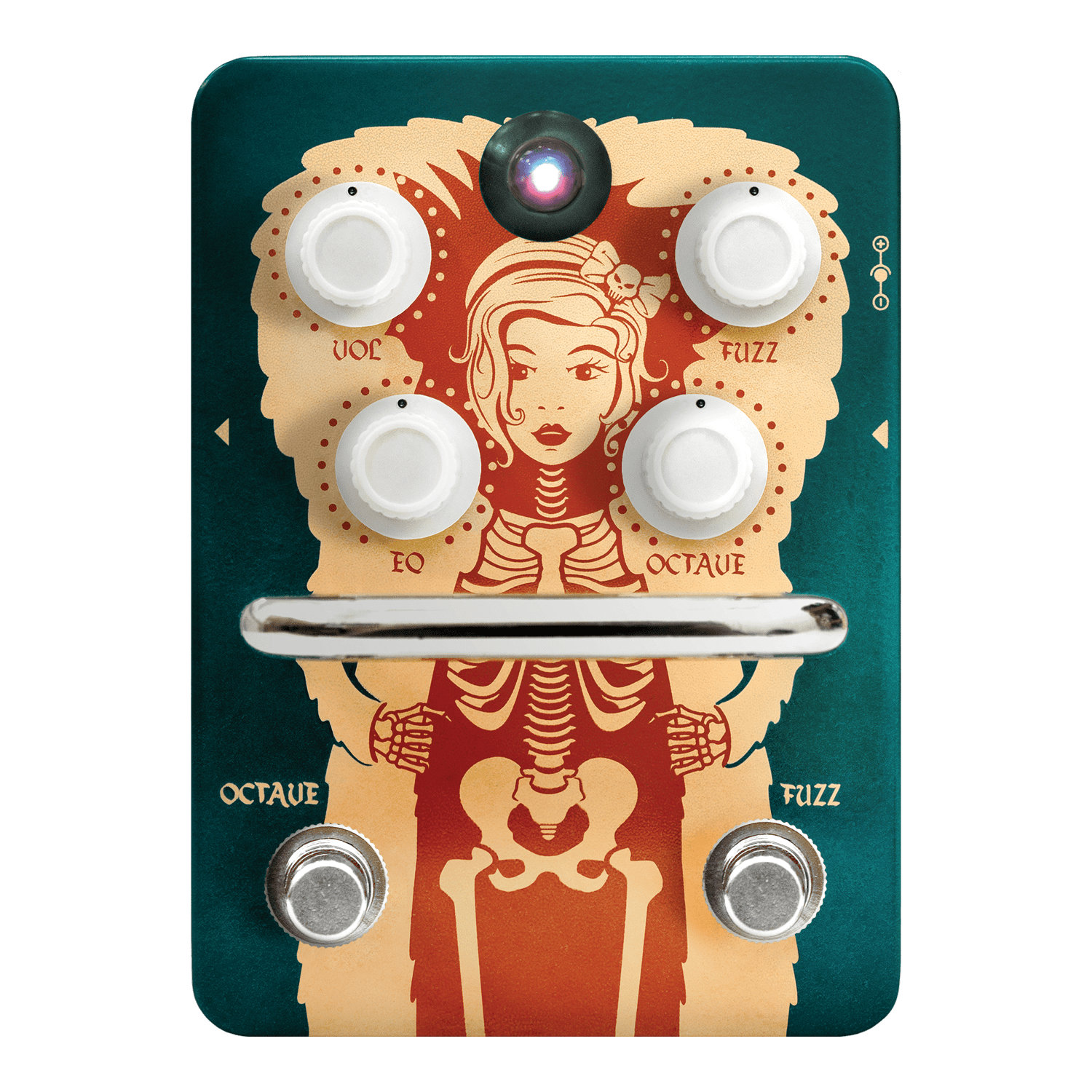 VINTAGE FUZZ
ADJUSTABLE OCTAVE
GENUINE TRUE BYPASS
Loosely based on the vintage Foxx Tone Machine, the Fur Coat Fuzz takes its inspiration from the great fuzz pedals of the 70's.
The Fur Coat gives you a fully controllable octave fuzz pedal. Separate switches mean you can choose between Fuzz or Octave Fuzz. The controllable Octave up fuzz means you can bring in the fuzz to whatever level you need and the EQ allows you to boost your Treble or Bass.
The Fur Coat is Orange's only True Bypass pedal. This is because a fuzz is better at the beginning of the chain where it interacts directly with your guitar. Placing the pedal further into your signal chain will give the fuzz a more distorted tone.
KONGPRESSOR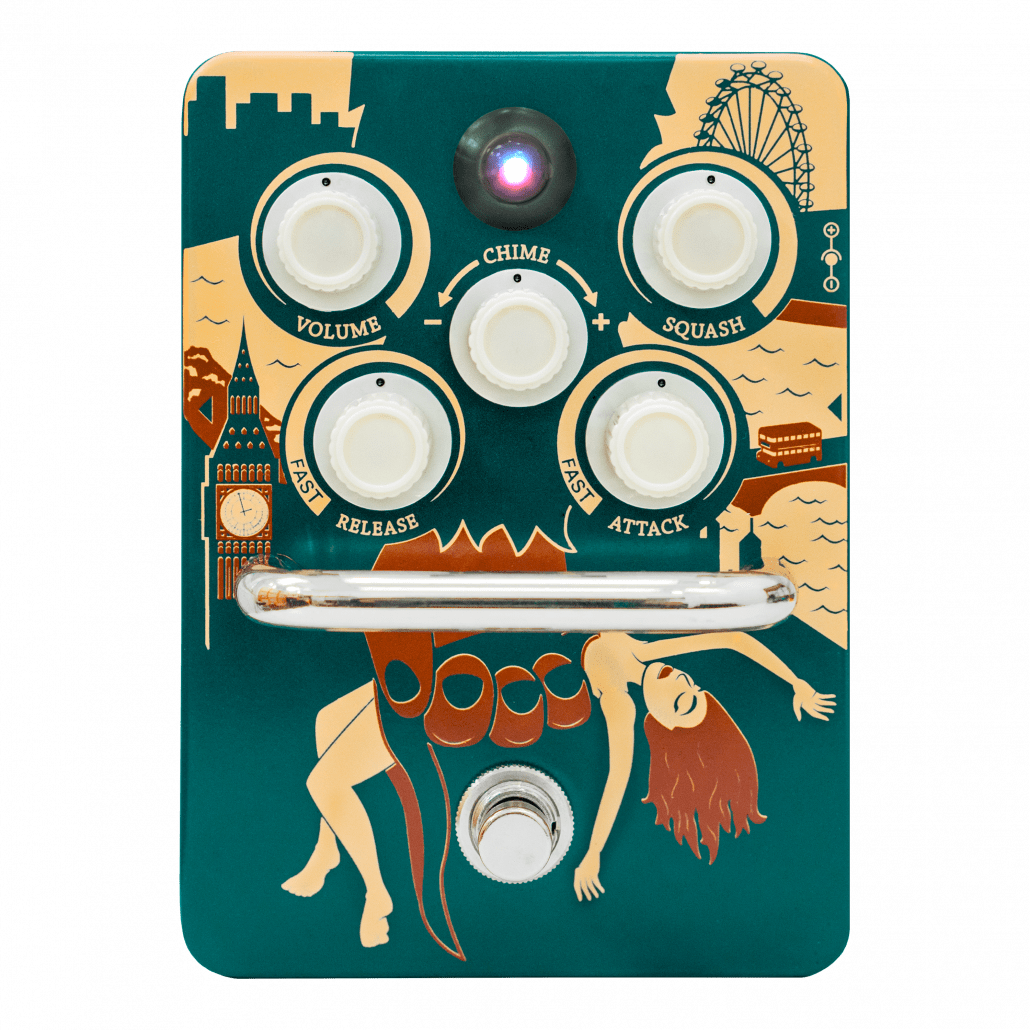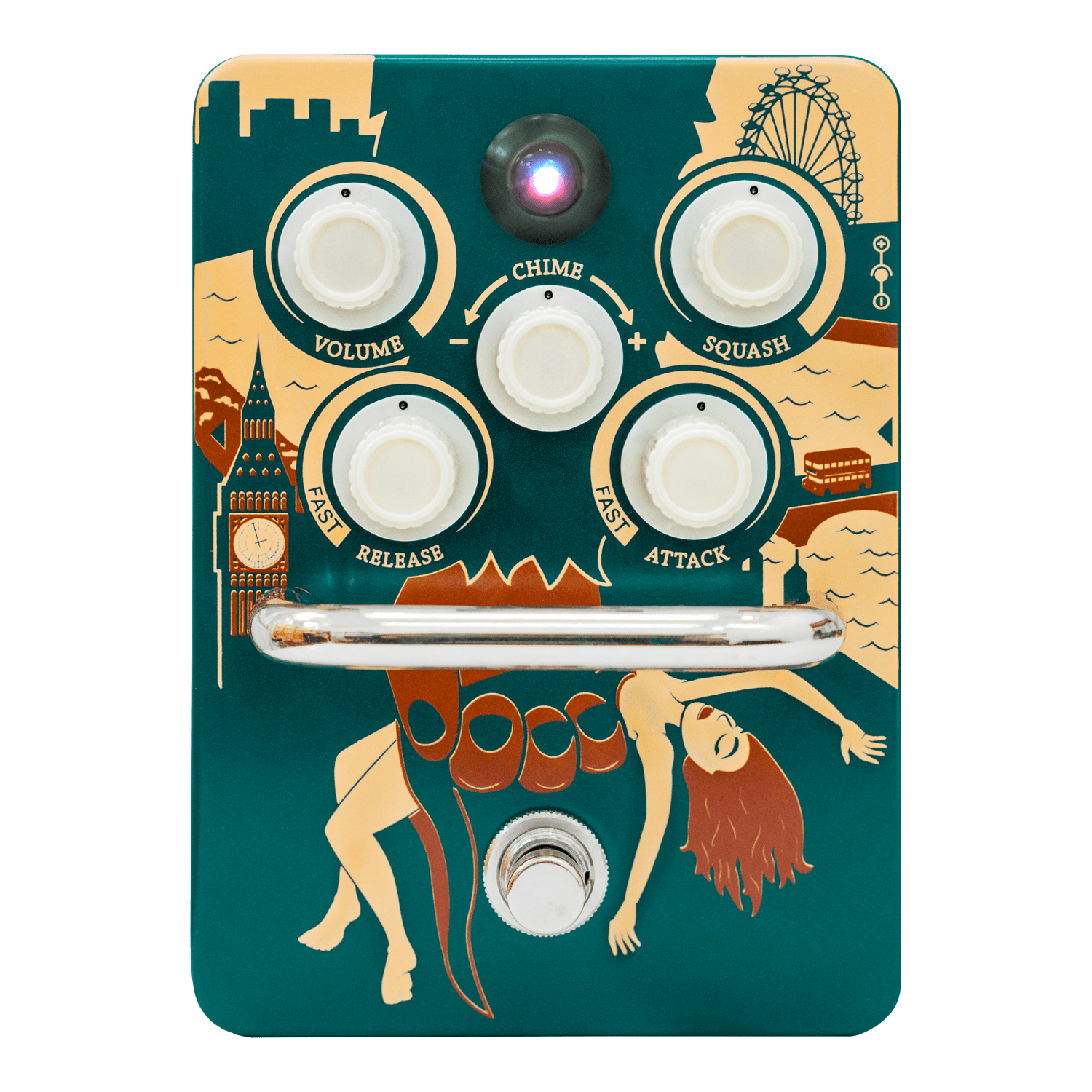 OPTICAL CLASS A COMPRESSION
12DB CLEAN BOOST
TRANSPARENT BUFFERED BYPASS
The Kongpressor is an analogue Class A compression pedal which adds an organic three dimensional quality to any rig. The pedal takes its inspiration from some of the world's most iconic vintage optical studio units, employing a re-issue of the famous Vactrol VTL5C3 optocoupler that was responsible for the sound heard on countless hit records.
At lower compression levels the Kongpressor's transparent but somehow fattening. It adds mojo and a glossy sheen to your core tone that you'll truly miss when it's bypassed. Even at extreme settings, the tone always remains musical with great feel under the fingers.
With controls for attack and release time, the Kongpressor can be tweaked to fine tune the transients and the bloom. Orange worked hard to make these parameters as forgiving as possible whilst still allowing players full control over the compression response. The pedal also features an active treble control for adding in extra chime and jangle, making the compression even more transparent.
Of course it's outstanding for crystal clean country pickin', but the Kongpressor also maintains the bottom end that seems to get lost in many compression pedals. This means it behaves impeccably with overdrive pedals or the lead channel of your amplifier, adding fullness and sustain.
GETAWAY DRIVER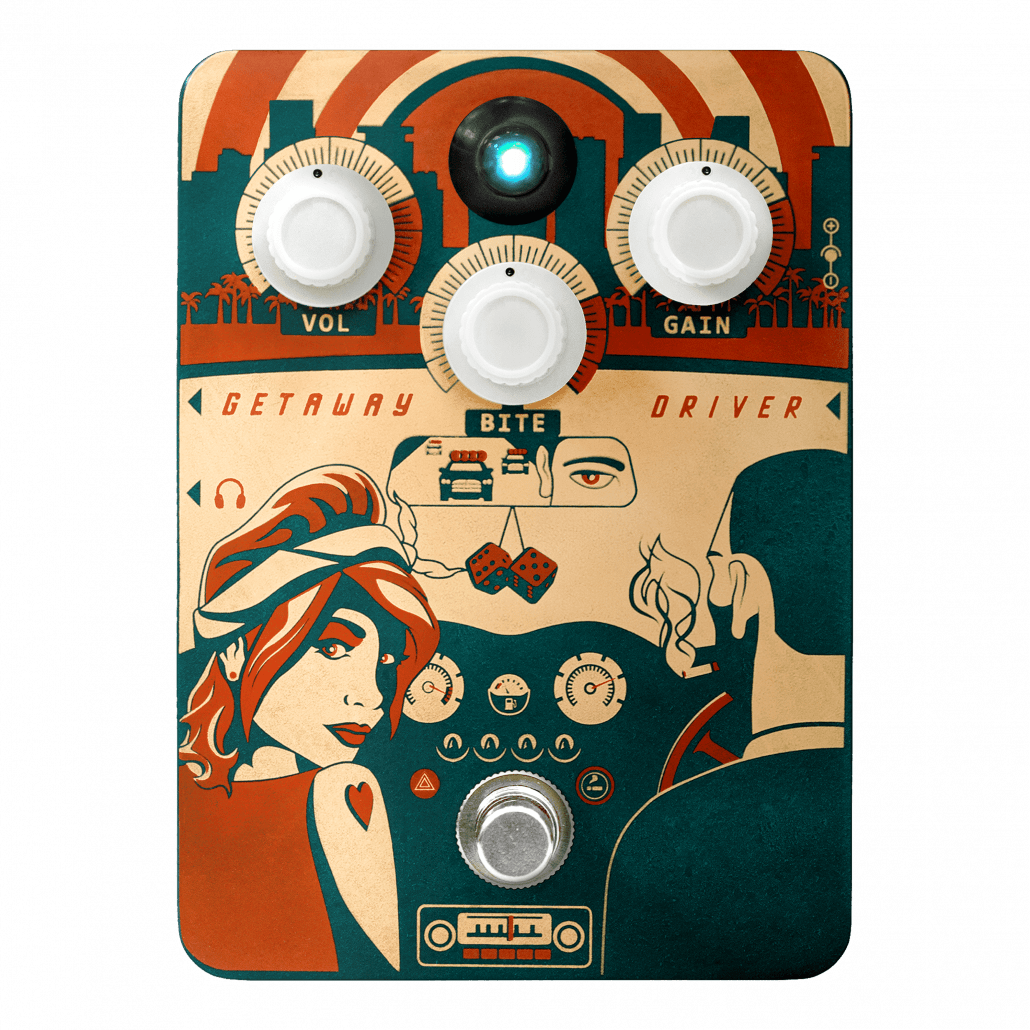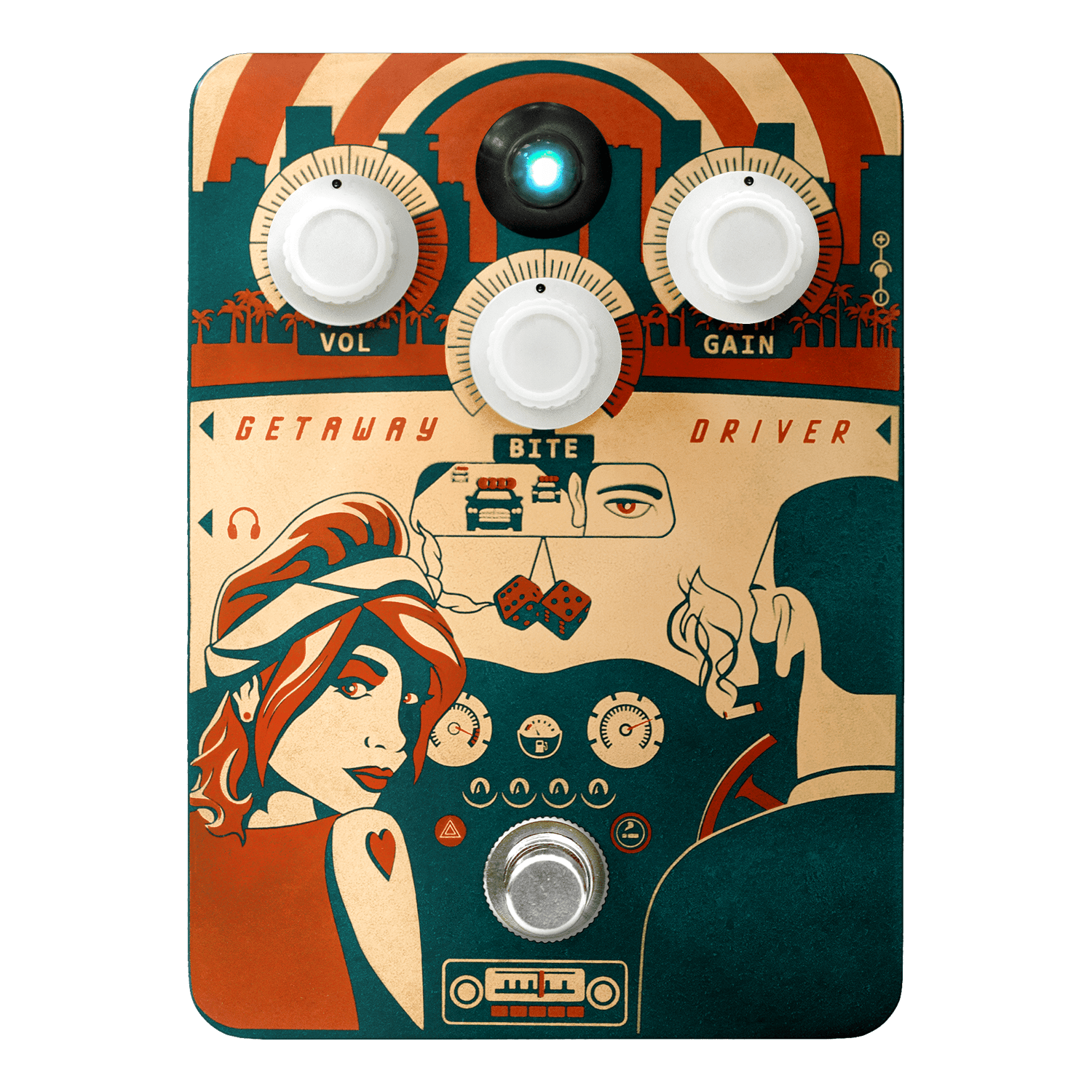 '70S AMP IN A BOX
CAB SIM OUTPUT
INTERNAL BUTTON
While the pedal adds vintage vibe to all amplifiers, the Getaway Driver really excels when used with an amp's clean channel…even ones with a bright cap. It also makes a great clean boost, with low Gain and high Volume pushing amps over the edge into classic overdrive. The gain structure is produced using single-ended JFET circuitry running in Class A, just like a valve amp. The input buffer, output buffer and Cab Sim are handled using op-amps.
The Getaway Driver features a second output which is a buffered Cab Sim / headphone amp that also works into a PA (via a DI box) or directly into a recording interface. The first output is transparent when bypassed, however, when using the second output, the Cab Sim remains engaged. This means that the Getaway Driver can be used as just a Cab Sim on its own if needed. The voicing and gain structure of this pedal is based on a cranked modded '70s valve amp. Running at 9 Volts, the pedal will have the character of EL84 valves, whereas 12 Volts will give an EL34 flavour. Use a regulated 9-12V DC centre-negative power supply.
BAX BANGEETAR
WIDE GAIN RANGE
BAXANDALL EQ WITH
FULL PARAMETRIC
MID CONTROLS
CABSIM OUTPUT
As a traditional stompbox the Bax Bangeetar is in a class of its own, boasting a unique and hugely versatile gain structure with extensive EQ controls. Dial in an enormous range of overdriven and distorted tones, delivered with a feel and responsiveness rarely found in pedals. Beyond that, though, this preamp pedal is an invaluable tool, allowing you to tailor your tone to any setup with absolute precision via its parametric mid controls. Find and eliminate problem frequencies in certain guitars and amps, shape broad mid 'scoops' or boost anywhere on the mid spectrum to suit any style. Plug straight into the front of an amp as a standalone drive pedal, or plug into the effects return to make the donor amp 'disappear'! For even more flexibility, the second output takes your sound and passes it through our Cab Sim circuit, recreating the frequency response of a mic'd Orange 4×12" cab, ideal for direct recording or even connecting to a PA.
THE AMP DETONATOR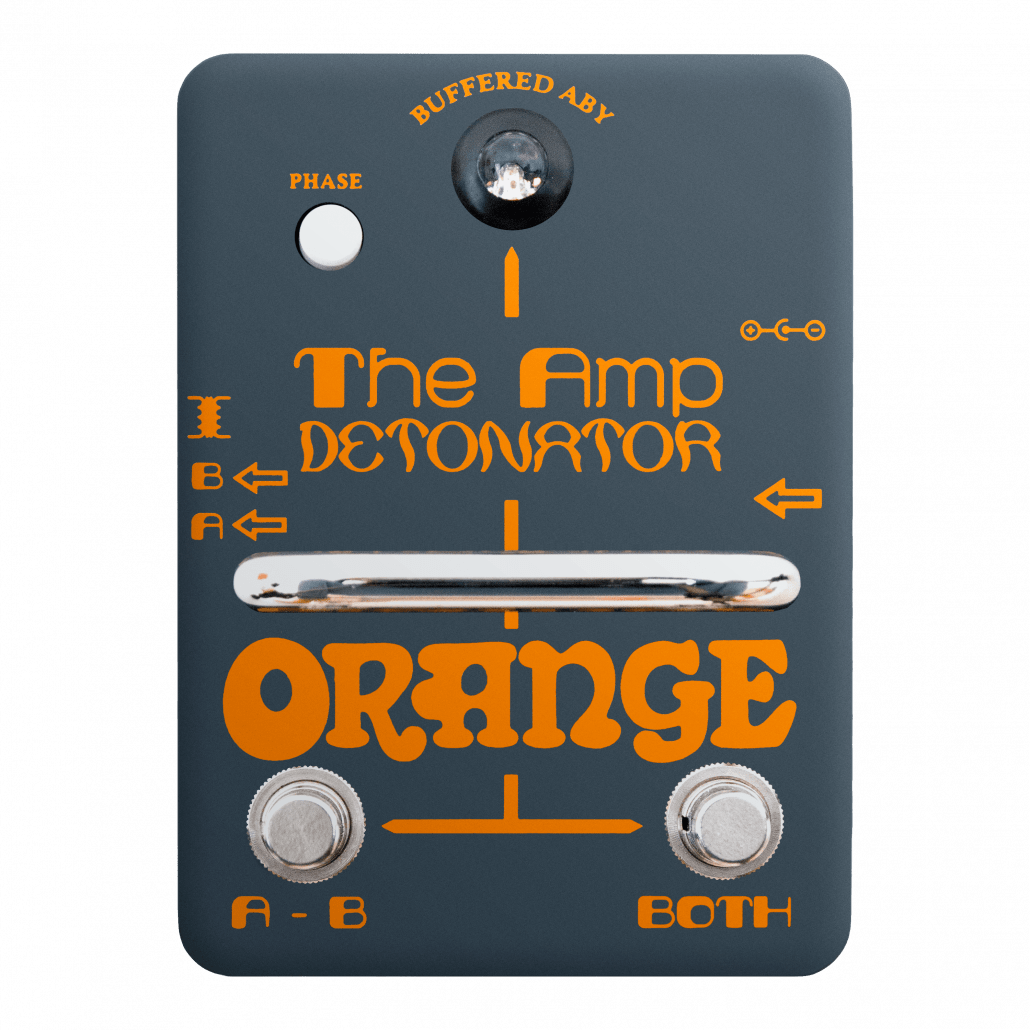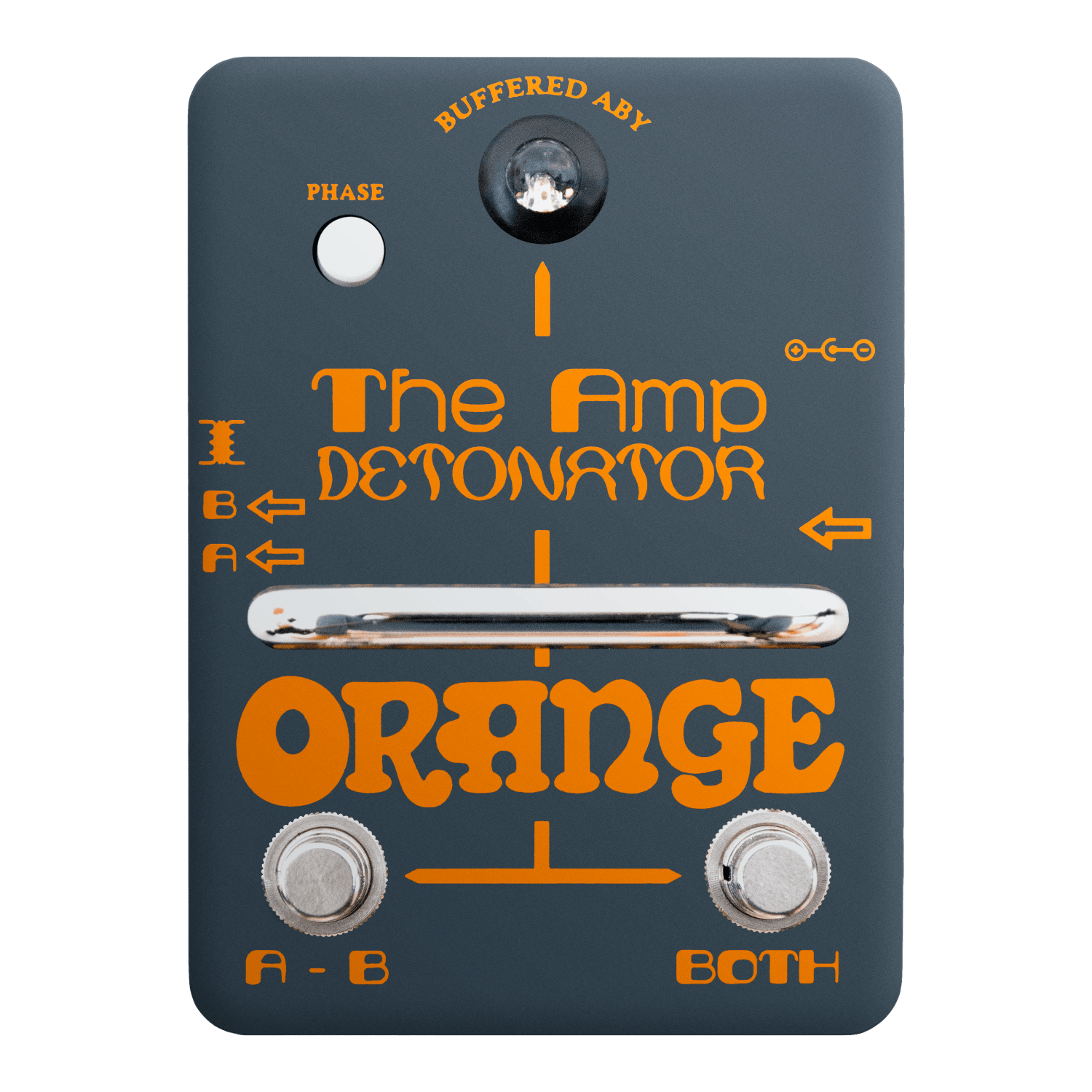 BUFFERED ISOLATED OUTPUTS
PHASE CORRECTION
COMPACT DESIGN
Featuring two buffered outputs, one with a custom designed isolating transformer, as far as Orange are aware the Amp Detonator is the smallest active, fully functional, buffered ABY pedal on the market. What's more, it's the only active ABY switcher that can be powered by a 9V battery. The transformer output has been meticulously engineered to be as transparent as possible, whilst both outputs are buffered with a low noise, linear circuit. Drive any length of cable to your amps with no loss of clarity and switch silently between them. The Amp Detonator also has a push-button polarity switch to correct common phase issues between amplifiers, keeping the tone fat and full. Finally, the tri-colour LED is a handy feature, especially on dark stages, indicating your current switching setting at a glance.
DID YOU KNOW…
All Orange pedals feature an internal charge pump which doubles the operating voltage of the pedals to 18V. They can be powered by 9V battery or standard DC adapter, or for even more output can also run on 12V DC. Running at a higher voltage has the effect of drastically increasing the headroom for super clean compression by the Kongpressor, incredibly low harmonic distortion from the The Amp Detonator and gives the Bax Bangeetar a wider dynamic range and more output, with even greater definition.
IF WE HAVEN'T TOLD YOU ENOUGH ABOUT ORANGE'S RANGE OF PEDALS YOU CAN FIND MORE IN DEPTH INFO BY VISITING: https://orangeamps.com/products/fx-pedals/
Added by Orange… the OMEC Teleport (click the photo to find out more)
https://orangeamps.com/wp-content/uploads/2009/10/Pedal-Release-Home-1600-x-800-W1.jpg
800
1600
Darren Carless
https://orangeamps.com/wp-content/uploads/2018/04/Orange-Pics-logo-307px-279x103.png
Darren Carless
2018-02-06 10:51:26
2018-05-25 20:31:32
Orange does pedals too!