Our most convenient Class A/B amplifier yet
THE PERFECT PEDAL PARTNER
The Pedal Baby 100 is, quite simply, a power amp for pedalboard setups. In the modern gigging world, you might be playing your own rig one night and house backline the next. Because of this, many guitarists are now getting all their sounds from their 'board, only needing their amp for volume – and lots of it! It doesn't make sense to base your sound around a big, traditional valve amp if you don't always get to use it, and other monitoring setups just don't quite cut it either. So, if your pedalboard or modeller has every tone you'll ever need but you miss that "big, loud amp" feel, then the Pedal Baby is for you. And it's portable enough to take to every gig in the diary, even if you have to leave the cab at home.
With 100 Watts of Class A/B power and a Class A front end, the Pedal Baby 100 has all the warmth and dynamics we love about our old valve amps, making it the perfect partner for a pedal-centric rig. Small and lightweight, and with an intuitive 2-band EQ, it adapts brilliantly to different cabs when travelling light so you never have to worry about getting a consistent sound between shows.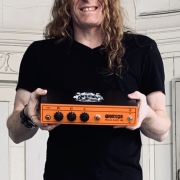 "My Orange Pedal Baby is a mighty powerhouse capable of producing thundering, earth shaking volume all while maintaining pristine clarity from 1 to 10! As a touring guitarist performing in 3 extremely diverse bands spanning multiples of genres, I can configure my Orange Pedal Baby in a myriad of ways to fit whichever sonic application I am looking for be it old school stomp box rock, intricate metal, digitally processed modern jazz tones, ultra-pristine, natural acoustic sounds and everything in between."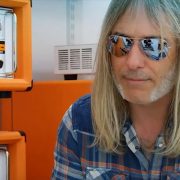 If you're looking at flying into a festival, backline companies will often have Marshall or Orange amps. Around 80% of them will be 16 Ohms, so with the Pedal Baby, you can turn up with it and some pedals, a guitar, and you can place this on top of the cabs already on stage and have at least 70 Watts out of it clean – so you can easily do a gig with this.
If you have all your sounds dialed in on your pedal board geared up for flying rigs then is is perfect for that too. You can use this in any gigging situation, anything from small clubs to festivals. The front end is Class A and the power amp is Class AB so it's got a good quality, natural sound and it represents accurately what you put into it.
Features:
100 Watt Class A/B Power amplifier for Pedalboards and Modellers

Controls:
Bass, Treble, Volume
Output Power:
100 Watts at 8 Ohms, 70 Watts at 16 Ohms
Valves:
NA
Impedance:
Minimum total impedance 8 Ohms
1 X 8 Ohms
1 X 16 Ohms
2 X 16 Ohms
Speaker Output Options:
2 X Speaker Outputs
Unboxed Dimensions (W X H X D):
30cm x 7.7cm x 19.5cm (11.81″ x 3.03″ x 7.68″)
Unboxed Weight:
3.2Kgs (7.05lbs)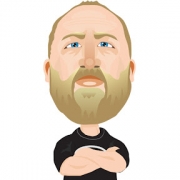 If you're looking for an ultra clean and linear power source to power your pedal board or modeler, definetely check out the Pedal Baby 100, it's incredibly loud!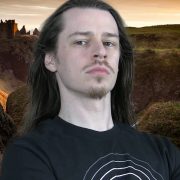 Pedal Baby 100 from Orange Amplification is the fly in solution for touring musicians needing a lightweight, compact power amp that can drive a 16ohm cabinet with enough headroom to amplify their pedal board or effects processor for those upcoming summer festival dates.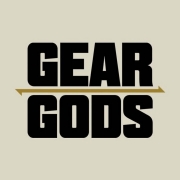 It's clean, it's light, and it's everything but a barrier to your tone.