A worthy addition to any backline or studio, the Tiny Terror oozes cool and sounds superb.
Orange should be very pleased: the Tiny Terror has all the tonal prowess and identity of its bigger siblings in a package that you could easily take on the bus or tube to a gig, rehearsal or recording session. For just £299, you are getting an amp with the performance to compete with anything the US boutique market can offer.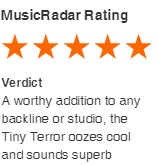 One of the 30 most important guitar products of the last 30 years.