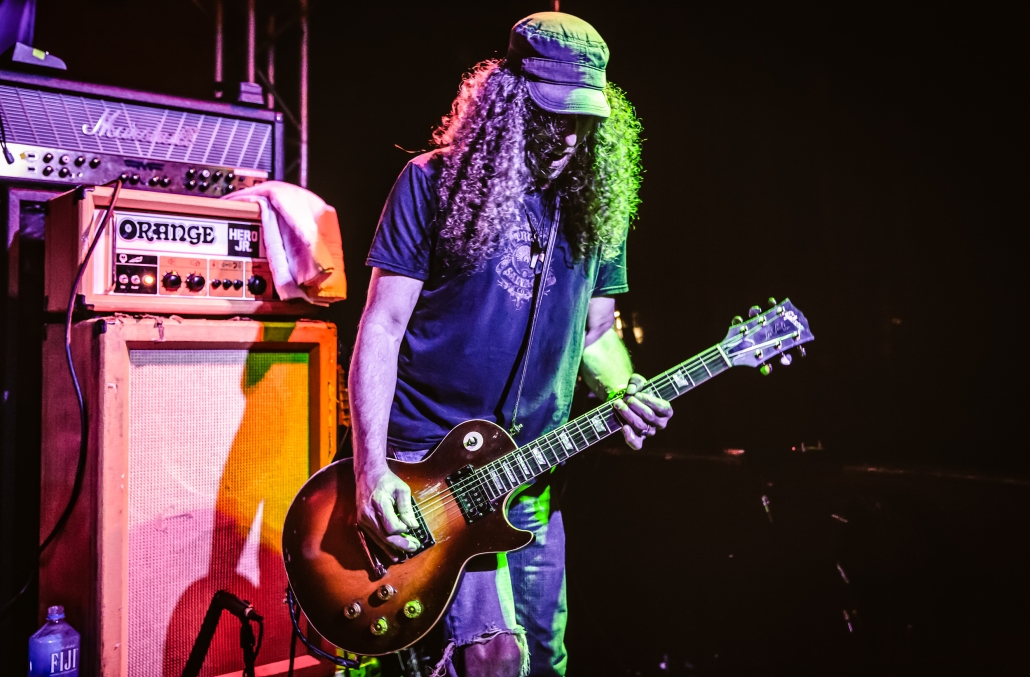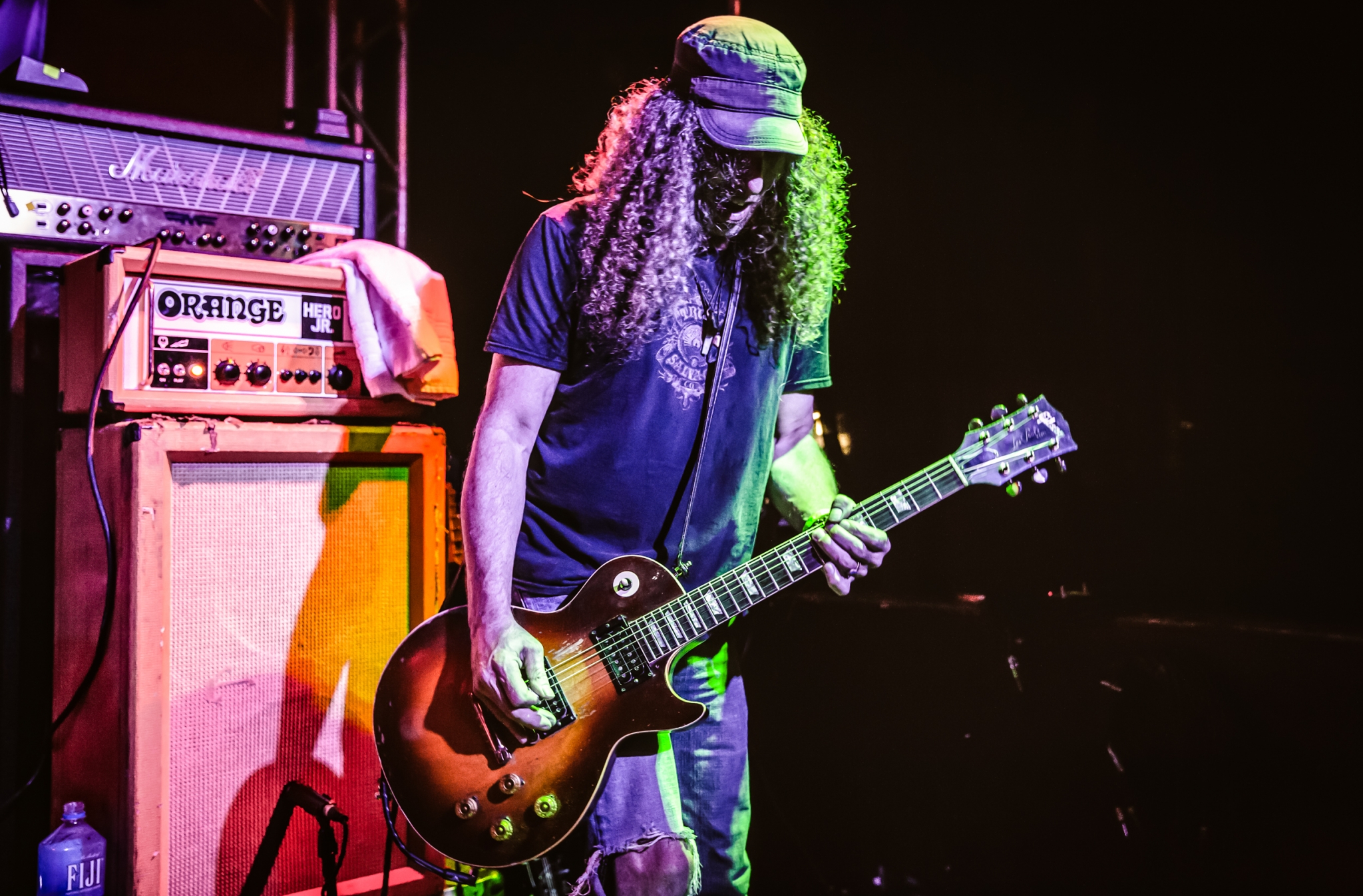 Hero Jr – for those who doesn't know the band, can we get some background?
Hero Jr. is a rock band influenced by classic 70s British rock, American vintage Grunge and punk. We are Evan Haughey on vocals and guitar, Dave DuBrava on bass, Ryan Keyes on drums, and myself on guitar. The four of us come from different rock backgrounds and generations, but are fans of bands from all genres that can both write quality songs and perform them fiercely on stage. We are all about being on the road and going for it live. We are not a jam, band but we never play our songs the same way and always change up the sets because we have two and a half hours of original material. The way we approach bringing our songs from record to the stage is inspired by and in the spirit of Zeppelin and Hendrix. We've been on the road from day one and have played over 800 national shows in all the band's incarnations since 2010.
The way the band has evolved and how we've grown is amazing, and we have become family through our music. We have a great work ethic, and have booked and managed ourselves from the start. It's a given that we have to write and perform at a high level, but that is only a small part of what we need to do as a band to move up the food chain, and the bond we have solidified over working together as a business inspires our music and is a huge part of our fan appeal. We are very DIY and we love being creative and working together. Whether we are in front of 10 people in a club or thousands at a festival Hero Jr. is the band I've always dreamed of being in.
The story of how we all came together as a band is unique and will be told in detail in the March issue of Music Mayhem Magazine and will also be up on the their website today.
You're about to release a new single 'Deep End Price Tag' – what can you tell us about it?
"Deep End Price Tag" is one of nine songs Evan and I wrote in a week that we blocked out to write the new album. We sat in the living room on acoustic guitars, very organic and stress free, and everything just flowed. Evan and I have great chemistry, even though we are loud and electric we write the old fashioned way. If the songs are tight as compositions we can crush them when we plug in. At that point we bring the songs into the band and fine tune the arrangements while we all find our parts. We always rehearse three days a week if we are not on the road, which gives us time to experiment. We never have a plan but we know what doesn't work and we know how to stop when the song is finished.
We put a small studio in the living room and are recording totally live, vocals included, without headphones. We didn't overdub. We monitor the vocals like we do in rehearsal and when we nail a take the bleed through is minimal and plays a part in the ambience of the recordings. In such a small space, and with the blasting volume, it's kind of hit and miss so we experiment with microphone placement until it feels right. All our favourite albums were made in similar fashion, with vibe taking priority over the purity of the recording. Everything, including the new video for the first single was done live in the living room, with the only 'out of house' addition the recording process is our long time mastering engineer and South London wiz Ed Woods.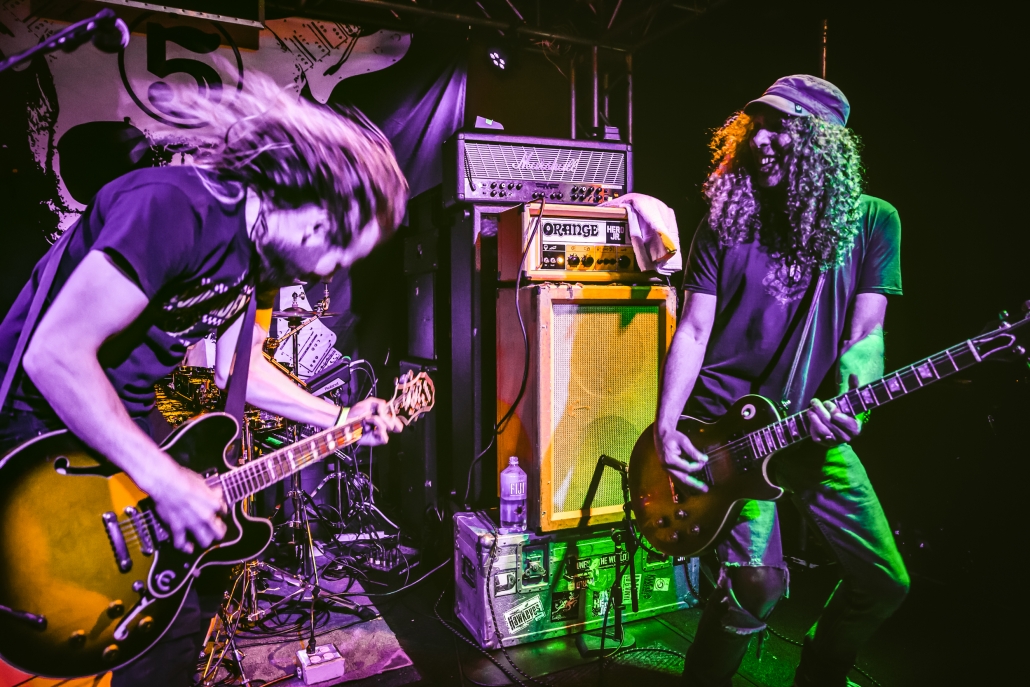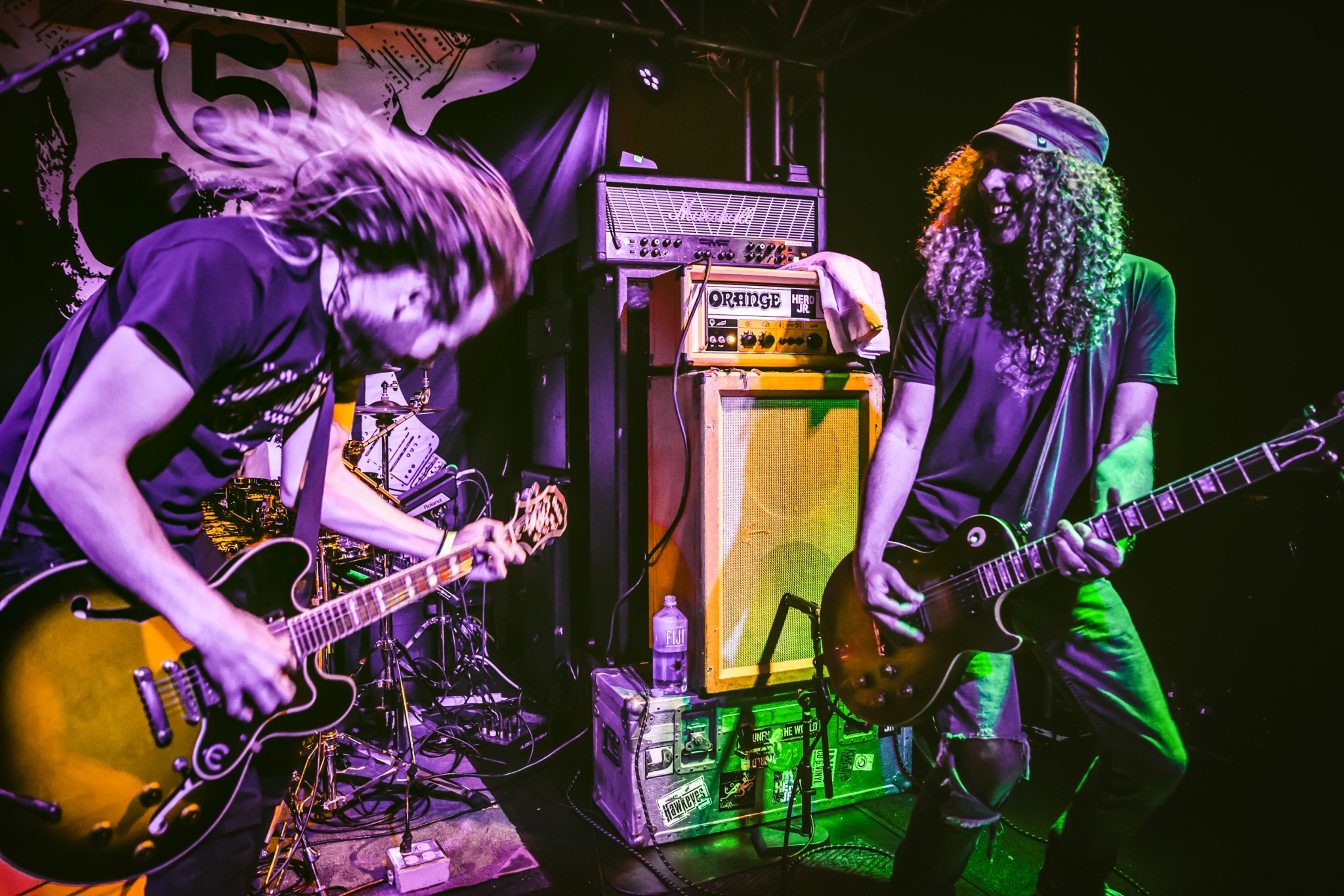 Can you tell us a bit more about yourself and your musical background?
I started playing guitar when I was 12. Not for wanting to play an instrument, but because my parents said I had to in the name of "culture". I was into sports and my first guitar experience was in a group, with a fat necked nylon string, and a circle of girls. I hated it. I was "offered" the same choice the following year and had an amazing private teacher in a music store near my house. He had a file cabinet of popular songs with chord charts and I could choose one per week to learn, along with my note exercises. Although I don't recommend it he also got me high. Needless to say, that was the end of my sports career.
My first electric was an old Gibson SG I got in the used section of the first Guitar Center in W. Hollywood in L.A. I stayed in my room and practiced until my fingers could't take anymore. Even though I ended up forgetting most of my "theory", I studied jazz and played in the school band and in school musicals. My first die hard musical loves were Jimmy Page and Neil Young, and I could have swore Page talked to me through his playing. I understood all of the places he was going, especially when he went for things and almost fell off the cliff. The Zeppelin energy was like a drug for me, best pocket ever for heavy rock. Neil Young had the same thing, and was also an amazing storyteller and untamed shredder. Cortez The Killer has always been a favourite. I have always been attracted to well written songs and bombastic dynamics. My other big love is blues and classic R&B and 70s funk, Sly, The Meters, BB King – there is so much amazing vibe and creativity out there.
In Los Angeles I was working with a lot of Europeans and ended up signing to Warner Music in Germany. I really didn't fit into the Munich pop writing world but I also didn't have a band to rock with so I kept writing and learning to write while I was doing it. I would say the major turning point in my career was working with Andre Lewis (Zappa, Buddy Miles, Johnny Guitar Watson, Mandre and tons more).
When my Warner contract ended there was a one year period that my contract wouldn't allow me to sign elsewhere so I took a blues gig with Dre. I sucked bad. He was going through a rough patch and he needed cash and had gigs. At the beginning I was just a body with a guitar so he could pay for his party habit. My rock chops and volume did not cut it in hotel bars and jazzier venues and Dre beat the crap out of me. When he called me a "punk ass white boy without a pocket and dynamics" he was not lying. Dre was my dude and he linked me to all my British blues/rock heroes via the culture of all their influences from the 50s-70s American blues scene. It took a year and change but he did it and my guitar playing started to turn around and I began to develop my style. Dre was a child prodigy and funk/blues genius, playing a strap on keyboard through amps, like a guitar, he was a motherfucker. Sadly few of his solo recordings do him justice because he was like Prince, Sly and all those old school dudes in one…right down to the purple pimped out fedora. I miss him a lot and have a debt of gratitude for his patience, mentoring and non-forgiving badass attitude. RIP brother!
While living in Munich I began traveling to London to work. As a writer, I was beginning to get more opportunities so I put the guitar to rest and was back at songwriting to get cuts. I got some of them but was never satisfied and always longed for rock music. Besides Dre, I worked on projects with artists that had real rock cred and those projects brought me back to my guitar. The first was working with Henry Small (Prism, John Entwistle's Rock, Burton Cummings) who was, and still is, an important mentor and friend, and then Tony Carey (Blackmore's Rainbow). The Tony Carey and Planet P albums we made indirectly led to my meeting with Evan. I eventually moved to London, where I stayed for ten years. I love the British music vibe and I found it very inspiring to live there. Besides Nashville, London is the only city that I get goosebumps straight off the plane. Maybe it's the spirit of The Stones, Zeppelin, Floyd, Sabbath, and many of my go to bands. In London I began working with more indie and alternative writers.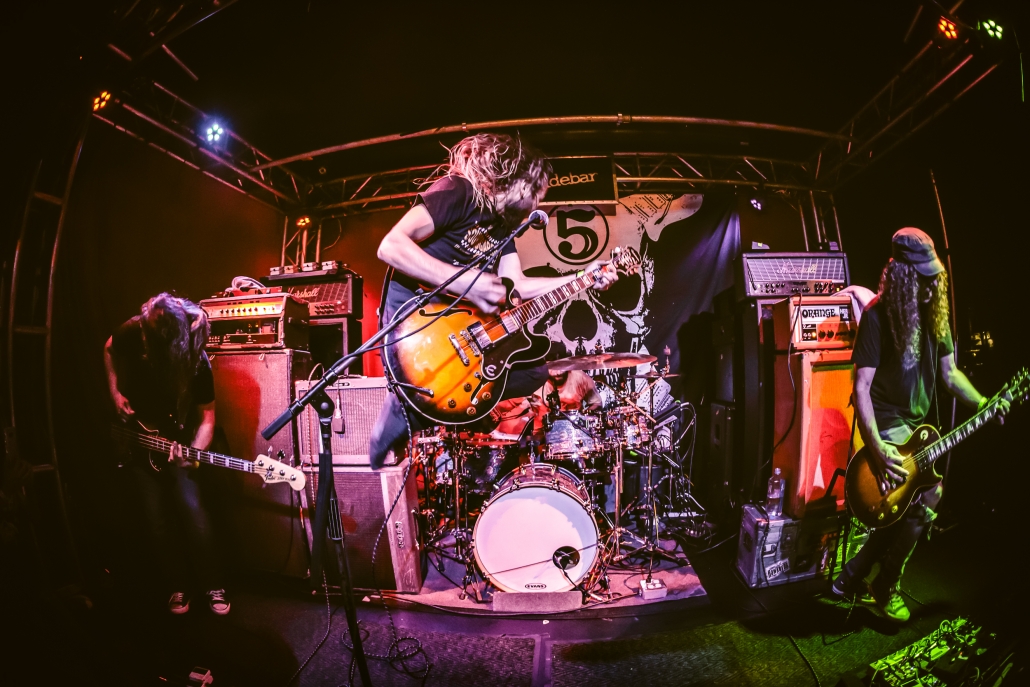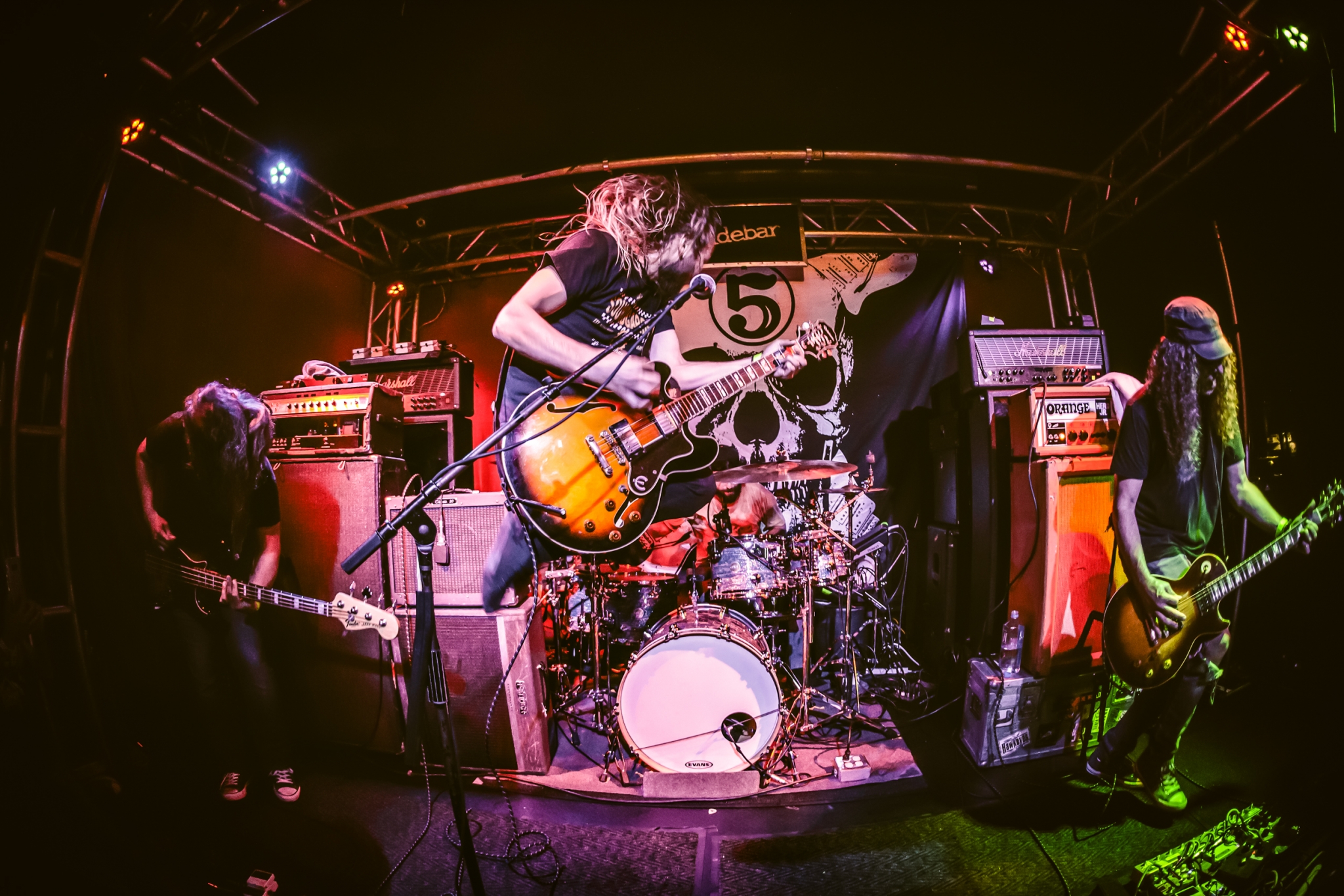 What's your relationship and history with Orange?
I was introduced to Orange by my Livingston studio mates Romeo and Michele Stodart from Magic Numbers. I was playing vintage Marshall JMP 50 watt combos and AC30s but did not want to take them on the road in America. I ended up getting introduced to Orange USA in Atlanta and started using an OR50 and a PPC212 cab. You guys guaranteed I would love my Orange and I haven't played may Marshall's since. Sometimes I will use a Rockerverb 50 MKIII and, on occasion, a Dual Terror. The RV50 through a PPC112 is great for outside sessions and I love the way all my Oranges take effects, especially dirty ones. It's the only amp I've played that can handle my 90s Green Russian Muff on top of the Orange gain. I love the Orange gear and it suits my style. The PPC212 has the best bottom end and it compliments Evan's rig to the point that together we often sound like one big guitar. The Orange pedals are great as well and I am always using the Kongpressor and Fur Coat on sessions. I always keep a Mini Crush on the road and love that thing. The Getaway driver is another killer pedal, especially the speaker simulator output. That's a great backstage with headphones vibe. All of the Orange gear is built great and sounds warm and fat. A-1 rock all around! Orange has become part of Hero Jr.
What's your current set up?
All Orange in the amp department. Mostly the OR50 / PPC212 and sometimes I take the RV50 out. Those combos kill both big and small rooms as a half-stacks. I'm a Gibson guy and play a 72 Les Paul Standard as my number one. Les Pauls and Orange are the best! Gibson just sent me a Custom Shop 60s Standard re-issue that has a similar feel to my 72. I'm not a real tech person and mostly go by feel. I play the same guitar all set unless I break a string, which I never do since I switched to DR (11-50) Strings. Game changers! It's the first time I actually noticed a dramatic difference in strings and everything sounds better with them, and they (knock on wood) NEVER break. I rarely use effects but at times use a Dunlop Echoplex Delay, Echopark Harmonic Boost, vintage Phase 90, Memory Man and Green Russian Muff, and a CAE Wah. If the guitar and amp can't do it by themselves nothing will help.
What's next for Hero Jr?
Four rock and roll gents having a go at world domination and bringing our living room to as many people as possible.
Find Hero Jr & Ken on social media: Instagram // Facebook // Ken on IG // Hero Jr. Website //

https://orangeamps.com/wp-content/uploads/2020/02/HJ_SteveRose-8.jpg
1644
2500
Ella Stormark
https://orangeamps.com/wp-content/uploads/2018/04/Orange-Pics-logo-307px-279x103.png
Ella Stormark
2020-02-20 18:18:55
2020-02-20 19:32:23
Interview: Ken Rose of Hero Jr