Interview: Danava & Sons of Huns' Peter Hughes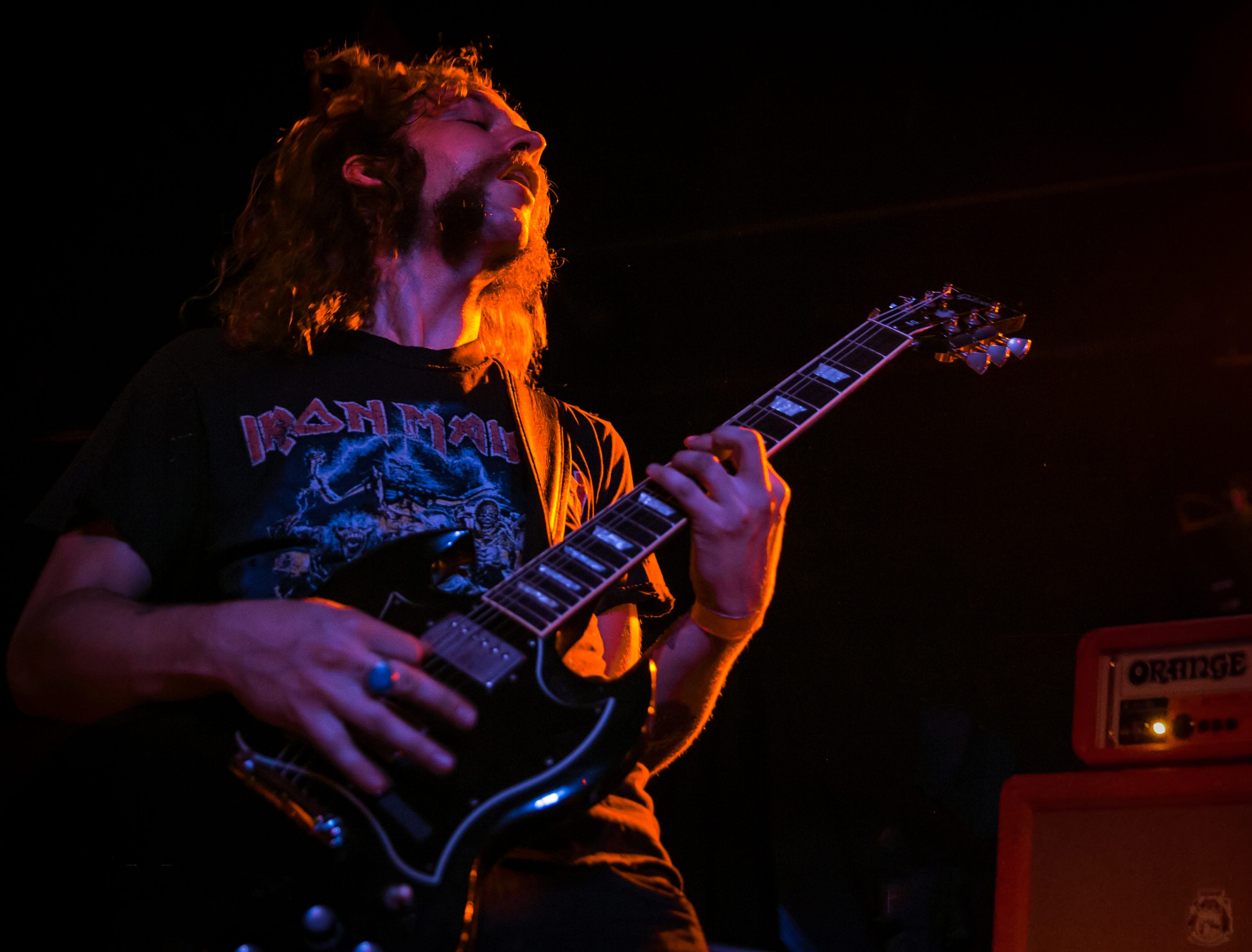 Peter, thanks a million for taking the time to do this interview, myself and the rest of the Orange crew are big fans of you and your music – could you please introduce yourself to the reader, and tell us a bit about yourself and the music you make?
Good morning Orange Amp freaks! Or is it afternoon, evening? Whenever it is, wherever you are on this rotating rock orbiting the Almighty Sun while we hurtle through space, allow me to introduce myself. I am Peter Hughes, the human and guitar player you may know from such hard rock bands as Sons of Huns and Danava. Other than playing my Orange amplifier at excessive decibels, I enjoy plucking out the Baroque stylings of the one and only J.S. Bach on Classical Guitar, I am an amateur mycologist – or I like fungi, or mushrooms.  If you're really in the dark about the entire Kingdom of organisms, without whom plants couldn't grow in the first place let alone be decomposed and with whom we share a large amount of DNA, making many species great medicine. I am also a sufferer of Lyme & related tick borne illnesses thanks to a deer tick from my home state of Virginia, this has led me down a trying but ultimately rewarding path toward healing, with composing and performing music being a huge part of my medicine and therapy.
Its been pretty quiet from the Sons of Huns camp lately, whats the lays of the land there?
Sons of Huns was my first serious musical endeavour and first experience recording, releasing records and touring. We had a great run and I will always smile back on the memories made with my brothers Shoki Tanabe, Ryan Northrop and Aaron Powell, playing music we loved loud and from the heart. We are now on an indefinite hiatus and though I was admittedly upset when I realised we'd all be moving on, I respect my peers and am proud of the accomplishments they've made and families they are building in the time since through nothing other than their own sheer determination and unwavering power of will.
How about Danava, are you guys working on new material?
Danava is indeed working on new music! The joy I feel when recording new music in the studio is 2nd only to playing loud at live shows. Tee Pee Records put out a 7″ single of our newest, non-stop righteous ripper, "At Midnight You Die" just over a year ago in October 2016. My rig for this session was my trusted Ebony Gibson SG Standard running into an Ibanez TS808Tube Screamer used when needed to push the tubes into extra overdrive of my much beloved OR-100 amplifier head paired with a single OR-PPC 4X12. We cut the song live in the studio, only adding Greg's vocals and blazing lead as overdubs. I think that was crucial in capturing the magic performance of this high speed, hard rock track: the four of us in the same room, hitting hard holding nothing back. The melodic Maiden style duel guitar riffs that fly together in harmony through verse, into the chorus and unrelenting bridge until the song ends explosively, is an approach fans can expect to hear more on our next release.
How do you guys work together creatively as a band?
Gregory Meleney is the driving force behind Danava and our fearless leader. He has composed the majority of the material from the band's early days up to present. Greg is a natural musician with a great ear for melody, harmony, and rhythm and his throw away riffs would make most guitarist weep and either give up or go home and practice. The rhythm section consisting of Matt Oliver on drums and bass player Dominic Casciato, who as well as myself have a Classical background, and myself are all of the later constitution and as such have grown as musicians and can now pick up Greg's ideas quickly, facilitating a faster song writing process. Most great musicians are perfectionists and plagued with self doubts, and I think one way I've helped our process is by reinforcing which iteration of a riff is the strongest and in which order makes the most impact. At the end of the day, Greg is also the singer and so he makes decisions on key and register. I should note Danava, Sons of Huns in the past and my solo compositions, utilize a slightly lower reference pitch than the present day standard. A=432 Hz as opposed to A=440Hz, the book The Cosmic Octave offers enlightenment on this seemingly small, but purposeful and incredibly significant alteration.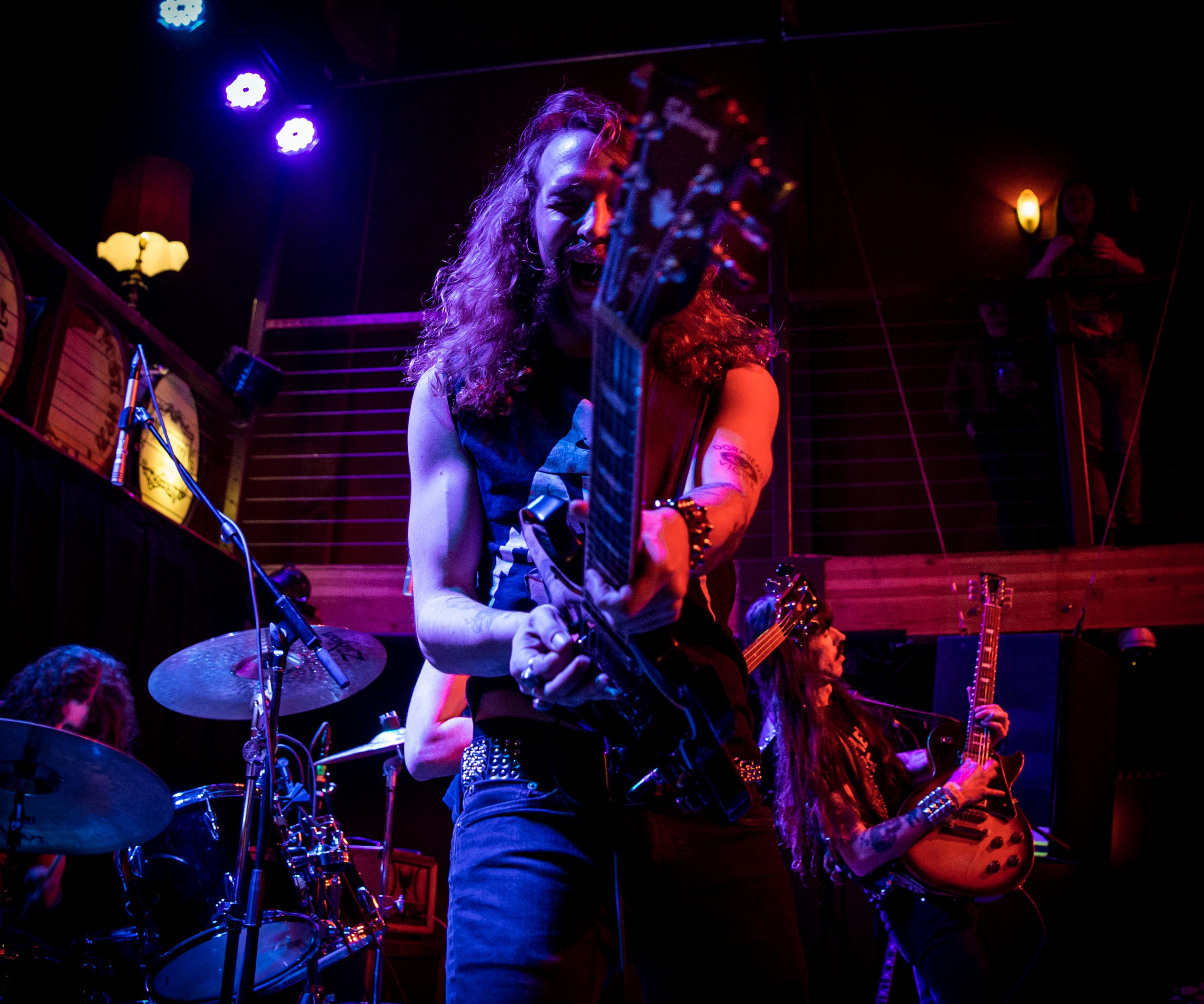 You mention solo compositions, is that something you've ben working on recently and anything we can expect to hear anytime soon?
Yes, with a little luck it will be sooner rather than later! I've been tracking demo recordings at home going through and adding to my riff library and playing a lot of bass and drums lately to realise the song's well enough so that as the things are falling into place here with increasing speed, I can have musicians with actual talent on those instruments take my compositions to the level or raw power I hear in my head. As long as we continue to hit it off as we have since meeting rather recently, and she doesn't hate the demos… I have the low-end rumble and crushing power all lined up and drummers, well the good ones are usually playing in at least three bands but I have feelers out there and my hard drummin band mate in Danava, Matt Oliver, is required to play on at least one song whether or not he has realized it yet. Working title of this project is "  ", keep your eyes peeled and snag a copy and crank it when you see it available! The core makeup is the classic guitar, bass, drums Power Trio instrumentation but as I foresee it as a recording project, I won't be putting as many limits on myself as far composition in terms of being able to play it live. I am enjoying implementing different timbres and more psychedelic sounds at times and adding multiple layers and harmonies swelling and building to an orchestral sound of numerous guitars.
You've been using Orange for quite some time now, what's your current setup and history with the brand?
I have! I long lusted for an Orange amp and finally picked up a Rockerverb 50 combo of my own in the summer of 2007. I had just graduated a proud alumnus of Willamette University with a Bachelor of Music degree in Classical Guitar Performance and moved up to Portland, Oregon to pursue music. I used the RV50 combo for several years and acquired an Orange PPC4X12 to add to my rig. This Orange 50 watt amplifier running 6X12 speakers paired with an SG was the backbone of my sound during the earlier days of Sons of Huns. I was elated and honored when I became an Orange Ambassador in the winter of 2013! I celebrated this achievement with the acquisition of an OR100 amplifier and another PPC4X12 cab, so I could run my thundering new amplifier head through a proper 8X12 stack of sonic & striking Orange beauty. Orange amplifiers are the foundation of my sound on stage and in the studio. I do use some low wattage secret weapon tube combo amps in the studio for overdubs and at home for lower volume but full tube saturation recording. That being said, I think those amps will be decommissioned if/when I snag one of your OR15 amplifier heads that I have had a keen eye on. I've never been a shoe-gazing pedal pusher, preferring to plug my guitar into a superior tube amplifier with beautiful and plentiful gain on tap, such as you fine folks at Orange craft. I use a few other pedals recording at home, the few that clock in the most hours being an MXR MicroAmp, boosting those little low wattage tube combos, an MXR Phase 90 for the swirls, and a JHS Pulp n' Peel compressor. In Sons of Huns I used a CryBaby Wah-Wah into my OR-100 amplifier head and a stack of PPC4X12s and currently in Danava I play a few guitars, my trusty Ebony Gibson SG Standard, a 70s Guild S-100, and most recently a 1963 Gretsch Corvette that is absolutely sexiest guitar I've played to date, into an Ibanez TS808 Tube Screamer to push the front end of my OR-100 when I get to play the fancy bits!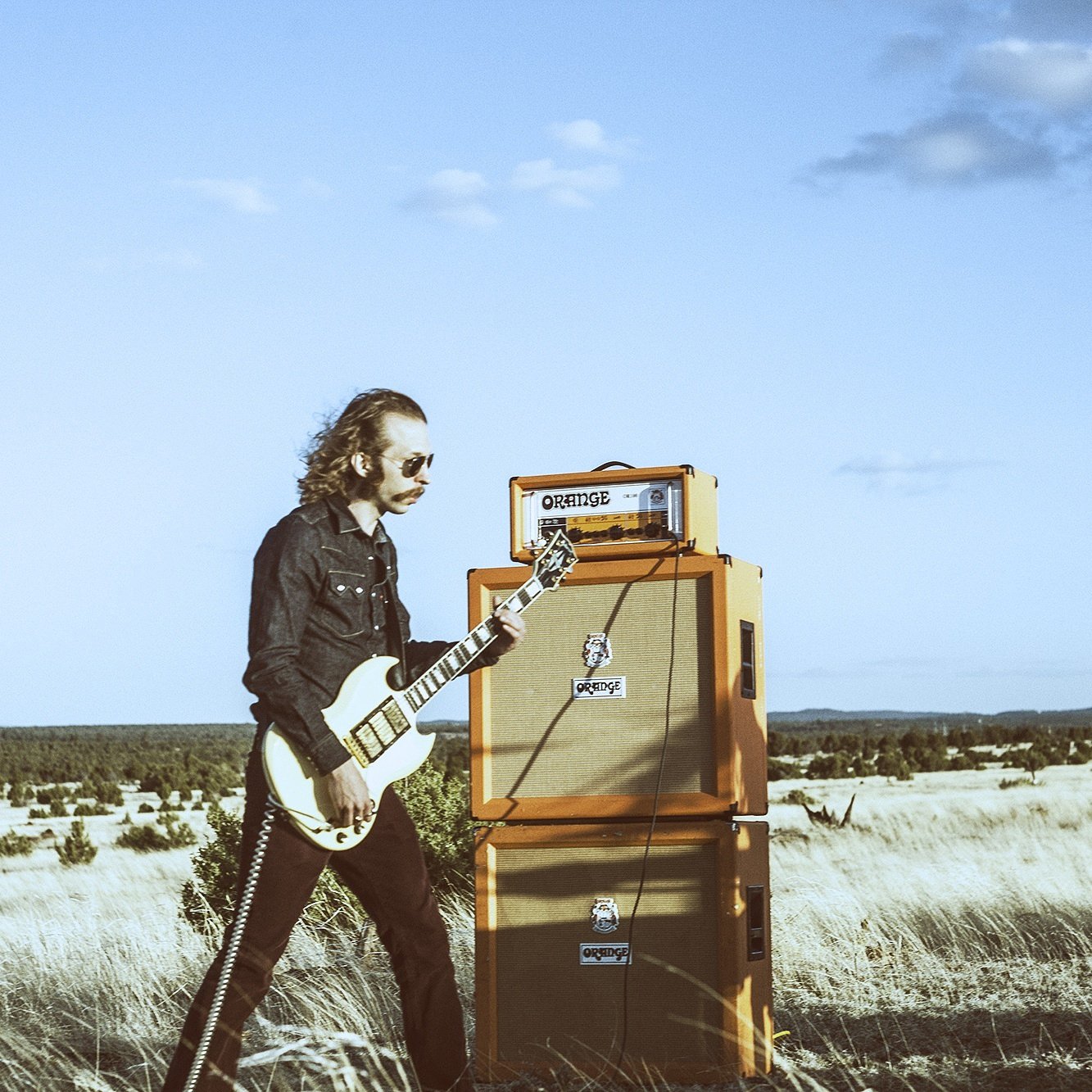 I gotta ask, what's the story behind the sweet photo of yourself and your stacks of Orange in  the desert?
This photo was taken by Tyler Cox of Light Science Productions in the desert of Show Low, Arizona while Sons of Huns was on a two week break in between touring around the States with our German brothers Kadavar, and then all over again with Doom legends Saint Vitus. It is not a staged shot, we brought out a generator and fired up our amps, and although we only had Tyler taking photos and video, our road-hand Nat, and the vast expanse of the Arizona desert as an audience, we played high volume versions of several songs, most notably the freshly composed "Powerless to the Succubus". This track can be found on the A-side of the 7″ Kiss the Goat collaboration with local Portland Gigantic Brewery, which coincided with the bottling and distribution of their Kiss the Goat black dopplebock beer. I also have to say thanks to the Orange Amps Instagram feed for psychically knowing when to post this pic on a day when I needed a little reassurance the most.
So all you geetar-fiddlers out there that haven't experienced the bliss of plugging into an Orange, grab one quick let 'er rip!
---
Thank-you Ella for the interest and interview, and thank you Orange for allowing me to do my damnedest to make a contribution to keep Rock & Roll alive!
A few shout outs to the people helping out Sons of Huns along the way;
I have to give a shout out to Devin Gallagher Founder of High Scores and Records who released the first Sons of Huns self-titled EP and Toby Tanabe for the stunning artwork, Kelly "Gator" Gately of Powerblaster Records for releasing the "Leaving Your Body" 7″ record and Adam Burke of Nightjar Illustration for his otherworldly album art and Matthew Thomas Ross for directing our one and only music video for the title track, Daniel Hall RidingEasy Records who released our first L/P on vinyl "Banishment Ritual" (again Adam Burke coming through with the fantastic gatefold album artwork) as well as the following album "While Sleeping Stay Awake", Gigantic Brewing for the collaboration and release of the "Kiss the Goat" 7″ record and corresponding brewing & bottling of their knock-you-on-yer-ass dark beer, Pat Kearns for recording and mixing the majority of your discography at his Portland studio PermaPress (R.I.P.) as well as being a true friend and mentor -Love You Pat, Toshi Kasai for his skillful hand at the console in his studio Sound of Sirens in LA and for bringing the seed within me to fruit to 'Double That Shit!', the loving and caring STUMP sisters and DC himself for their hospitality and support, and I got say thank you and send my love to my man Wino for coming through and singing with me on the SOH track 'An Evil Unseen' from the "While Sleeping Stay Awake" L/P. I'd also like to give a hug and kiss and huge thanks to our dear families, friends, and fans that supported us through the years and came out to shows, bought records or t-shirts and those who continue to support our music & mercy via Bandcamp. What more can I say? Me and the boys have the Sons of Huns triangle tattooed upon our sickly human flesh.
    S
   O N
 S O F
H U N S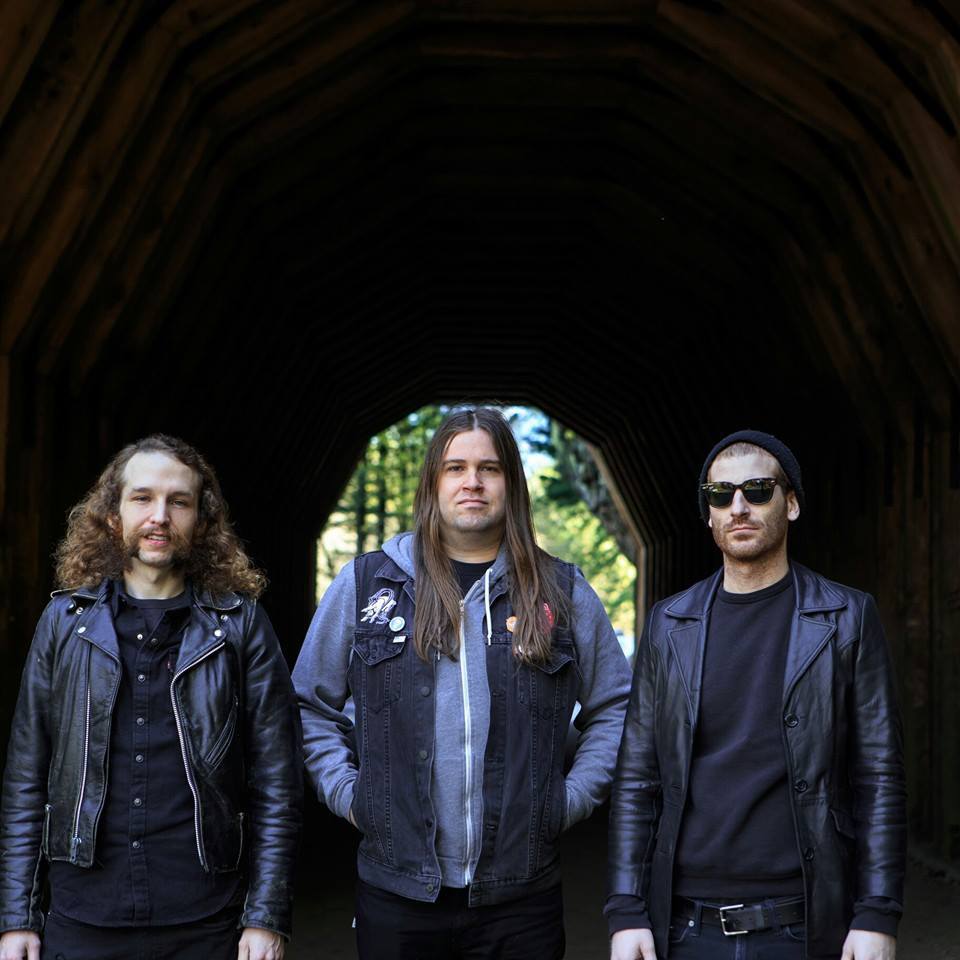 https://orangeamps.com/wp-content/uploads/2018/01/Peter-Hughes-OR100-PPC412-CR3.jpg
1333
1333
Ella Stormark
https://orangeamps.com/wp-content/uploads/2018/04/Orange-Pics-logo-307px-279x103.png
Ella Stormark
2018-01-09 19:00:19
2018-12-18 13:13:28
Interview: Danava & Sons of Huns' Peter Hughes