Note
Cette page produit n'est plus mise à jour et est ici à titre informatif uniquement.
EFFETS BOUCLE | PORTABLE | SLIPKNOT TONE
SLIPKNOTS TONE IN A PORTABLE PACKAGE
Our first ever signature amplifier is based directly on the Dirty Channel of Jim Root's own Rockerverb 100 MKII. The 'Pics Only' styling pays homage to his self-confessed love of vintage Orange amps although the sounds within are unmistakably modern. A powerful 3 band EQ and four stages of high gain capture the trademark savage riffing tones that have propelled the Slipknot ace to the status of a contemporary Rock legend. Along with switchable output power and the addition of a valve-driven FX loop, this little head would be a seriously potent addition to anyone's arsenal. Pair with its matching #4 Jim Root PPC212 cabinet for a compact but menacing half stack.
Boucle d'effets
La boucle d'effets pilote un tube 12AT7 et une valve ECC81.
Le premier produit Signature de notre histoire
Nous n'avons jamais développé un produit avec un artiste avant cela. Avec le Jim Root Terror, nous sommes en mesure d'apporter le son énorme du Rockerverb de Jim à tout le monde.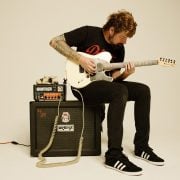 C'est mon son dans une demi-pile portable et abordable, avec un son rock et métal fort et saturé.
CARACTÉRISTIQUES :
Toutes les valves
Préamplificateur à 4 étages à haut gain
Valve FX loop
"Pile de tonalité "Rockerverb
VALVES :
Amplificateur de puissance : 2 xEL84
Préampli : 3 x ECC83/12AX7
Boucle FX 1 x ECC81/12AT7
PANNEAU SUPÉRIEUR (DE DROITE À GAUCHE) :
Gain, Bass, Middle, Treble, Volume
OPTIONS DE FINITION :
Châssis en acier noir de 1,5 mm avec boîtier supérieur ventilé
PUISSANCE DE SORTIE :
15/7 Watts commutable
SORTIES HAUT-PARLEURS :
1×8 OHM OU 1×16 OHM OU 2×16 OHM
DIMENSIONS NONEMBALLÉES (L x H x P) :
30.3 × 19 × 15.3CM (11.93 × 7.48 × 6.02″)
POIDS NON EMBALLÉ :
5,7 KG (12,57 LB)

Mais bon sang, quel son ! Vraiment une distorsion épaisse et grasse et toujours avec un beau son.
Seigneurs du métal
http://www.lordsofmetal.nl/en/specials/view/id/506
Read the review

It's such a big throaty drive sound that for alt-rock and hard rock, single-coils work remarkably well and open up a wealth of bluesier tones with judicious use of the amp's onboard EQ and your guitar's volume control. Despite the livery, one-dimensional this ain't.
It packs a seriously satisfying crunch that outperforms many more expensive high-gain heads.
Magazine Guitarist
25/6/2013
http://www.musicradar.com/reviews/guitars/orange-signature-4-jim-root-terror-550198
–
Read the review

iGuitar
http://licklibrary.ceros.com/iguitarmag/iguitar-issue-9-steve-morse-interview/issue9/page/96
Read the review

Il y a quelque chose d'extrêmement satisfaisant à parcourir son spectre de sonorités rock et blues pour déclencher la fureur.
Magazine Total Guitar
7/7/2012
Faire défiler vers le haut