Nota
Esta página de productos ya no se actualiza y está aquí sólo a título informativo.
EFECTOS EN BUCLE | PORTÁTIL | TONO SLIPKNOT
SLIPKNOTS TONE IN A PORTABLE PACKAGE
Our first ever signature amplifier is based directly on the Dirty Channel of Jim Root's own Rockerverb 100 MKII. The 'Pics Only' styling pays homage to his self-confessed love of vintage Orange amps although the sounds within are unmistakably modern. A powerful 3 band EQ and four stages of high gain capture the trademark savage riffing tones that have propelled the Slipknot ace to the status of a contemporary Rock legend. Along with switchable output power and the addition of a valve-driven FX loop, this little head would be a seriously potent addition to anyone's arsenal. Pair with its matching #4 Jim Root PPC212 cabinet for a compact but menacing half stack.
Bucle de efectos
Accionamiento del bucle de efectos de la válvula 12AT7/ECC81.
El primer producto Signature de nuestra historia
Nunca antes habíamos desarrollado un producto con un artista. Con el Jim Root Terror, somos capaces de llevar el enorme tono del Rockerverb de Jim a todo el mundo.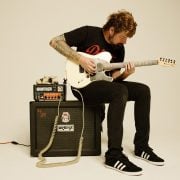 Es mi sonido en una media pila portátil y asequible con un tono fuerte y saturado de rock y metal
CARACTERÍSTICAS:
Todas las válvulas
Previo de 4 etapas de alta ganancia
Bucle FX de la válvula
Pila de tonos "Rockerverb"
VÁLVULAS:
Amplificador de potencia: 2 xEL84
Preamplificador: 3 x ECC83/12AX7
Bucle FX 1 x ECC81/12AT7
PANEL SUPERIOR (DE DERECHA A IZQUIERDA):
Ganancia, Graves, Medios, Agudos, Volumen
OPCIONES DE ACABADO:
Chasis de acero negro de 1,5 mm con carcasa superior ventilada
POTENCIA DE SALIDA:
15/7 vatios conmutables
SALIDAS DE ALTAVOZ:
1×8 OHMIOS O 1×16 OHMIOS O 2×16 OHMIOS
DIMENSIONES SIN EMBALAJE (Ancho x Alto x Fondo):
30,3 × 19 × 15,3 CM (11,93 × 7,48 × 6,02″)
PESO SIN EMBALAJE:
5,7KG (12,57LB)

Pero maldita sea, ¡qué sonido! Verdaderamente una distorsión gruesa y gorda y aún así con un hermoso tono.
Señores del metal
http://www.lordsofmetal.nl/en/specials/view/id/506
Read the review

It's such a big throaty drive sound that for alt-rock and hard rock, single-coils work remarkably well and open up a wealth of bluesier tones with judicious use of the amp's onboard EQ and your guitar's volume control. Despite the livery, one-dimensional this ain't.
It packs a seriously satisfying crunch that outperforms many more expensive high-gain heads.
Guitarist Magazine
25/6/2013
http://www.musicradar.com/reviews/guitars/orange-signature-4-jim-root-terror-550198
–
Read the review

iGuitar
http://licklibrary.ceros.com/iguitarmag/iguitar-issue-9-steve-morse-interview/issue9/page/96
Read the review

Hay algo extremadamente satisfactorio en la marcación a través de su espectro de tonos frescos de rock y blues en el camino a desatar la furia.
Revista Total Guitar
7/7/2012
Desplazarse hacia arriba