EFFECTS LOOP | PORTABLE | SLIPKNOT TONE
SLIPKNOTS TONE IN A PORTABLE PACKAGE
Our first ever signature amplifier is based directly on the Dirty Channel of Jim Root's own Rockerverb 100 MKII. The 'Pics Only' styling pays homage to his self-confessed love of vintage Orange amps although the sounds within are unmistakably modern. A powerful 3 band EQ and four stages of high gain capture the trademark savage riffing tones that have propelled the Slipknot ace to the status of a contemporary Rock legend. Along with switchable output power and the addition of a valve-driven FX loop, this little head would be a seriously potent addition to anyone's arsenal. Pair with its matching #4 Jim Root PPC212 cabinet for a compact but menacing half stack.
Effects Loop
Effects loop drive 12AT7 tube/ECC81 valve.
Our first Signature product in our history
We've never developed a product with an artist before this. With the Jim Root Terror, we're able to bring the huge tone of Jim's Rockerverb to everyone.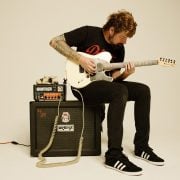 It's my sound in a portable, affordable half stack with loud, saturated rock and metal tone
FEATURES:
All valve
High gain 4 stage preamp
Valve FX loop
"Rockerverb" tone stack
VALVES:
Power amp: 2 xEL84
Preamp: 3 x ECC83/12AX7
FX Loop 1 x ECC81/12AT7
TOP PANEL (RIGHT TO LEFT):
Gain, Bass, Middle, Treble, Volume
FINISH OPTIONS:
Black 1.5mm steel chassis with vented top case
OUTPUT POWER:
15/7 Watts switchable
SPEAKER OUTPUTS:
1×8 OHM OR 1×16 OHM OR 2×16 OHM
UNBOXED DIMENSIONS (W x H x D):
30.3 × 19 × 15.3CM (11.93 × 7.48 × 6.02″)
UNBOXED WEIGHT:
5.7KG (12.57LB)

But damn, what a sound! Truly a thick, fat distortion and still with a beautiful tone.

It's such a big throaty drive sound that for alt-rock and hard rock, single-coils work remarkably well and open up a wealth of bluesier tones with judicious use of the amp's onboard EQ and your guitar's volume control. Despite the livery, one-dimensional this ain't.
It packs a seriously satisfying crunch that outperforms many more expensive high-gain heads.

There's something extremely satisfying about dialling through its spectrum of cool rock and blues tones en route to unleashing the fury.