Orange Amps is known for not taking itself too seriously (just look at the colour of their amps). But they do pride themselves on their history and helping musicians do what they do. So here's a bit of a tongue in cheek look at everything Orange is. Please sit back and enjoy the A to Z of Orange…
A is for…Alex and Ade
Alex Auxier is Orange's Artist Relations Manager and Ade Emsley is Orange's Technical Director AKA the mad genius behind that wonderful tone.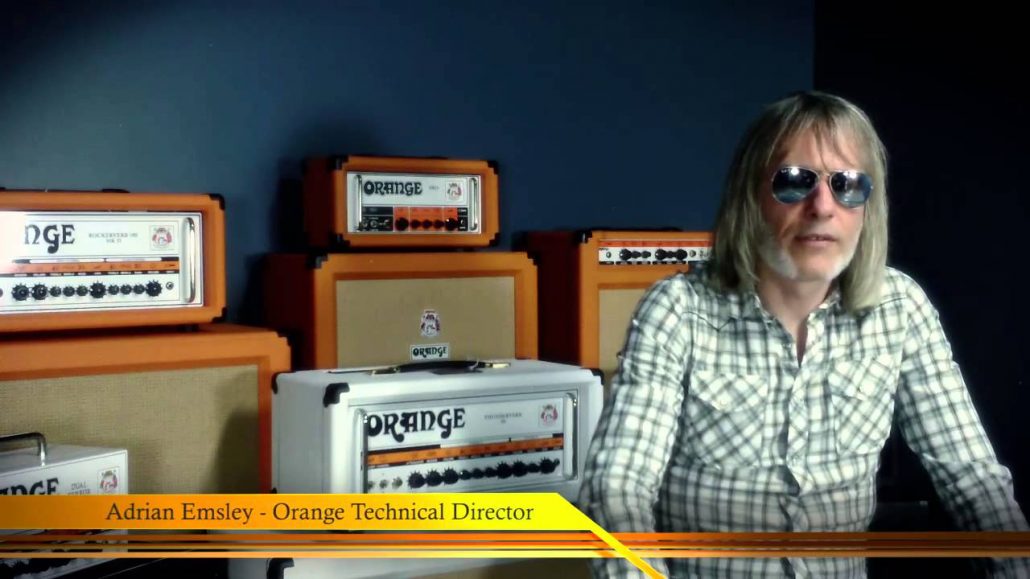 B is for…British
Orange amps are undeniably British and it's a fact that Orange are keen to reinforce at any opportunity…even one of their slogans reads 'Orange: The legendary British Guitar Amplifier'. It's a heritage that the company is very proud of and is displayed in Orange's crest that adorns every amp and cab.
C is for…Clifford Cooper
Musician and electronics designer Cliff is the founding father of Orange Amplification and started the whole thing way back in 1968 when he opened the very first Orange Shop in London's West End.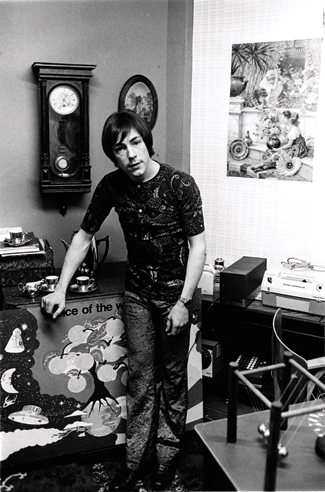 D is for…Dual Dark Series
The Dual Dark series was launched in 2014 with the Dual Dark 50 and 100 watt heads. They are Orange's highest gain amps to date and fittingly are only available in black. So prolific was their arrival that the Dual Dark 50 scooped the 'Amp Of The Year' award at the MIA Awards in 2014.
E is for…Eminence Speakers
A number of Orange's current bass cabinets come fitted with Eminence speakers as standard for optimum performance.
F is for…Fortieth Anniversary
2008 saw Orange's 40th birthday. To celebrate 40 hand-made Custom Shop amps were produced each bearing a girl's name.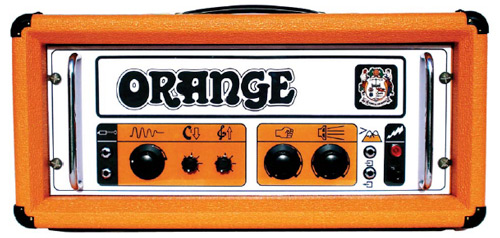 G is for…Gibson
In 1993 Gibson licensed the name to manufacture Orange Amplification. To keep the identity of the brand they continued to have the amps made in England (there's that British thing again). In 1994 the first Gibson era Orange amps were released namely the Graphic 120 and 80, and the Overdrive 120 and 80.
H is for…Hardwired
Orange's now legendary best-selling Tiny Terror is available in a special limited 'Hardwired Edition' (they're very hard to find these days). Manufactured in the United Kingdom, it's completely point to point, hand wired and features high specification transformers, 'carbon comp resistors' and 'mustard capacitors'.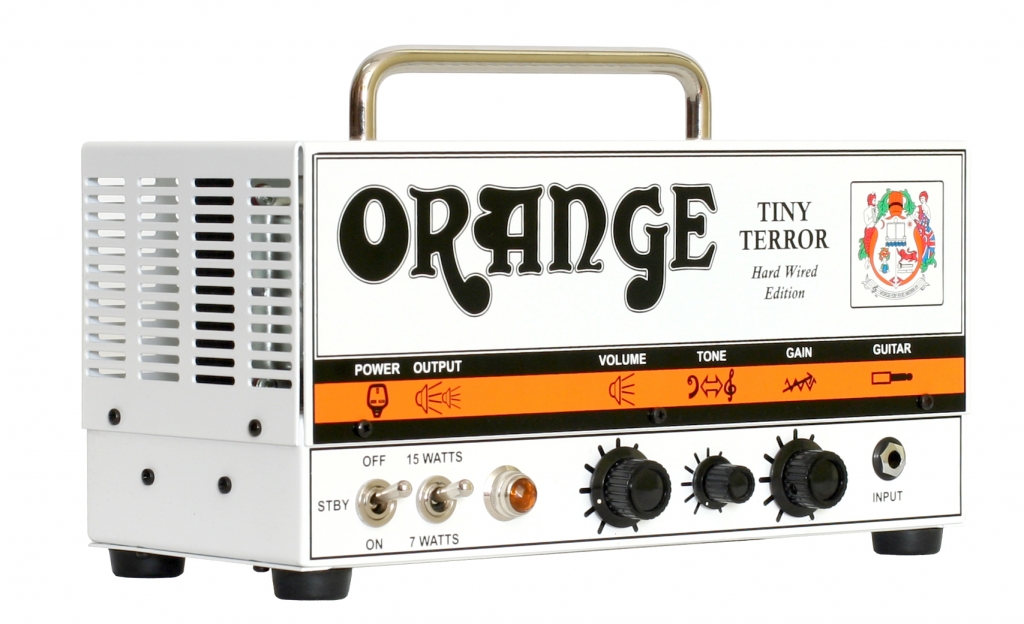 I is for…Isobaric
Since 2009 Orange has been employing Isobaric technology in the construction of its 'Smart Power' Bass cabinets. The speakers enclosed in the 'Smart Power' bass cabinets are placed one behind the other. In practical terms, this increases the linearity of the speaker movement, which lowers the bass frequency handling, as well as boosting the output.
J is for…John McVie
John McVie, bass player with the legendary Fleetwood Mac, is the latest big name to become an Orange Ambassador.
K is for…Kvelertak
Orange Amps are proud to be associated with several artists from all walks of live. Hailing from Stavanger in Norway, Kvelertak is a six piece heavy metal band formed in 2007. Their name comes from the Norwegian for 'stranglehold' or 'chokehold'. In 2010 the band released their self-titled debut album. The film 'Troll Hunter' features the Kvelertak song 'Mjød'.
L is for…Limited Edition
Orange has been known to come up with the odd limited edition version of some of its amplifiers for good causes. One such creation was Orange's one of a kind 'pink edition' Crush 20 LDX which was auctioned to raise funds for the Breast Cancer Campaign in 2013. Another was a blue OR50 and matching cab donated to Andertons Music and auctioned in support of the charity Music For All.
M is for…Matamp
Matamp is Orange's green cousin and was founded in the 1960's by Mat Mathias and Tony Emerson. When Emerson decided to leave the company, Mathias formed a partnership with Orange's founder Cliff Cooper that lasted for several years before going their separate ways.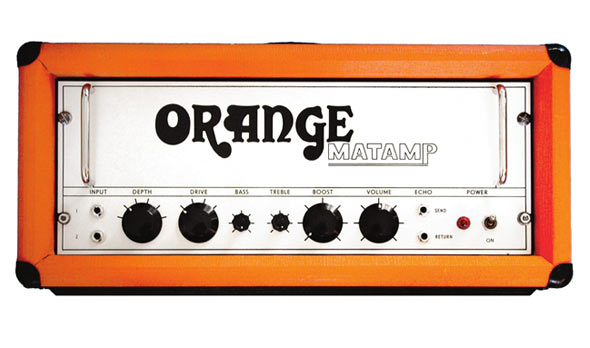 N is for…Noel Gallagher
Believe it or not, Noel Gallagher of Oasis played a major part in the revival of Orange during the band's heydays of the 1990's. He almost exclusively used Orange amps on early Oasis albums and his suggested modifications to the Overdrive amp formed the basis of the OTR amp.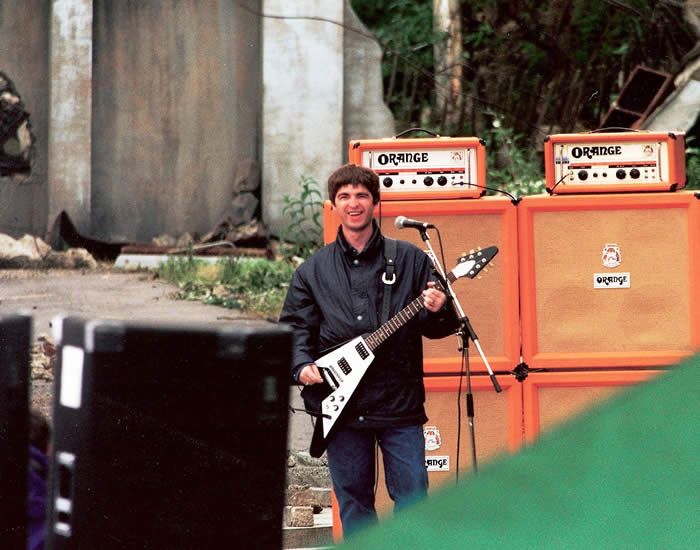 O is for…OB1 Series
There was a lot of choice for this letter but we decided to go with the most up to date. The latest addition to the Orange bass range is the OB1 series (is it a deliberate 'Star Wars' reference? Who knows?). Available as a 300 or 500 watt head, the OB1's unique sound is based on the principle of bi-amping i.e. using 2 amps to achieve your sound. The magic is that the OB1 series does it all on its own.
P is for…Pics Only
Besides the colour, Orange amps are probably best known for their 'Pics Only' appearance. The first 'Pics Only' amp was introduced way back in 1972. They were commonly referred to as 'Plexi's' due to the plastic reverse printed Perspex panel secured to the chassis.
Q is for…Q Control
We ain't talking snooker here. In 2015 Orange introduced its first pedal since the 1960's…the Custom Shop 'Bax Banjeetar' Guitar Pre EQ. Its full parametric mid controls include Frequency, Mid Cut / Boost and a Q Control.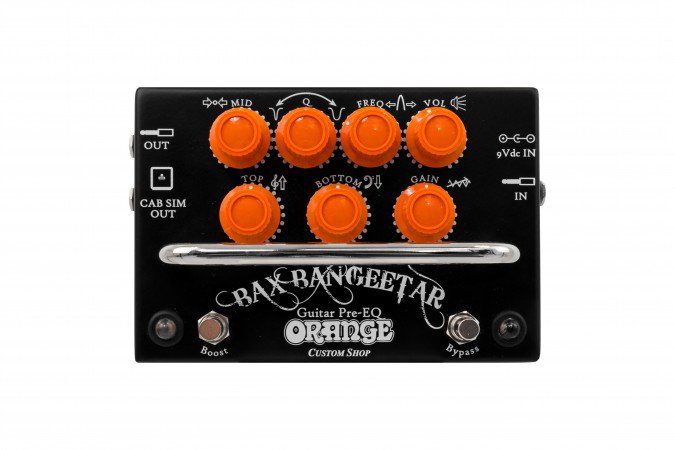 R is for…Rockerverb Series
First released in 2003 (where does the time go?), the Rockerverb series has come to be for many the backbone of the Orange lineup. Its popularity has meant it's now considered to be one of the go to amps for rock and metal guitarists. 2015 saw the release of the third generation of Rockerverbs in the MkIII version with new features (i.e. foot controllable attenuator) and a pics only visage.
S is for…Signature Amp
2012 saw the release of Slipknot and Stone Sour guitarist Jim Root's signature amp. It's the first time Orange have ever released a signature piece of equipment. Dubbed the '#4' and dressed in black, it is a 15 watt terror style amp based on the dirty channel of Jim's own Rockerverb 100.
T is for…Terror Series
The Terror series began in 2006 with the release of the now infamous 'Tiny Terror'. It was a world first for Orange and is now considered the industry standard when it comes to 'lunchbox style' amps. Since its initial launch the series has expanded and includes the 'Micro Terror', 'Dual Terror', 'Dark Terror' and 'Terror Bass'.
U is for…United Kingdom & United States of America
Since 2009 Orange's headquarters in the UK have been based at Borehamwood, Hertfordshire in England. Orange has also spread further afield and has an office in Atlanta, Georgia, USA and in Beijing, China.
V is for…VT1000 Valve Tester
Designed to help 'every guitarist, rental-company, valve amp manufacturer, guitar tech and guitar / hi-fi store across the planet', the VT1000 was the world's first fully automatic, portable digital valve tester. It allows users to quickly and simply match and test valves, as well as give valves a reliable health check.
W is for…White
In 2014 Orange launched limited edition versions of the Rockerverb (heads and combos), Thunderverb 200 and 50 heads, and the PPC412 and 212 speaker cabs. All were finished in a 'prestigious' white Levant covering, trimmed with traditional gold piping and fitted with gold capped handles.
X is for…Xcellent People
So we had to use a bit of poetic license for this one but it's true. Orange wouldn't be able to do what it does without the people who work for it. If you'd like to meet some of them and see what makes them tick check out.
Y is for…Young Guns
Another of Orange's artist Ambassadors is Young Guns, an English rock band from Buckinghamshire and London who formed in 2009. In 2014 the band signed to Virgin EMI. They have toured with the likes of Yellowcard, All Time Low and Enter Shikari. The band's third album 'Ones and Zeros' was released in June 2015.
Z is for…Zeppelin
The 'Led' variety obviously and of course Jimmy Page who's been known to dabble with the odd Orange amp over the years.
So there you go…the A to Z of Orange. Of course there were other alternatives to some of the things we chose for certain letters…for instance we could have done a whole blog article on just the letter 'O' (perhaps it's one for the future). Either way hopefully you will have learned a bit more about Orange Amps; other than the fact that they do their best to make the best amps that they can for you!!!
https://orangeamps.com/wp-content/uploads/2016/03/NAMM-Orange-2014-827-705x428.jpg
428
705
Alex Auxier
https://orangeamps.com/wp-content/uploads/2018/04/Orange-Pics-logo-307px-279x103.png
Alex Auxier
2015-09-22 15:50:03
2022-03-25 21:12:57
The A to Z of Orange