Fluffer Pit Party: The Black Lips All Dayer
After April's sold out Wytches Weekender, we teamed up with Fluffer Records once again, this time for their Black Lips All Dayer Pit Party, with ten bands and DJ's playing from 1pm until 2am. With a 1000 people capacity this Pit Party was five times bigger(!!) than any previous pits, but still staying true to the concept of the band playing in the middle, although, this time on a stage surrounded by barriers, because let's face it, it'd be a death trap to just chuck 'em on the floor. As you enter the venue you're greeted with a warning sign, and you realize shit's about to get real;
«Fluffer takes no responsibility for bodily harm or injuries you may get in the pit.»
Set times & Bands:
2pm: Ohmns
3pm: Prison Whites
4pm: The Black Tambourines
5pm: Wonk Unit
6pm: The Parrots
7pm: Virgin Kids
8pm: HECK
9pm: Bo Ningen
10.15pm: The Black Lips
0.00: Claw Marks
01.00am: Sewer Rats
I imagine being placed in a ring facing away from your bandmates must be a new experience, and quite challenging, and I was amazed by how well the bands dealt with it. Liverpool band Ohmns kickstarted the day with a great set, which would have lasted way longer, if it was up to me. The show goes on, and things really start to happen as Wonk Unit takes the stage – with punk poems about horses and grandmothers Daddy Wonk charms the crowd with his cockney attitude and enthusiasm. Following Wonk Unit, was Heavenly Recordings newest addition, Madrid's The Parrots who's been on everyone lips the last couple of months. They got people dancing with their happy garage rock n roll, before we had a complete change of genre, as HECK took the stage.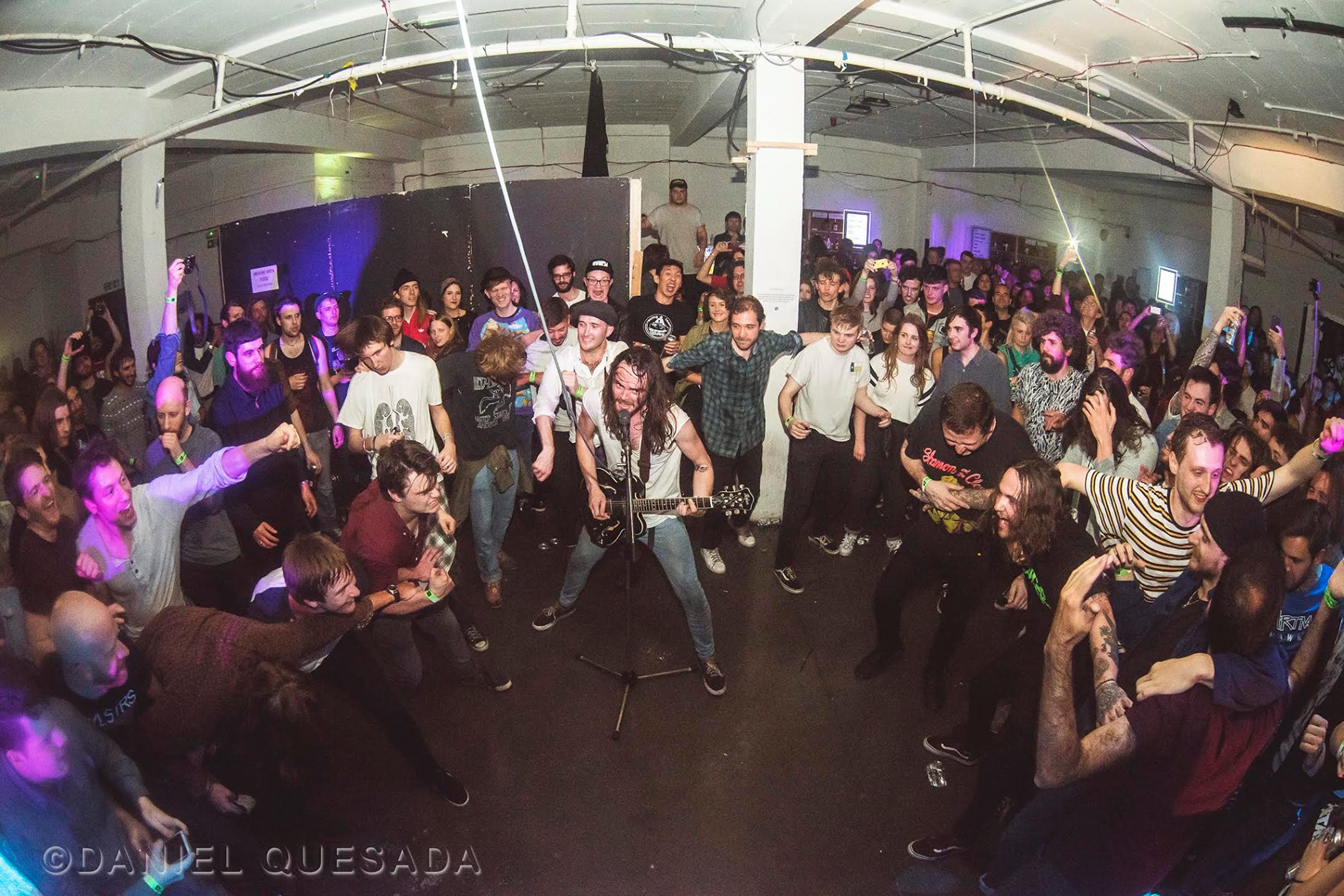 Now, I had never seen HECK before, but I had heard tales of terror, in a good way. «HECK's great, they have no regards for their own safety or anyone elses!» my mate told me as they took the stage, and bloody hell was he right! They were leaping off the stage and into the crowd, encouraging mosh pits, circle pits and walls of death, and kept an insane energy level from the first song – it's like the Pit Party was invented for bands like HECK, and they left me battered and bruised, with a footprint on my shoulder – all part of the pit party fun!
«HECK's great, they have no regards for their own safety or anyone elses!»
I wasn't sure who would be able to top that, or follow in their big-ass footsteps, but then Bo Ningen happened, and they were sensational, and probably one of the most fascinating bands I've ever seen live – it was an experience, not just a performance. Then, it was the moment we had all been waiting for, although I was already overwhelmed with excitement after the astonishing performances I had already seen, but it was time for The Black Lips to take the stage. Notoriously known for getting naked and starting riots at their own gigs, they seemed like a natural choice for a Pit Party,  and jeez, they were! The crowd went absolutely mental, and bodies were flying everywhere, they ended their set with a bang, with 'Bad Kids' from 2007's 'Good Bad Not Evil', where basically everyone in the entire venue invaded the stage to sing along. There was still two bands on after Black Lips, London band Claw Marks and kings of Grimsby, Sewer Rats. Both veterans in the pit who'd be up for such a challenge – needless to say, they killed it.
As I stumbled my way home with a belly full of bourbon and beer, I was pleased to have survived the madness of yet another pit party, before I'm back at it at the 18th of June when Traams are playing – still two and a half weeks away, that should give me just about enough time to recover. I think.
Photos by Freddie Payne and Daniel Quesada.
https://orangeamps.com/wp-content/uploads/2016/05/13262084_10153695770923131_1410748461_o.jpg
1367
2048
Ella Stormark
https://orangeamps.com/wp-content/uploads/2018/04/Orange-Pics-logo-307px-279x103.png
Ella Stormark
2016-05-31 13:19:23
2017-12-21 23:00:31
Fluffer Pit Party: The Black Lips All Dayer