CLOSED BACK | VOICE OF THE WORLD SPEAKERS | JIM ROOT SIGNATURE
#4 Jim Root PPC212
The #4 Jim Root Signature PPC212 shares the same dimensions as the PPC212OB, but its closed-back construction and 12″ Voice of the World speakers give this cab a very different character. The low end response is quicker and more focussed making it an excellent pairing for modern styles. Whilst the Jim Root signature cabinet has less internal volume than our larger PPC212, the overall sound of the #4 Signature cab is well balanced with a slightly more pronounced upper midrange. Made from 18mm birch ply, the Jim Root PPC212 is finished in black vinyl with a specially developed black version of the Orange basketweave grille cloth with Jim's signature '#4' plate on the front. Whilst this cab is a great match for a number of Orange heads, it really shines when paired with Jim Root Terror.
Orange Build Quality
Our commitment to quality  build and materials is world reknowned The #4 Jim Root Signature 212  features black basket weave vinyl,  custom black woven speaker grille cloth bearing Jim's signature and #4, 'picture frame' edging and 18mm Birch ply
Voice of the World Speakers
Our own custom designed speakers deliver the perfect balance between modern low end punch and vintage highs, maintaining clarity even when pushed.
Our First Ever Signature Model
Personally approved by Jim Root.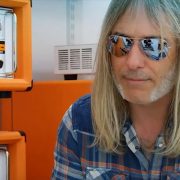 "Jim wanted real basket-weave grille cloth – not the material used on the bass gear – but in black. The speakers are Orange 'Voice Of The World' 12s, which have a vintage top end but a very fast and tight bottom end that tends to speed up with more power amp overdrive. They sound quite different to Celestion Vintage 30s and are not a copy. The cabinet contains two eight-ohm versions of this speaker, wired in series to make the cab a global 16 ohms."
| Features | Straight front, closed-back 2×12 | 18mm birch plywood construction | 2 x parallel ¼" input jacks for 'daisy-chaining to another 16 Ohm cabinet (total load = 8 Ohms) | hard wearing woven paper grille cloth | skid runners |steel hardware |
| --- | --- |
| Power Handling (Cabinets) | 120 Watts (Mono) |
| Speakers (Combos and Cabinets) | 2 x 12″ Voice Of The World |
| Impedance (Cabinets) | 16 ohm |
| Unboxed Dimensions (W x H x D) | 66 x 52 x 30 CM ( 25.98 x 20.47 x 11.81″ ) |
| Unboxed Weight | 26.6 KG (51.59 lb) |