AD200B Bass Amp and the Artists Who Love It
From an Artist Relations perspective, the AD200B bass amp is one of the best weapons in my arsenal. It's an amp with extremely pure bass tone, lots of clarity no matter how you've set the knobs, and it's overdrive is a perfect blend of classic and modern. I've had hundreds of artists make the switch from "the other standard bass amp company that which will remain unnamed" onto the AD200B.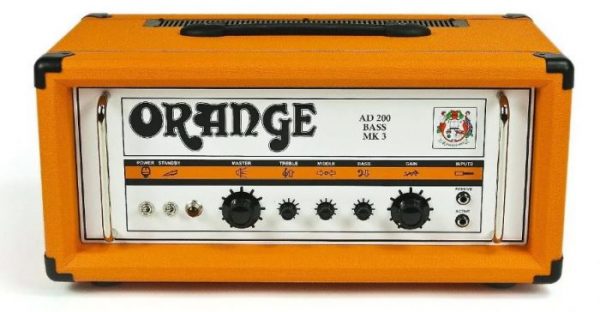 Artists love it because it's produced to the same standard as most vintage tube bass amps. They also tend to make the switch when their classic bass amps are ready to come off the road to become studio-only pieces.
Here's the backstory on a handful of Orange Ambassadors that use the AD200B (which we commonly refer to as just the "AD200"):
---
This might be hard to believe, but Slipknot is actually responsible for Geddy Lee playing the AD200.
Rush and Slipknot were recording next to each other in a Nashville studio. On a whim, Geddy heard the bass tone coming out of Slipknot's studio and peeked his head in to find out what was making that glorious sound. Martin, Jim Root's tech at the time, told him it was the AD200.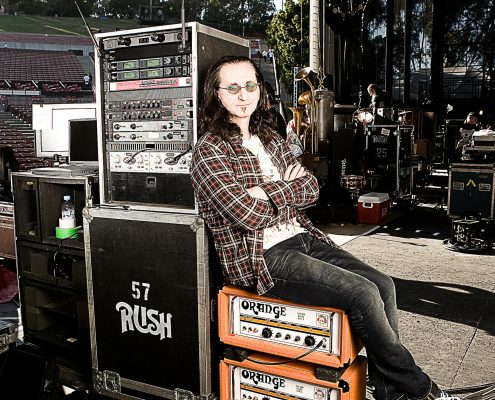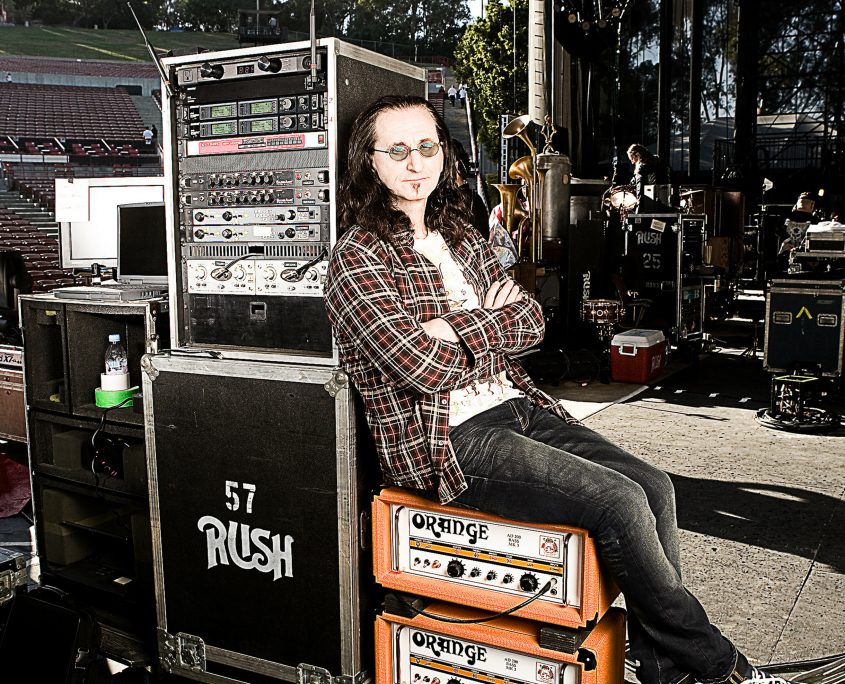 It took us about NEGATIVE FIVE MINUTES to decide Geddy could make or break Orange bass amps. Once we got that now-iconic photo of him chilling on top of his AD200's we started buying up a ton of full page ads in guitar magazines. It was basically an entire year of promoting Geddy. The result? A nearly 100% increase in bass sales (and they've been growing every year since then).
Geddy used the AD200 for ¼ of his onstage bass tone. He turned the gain and the treble all the way up and everything else down as far as it could go. So basically the AD200 was his overdrive tone. However, the bass tone on Rush's 2012 album Clockwork Angels is FULL of AD200 (check it out).
---
Glenn Hughes – Deep Purple, Black Country Communion
I was at Winter NAMM in 2011 when suddenly I got pulled into our demo room by an extremely excited Cliff Cooper (Orange's Founder and CEO). He told me Glenn Hughes had stopped by and asked to try the AD200. We stuffed ourselves into that demo room like sardines. Glenn plugged in, played for 10 seconds, and then stopped and looked at all of us. His face had an expression of disbelief.
"This is the tone I've been trying to find for decades…this is my sound."
Since then Glenn has been using the AD200 at 99% of his shows without fail. When I can't find backline for him in some random city in, say, Africa, he makes sure I know how sad it makes him. He recently switched from playing through a combination of OBC115 and OBC410 speakers, to a pyramid-looking set up featuring (3) OBC810 cabs turned sideways.
---
Everyone knows that Tom is constantly switching up his rig, but for the past 7 years Orange has become a staple of Tom's tone. Tom plays 12 string bass guitars (which he's famous for doing) and his rig is a mash-up of bass and guitar amps.
The first Orange amp he added to the mix was the AD200. Then he started throwing in Orange guitar amps, specifically the now-discontinued AD50 hand-wired, the AD30, and more recently the Custom Shop 50 hand-wired. For about a year his rig was entirely Orange, but in true Tom fashion he's started to put some Fender back into it. Honestly, as long as Tom Petersson of motherfreaking Cheap Trick has Orange on his stage I'll be OK with whatever it is!
---
Jason Narducy – Bob Mould, Superchunk, Split Single
I'm putting Jason Narducy, one of my favorite people in the world, right below Tom Petersson because Tom is the reason Jason picked up a bass. I'll just let Jason tell you what he thinks about the AD200:
"The first time I played an AD200 was in a rehearsal space in LA in 2006. It was the first practice with Bob Pollard's new band and we had to learn 357 songs or something like that. We also taught our livers what 357 beers felt like. Despite the beer and avalanche of songs, I knew right away that the Orange AD200 was special.
I noticed the amp was orange just like the manufacturer's name. They nailed that. But more importantly, it had the best tone for my P-bass. There were no hollowed out frequencies that you get with the common rented bass rig. The AD200 has presence and muscle. It is my favorite thing besides beer. And my family, I guess."
---
Ben Lemelin – Your Favorite Enemies
If you've been following Orange closely over the past decade you know that there's a super insane French-Canadian dude named SEF from the band Your Favorite Enemies who has done product reviews for us. SEF is like the human version of candy-flipping. However, we also have been working with the band's bassist, Ben Lemelin, for the same period of time, and he's just as good at doing killer demos.
Ben loves the AD200 for its super pure bass tone and for its ability to get wildly overdriven when necessary.
https://orangeamps.com/wp-content/uploads/2018/05/geddy-lee.jpg
2830
2439
alex
https://orangeamps.com/wp-content/uploads/2018/04/Orange-Pics-logo-307px-279x103.png
alex
2018-05-10 15:10:36
2019-07-01 14:51:00
AD200B Bass Amp and the Artists Who Love It