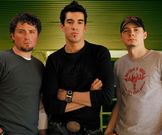 Genre: Rock
Website: www.theoryofadeadman.com
Myspace: www.myspace.com/theoryofadeadman
Theory of a Deadman, often known as TOAD, is a Canadian rock band from Delta, British Columbia, formed in 2001. The band is currently signed to Roadrunner Records. The band also includes traits of other music styles, such as country and acoustic, as well as their post-grunge and alternative rock base. So far, they have a total of 5 top 10 hits on the Hot Mainstream Rock Tracks chart, including one #1 hit, "Bad Girlfriend".[citation needed] They have also scored two #1 hits in their native Canada. In 2009, they played Cr??e Fest 2.]
On March 29, 2005, Theory of a Deadman released their second album, Gasoline. After the release of the album, the band toured with Shinedown and No Address. Starting March 1, Theory began a promotional tour including them, with headliners Breaking Benjamin and The Exies. Theory has risen in popularity with songs from Gasoline appearing in the soundtrack of the 2005 video game Fahrenheit, which was released under the title "Indigo Prophecy" in the United States.
The band performed the theme song to World Wrestling Entertainment's No Way Out 2006 pay-per-view, a cover version of "Deadly Game" from the WWE Anthology album. The song was released on the WWE Wreckless Intent album. They also did a cover of "No Chance In Hell", the theme tune for Vince McMahon. The song was released on WWE The Music, Vol. 8 on March 25, 2008.
On April 1, 2008, Theory of a Deadman released their third album, Scars & Souvenirs, which contains their seven singles, "So Happy", "Little Smirk", "Bad Girlfriend" (which borrows heavily from The Cult's hit single "Fire Woman") "All or Nothing", "Hate My Life", "Not Meant to Be" and "Wait for Me". The song "By the Way" features vocals from Chris Daughtry. On April 6, 2008, they appeared at the Juno Awards in Calgary, Alberta, after making various stops across Canada in a promotion known as Journey To The Junos.
The band currently touring the United States and Canada in support of the new album.
On October 13, 2008 during the Montreal Alouettes and Calgary Stampeders football game, it was announced that they will be one of the musical acts during the 96th Grey Cup halftime show along with Suzie McNeil and Andree Watters on November 23, 2008.
It was recently announced Theory of a Deadman will be supporting Kory Jans along with Hinder during their fall '08/winter '09 tour.
Total Nonstop Action use their song "Got it Made" from the album Scars & Souvenirs for their special 2008 year review video.
On April 9, 2009 Scars & Souvenirs was certified gold by the RIAA, with sales reaching 500,000 copies in the U.S. alone.
"Not Meant to Be" is now featured on Transformers: Revenge of the Fallen – The Album.
Source: Wikipedia
https://orangeamps.com/wp-content/uploads/2018/04/Orange-Pics-logo-307px.png
0
0
Ibe
https://orangeamps.com/wp-content/uploads/2018/04/Orange-Pics-logo-307px.png
Ibe
2010-05-15 15:48:35
2010-05-15 15:48:35
Theory Of A Deadman / TOAD