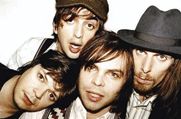 Genre: Pop / Indy / Brit-pop
Website: www.supergrass.com
Myspace: www.myspace.com/supergrass
Like many other British bands of the '90s, Supergrass' musical roots lie in the infectiously catchy punk-pop of the Buzzcocks and the Jam, as well as the post-punk pop of Madness and the traditional Brit-pop of the Kinks and Small Faces. Perhaps because of its age — two of the trio were still in their teens when they recorded their debut single — the band also brings in elements of decidedly unhip groups like Elton John, as well as classic rockers like David Bowie, the Beatles, and the Rolling Stones. With an exuberant, youthful enthusiasm, Supergrass tied all of their influences together in new surprising ways, where a Buzzcocks riff could slam into three-part harmonies out of "Crocodile Rock," or have a galloping music hall rhythm stutter like the best moments of the Who.
Consisting of guitarist/vocalist Gaz Coombes, bassist Mickey Quinn, and drummer Danny Goffey, Supergrass released their first single, the semiautobiographical "Caught by the Fuzz," in the summer of 1994 on the indie label Backbeat; Parlophone signed the band and reissued the single in the fall of the year. "Caught by the Fuzz" generated a significant amount of buzz, including praise from Blur and Elastica. "Mansize Rooster," the group's second single, was released in the spring of 1995; it made it into the pop charts, as did "Lenny," which was released right before their debut album, I Should Coco.
Released in May 1995, I Should Coco received glowing reviews in the U.K. press and debuted in the Top Ten. The band's popularity continued to grow, leading to the number two double A-sided single, Alright/Time. Staying in the Top Three for nearly a month, the single pushed the album to number one. I Should Coco was released in the U.S. three months later and a buzz began to build there as "Caught by the Fuzz" began receiving MTV and radio play. The acclaimed In It for the Money followed in 1997, and in 1999 the band issued its self-titled third LP, which received a belated American release the following spring. The similar critical favorite Life on Other Planets followed in 2002, and Road to Rouen arrived three years later.

Source: Wikipedia
https://orangeamps.com/wp-content/uploads/2018/04/Orange-Pics-logo-307px.png
0
0
Ibe
https://orangeamps.com/wp-content/uploads/2018/04/Orange-Pics-logo-307px.png
Ibe
2010-05-15 16:06:17
2010-05-15 16:06:17
Supergrass