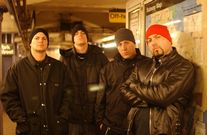 Genre: Metal Punk Rock
Website: www.biohazard.com
Myspace: www.myspace.com/biohazard
Biohazard is a band originally based out of Brooklyn, New York. They are acknowledged as one of the earliest bands to fuse hardcore punk and heavy metal with elements of hip hop.
The band formed in 1987 in Brooklyn. The original lineup consisted of bassist/vocalist Evan Seinfeld, guitarist Bobby Hambel, and drummer Anthony Meo. Guitarist/vocalist Billy Graziadei joined the band soon after. Their first demo tape, released in 1988, caused a stir with journalists who felt that the band's lyrics displayed certain fascist and white supremacist views, despite the fact that Seinfeld himself was Jewish. Accusations of racism in their music were strenuously denied by the band, but in later interviews, Seinfeld and Graziadei explained that it had all been a publicity stunt to win over the band Carnivore and their fans. Eventually, the songs in question were no longer played or even mentioned, and the band began preaching message of tolerance and anti-racism. After the release of their demo, Anthony Meo left the band and drummer Danny Schuler stepped in to replace him. A second demo tape followed in 1989.
While never really considering themselves a hardcore band, Biohazard often found themselves sharing stages with bands associated with the New York hardcore scene, such as the Cro-Mags and Agnostic Front. They also shared stages with New Jersey hardcore band Mucky Pup on occasion and a friendship between the two bands developed. Mucky Pup became a strong supporter of Biohazard and often booked them as an opening act, but many clubs would refuse to let Biohazard play, thinking the shows would lead to violence. As a result, Mucky Pup would resort to sneaking them on stage to perform a few songs before their own set.
Maze Records
In 1990, Biohazard signed a recording contract with Maze Records. The band's self-titled debut album was poorly promoted by the label and sold approximately 40,000 copies. Subject-matter of the album included Brooklyn, gang-wars, drugs, and violence, and it incorporated audio clips from the movie The Warriors. The band went on their first European tour and realized that the problems they sang about on their first record were not limited to their Brooklyn hometown.
One year after the release of their debut album, Seinfeld and Graziadei contributed vocals to the song "Three Dead Gophers" from Mucky Pup's third album, Now. The album was released on Roadrunner Records, who would soon release Biohazard's second album.
Roadrunner Records
In 1992, Biohazard signed with Roadrunner Records and released Urban Discipline, which gave the band national and worldwide attention in both the heavy metal and hardcore communities. The video for the song "Punishment" became the most played video in the history of MTV's Headbanger's Ball, and the album sold over 1,000,000 copies. The band also began opening for larger acts such as House of Pain, Sick Of It All, Fishbone, and Kyuss.
In the meantime, several former members of Mucky Pup had formed the band Dog Eat Dog. Biohazard had continued their friendship with these members and began to share the stage with Dog Eat Dog. While touring Europe, Graziadei gave a Dog Eat Dog demo tape to a Roadracer Records representative. At the time, Roadracer was the European sister label to Roadrunner Records. The tape was sent back to the New York office of Roadrunner Records who then sent representatives to several Dog Eat Dog shows. As a result, Dog Eat Dog signed their first record deal with the label.
In 1993, the hardcore rap group Onyx recorded an alternate "Bionyx" version of their hit single "Slam" with Biohazard as their backup band. This led to a collaboration for the title track of the Judgment Night soundtrack. The soundtrack would go on to sell over 2,000,000 copies in the United States.
Warner Bros.
Months later, the band left Roadrunner Records in order to sign with Warner Brothers Records Inc. and released their third studio LP, State of the World Address. The album was produced by Ed Stasium in Los Angeles and contained the single "How It Is" featuring Sen-Dog from Cypress Hill, for which a video was also shot. During their 1994 tour, the band made an appearance on the second stage at the Monsters of Rock festival held at Castle Donington. State of the World Address went on to sell over 1,000,000 copies, and Rolling Stone magazine selected the Biohazard logo as the best logo of the year. This was the last Biohazard album with Bobby Hambel, who left due to differences with the rest of the band. Hambel spent time in White Devil, also featuring members of the Cro-Mags, before seemingly leaving the music business entirely. On late 1995, the band, along with Therapy? and Gunshot, did remixes on the Pitchshifter album The Remix War.
The band recorded their fourth studio album, Mata Leao, as a three piece in 1996. It was produced with the help of Dave Jerden. For the 1996 Mata Leao Tour, the band hired former Helmet guitarist Rob Echeverria. Also in 1996, Biohazard played on the Ozzfest mainstage alongside Ozzy Osbourne, Slayer, Danzig, Fear Factory, and Sepultura.
While touring Europe in support of the Mata Leao album, the band recorded their Hamburg, Germany, show for their first live album, No Holds Barred (Live in Europe), which was released in 1997 through their former label, Roadrunner Records.
In 1998, Seinfeld began an acting career playing Jaz Hoyt on HBO's award winning series Oz. The character was introduced in the second season and appeared throughout the series' sixth and final season.
Mercury Records
The band signed to Mercury Records and released their fifth studio album, New World Disorder, in 1999, once again with Ed Stasium as a producer. The relationship with Mercury Records soured quickly; the band felt betrayed and misunderstood by their label and as a result severed their ties with the label amidst the merger of Mercury Records, Island Records, Def Jam Records, and Polygram into the Universal Music Group.
Independent again
In 2000, the band continued to tour Europe and Japan, without the support of a record label or management. In 2001, the band released a compilation album titled Tales From The B-Side. The album consisted of various B-sides and remixes from various eras in the band's recording history. The album was released by the Phantom Sound & Vision label. After the release of Tales From The B-Side, Rob Echeverria resigned from the band in order to get married. Leo Curley, of Outline and All Means Necessary, was hired as his replacement.
SPV/Sanctuary Records
In the same year, Biohazard signed two new record deals with SPV/Steamhammer in Europe and Sanctuary Records for the remainder of the world. Despite the new record deals, the band took some personal time in order to work on other projects.
Graziadei briefly formed a trip hop project with Jenifer Bair of the Ohio band Hilo. After writing and recording approximately 20 songs for the project, named Blu, Bair relocated to Los Angeles, California to continue an art career and the project dissolved. Graziadei also began work on a book, Tales From The Hardside. Schuler used his downtime to join New York band Among Thieves as a replacement drummer for the departing Will Shepler.
Graziadei and Schuler also collaborated in transforming the band's rehearsal Brooklyn studio into a digital recording studio, known as Rat Piss Studios. Re-investing into the band, Graziadei and Schuler honed their engineering and productions skills while recording and producing local acts and new Biohazard demos. The band then undertook the process of writing, recording, and producing their own music.
Their studio work led to the band's sixth studio album, Uncivilization, released in September 2001. The album features many guest appearances by members of bands such as Agnostic Front, Hatebreed, Pantera, Slipknot, Sepultura, Cypress Hill, Skarhead, and Type O Negative. Shortly after the release of Uncivilization, Leo Curley left the band to focus on writing his own music. He was replaced by former Nucleus member Carmine Vincent, who had previously toured with Biohazard as part of their road crew.
In 2002, Seinfeld became engaged to porn star Tera Patrick, who had never heard of Seinfeld until she saw one of his nude scenes on Oz. After making several phone calls, Patrick was able to contact Seinfeld, who had never heard of her either, and the two began dating.
Unfortunately, the band had to cancel scheduled European festival dates when Carmine Vincent underwent major surgery. The band did manage to find a temporary guitarist, Scott Roberts of the Cro-Mags, in time to join the Eastpak Resistance Tour with Agnostic Front, Hatebreed, Discipline, Death Threat, and Born From Pain. Also participating in the tour was All Boro Kings, a band consisting of old friends from both Mucky Pup and Dog Eat Dog.
Biohazard completed their seventh studio album in seventeen days; Kill Or Be Killed was released in 2003. Originally titled Never Forget, Never Forgive, the band made a last-minute decision to change the name and artwork of the album. While touring North America with Kittie, Brand New Sin and Eighteen Visions, Biohazard announced that Roberts would remain as their permanent guitarist. The tour was curtailed when it was announced that Seinfeld had fallen ill.
With more downtime due to Seinfeld's illness, Graziadei and Schuler collaborated to mix Life of Agony's live comeback album, River Runs Again: Live 2003. Once Seinfeld was healthy again, the band toured Japan and North America, headlining over bands such as Hatebreed, Agnostic Front, Throwdown, and Full Blown Chaos.
Once home, Seinfeld began recording and circulating demos for his own trip hop project named Triplesicks. For a brief time, Graziadei and his wife moved to Brazil where their daughter was born. While there, Graziadei struck up a friendship with drummer Fernandao Schafer. After jamming together in the studio, Schafer formed the band Ink which Graziadei would eventually join. It wasn't long before Ink was renamed Endrah and an EP titled DEMONstration was released. Once Graziadei returned to New York, the logistical problems of traveling back and forth caused Graziadei to quit Endrah.
In early 2004, Graziadei, Schuler, and Roberts teamed up with gabber DJ Rob Gee, DJ Starscream (aka Sid Wilson of Slipknot), Jeff Anthony, and Keith Rooney, both of Gutwrench, to form Ampt. The band combined gabber music with hardcore and heavy metal. After writing several songs and putting together a live band, Graziadei and Schuler left the project in order to continue with Biohazard. Ampt has gone through several additional lineup changes since.
Also in 2004, Seinfeld, now residing in Los Angeles, California, married his fianc??e of two years, Tera Patrick. Using the alias Spyder Jones, Seinfeld has since starred with Patrick in several adult movies, including Desperate and Reign of Tera, which he also directed.
By the end of 2004, the band had begun recording its eighth studio album, Means To An End. Unfortunately, the completed album was lost in a studio disaster, forcing the band to completely re-record the album, which was finally released in August 2005.
The end of Biohazard
In the meantime, Graziadei had formed another new band with former members of Kittie and The Groovenics. Originally named Rodek, the band eventually changed their name to Suicide City. In October 2005, Graziadei announced that Means To An End had been the final Biohazard album and that he would continue playing with Suicide city as his main focus. One month later, on the Biohazard website, it was announced that there would in fact be a 2006 Biohazard tour.
On December 15th, Seinfeld and Graziadei participated with the Roadrunner United conglomerate at the Nokia Theater in New York for an all-star event. The show opened with Biohazard's "Punishment," performed by Seinfeld, Graziadei, Sepultura's Andreas Kisser, former Fear Factory member Dino Cazares, and Slipknot's Joey Jordison.
In January 2006, Danny Schuler announced his resignation from Biohazard and the formation of Bloodclot with singer Jon Joseph of the Cro-Mags and guitarist Scott Roberts and bassist Craig Setari of Sick of it All. As a result of Schuler's resignation, Roberts announced that he would also be leaving the band to focus on Bloodclot with Schuler. That same month, Graziadei announced that Biohazard would not go on a farewell tour after all [1]. A Biohazard DVD was released soon after.
Graziadei and Schuler have since relocated their recording studio to South Amboy, New Jersey and have renamed it Underground Sound Studios. The studio has undergone renovations in order to include a live room with 20-foot (6.1m) ceilings and 4,000 square feet (370m2) of studio space.
In February 2006, Seinfeld participated in the filming of SuperGroup, a VH-1 reality television series also starring Ted Nugent, Scott Ian of Anthrax, Sebastian Bach and Jason Bonham of Bonham, UFO, and Foreigner as a band named Damnocracy. The show debuted on May 21, 2006. Seinfeld continues to work with his wife, Tera Patrick, in adult entertainment. In 2005, they launched the Tera Patrick Agency with the goal of representing talent in both the adult and mainstream entertainment business.
In March 2007, Evan Seinfeld debuted his new band, The Spyderz, as an opening act for a Buckcherry performance. The band was originally named White Line Fever, until it was discovered that a UK band already owned the name. The Spyderz also features guitarist John Monte, formerly of Ministry and M.O.D.. In October 2008, Seinfeld also joined Tattooed Millionaires as a bassist and co-vocalist.
Reunion
In January 2008, the lineup of Evan Seinfeld, Billy Graziadei, Danny Schuler and Bobby Hambel made the announcement that rehearsals had begun for a 2008 summer tour to commemorate the band's 20th anniversary.[1] They toured Australia and New Zealand in April with Chimaira, Throwdown, Bloodsimple and headliners Korn to celebrate their newly declared reunion. [2] The band also took part in Persistence Tour 2009, and announced at one of their shows that they are currently working on a new record which is due to be released in March 2010. The band has continued to tour Europe and the United States through late 2009.
Source: Wikipedia
https://orangeamps.com/wp-content/uploads/2018/04/Orange-Pics-logo-307px.png
0
0
Ibe
https://orangeamps.com/wp-content/uploads/2018/04/Orange-Pics-logo-307px.png
Ibe
2010-05-15 15:21:26
2010-05-15 15:21:26
Biohazard