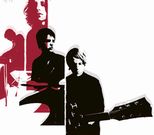 Genre: Pop
Website: www.22-20s.com
Myspace: www.myspace.com/2220s
Named for the Skip James song "22-20 Blues," the 22-20s hail from Lincolnshire, England, and mix blues, rock, folk, and country influences into a sound that got the quartet noticed early in its career. Vocalist/guitarist Martin Trimble and bassist Glen Bartup had played together in local bands for several years, but formed the 22-20s in mid-2002, while they were still both in their early twenties. Keyboardist Charlie Coombes and a series of drummers rounded out the band's initial lineup. The group's consistent gigging caught the ears of Heavenly Records, which signed the band late in 2002; early the following year, the 22-20s released their first single, Such a Fool, as a limited-edition 7″. Soon after, they made their first U.S. appearance at the 2003 Coachella Festival; during their U.K. tour later that spring, the band also recorded the 05-03 EP, which previewed a handful of their songs in concert.
Supporting gigs for Jet and Kings of Leon sent the band back to the States, and the 22-20s' relentless touring schedule continued with appearances at Glastonbury, Germany's Southside and Hurricane festivals, and another U.K. tour that fall, which coincided with the release of the single 22 Days. 05-03, another limited-edition pressing, was also issued around that time, and became the 22-20s' first U.S. release. The band took a brief breather from playing live to finish its self-titled debut album, but geared up again in 2004 with appearances at T in the Park, Glastonbury, and Reading, as well as the Fuji Rock Festival in Japan. Singles such as Why Don't You Do It for Me? and Shoot Your Gun heralded the release of The 22-20s in the U.K. that fall, which they supported with, of course, another tour. The band rounded out 2004 with dates in Australia and the news that The 22-20s would be released in the U.S. by Astralwerks in early 2005. As always, the band's touring schedule for that year was busy, with appearances at SXSW, the Isle of Wight and V festivals, and supporting gigs with Graham Coxon and Supergrass.
Source: Wikipedia
https://orangeamps.com/wp-content/uploads/2018/04/Orange-Pics-logo-307px.png
0
0
Ibe
https://orangeamps.com/wp-content/uploads/2018/04/Orange-Pics-logo-307px.png
Ibe
2010-05-15 14:10:55
2010-05-15 14:10:55
22-20s