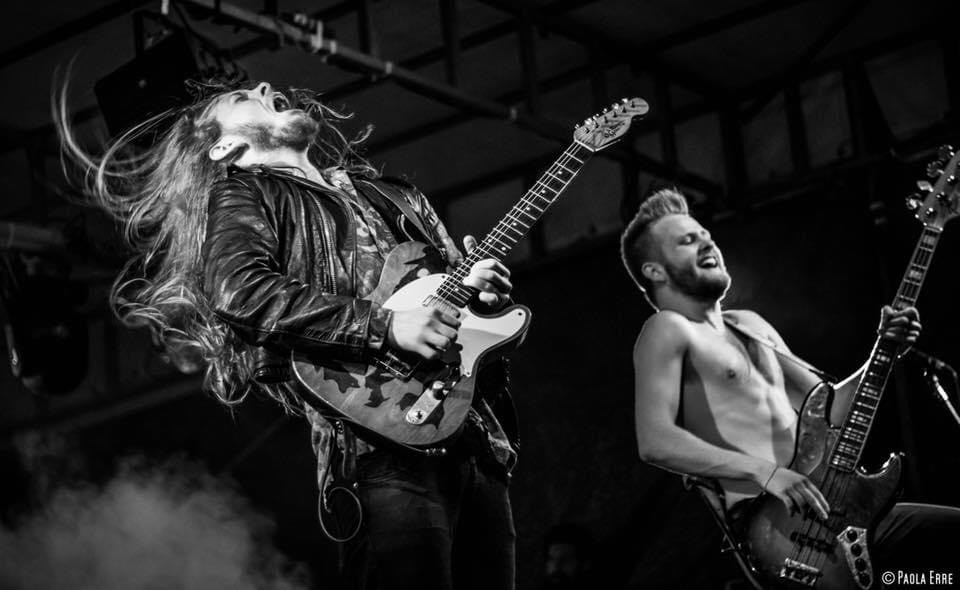 This year at Black Deer Festival Orange got the pleasure to sit down with Oskar and Alex from Icelandic rock band Vintage Caravan. The band had just played a set at the festival and chatted about their Orange rigs, the Rockerverb MKIII and the Terror Bass, we also found out about their influences and how Icelandic culture and weather helps to galvanise a band.
---
Oskar: Hi my name is Óskar Logi Ágústsson, I play guitar and I sing.
Alex: Hi i'm Alex and I play bass.
What inspired you to start playing music?
Alex: I remember starting to listen to 'Rage Against the Machine' and thinking that guy sounds pretty fuckin' bad ass. That kind of propelled me into playing bass and stuff like that, really got the juices flowing!
Oskar: Ugh! I started playing guitar when I was 9, I watched School of Rock and that got me thinking, if they can do it, I can do it.
Alex: I think every kid our age got inspiration from that.
Oskar: Thank you Jack Black! When I head Led Zeppelin and Jimmy Hendrix, there was no turning back.
Tell us about the music scene you grew up with?
Alex: I mean the music scene has always kind of been very strong in Iceland, it's kind of inspiring to grow up there but also there is not that much to do. The weather is awful all of the time or most of the time.
Oskar: It's also dark for most for most of the day in the winter time, so you have to do something.
Alex: For nerdy kids like us that meant playing bass and guitar.
When was the first time you spotted an Orange Amp?
Alex: A guy I played in a band with, when I was like 11, he had an Orange combo. I can't remember the exact model, it was such a noticable brand as there are no other Orange coloured amps. So immediately when you see it you can't….
Oskar: You can't get confused with anything else! For me it was seeing Tony Iommi, Paul Kossoff, seeing Fleetwood Mac and Peter Green. Seeing those guys using it, I was associating Orange with great tone and great playing, as they were flying the Orange flag, it was very inspiring.
Tell us about your current set-up?
Alex: I'm running an 8X10 and actually I have be running almost exclusively a new Terror Bass amp. Its cool because I can fly anywhere and it sounds amazing. I've tried a lot of these Class D, solid state amplifiers because there is a lot of them out now. Actually I have never tried one that has a weight to the sound, like you get from a really good solid state amp or a tube amp, that you don't really see in a lot of those other small amps.
Oskar: For me I'm getting the Rockerverb 100 MKIII.
Tell us about why you choose this particular gear?
Alex: In terms of sound I always try to go for something that can stay full and rich but is immensely punchy. Because I have to have a lot of punch all the time, I don't know maybe i'm compensating for something. Not every amp can do that, I really like how you can turn up the gain on an Orange amp, it seems to do something funny that makes it really fat and powerful, which i don't see in many modern amps.
Oskar: The Rockerverb just gives me the wings to fly! A cliche yes! I almost teared up myself. It makes my guitars really sing and its super tight, I don't know really how to explain it but it has that huge body to it and it sings. There is no part of it that is floppy, it is just there and great for the mix.
How does it feel to be part of the Orange family?
Oskar: Being an ambassador of Orange is a dream come true, it's mind blowing just being part of the huge roster.
Alex: It's a big honour for us, for sure, we are very happy to working with you guys,
Oskar: Super happy, it's quite surreal seeing our names on the website. I know that man!
https://orangeamps.com/wp-content/uploads/2020/04/92359481_254848898894366_1030885575168622592_n.jpg
590
960
Orange Amps
https://orangeamps.com/wp-content/uploads/2018/04/Orange-Pics-logo-307px-279x103.png
Orange Amps
2020-04-22 09:00:00
2020-04-14 15:07:29
Interview with Vintage Caravan at Black Deer Festival