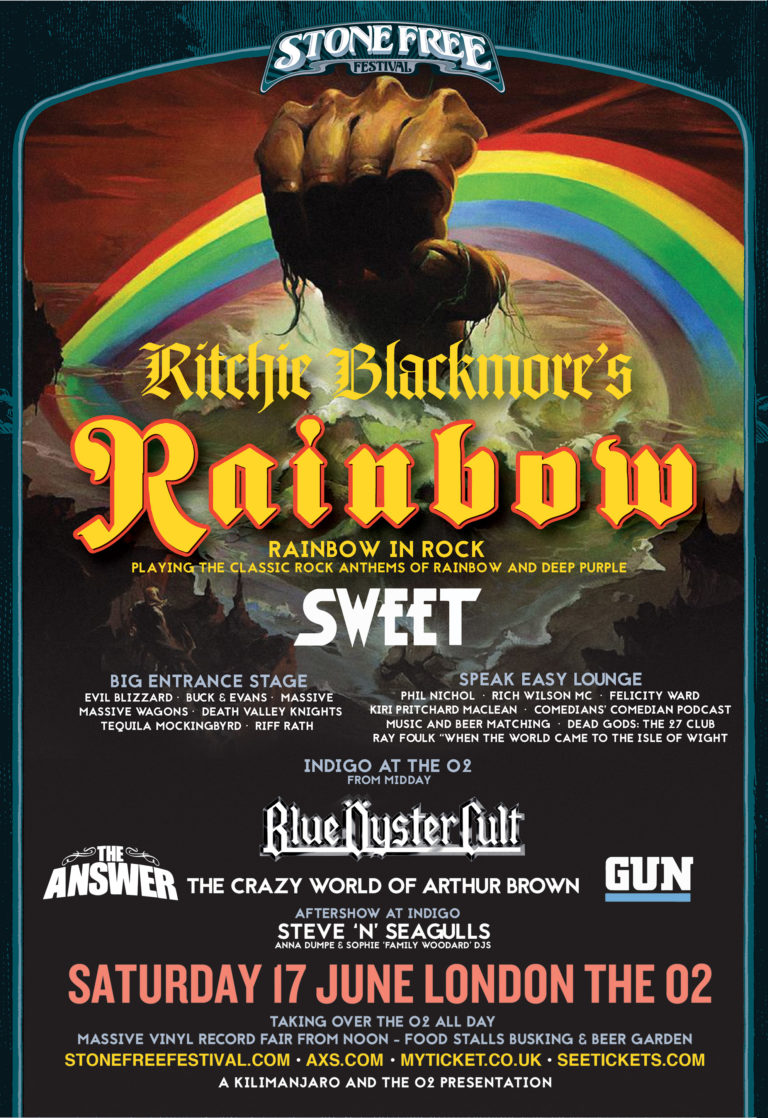 This Saturday, it was time for the annual Stone Free Festival at London's o2, and new to this years festival, was the Orange Amps stage in the foyer of the arena, providing festival goers with banging tunes from the very first second they set foot in the venue.
THE ORANGE AMPS STAGE
Evil Blizzard: 18.00 – 18.45
Buck & Evans: 17.00 – 17.30
Massive: 16.00 – 16.30
Massive Wagons: 15.00 – 15.30
Death Valley Knights: 14.00 – 14.30
Tequila Mockingbyrd: 13.00 – 13.30
Riff Rath: 12.00 – 12.30
As far as for the rest of the festival, it saw the likes of bands and artists such as The Crazy World of Arthur Brown and Blue Oyster Cult (among others) who played their 1972 self titled debut album in it's entirety at a sweaty and packed Indigo2.
In the main room, we saw performances from 70's glam rockers Sweet who delivered a whole bunch of bangers such as Ballroom Blitz, Teenage Rampage, Fox on the Run, and Hellraiser. Following Sweet's performance there was a half an hour break leaving you with just enough time for toilet breaks and running to the bar to buy some pretty expensive pints to spill all over yourself and everyone else while awkwardly trying to parkour your way through the crowd getting back to your seat, before it was time for the headliner of the day, where living legend Mr. Ritchie Blackmore would bring his Rainbow playing the classic rock anthems of both Rainbow and Deep Purple.
Touring Rainbow and Deep Purple songs without Ronnie James Dio and Jon Lord is risky business, but Ritchie Blackmore's 21st century Rainbow delivered an absolutely incredible performance, playing songs such as I surrender, Man on The Silver Mountain, Mistreated, Child in Time, Black Night and Burn. I go to gigs several nights a week most weeks, and I think it's safe to say this is one of the best ones I've been to in a very, very long time. All hail King Ritchie Blackmore!
https://orangeamps.com/wp-content/uploads/2017/06/19237815_681926231999427_3983910464446035718_o.jpg
1365
2048
Ella Stormark
https://orangeamps.com/wp-content/uploads/2018/04/Orange-Pics-logo-307px-279x103.png
Ella Stormark
2017-06-20 11:31:52
2017-12-21 23:00:24
Stone Free Festival