Every month we reward one lucky winner with a free pair of O-Edition Headphones. All you have to do is post your Orange rig to any qualifying social media using the hashtag #OrangeRigOfTheMonth. Please note we are not accepting entries via email.
What's your name, age, occupation?
Reno Gooch, 45, musician, actor, hemp farmer, stage hand.
How'd you first hear about Orange?
When I was a child I saw the Beat Club videos of Black Sabbath and their Orange half stacks all around. It was a turning point for me and the Orange stacks were imprinted into my psyche. Just looking at my half stack takes me back to that feeling of being so excited about music.
What do you use your rig for?
My Oranges are used for performing and recording with my psychedelic fuzz band Space Coke.
How much did this rig set you back?
6 magic beans. Seriously though, I traded something for the Terror Stamp locally. I have 4 orange rigs so to speak, the Rockerverb MKiii 50 and PPC412, I have a Micro Terror with the 1×8, a Terror Stamp and an OR15 with a PPC112. I'm happy to be getting the Orange headphones to go with the Micro and Stamp.
How often do you update the rig?
I will never update my Rockerverb MKiii. It's the best amp ever I truly believe. I may get a second PPC412 to go with it though! I'm updating the Terror Stamp with the Headphones you're awarding me.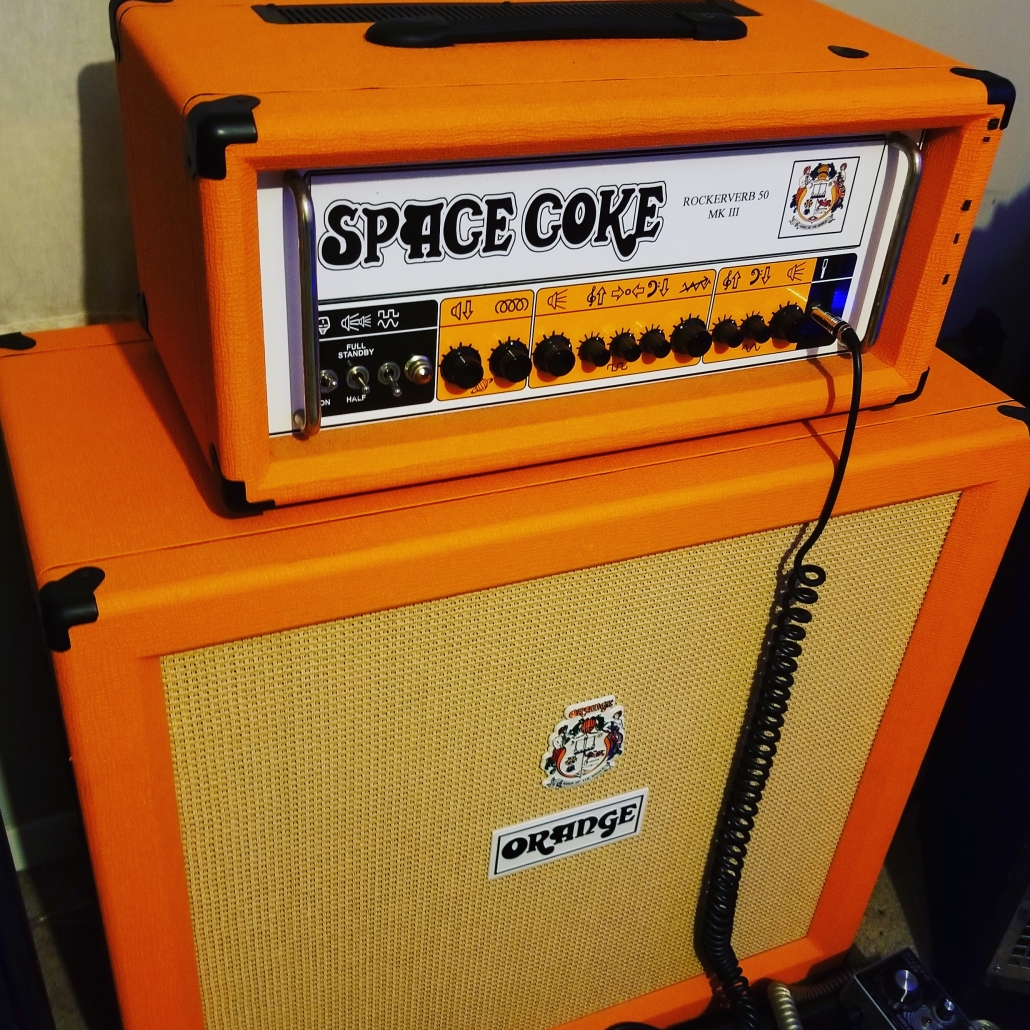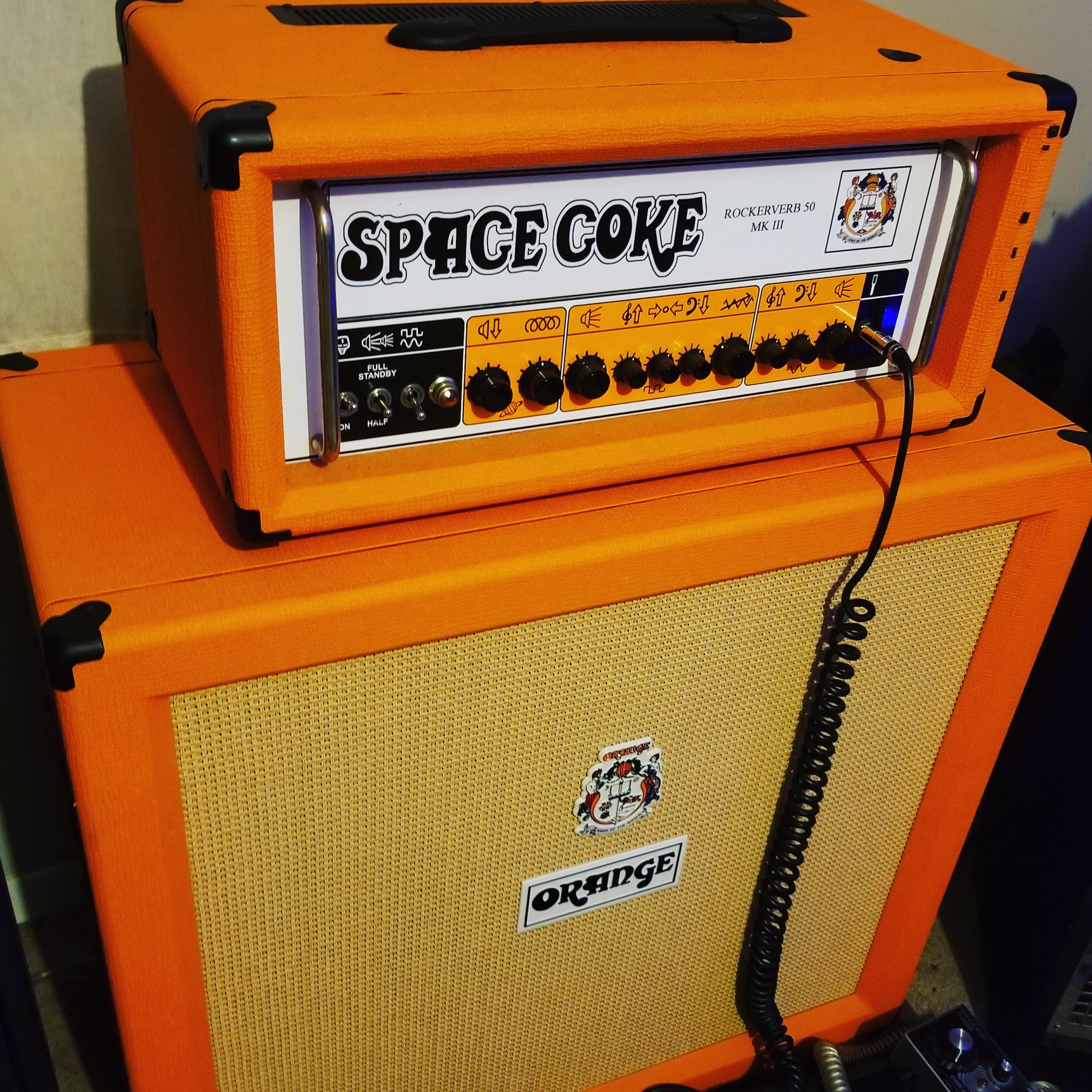 What gear is in this rig?
For my rig of the month it's a Terror Stamp alongside my Seeker Effects Iommi styled Rangemaster. The tube preamp let's me use my gig pedals and listen with headphones (which I now will have thanks to the generous Orange team!)
What guitar do you use? Why?
I have 2 Gibson SGs. A white limited edition with Seymour Duncan Whole Lotta Humbuckers. It sounds amazing and has a thicker neck. Its name is Nuit Ma Ahathoor Hecate Sappho Jezebel Lilith Crowley aka "the white witch." My other is a black Traditional with stock '61 pickups. It's a lefty. I'm lefty but play righty. I like using flipped lefty's because it puts the controls where I like em. I use SGs because of my heroes Iommi and Sister Rosetta Tharpe.
When was the first time you saw an Orange amp?
The Black Sabbath Beat Club videos. Shortly after that Stevie Wonder live in the 70s. Stevie's whole band had Oranges everywhere. Man that tells you it ain't just the looks!
If you could own any piece of gear, old or new, what would it be and why?
That's a very tough question! I'm gonna pick Sister Rosetta's 3 pickup white SG.
Who is your guitar hero?
Another impossible question! I'm taking the liberty of saying my main influences all together Helios Creed, Paul Leary, Iommi, Zappa and Hendrix.
Can you share any links where people can go to hear how this sounds?
Spacecoke.bandcamp.com. The Terror Stamp in particular will be on our upcoming LP on Forbidden Place Records. Out early 2021. I will also be posting videos soon on our Instagram page.
https://orangeamps.com/wp-content/uploads/2020/08/Capture.jpg
679
750
alex
https://orangeamps.com/wp-content/uploads/2018/04/Orange-Pics-logo-307px-279x103.png
alex
2020-08-14 16:33:45
2020-08-14 16:33:47
Rig of the Month – August 2020