Amp: Orange OR100 Head and PPC412 Cab
My rig consists of an Orange half stack, several PRS guitars, and a plethora of pedals. Orbweaver has two guitarists, and we like to make a lot of noise, so I run the OR100 on full power (100W) and go straight into the cabinet at 16ohms. In certain situations I might run it on a lower wattage setting, such as recording or home use.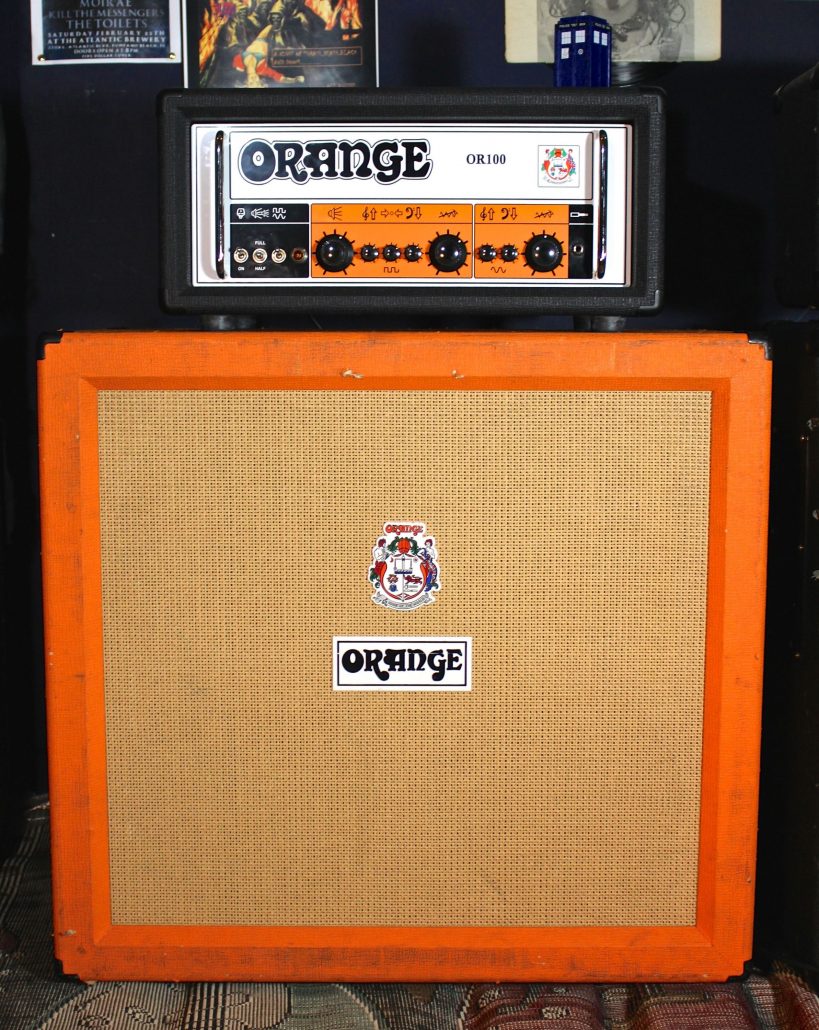 I love the OR100 as it has every feature I need from an amp, without being overly convoluted. It's just pure tone, without any clutter. I use a dual footswitch so I can run both channels and also use the Global Boost for solos, which boosts your volume without adding gain. Speaking of gain, I don't use as much as you'd generally expect from a metal band, my tone is more crunchy, and I set the gain knob around 6 and a half. Tone controls I generally run at 7 across the board.
The PPC412 is hands down the best cab I've ever used. The day I bought it I AB'd a bunch of different cabinets and it stood head and shoulders above the rest – excellent projection and clarity, while still sounding warm and heavy as fuck.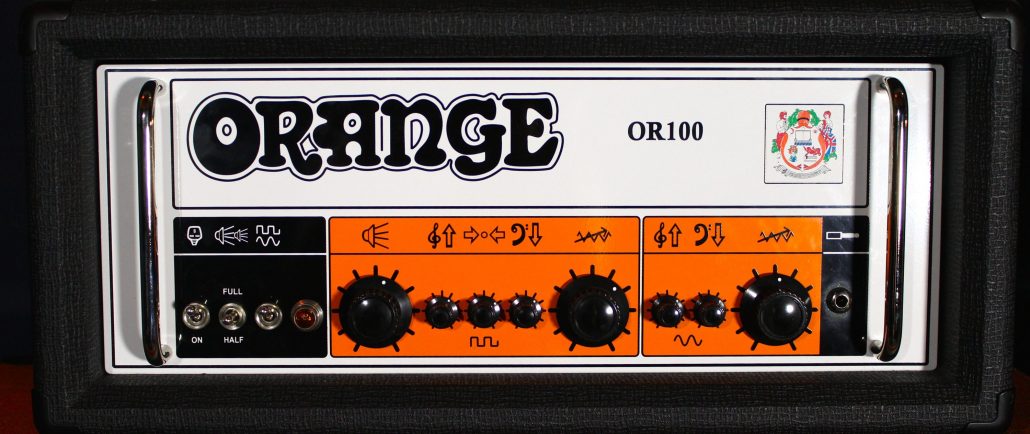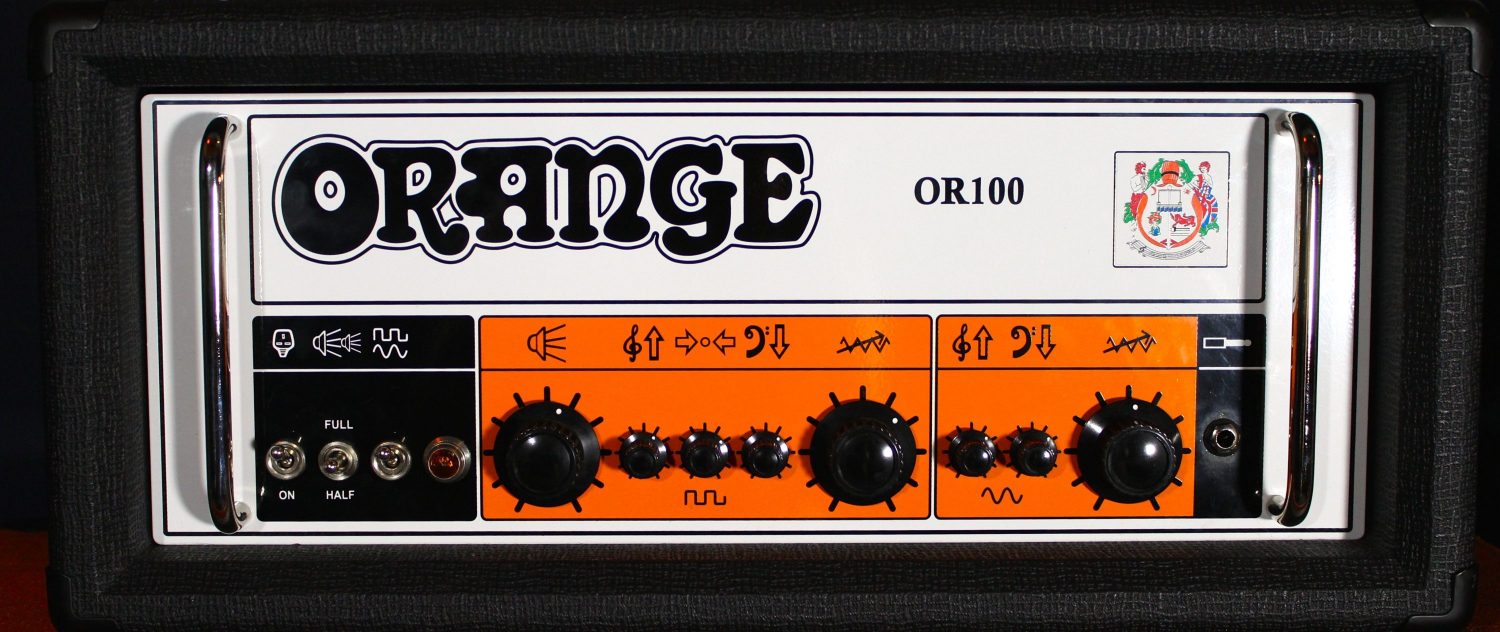 Main Guitars: PRS Custom 22 Goldtop, PRS SE Navarro Custom 24
My number one guitar is a PRS Custom 22 with a wide-fat neck and tremolo. I've been playing it for about 4 years straight now. I have it set up with 11's, and have found myself playing with higher action lately. I love doing all kinds of ridiculous things with the whammy bar, and lucky for me, it holds tune really well for a non-locking tremolo. My settings on it are pretty simple, 90% of what I do is play through the bridge humbucker, with volume and tone on full. The volume knob rolls off really well, and interacts nicely with the tube amp gain, so I utilize that a lot for swells and strange noises…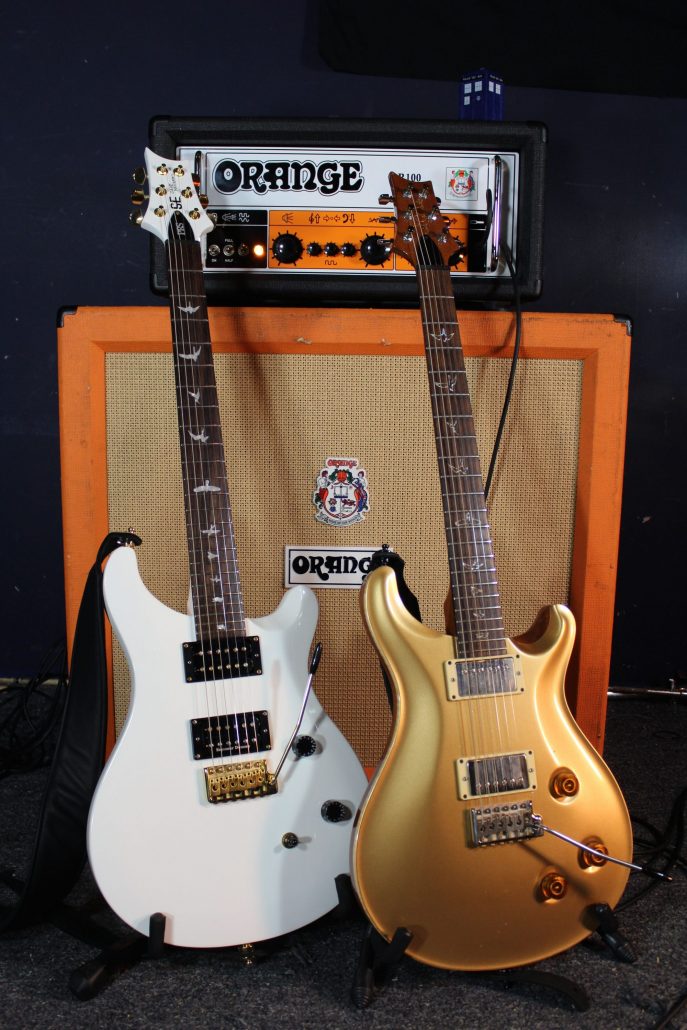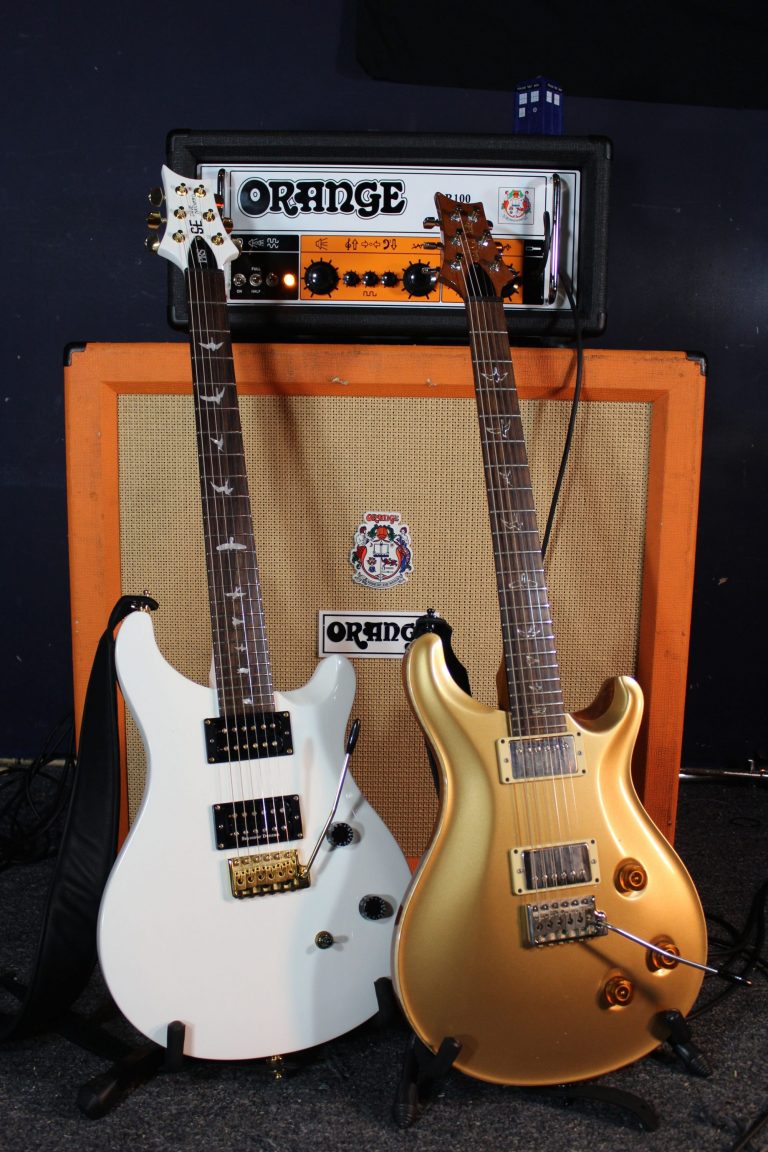 I recently acquired the Navarro SE from PRS as a backup for the Goldtop. The neck is a wide-thin profile, so it's a little more shreddy than the '22. I put a Seymour Duncan JB in the bridge, and kept the coil split on each pickup. It's a killer guitar and has made an excellent backup, even coping with freezing conditions on our recent winter tour.
Pedals: Lots
So right now my pedal board consists of: a Seymour Duncan Deja Vu Delay, Shape Shifter tremolo, BBE Mind Bender chorus/vibrato, MXR Phase 90, MXR Carbon Copy delay, Boss TU2 tuner, and my Orange 2 button footswitch.
I say right now, as our pedal boards tend to be in a state of flux. Especially now as we are writing new songs, I will probably be bringing back my wah, adding an envelope filter, trying out new delays, etc.
The settings vary depending on what song/riff we are playing, we do a lot of tweaking and tap dancing.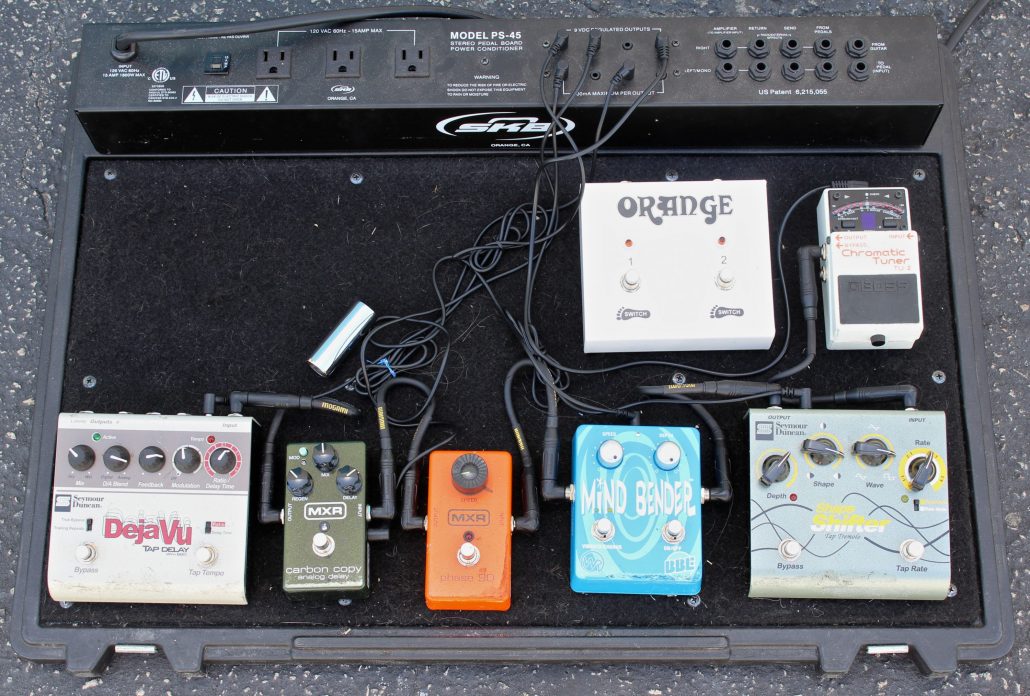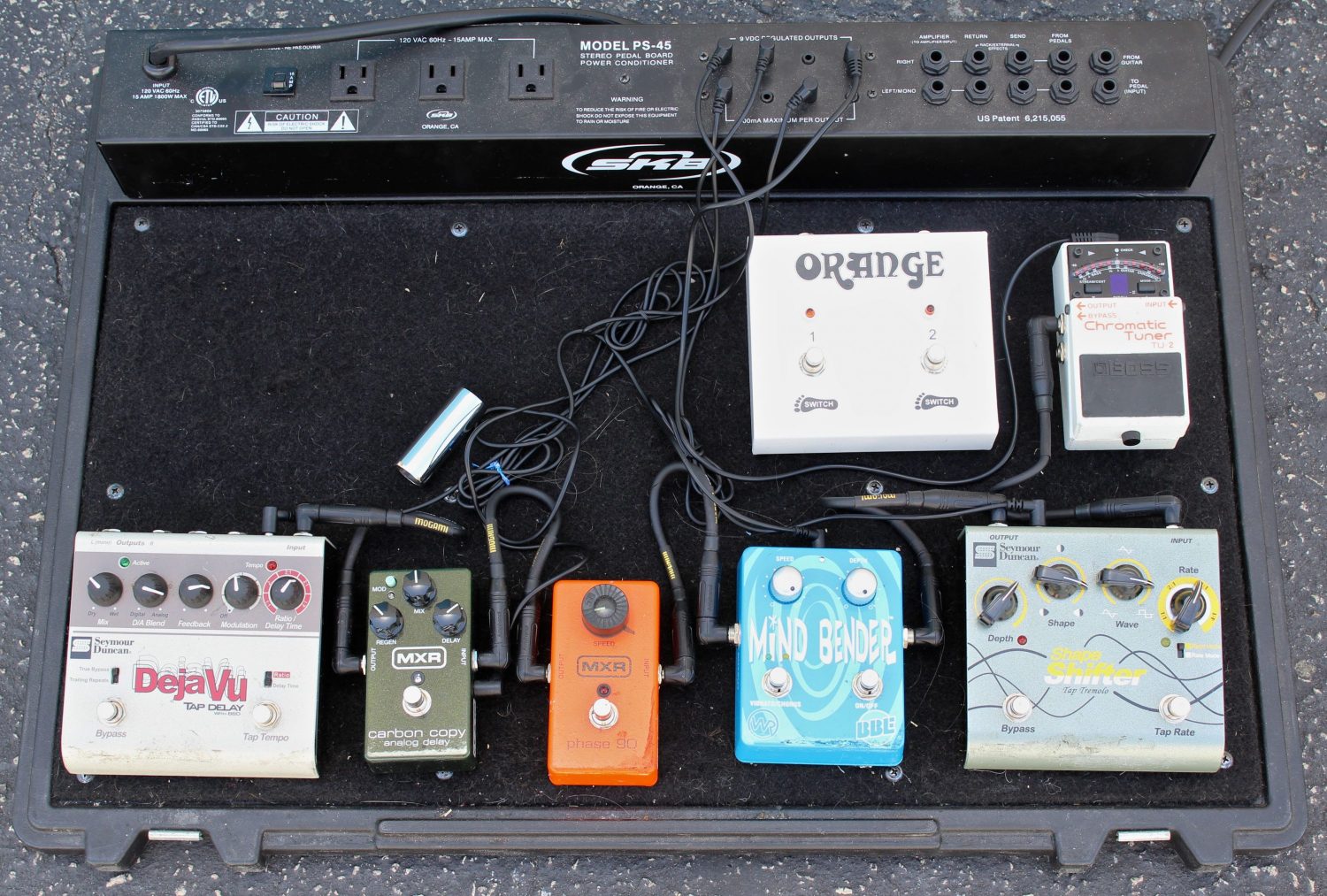 Check out more from Orbweaver and order their debut EP…
orbweaverband.com
facebook.com/orbweaver.official
Twitter: @orbweaverband
Orbweaver's debut EP 'Strange Transmissions From the Neuralnomicon' is out now on colored vinyl through Corpse Flower Records – www.corpseflowerrecords.com
https://orangeamps.com/wp-content/uploads/2011/12/Sally-Gates.jpg
2134
3000
Alex Auxier
https://orangeamps.com/wp-content/uploads/2018/04/Orange-Pics-logo-307px-279x103.png
Alex Auxier
2014-09-15 19:59:57
2019-07-01 15:06:25
Ambassador Interview: Sally Gates of Orbweaver (with video demo)