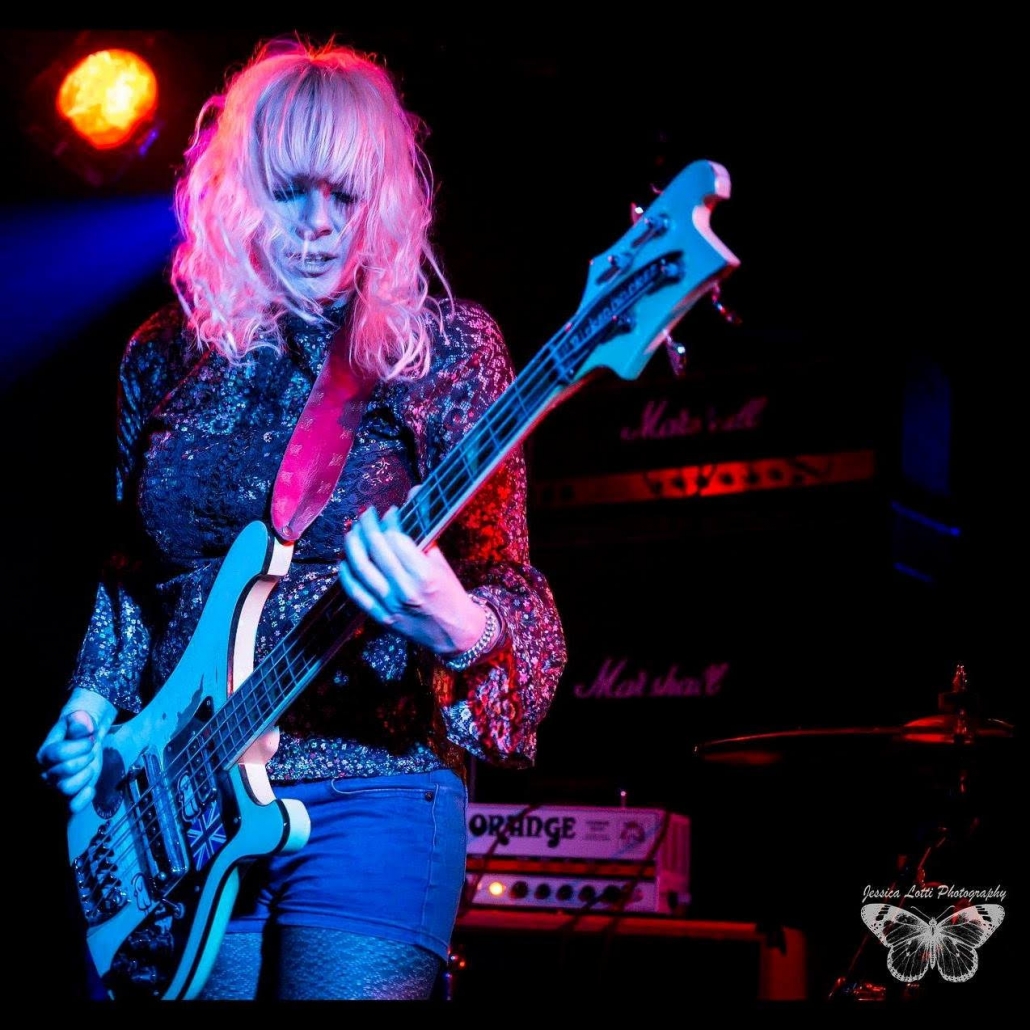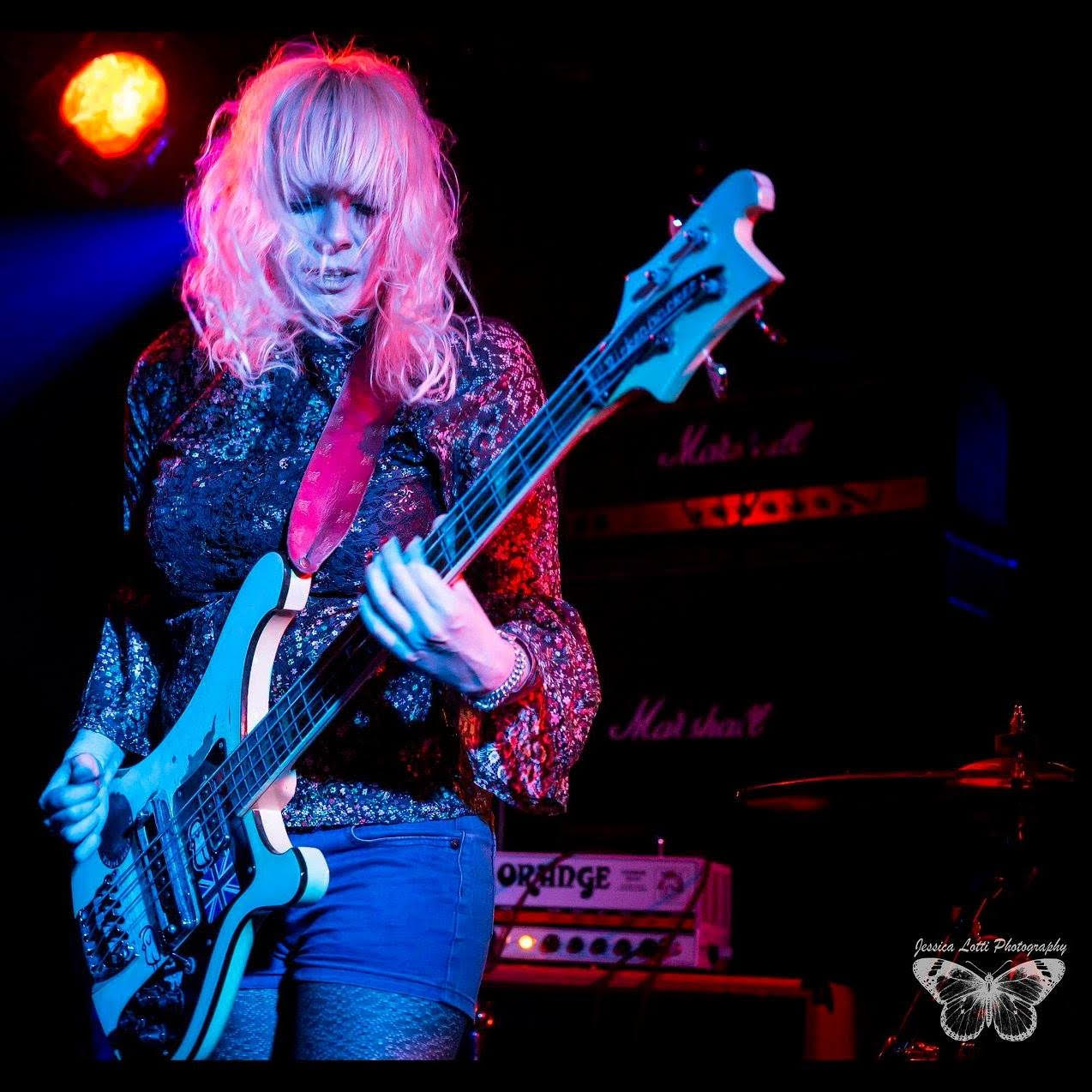 Sarah Jane, take us back to the beginning – what triggered your interest in music?
Sarah Jane: I come from a musical household where my dad would experiment with home made hi-fi speakers and play bands such as The Beatles, Beach Boys, Johnny Cash and Dylan, as well as church and choral music. My mum, brother and sisters were also into music and would dabble in guitar, piano and singing. When high school came around, my older brother introduced me to Led Zeppelin, Pink Floyd and The Doors, and it was around this time I bought one of my first records which was Hendrix live. After that I just wanted to play guitar like him, he was a huge inspiration! Strawberry Fields was also a mind blowing experience when I first heard it.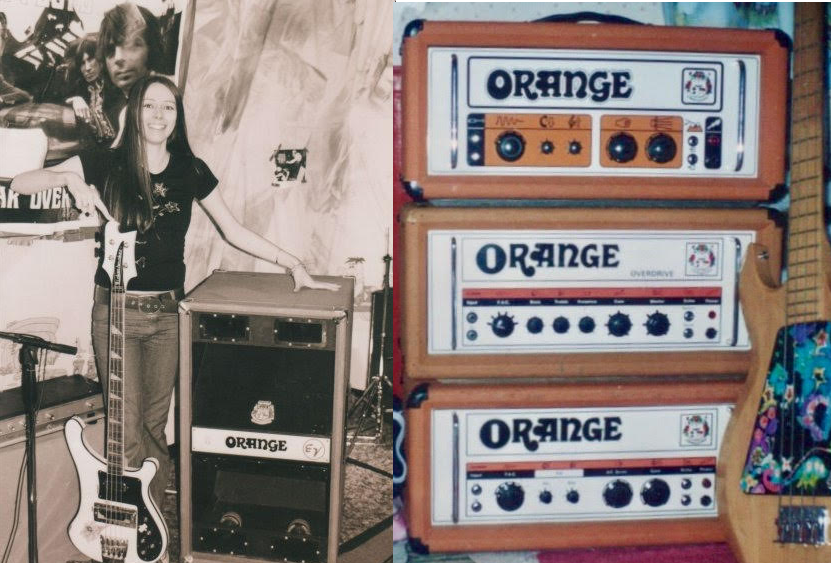 When I was around 18 I started playing my brother's Les Paul and I stuck with guitar for about three years on and off, before switching to bass, mostly just because I found it more fun to play, and as we all know, bass is obviously the most important part of a bands sound… After about a year of practice, I joined my first band 'The Morticians'. I never had any formal lessons as I A. couldn't afford them and B. I preferred to develop my own style mainly playing by ear, using some tabs and watching videos of The Who, Black Sabbath and jamming with my own band. My advise to beginners would be to play what you want – the whole beauty of rock 'n' roll is that there is no rules, so ignore the idiots trying to tell you otherwise. Do whatever you need to do to develop the style and sound that suits your own music, whether that is playing with others in a band or having lessons and learning covers, whatever you feel the most beneficial.
You mention your first band The Morticias, how did your current band Gorilla come to life?
Sarah Jane: When The Morticians split around 1999 guitarist Johnny and I decided to get another drummer and keep going as Gorilla, and we've been going ever since with different drummers. We're currently on number 15 – they get worn out! Our latest victim Ryan is great, and has given us a new lease of life and inspiration, we've always just wanted to play music inspired by the bands we love ourselves, such as The Who, Black Sabbath, Grand Funk Railroad, Budgie, Blue Cheer, The Beatles, Jethro Tull, Mountain – you know, basically heavy 60s and 70s rock, which still remains our main influences. In the beginning we just scored as many gigs as we could until we got lucky and spotted by the bassist from Melvins who pitched us to a Swedish punk rock label who ended up releasing our first LP. We've released three full length LPs, one split LP and a single, with another album in the works.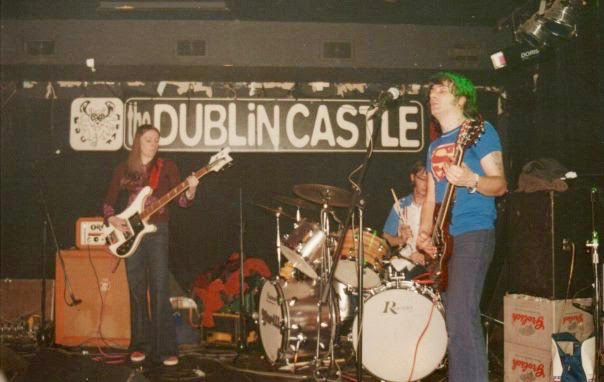 Wow, drummer number 15! In true Spinal Tap spirit. What can you tell us about the upcoming album?
Sarah Jane: We're heading to a new studio called North Down Sound in Folkestone which has lots of analogue equipment and is run and engineered by a friend called Mole, he loves the old vintage valve sounds and equipment. Musically you can expect maximum riffage, high energy rock 'n' roll, basic 'full on f*ck the safety net' hell ride, in other words, business as usual Gorilla style! It will be released in June on Heavy Psych Sounds so keep an eye at our social media for updates and announcements.
Do you remember your first ever encounter with Orange?
Sarah Jane: I first saw Orange gear when watching Beatclub Videos where the Orange amps just looked and sounded awesome, all the bands I loved seemed to use them too, so I just knew nothing else would do!
What's your own history and experience with Orange?
Sarah Jane: My first piece of Orange equipment I owned was a hard wired (no kettle lead) Early OR120 I purchased in 2001 from a friend for £250. I didn't know how to date this amp so phoned the Orange Factory and spoke to a very nice bloke called Jeff, who had apparently worked there from the early days of Orange. After I got the amp I needed a cab to go with it, and luckily my guitarist from GORILLA, Johnny, had a 'spare' 4 x12 which sounded amazing paired with it. The cab had it's original Celestion speakers and was actually 15 ohms! The cab was previously owned by NWOBHM band, May West, and the logo was sprayed on the bottom. I had a standby switch fitted onto the back of the amp to preserve the valves as it didn't have one.
The second Orange amp I acquired was sold to me from a friend for £100 in the same year, a late 70's graphic model. This amp didn't sound as good as my early OR120. Jeff told me that this could be because they had 'drop mounted transformers', which apparently were not as good as the early amps.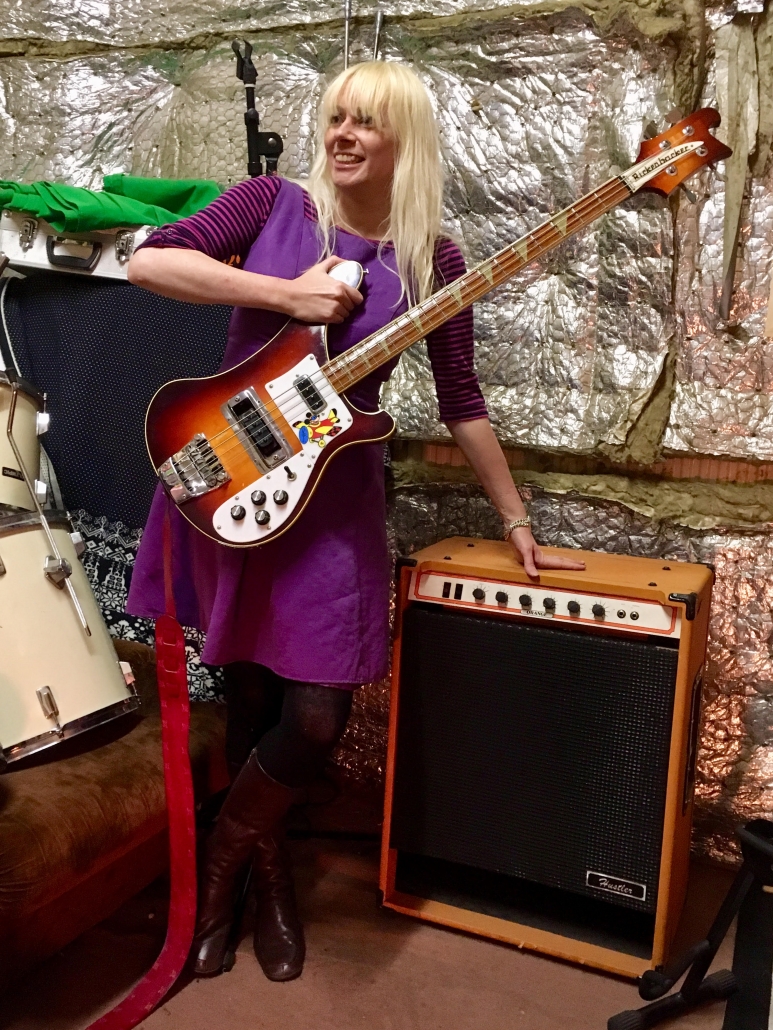 In 2003 I was walking past my local music shop and spotted in the window a flash of orange colour underneath a Peavey Flag. I went in to see what it was and spoke to the owner, who underneath the Flag dug out a brand new Bass Hustler Combo. He explained to me that this had been in the shop when his dad ran it in the 70s. The Combo wasn't for sale it was being used to display tambourines and the Peavey Flag, but of course I asked how much he'd want for me to take it off his hands. I was delighted but tried not to look too happy when he asked just £50 for it! I call that a bargain!
I now own a new Orange Bass Terror which is 300 watts, an excellent amp to gig with, very Loud, and i can can actually lift it! I also used a Crush Bass 100 for a gig last summer, and I want one! I was surprised how great this combo actually was, I've used a hell of a lot of different combos before and I can honestly say this was the best modern bass combo I've tried. I was expecting to be totally drowned out by the drummer and the guitar amp but the Crush totally held it's own. For something that is pretty small I was totally shocked how loud it was, and the quality of bass tone. I would totally recommend this amp for small gigs and practicing.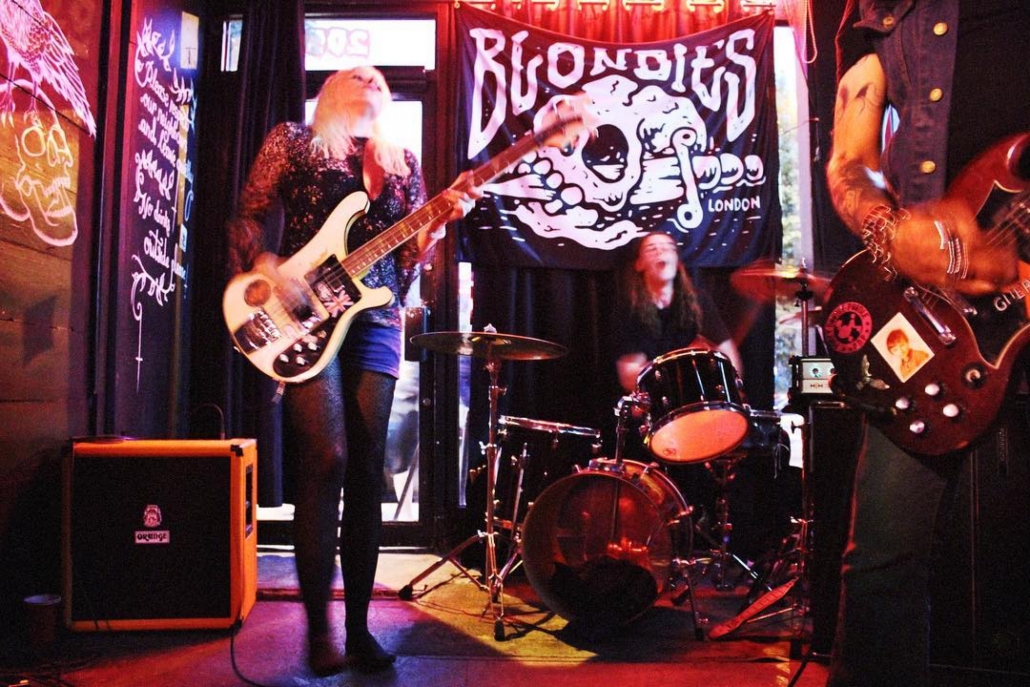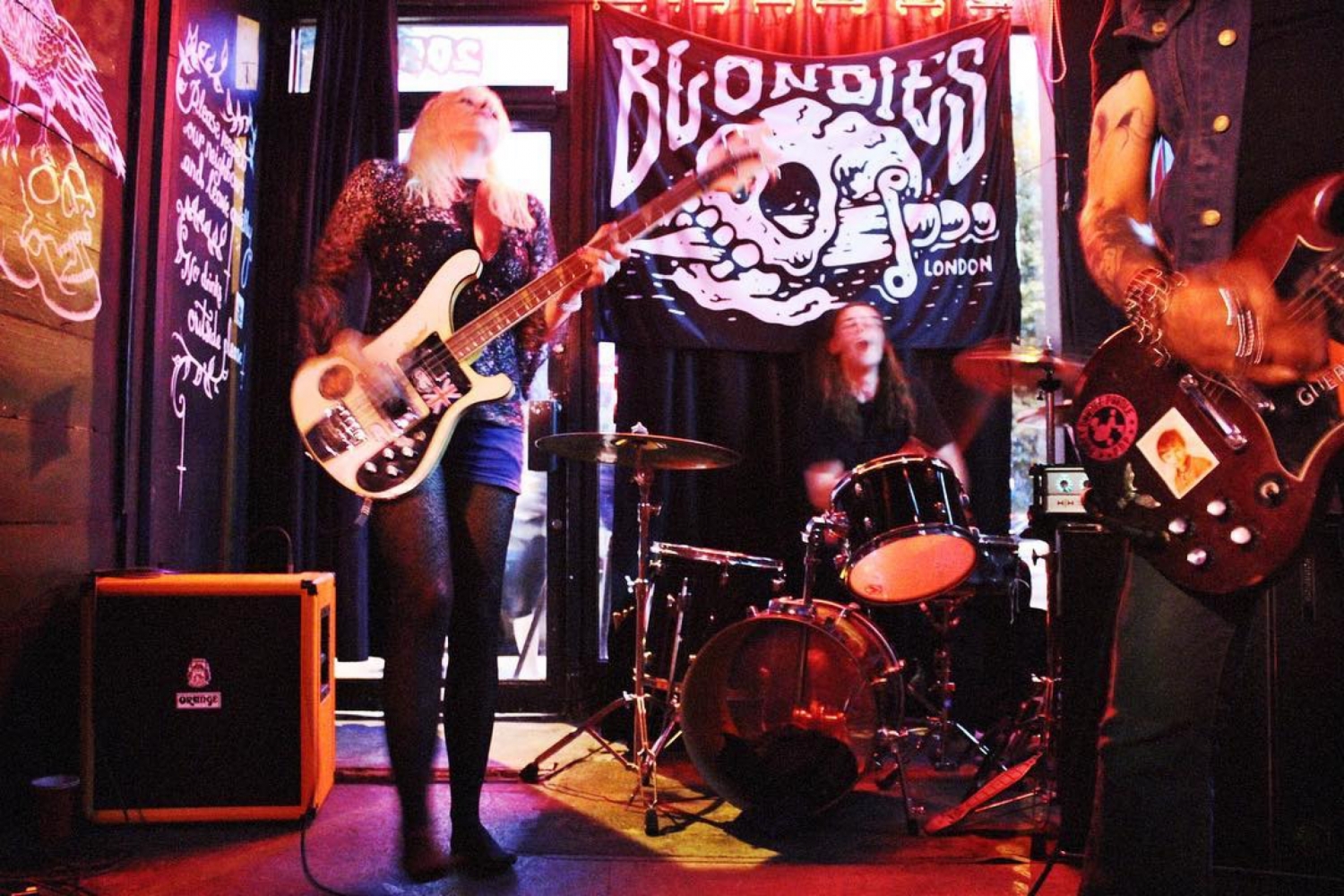 If you strip your record collection from the obvious rock 'n' roll and artists mentioned above, what would remain?
Sarah Jane: My taste is actually quite varied and stretches from everything from 1940s blues and classical music to sixties garage and old school hip hop, particularly gangster! Lots of psych such as The Pretty Things, Zombies and Quicksilver Messenger Service to most of the 60's San Francisco bands, Beach Boys and folk.
Despite ladies like yourself rock 'n' roll is still very much a man's world, what's your experiences as a woman in such a male dominated genre?
Sarah Jane: Sadly some males in the industry, in record and music shops are still very intimidated by female musicians, and I've heard all the usual stupid and sexist remarks such as 'You can actually play!', 'You play like a man!', or 'You're really good for a girl!', as well as having to deal with people's surprised faces when I show my knowledge of guitars, amps or bands I like. I've also been ignored by male staff in music stores while they talk to my male partner – I just think it's a bit sad that those old prejudices and attitudes are still around, maybe they're scared of being shown up by a girl? Luckily it doesn't bother me that much, and when it does I'm also lucky to say I've been blessed with a good aim and swift right hook, don't let the bastards grind ya down! That said, most of the time people I meet are very positive about me and the music I play.

https://orangeamps.com/wp-content/uploads/2019/03/Sarah-Jane-III.jpg
1274
1274
Ella Stormark
https://orangeamps.com/wp-content/uploads/2018/04/Orange-Pics-logo-307px-279x103.png
Ella Stormark
2019-04-20 12:00:11
2019-04-12 13:52:29
Interview: Gorilla's Sarah Jane