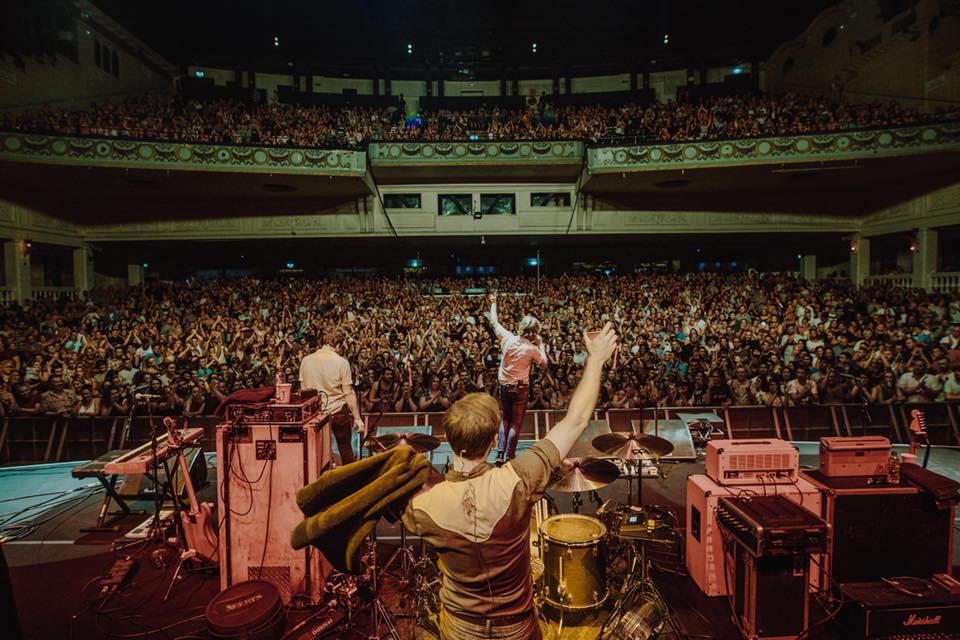 With a booming heat record of 32 degrees in big ol' smoky London town, we made our way to Brixton Academy to chat to The XCERTS frontman Murray Macleod before their show with Goo Goo Dolls.
Were you always into music growing up as a kid?
Murray: Starting it all off and sparking the interest was definitely the household I grew up in, both my parents and older sister was very into music. My dad in particular is pretty much a rock 'n' roll historical – not as a profession or a job, but for as long as I can remember he's just always had this encyclopaedic knowledge about dates, record companies, releases, band members and tours, and he has this amazing vinyl collection that I'd go through as a kid, pick albums to listen to based on their covers and end up with bands such as KISS and The Monkees, but it wasn't until he played me The Beatles everything changed; I even remember the day and exactly where we were, sat in our car parked up waiting for my sister, and he played me live at the BBC by The Beatles, and I think I must have been about six or seven, I was really young, but it just felt like real life magic.
After your Dad sent you onto the righteous path of music, what were the first sorts of bands you discovered for yourself?
Murray: As I got older, I started finding my own way of finding music and discovered Nirvana, and their Unplugged session was actually what inspired me to start writing songs, it was unreal. We had this crappy Spanish guitar around the house, so I ended up trying to write Nirvana-sounding songs which were just awful. There was something so fascinating about Kurt Cobain as well, he was this beautiful and intricate, as well as steeped in myth, I was just so fascinated about him, as if he were sent from above. I also got heavily into Marilyn Manson around the same time, which was just polar opposites to Kurt Cobain, but obviously at the same time, incredibly fascinating. I also just have to thank my parents for keep pushing me to pursue a career in music.
Also, I have to mention the whole pop-punk explosion in the early 2000's with Blink 182, The Offspring and New Found Glory.
Now, let's get down to business and talk Orange – what is your history and experience with the brand? Do you remember the first time you ever saw someone play an Orange?
Murray: The very first time I had that epiphany of 'Oh man I HAVE to play Orange!' was when we opened for Cage the Elephant around 2009, we hadn't even released a record at this point and it was before they blew up. I can't remember what amp I was using at the show, but they were using Orange and they just sounded so incredibly good – I remember being completely blown away by their tone, and also noticed that the wood used in the amps by Orange was way thicker which made them so much sturdier than the amps I were using. They sounded so good, but for the longest time I couldn't afford one, and we weren't big enough to speak to the company about getting a loan one.
How did you eventually end up playing one?
Murray: Our manager Dan Hipgrave (Toploader guitarist) was selling a 4×12 cab and I tried it and ended up having to get it. I was using a different head at the time, but I still knew that the cab just sounded so good. I ended up trying the AD30 and it just sounded so good, it was absolutely perfect – that cab and head was all I needed. I've been using a full Orange rig for about a year now and it just sounds amazing.
It's nice to have you guys from Orange coming down to our show, as I haven't really been able to thank you for all your support, so thank you!
https://orangeamps.com/wp-content/uploads/2018/08/The-XCERTS.jpg
640
960
Ella Stormark
https://orangeamps.com/wp-content/uploads/2018/04/Orange-Pics-logo-307px-279x103.png
Ella Stormark
2018-08-07 14:00:32
2020-03-19 11:20:02
Interview: The XCERTS' Murray Macleod