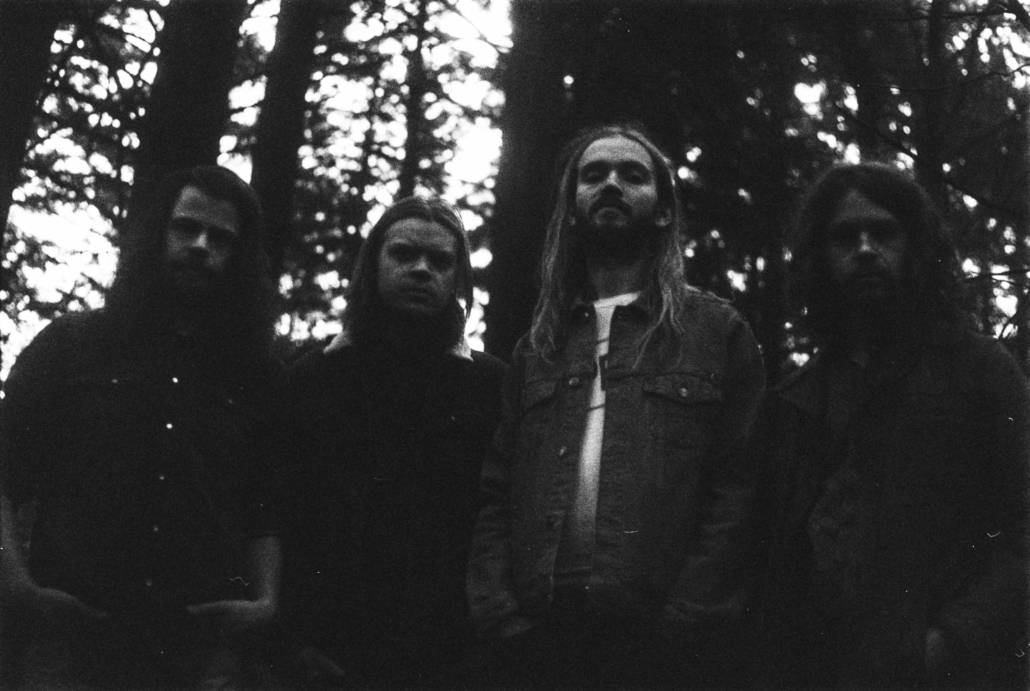 In honour of their latest album 'The Eldorardo Spell', we spoke to Kryptograf guitarist Vegard Bachmann Strand about recording and working with Iver Sandøy (Enslaved) & Gaahl (Gaahls Wyrd, formerly of Gorgoroth), his early influences as a guitarist as well as, of course, his choice of Orange.
Kryptograf, can we get some background on the band?
We have been playing together in different bands since 2016. We all met when we went to the same school in Trondheim. I guess it all started when Odd and I became roommates in 2015 and started making music together. We decided to start Kryptograf in 2019 because we wanted a fresh start after playing for years in a different band with the same lineup plus a singer. We wanted a band with a clear direction where we could really dig into the proto-doom stuff.
Kryptograf just released their second album, "The Eldorado Spell", what can you tell us about it?
When we started writing our new album we didn't want to make the same album twice. While our first album was quite focused on the more primitive era of hard and psychedelic rock of the late 60's, «The Eldorado Spell» kicks things up a notch. This album has more of a mid 70's heavy metal feel to it as well as it contains more progressive elements and melodic twists. There's also some inspiration from 60's folk rock groups like Pentangle and Fairport Convention. The album was recorded live, mixed and mastered in Solslottet studio by our producer Iver Sandøy in 2021. He did our first album as well and we really like working with him. There is also some guest appearances on this album. Some vocals done by Kristian Eivind Espedal (Gaahl) and some trumpet by Ørjan Hammer Volvik.
How did you get Gaahl involved on the record, and how was it working with him? Obviously he's quite a prominent musician not just in the Norwegian music scene, but in the black metal community on a global scale.
Gaahl's participation on the record was actually a spontaneous idea we got when we were in the studio recording vocals. We needed a scary dark voice for some spoken words on the title track. Our producer Iver Sandøy has worked a lot with Gaahl and knows him well. Suddenly Iver sent us the finished master of The Eldorado Spell and there he was! I remember I got chills down my spine when I first heard it! Unfortunately I did not get the opportunity to be there when it happened, but I am very grateful that he wanted to join!
You've released both album's on Bergen based Apollon Records, how did you end up with them?
We started working with Apollon when we released our first album. They just seemed like very honest and cool people. They did a great job with our first album and we wanted to continue working together on this one.
Opening track "Asphodel" is quite a progressive surprise compared to your previous work, was that an intentional shift in direction or just a result of your jamming and writing?
I think this is just a result of us jamming together in our rehearsal room. We don't like to think things through so much when we are writing our songs, things just happen. We really liked the folky vibe of the last part and decided to work a bit on that by adding some acoustic guitars and stuff.
Your self-titled debut album was released just at the start of the pandemic, and you haven't really had much of a chance to play those songs live. For this one, you've been playing full capacity, no-restriction shows. How has it been to be able to return to that?
It has been awesome! We just finished a Norwegian tour which included two sold out shows in Oslo and Kristiansand and we will also be playing at the Sonic Whip festival in Netherlands in May which will be very cool!
Which artists would you say played major roles as inspiration when you were young? Were there any musicians or guitarists in particular that inspired you to pick up the guitar, or perhaps a certain song?
I think I must say Black Sabbath was the biggest inspiration for me! I remember my mum took me to see them live in Bergen as a kid in 2005. I was completely mindblown! I loved all kinds of 70s rock music growing up, but my favourite guitar players must have been Tony Iommi, Angus Young and Ritchie Blackmore.
You're an Orange guy, do you remember your first ever encounter with our amps, whether it was seeing them played live on stage or in a video, or playing them yourself?
I think the first time I discovered Orange amps was when I saw Black Sabbath using them in a TV show from 1970. I guess that's a bit ironic since Tony was normally a Laney player, but those orange amps looked and sounded so cool! I also remember seeing Matt Pike using his gigantic walls of orange amps and I really liked the sound of them.
What's your current rig, and how did you end up with that?
My current rig is a Orange OR50 and a PPC212 cabinet. Absolutely love that rig!
If you could add any Orange amps to your rig, which ones would they be, and why?
I would love to own some vintage Orange amps. For example, one of those old pictures only amps or a OR80. I also love the sound of a Rockerverb. Really versatile and great amps.
Check out Kryptograf's 2021 Orange Jams session below:
https://orangeamps.com/wp-content/uploads/2022/03/Kryptograf-by-Olav-Vikingstad-scaled.jpeg
1717
2560
Ella Stormark
https://orangeamps.com/wp-content/uploads/2018/04/Orange-Pics-logo-307px-279x103.png
Ella Stormark
2022-03-28 11:46:23
2022-03-28 11:55:42
Interview: Vegard Bachmann Strand of Kryptograf