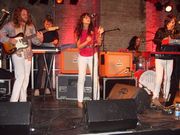 Genre: Progressive Indie Rock / Electro / Soul
Website: www.phenomenalhandclapband.com
Myspace:
The Phenomenal Handclap Band's sound is an anthemic, dancefloor-oriented blend of progressive rock, disco, electro, and '60s soul with sprinklings of hip hop-styled orchestral breakbeats and moody, synth-heavy hooks.
 On first listen, we were blown away by this gem of a song. "Baby" manages to capture the soulful qualities of a Delfonics song while maintaining a sonically new and refreshing sound. The band will be releasing their first full-length later this year.
A little more about PHB: 
In the midst of popular electronic-based production teams such as Justice and DFA, Embassy Sound Productions (ESP) emerges with a fresh approach to dance-oriented rock and roll, using live instrumentation to evoke the intricate arrangements of Norman Whitfield, Quincy Jones, and Phil Spector as well as the pared down beats of contemporaries like The Neptunes and Danger Mouse.
ESP is Daniel Collis and Sean Marquand, two New York underground club DJs who became restless with the concept of playing other people's music. Having been involved with and disenchanted by the local rock and roll scene, they began to focus on producing.
Their initial projects resuscitated the respective careers of two veteran soul acts (New York's Joe Bataan and Brazil's Unio Black) and garnered critical acclaim, leading Daniel & Sean to set their sights on The Phenomenal Handclap Band – a supergroup comprised of a "who's who" of the indie rock and underground soul scenes. Members of such diverse bands as TV on the Radio, L'Trimm, Calla, Jon Spencer Blues Explosion and Mooney Suzuki, all contribute their individual talents to the album.
https://orangeamps.com/wp-content/uploads/2018/04/Orange-Pics-logo-307px.png
0
0
Ibe
https://orangeamps.com/wp-content/uploads/2018/04/Orange-Pics-logo-307px.png
Ibe
2010-05-16 16:58:00
2015-09-17 13:39:50
Phenomenal Handclap Band