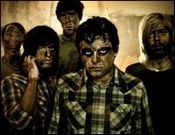 Genre: Rock
Website: www.normajeannoise.com
Myspace: www.myspace.com/normajean
Not to be confused with either the late-'70s disco diva (who sang with Chic in 1977 before going solo and having a hit with 1978's "Saturday") or the country singer (who had some hits in the '60s), this Norma Jean is a Christian alternative metal/metalcore band that used to go by the name Luti-Kriss. At first, Norma Jean went with a rap-metal approach — in reviews, the former Luti-Kriss was often described as the Christian equivalent of Limp Bizkit, Korn, (hed) p.e., Methods of Mayhem, or Rage Against the Machine.
But as the band evolved, Norma Jean got away from rap-metal and became even heavier. The bandmembers heard on 2002's Bless the Martyr and Kiss the Child don't believe in subtlety any more than they believe in taking prisoners; they do, however, believe in having a very harsh, punishing sound and beating listeners into obedience (musically, not literally — they're a Christian band, after all). And while those who don't care for metalcore's harshness are unlikely to become Norma Jean converts, the Southern band has enjoyed a small but enthusiastic cult following in the alterna-metal underground (where they have appealed to both Christian and non-Christian headbangers).
Norma Jean was formed in Douglasville, GA (a suburb of Atlanta), in 1997. In the early 2000s, the band recorded two CDs as Luti-Kriss. The first was the EP 5 (which came out on the Pluto label), and that disc was followed by the full-length album Throwing Myself, which came out on the Seattle-based Solid State label (a subsidiary of Tooth and Nail Records) in 2001. After that album, Luti-Kriss changed its name to Norma Jean because some people were confusing the band with the controversial rapper Ludacris — who, coincidentally, is also from the Atlanta area. Ludacris is one of the top rappers in the Dirty South school of hip-hop, and he is known for his explicit lyrics (which have been lambasted by conservative commentator Bill O'Reilly, host of Fox News' The O'Reilly Factor). Released by Solid State in 2002, Bless the Martyr and Kiss the Child was the former Luti-Kriss' first album as Norma Jean. It was also the band's heaviest, most brutal effort to date. While Norma Jean's first recordings inspired comparisons to Limp Bizkit, Korn, (hed) p.e., and Methods of Mayhem, Bless the Martyr and Kiss the Child was often compared to Hatebreed. Isis and Mastodon producer Matt Bayles was in charge of the fierce O God, the Aftermath (2005) while Korn and Limp Bizkit producer Ross Robinson helmed the epic Redeemer (2006).
On November 3, 2009, Norma Jean announced that they would be parting ways with longtime label Solid State and signing a deal with independent label Razor & Tie with plans to release an album in the summer of 2010.[10]
Norma Jean announced that a title for one of their new songs will be "Kill More Presidents" and have encouraged fans to film the live performance of this song.[11] The video was released in early March.
Fans can download the first track, titled "Leaderless and Self Enlisted" from "Meridional" by signing up for the bands email list via the band's website.[12]
Norma Jean released their Jeremy Griffith produced album, Meridional, on July 13, 2010.[13]
In an interview with Exclaim! Magazine that was published the day of the Meridional album release, drummer Chris Raines spoke of how the sound of Meridional came to be and what influenced it." The last few records have been doing different things; this one truthfully mixed a lot of those records with what we wanted to do this time. I think we took all the good that we liked from the past records and added the new touch that we wanted to put on it, which was a heavier and darker theme."
Drummer Chris Raines was replaced by Matt Marquez in late 2010 with no formal announcement made for this exchange or if Raines would ever return.[14] On November 23, 2010, Norma Jean's former record label Solid State Records released a retrospective box set collection titled Birds and Microscopes and Bottles of Elixirs and Raw Steak and a Bunch of Songs. The three-disc compilation contains the band's first three studio albums (Bless the Martyr and Kiss the Child, Redeemer and O God, the Aftermath) on CD format.[15] In January 2011, founding guitarist Scottie Henry decided to take a temporary break from Norma Jean. He will be replaced by Jeff Hickey, formerly of The Handshake Murders, for upcoming 2011 tour dates.[16] The band later announced that Henry would return for the next studio album.
Source: Wikipedia
https://orangeamps.com/wp-content/uploads/2018/04/Orange-Pics-logo-307px.png
0
0
Ibe
https://orangeamps.com/wp-content/uploads/2018/04/Orange-Pics-logo-307px.png
Ibe
2010-05-15 17:53:14
2015-09-17 13:39:51
Norma Jean