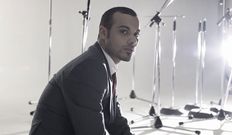 Genre: Soul R&B
Website: www.brynchristopher.com
Myspace: www.myspace.com/brynchristopher
Bryn Christopher (born 1 January 1985,[2] Birmingham, England) is a British singer-songwriter. Bryn cites his influences as greats such as Otis Redding, Sam Cooke, Nina Simone and Stevie Wonder.
Early years
Bryn was brought up in Great Barr, Birmingham, one of four children born to a black father and a white mother. His parents separated before Bryn's seventh birthday, and he was raised by his mother and maternal grandmother. Painfully skinny, with different interests from the other kids, Bryn was teased mercilessly and began to dread going to school, until he joined a youth theatre company at the age of 12. Here he discovered a sense of confidence and the kind of pop music – Alicia Keys, Michael Jackson – that he could relate to.[3]
He joined a soul band at his secondary school and wrote his first songs as part of his music GCSE. But perhaps the pivotal moment in his aural education came when Bryn and some school friends attended a play and heard Try A Little Tenderness sung on the backing track by someone who clearly wasn't The Commitments… "I was shouting out to my friends during the play," he recalls. "I was like, This guy is amazing! Who is it?' I'd never heard anyone sing like that. And someone told me it was Otis Redding."[3]
A crash-course in Redding's music turned Bryn's musical life upside down: suddenly, he knew that he wanted to make music with this combination of passionate intensity and melodic accessibility. He then discovered Marvin Gaye and Stevie Wonder. "It was incredible suddenly being exposed to these unbelievable people that had been around all this time whose existence I had no idea of. It totally changed my outlook."[3]
Doing something about it was another matter. He was living in a small town with no musical mentor and with peers who were happier hanging out on the streets playing football. "I could definitely have ended up in a very different place if I'd given in to the bullies. You either beat them or join them". So with a massive desire to be a successful singer, a determined teenage Bryn went against the grain.[3]
With no real idea how to break into the music industry Bryn was tempted, like most young singers are these days, towards auditioning for talent shows. He's thankful now that it proved a non-starter. "It was a learning curve – I didn't know any other way, I had no-one to tell me what was right and wrong and I couldn't think of any other way to move forward as a wannabe singer in the town I was living". He now marvels at his narrow escape. "Those things have had some really talented people that have come through them but I often catch the shows and think 'thank God I didn't end up there. It's just not me'"[3]
Instead Bryn got a scholarship to a top London stage school, where he spent a largely unhappy two years before catching the attention of the management team who brought him to Polydor's Colin Barlow. For Barlow, Bryn's appeal was instant: "His voice just floored me," he says.[3]
Finally, things began to happen for 21-year-old Bryn. The first show he played for a potential publisher saw the deal done and dusted that very night. A similar thing happened when the support for the Amy Winehouse tour came up, one of the highest-profile string of dates in 2007. "I knew everybody else was going up for it," he says, still slightly dumbfounded at being given the chance. "Amy gets to choose who she wants, so she must've liked my music." He doesn't know for sure, though, as he never got to meet Winehouse. "She would turn up and go straight on stage," he recalls. "Anyway, her husband had just been sent to prison: I was hardly going to be going up to her and going, 'Hi! What do you think of my music?' And I wasn't expecting her to stop and chat."[3][4]
Bryn's was the support slot on the Amy Winehouse tour at the rear end of 2007, while he was still relatively unknown (he also supported US Soul artist Rahsaan Patterson at London's Jazz Café.[5] More recently, he has been picked up by the US agent, William Morris Agency. He also co-wrote the Leon Jackson hit song Don't Call This Love with British producer/ writer Chris Braide.
The Quest
His first single release "The Quest" was released on 8 June 2008 through Polydor Records. The single draws on his brother's personal experience as a soldier stationed in Basra. "The Quest" was featured in the closing scene of Grey's Anatomy's season 4 conclusion, which caused the song to become more known in the US. The song was made into a music video for the show to promote its fifth season, with scenes of Christopher singing in London as well as scenes from the show. The song was also featured in an episode of the BBC drama Waterloo Road.
Bryn teamed up with co-writer/producer Jarrad Rogers and production team Midi Mafia (Jennifer Lopez, Talib Kweli, Nelly) to make his debut album My World, which was released September 2008. Midi Mafia recently secured the exclusive rights to use samples from the Stax Records Catalogue, and has used some of these for the first time ever on Bryn's album.
His second single was called 'Smilin' released on 2 September 2008. It peaked at #31. His third single 'Fearless' was released on 18 January 2009, and failed to chart. His final single was 'Taken Me Over', released on 4 August 2009 as a digital only single. It also failed to chart.[6]
Christopher has since parted ways with his record label Polydor, and has signed with Geffen Records UK. He is currently working on his second album for Geffen.[1]
Festival appearances
Bryn recently hosted a residency at North London's live spot The Boogaloo throughout April 2007, and will be following this with dates at London's Soho Revue Bar. He has also played at last summer's Wireless Festival in Hyde Park on the same day as Jay Z, as well as Glastonbury, T in the Park, Oxegen and V Festival.
2010-present
In October 2010, he featured in Aggro Santos' music video, "Stamina".
Source:  Wikipedia
https://orangeamps.com/wp-content/uploads/2018/04/Orange-Pics-logo-307px.png
0
0
Ibe
https://orangeamps.com/wp-content/uploads/2018/04/Orange-Pics-logo-307px.png
Ibe
2010-05-15 17:23:02
2015-09-17 13:39:51
Bryn Christopher