Welcome to Orange
Thank you for choosing Orange.
Since 1968, when the company was founded, Orange Amplification has been researched and developed by the guitarist for the guitarist. Today, with a team of the industry's most dedicated engineers, it continues to test the boundaries of conventional amp design to bring you the latest range of heads, cabinets and combos.
Orange's commitment to quality control, construction and craftsmanship is long established, and each amplifier passes through a rigorous test procedure before shipping, resulting in complete confidence that you will be delighted with your new purchase, and that it will provide you many years of enjoyment and reliability.
The warmth, tonal quality and rich harmonics generated by Orange amplifiers cannot be reproduced by artificial means. Many guitarists have reached the same conclusion: there is nothing as good as an analogue amplifier!
This web page contains valuable technical and safety information. Please take the time to read these instructions and warnings, as the information will enhance the performance and longevity of your amplifier.
Important safety instructions
Read these instructions.

Keep these instructions.

Heed all warnings.

Follow all instructions.

Do not use this apparatus near water or other liquids.

Clean only with a dry cloth.

Do not block any ventilation openings. Install in accordance with the manufacturer's instructions.

Do not install near any heat sources such as radiators, heat registers, stoves, or other apparatus (including amplifiers) that produce heat.

Do not defeat the safety purpose of the polarised or grounding-type plug. A polarised plug has two blades, with one wider than the other. A grounding-type plug has two blades and a third grounding prong. The wide blade or the third prong are provided for your safety. If the provided plug does not fit into your outlet, consult an electrician for a replacement of the obsolete outlet.

Protect the power cord from being walked on or pinched, particularly at plugs, convenience receptacles, and the point where they exit the apparatus.

Only use attachments/accessories specified by the manufacturer.

Use only with the cart, stand, tripod, bracket, or table specified by the manufacturer, or sold with the apparatus. When a cart is used, use caution when moving the cart/apparatus combination to avoid injury from tip-over.

Unplug this apparatus during lightning storms or when unused for long periods of time.

Refer all servicing to qualified service personnel. Servicing is required when the apparatus has been damaged in any way, such as power-supply cord or plug is damaged, liquid has been spilled or objects have fallen into the apparatus, the apparatus has been exposed to rain or moisture, does not operate normally, or has been dropped.
WARNING! TO REDUCE THE RISK OF FIRE OR ELECTRIC SHOCK, DO NOT EXPOSE THIS APPARATUS TO RAIN OR MOISTURE.Where indicated or stated on the product/unit:

This device complies with Part 15 of the FCC rules. Operation is subject to the following two conditions:

This device may not cause harmful interference

his device must accept any interference received, including interference that may cause undesired operation.

Note: This equipment has been tested and found to comply with the limits for Class B digital devices, pursuant to Part 15 of the FCC Rules. These limits are designed to provide reasonable protection against harmful interference in a residential installation. This equipment generates, uses and can radiate radio frequency energy and, if not installed and used in accordance with the instructions, may cause harmful interference to radio communications. However, there is no guarantee that interference will not occur in a particular installation. If this equipment does cause harmful interference to radio or television reception, which can be determined by turning the equipment off and on, the user is encouraged to try and correct the interference by one or more of the following measures:

Reorient or relocate the receiving antenna.

Increase the separation between the equipment and receiver.

Connect the equipment to an outlet on a circuit different from that to which the receiver is connected.

Consult the dealer or a qualified technician for help.

Note: Changes or modifications not expressly approved by Orange Music Electronic Company, Ltd. could void the user's authority to operate the equipment.

For customers in Canada: Where indicated or stated on the product/unit: This Class B digital apparatus complies with Canadian Interference Regulations CAN ICES-3(B)/NMB-3(B).

For product operation manual and warranty information, please visit: orangeamps.com.

All products are certified/tested to relevant safety standards. For further information please contact us. orangeamps.com/contact.
Warning for Class I Equipment (where applicable)
This product is a Class I construction and must be connected to a mains socket outlet with a protective earthing connection. Connect the included power cord/plug to an AC mains socket outlet with a protective earthing connection.
The mains fuse is provided for your safety. Disconnect the apparatus before replacing. The fuse rating for your model and region is indicated near the unit's AC mains inlet. Do not replace it with a fuse of a different type. If the mains fuse repeatedly blows, contact your Orange dealer.
Information on fuses
T = Time Delay ("Slow Blow")

mA or A = Rated current, expressed in mA or A

L = Low breaking capacity or; H = High breaking capacity
Do not tamper with the voltage-selector switch.
Where applicable, the voltage-selector switch is located on the rear or side of the product. It is set at the factory for the country or region in which the unit is intended to be sold. 
Terminals labelled as "SPEAKER OUTPUTS" must be connected to a speaker cabinet of the designated load (Ω) rating using an un-shielded two-conductor cable for speaker use at all times during operation.
To reduce the risk of fire, electric shock AND/OR INJURY:
Do not expose this apparatus to rain or moisture. For indoor use only. Do not use in damp environments, e.g. bathrooms, etc.
Do not place objects containing liquids on or near the product.
Do not operate this apparatus or connect/disconnect a power plug whilst hands are wet.
Do not cover or block ventilation openings. Ensure the apparatus is installed with plenty of space around the unit, as this apparatus may generate heat under normal use.
This equipment is not intended to be used on soft support (like beddings, blankets etc.). This equipment should always be placed on a flat, stable surface.
For units with fan ventilation: Do not obstruct the fan, or place objects into the fan. Keep body parts away from fan blades.
Do not attempt to gain access to the interior of the product. No user-serviceable parts inside. Refer all servicing to a qualified technician.
Do not operate equipment when the protective grille has been removed.
Valves (tubes) (where applicable)
To ensure optimum operation, valves should be replaced once per year. Valve models (except Class A fixed bias) will benefit from having the bias checked when output valves are replaced. Bias checking should be undertaken by a qualified technician.
Before using your amplifier
Voltage-selector switch
The voltage-selector switch and mains fuse is set at the factory for the country or region in which this Orange product is intended to be sold. To prevent serious damage to the product, ensure that the rated AC mains voltage indicated on the product's rear panel is the same as the mains voltage from your AC mains inlet before connecting the IEC power cable.
If the product is to be used outside of the factory-set region, please ensure the voltage-selector switch (found on the rear or side panel) is set to the correct voltage for the new country/region, and that the appropriate mains fuse is fitted in the pull-out fuse tray below the IEC mains input.
The correct mains fuse rating for the product is printed on the chassis. Use only the same type and rating as specified for the product. Be advised that different operating voltages require the use of different types of line cord and attachment plugs. If you are unsure, please contact your Orange dealer.
Powering on
Always ensure the amp's volume controls are set to zero before switching on the power to the amplifier.
To prevent hum and electrical noise, operate your amplifier and instruments as far away from other electronic devices (especially fluorescent and neon lamps) as possible, as these generate extremely high levels of electronic noise.
Speaker output connection
Make sure the correct speaker load is connected at all times during operation.
Always connect to a cabinet of an appropriate power rating/handling.
Never use two cabinets of different/mismatched impedance.
Only connect speakers using a quality dedicated speaker cable. Never use an instrument cable. 
Never connect headphones to the speaker outputs.
If you are unsure, please contact your Orange Dealer.
Only connect speaker cabinets in accordance with this manual. Failure to do so will cause damage to the amplifier and void any warranty.
Heads
1 × 16 Ohm cabinet — Use the 16 Ohm speaker jack socket (rear of chassis)
2 × 16 Ohm cabinets — Use both of the 8 Ohm speaker jack sockets (rear of chassis)
1 × 8 Ohm cabinet — Use either of the 8 Ohm speaker jack sockets (rear of chassis)
Combos 
All Orange valve combo amplifiers have an internal speaker load of 16 Ohms and are connected to the amplifier's 16 Ohm output at the factory. When using an extension cabinet, only ever connect a 16 Ohm cabinet.
To connect an extension cabinet to the combo, reconnect the internal speaker jack to either of the 8 Ohm speaker outputs, and connect a 16 Ohm extension cabinet to the other 8 Ohm speaker output.  
Be sure to reconnect the internal speaker to the 16 Ohm output when an extension cabinet is not attached.
Valves
When powering up, ensure the amplifier is set to the STBY position on the front panel for a minimum of two minutes prior to performance. This will prolong the life of the valves. 
The HT fuse(s) on the rear of the chassis will blow in the event of output valve failure in order to protect the internal circuitry from damage. Orange recommends output valves are replaced in full matched sets. Orange models fitted with EL34 or 6550 valves will also benefit from a bias adjustment, which should only be undertaken by a qualified technician. When changing the HT fuse, gently push down on the fuse holder and turn anticlockwise to release the fuse.
オレンジアコースティックプリ ツインチャンネルユーザーマニュアル
OrangeAcoustic Pre Twin Channelは、アコースティックリグのハブとなるように設計されています。
OrangeAcoustic Pre Twin Channelは、様々な入力ソースのフルコントロール、様々なFXルーティングオプション、あらゆるセットアップに対応する独立出力を備えており、ライブステージにスタジオクオリティのサウンドを、あらゆるレコーディングシーンにオールインワンのシンプルさを提供します。
Acoustic Pre Twin Channelを使用する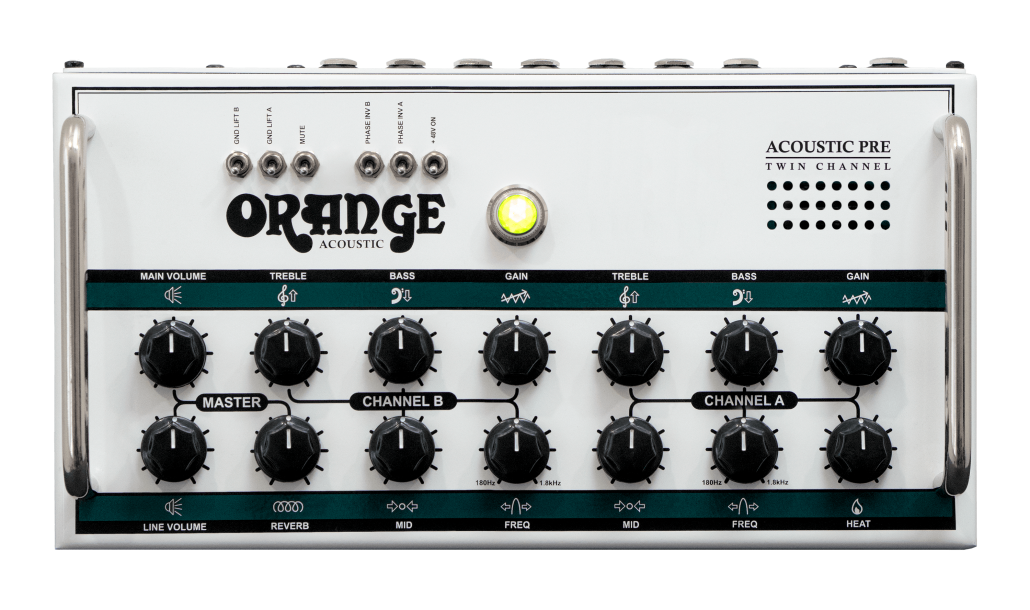 +48V オン
チャンネル B の XLR 入力に 48V ファンタム電源を供給します。
コンデンサーマイクを使用する場合は、+48Vファンタム電源を有効にする(メーカーの仕様書をご確認ください。)
Inv A相
の位相を反転させ、チャンネルa
ハウリング対策やチャンネルA、B間の位相差補正に使用できます。
Inv B相
は、チャンネルbの位相を反転させる
ハウリング対策やチャンネルA、B間の位相差補正に使用できます。
ミュート
FXループセンドで両チャンネルをミュート(ディレイトレイルやループペダルの音は聞こえます)。
サイレントチューニングや、ループペダル使用時のシームレスな楽器交換に便利な機能です。 ミュートが作動すると、LEDが緑色から赤色に変化します。
GND LIFT A
は、チャンネル A の出力 xlr のグランドを持ち上げます。
OrangeAcoustic Preを複数のアース付き機器に接続することで発生するグランドループの問題を解決します。 このような場合、アース接続を解除することで、不要なハムを除去することができます。
この機能は、この特定の問題を解決するためにのみ使用し、OrangeAcoustic Preが他の1つのアースされた機器にのみ接続されている場合は、絶対に使用しないでください。
GND LIFT B
はチャンネル B の出力 xlr のグランドを持ち上げます。
OrangeAcoustic Preを複数のアース付き機器に接続することで発生するグランドループの問題を解決します。 このような場合、アース接続を解除することで、不要なハムを除去することができます。
この機能は、この特定の問題を解決するためにのみ使用し、OrangeAcoustic Preが他の1つのアースされた機器にのみ接続されている場合は、絶対に使用しないでください。
トレブル
680hZ以上のハイシェルフを+18dB調整します。
ベース
680hZ以下のローシェルフを±12dB調整
中
Freqコントロールで選択した周波数を±18dB調整します
フリークエンシー
MIDコントロールの中心周波数を選択します(180Hz〜1.8kHz)。
熱
高音域のバルブゲインのレベルを変更し、ハーモニクスとコンプレッションを追加します。
中
Freqコントロールで選択した周波数を±18dB調整します
ベース
680hZ以下のローシェルフを±12dB調整
トレブル
680hZ以上のハイシェルフを+18dB調整します。
フリークエンシー
MIDコントロールの中心周波数を選択します(180Hz〜1.8kHz)。
リバーブ
搭載されているデジタルリバーブのレベルを調節します。
ラインボリューム
アンバランスモノラルライン出力の出力レベルを調整します。
メインボリューム
XLRバランス出力の出力レベルを調整します。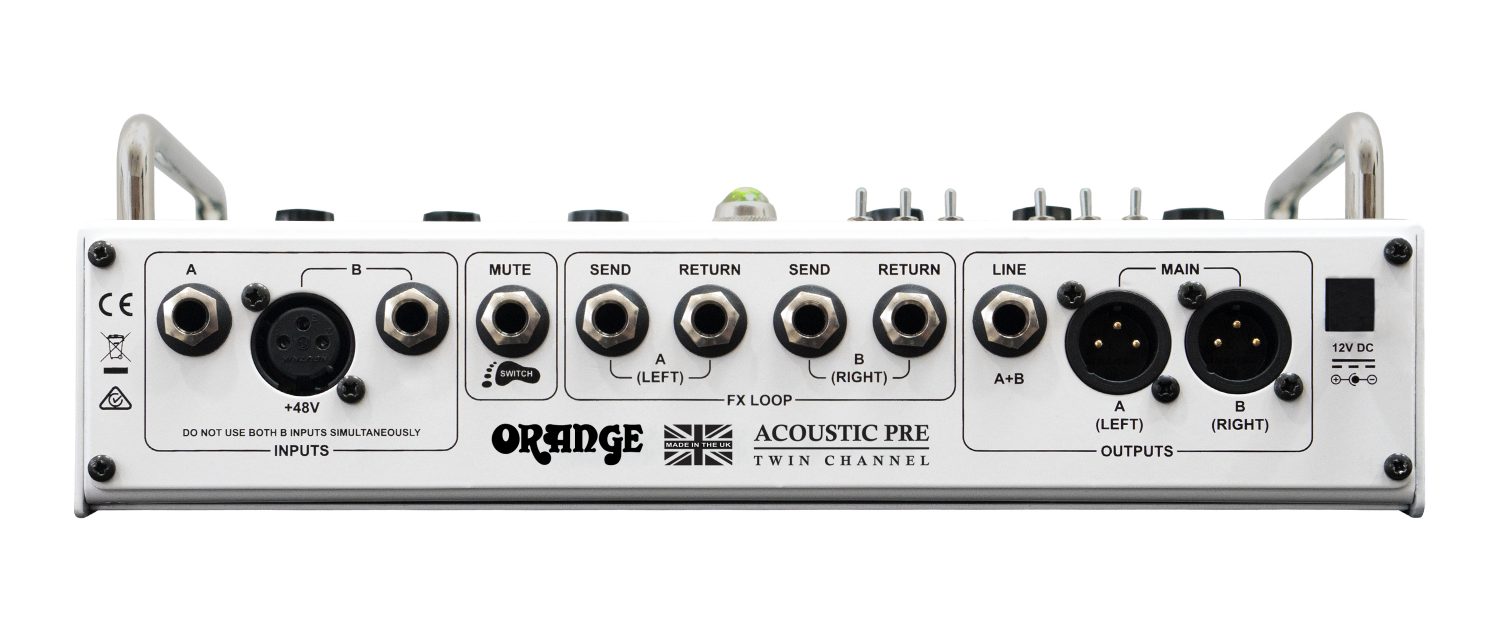 1.入力A
チャンネルAへの1/4インチジャック入力
2.入力B
チャンネルBに1/4インチジャックとXLR入力(同時使用不可)
3.ミュートフットスイッチ
ラッチ式フットスイッチ(FS-1)によるミュート制御を可能にします。
4.FX ループセンド A
チャンネルAをエフェクターの入力に接続する
5.FXループリターンA
エフェクターの出力をチャンネルA出力に接続
6.FX ループセンド B
チャンネルBをエフェクターの入力に接続する
7.FXループ・リターンB
エフェクターの出力をチャンネルBの出力に接続
8.ライン出力
両チャンネルをミックスしてモノラルアンバランス1/4インチ出力ジャック
9.メイン出力A
チャンネルA個別バランスXLR出力
10.メイン出力B
チャンネルBの個別バランスXLR出力
11.DC12V
2.1mm DCジャック(付属のDC12Vセンターマイナス電源接続用
| チャンネルA 入力インピーダンス | 2.2 MΩ |
| --- | --- |
| チャンネルB XLR 入力インピーダンス | 最小6KΩ |
| チャンネルBジャック入力インピーダンス | 2.2 MΩ |
| FXセンドレベル | -10dBu |
| FXセンドインピーダンス | 150 Ω以下 |
| FXリターンレベル | -10dBu |
| FXリターンインピーダンス | 10 KΩ |
| ライン出力レベル | -10dBu |
| ライン出力インピーダンス | 150 Ω以下 |
| メイン出力レベル | .+4dBu |
| メイン出力インピーダンス | 60 Ω以下 |
| 電源 | DC12Vセンターマイナス |
| 電流ドロー | 750ミリアンペア |
| 外形寸法図 | 29x15x9cm |
| 重量 | 2.5Kg |
| バルブ | ECC83/12AX7×1個 |
| --- | --- |
| グローバルヒューズ | T1A H |
| HT FUSE | T63ミリアンペア |