John Lennon once said; "If you tried to give rock and roll another name, you might call it 'Chuck Berry'.", and boy was he right –  Where does one even begin trying to pay homage to a man such as him? In the fifties, I guess. While in Chicago in May 1955, a young Berry met blues singer and guitarist Muddy Waters who suggested Berry to get in touch with Leonard Chess of Chess Records, which led to Berry later that month recording his own adaption of 'Ida Red' under the name 'Maybellene' selling over a million copies worldwide – and the rest is, as they say, history. With hits such as 'You Never Can Tell', 'Johnny B Goode' and 'Rock and Roll Music', Berry redefined rhythm and blues and added guitar solos, creating what we all know as rock 'n' roll.
"[My mama] said, 'You and Elvis are pretty good, but you're no Chuck Berry.'"
— Jerry Lee Lewis
"Chuck Berry is a musical scientist who discovered a cure for the blues."
— Anthony Kiedis, Red Hot Chili Peppers
"Of all the early breakthrough rock and roll artists, none is more important to the development of the music than Chuck Berry. He is its greatest songwriter, the main shaper of its instrumental voice, one of its greatest guitarists, and one of its greatest performers."
— Cub Koda
With a career expanding over six decades, Berry inspired generations of musicians and not just opened doors for a new era of music, but kicked the whole god damn door down. The list of bands that wouldn't be here today without Chuck Berry is absolutely endless – The Beatles? No way. Stones? Absolutely not, Keith Richards even said; «To me, Chuck Berry always was the epitome of rhythm and blues playing, rock and roll playing. It was beautiful, effortless, and his timing was perfection. He is rhythm supreme.»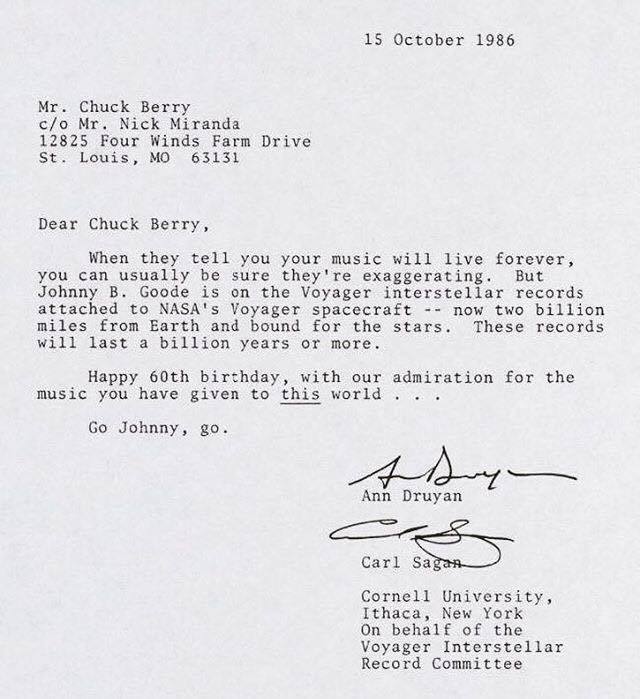 Although we were all incredibly saddened to hear that Chuck left us last night, we are so grateful for everything he left us with – his legacy of rock 'n' roll and music that will live on forever – even in space. Rest in peace Berry, and thank you for the tunes!
https://orangeamps.com/wp-content/uploads/2017/03/chuck-berry-golden-record.jpg
900
1600
Ella Stormark
https://orangeamps.com/wp-content/uploads/2018/04/Orange-Pics-logo-307px.png
Ella Stormark
2017-03-19 20:38:51
2018-12-14 13:16:12
"There's only one true king of rock 'n' roll. His name is Chuck Berry."