Tour Diary: Radio Moscow – Day 4
To just dive right in there and continue where I left it off at my last post; we left Bristol slightly later than expected, and after a quick pit stop at Electric Ladyland we set sail towards the land of Black Sabbath – Birmingham. A few hours of blasting Birmingham's finest kings of darkness in the tour van, and we rolled up to the The Castle & Falcon, which apparently up to very recently, used to host mainly bands playing Irish music.
Support bands for the evening were local bands Luna & The Moonhounds and You Dirty Blue, and I'll be honest with you – I missed out on pretty much both of their sets for the sole reason that we had a TV that could play youtube videos in the backstage area, and I choose to spend that time horizontal on the sofa while requesting live videos of Grand Funk Railroad – that Paul would refuse to play as he was already knee deep in old Captain Beyond. Fair enough.
All the way from Stoke-On-Trent band Psyence's Jamie and Jamie had embarked on an hour long car journey to attend the gig, leaving one Jamie to indulge in all the booze while the other one had to soberly watch him do so. As Radio Moscow started playing, I had the pleasure of watching both of their reactions to their first ever Radio Moscow experience, and it was pure joy and excitement in their eyes;
«Radio Moscow. Hands down the best gig I have ever been to. The man is like Hendrix reincarnated!»
Jamie Bellingham, Psyence bassist.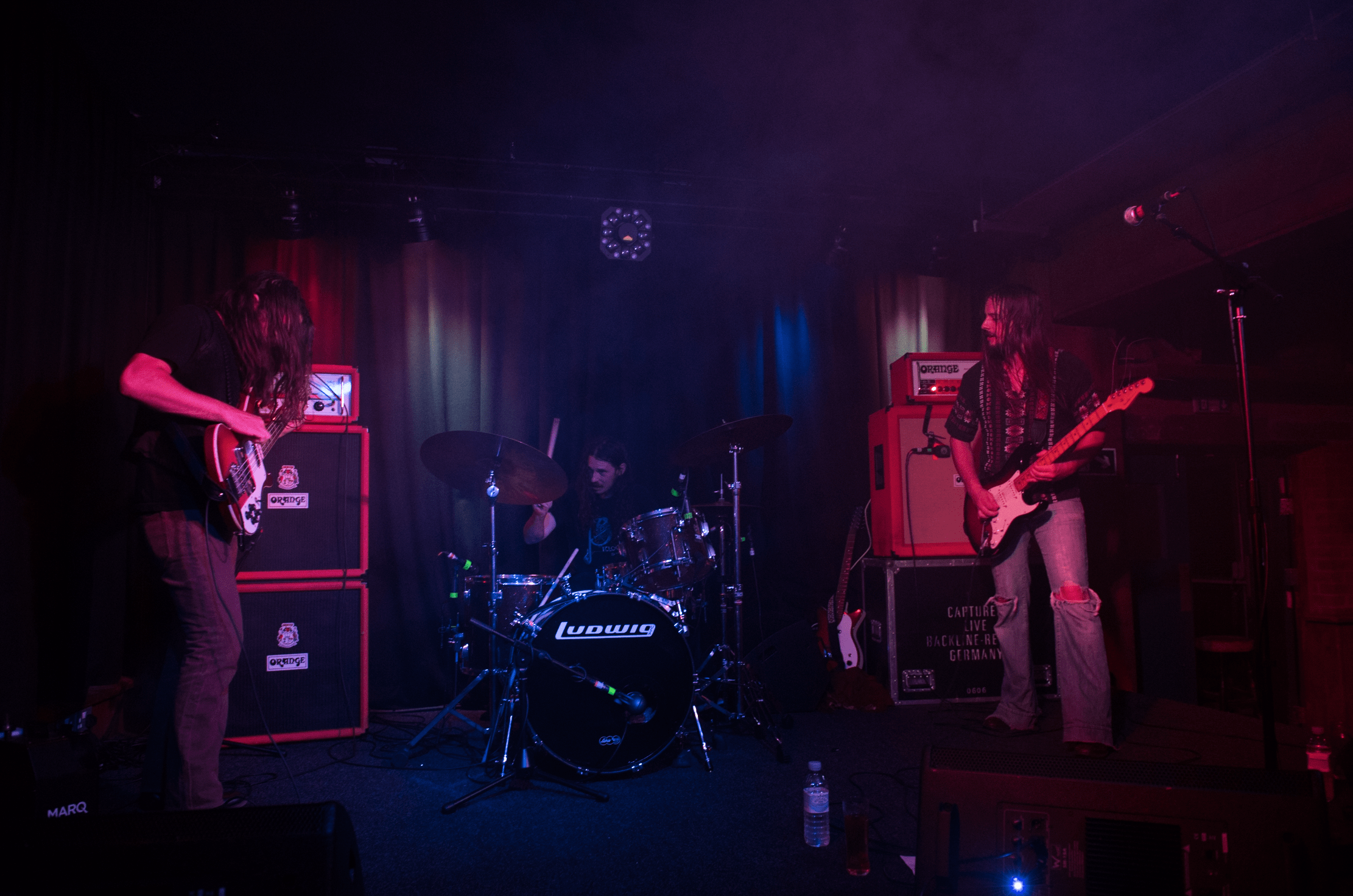 Photo by JT Rhoades
When the night ended we packed up our stuff and headed to the swanky hotel we were meant to stay at, only to find out a mix up had been made and that there was no more rooms left. That was ok though, who wants soft, comfy beds at 1am anyway when you can be stranded in the rain instead? We headed back to The Castle & Falcon where they took us in with open arms and sorted us out in the cozy backstage area by re-stocking the fridge we'd previously emptied for beer, making sure we'd stay hydrated through out the night. At this point, we were all pretty much partied out, and Netflix seemed like a great idea. I broke out my brightly coloured green sleeping bag yet again as we all tuned in to watch Ozark, and it took me about 15 minutes before I crashed, burned and fell asleep on the floor.
https://orangeamps.com/wp-content/uploads/2017/08/66010008.jpg
1287
1940
Ella Stormark
https://orangeamps.com/wp-content/uploads/2018/04/Orange-Pics-logo-307px-279x103.png
Ella Stormark
2017-08-18 11:00:34
2017-12-21 23:00:23
Tour Diary: Radio Moscow – Day 4