The history of the OMEC Teleport
"Teleportation is the theoretical transfer of matter or energy from one point to another without traversing the physical space between them. It is a common subject in science fiction literature, film, video games, and television."
Hi everyone, and welcome to the OMEC Teleport files,
My name is Danny Gomez and I designed and developed the OMEC Teleport with the Orange Amplification team. Let me tell you a little about myself and the circumstances that "teleported" me to here and now.
First of all, I´m a musician, I´ve been playing the guitar for 25+ years and working professionally the last 20; playing, touring, recording, demoing and producing. In 2014 I became partially deaf (left ear 1Kz -30dB), I couldn't hear my wife Martha or my son Neio properly. Imagine trying to play with less harmonic content, there are notes that simply weren't there.
That said, I recovered in a couple of weeks, but they were horrible days and due to the severe treatment and the fact that I hate needles (even being highly tattooed as I am), I hate them and I will faint during blood tests. So, imagine a week of being connected to a machine, trying to recover your hearing… You need to think about anything else, to keep your mind occupied.
The first day was horrible so, on the second day, I decided to win this battle, by both thinking about a way of not fainting during the session and improving my portable playing experience, just in case I couldn't recover enough to keep playing professionally.
I dictated to Martha, my wife, the full block diagram and schematics of a new product, called the M1N1 (M.artha 1 N.eio 1). My plan being, to create a mini pedal with a retro-futuristic name, M1N1, sounded good enough. I got the file and sent it to one of our regular engineers to prototype.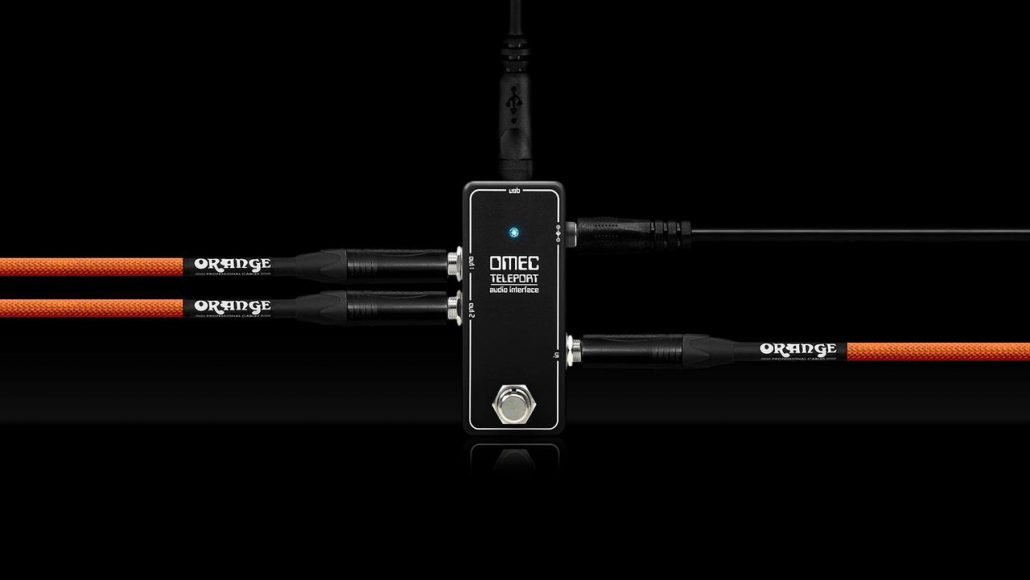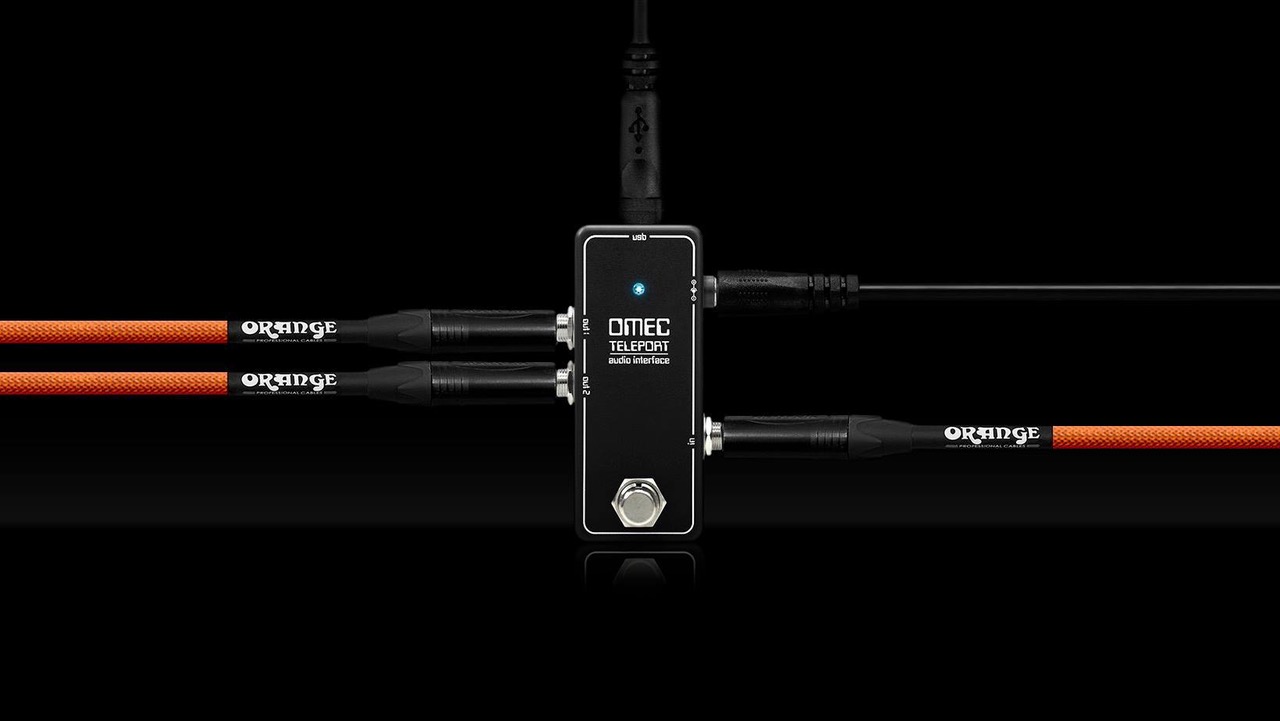 A portable interface with a buffer and the right impedance to keep the playing experience. There was simply nothing like that around. There were big audio interfaces that sounded good (not very guitar-friendly or too complicated) and small portable toy-like interfaces (not sturdy enough for professional usage).
I needed the best of both worlds; tiny, simple, powerful and really musical (pedal to amp type interaction), something that can work with anything, immediately and with enough power to allow polyphonic MIDI through software (and no MIDI pickup installation).
When I received the first unit (that was a little larger than expected), and tried it, there it was! It sounded good, worked with Mac-PC-IOS-Android, reacted to my volume guitar control and was portable enough to take it with us to our first NAMM as Massive Unity Ltd (our UK based company). There we tried to find some alliances in L.A. to manufacture and distribute. It was a project that big that I couldn´t personally manage, while playing, touring and travelling around the world. We have an analogue pedal line that we can handle, but this was huge (I knew from the first moment).
2015 NAMM was great (once I felt confident enough to bring it out of my backpack at meetings) and we even launched the Cort-Manson Matt Bellamy guitar with Hugh Manson himself for several media titles (inc. Premier Guitar and Guitar World). We came back home with a bunch of business cards and some ideas. I immediately started to think about how to do it smaller, more pedalboard-friendly, while on tour (testing it live, well hidden under my monitors) I had the idea; same powerful chip, smaller enclosure. Solved.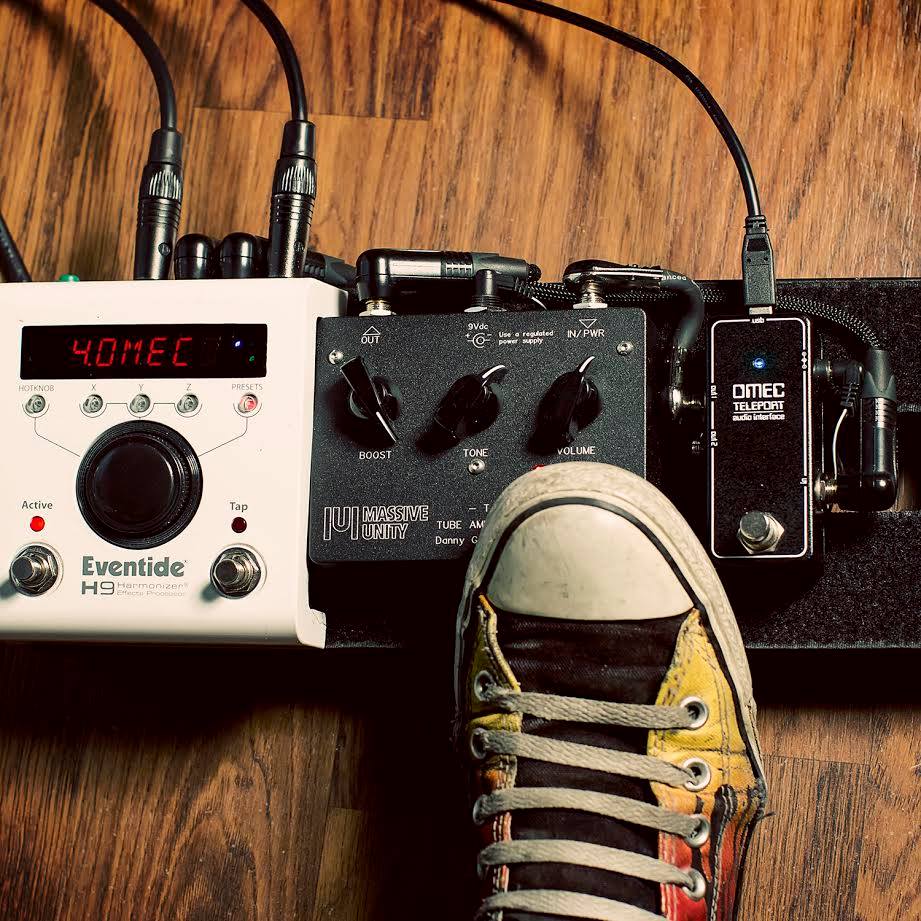 2016 NAMM was even better, more demos, more meetings, evolved interface designs (in a 90´s Apple twist, we added iNterface to the project name), Cort, Kz GuitarWorks, Eventide, etc. All of them with the M1N1 iNterface. Some more meetings occurred. Once again I started my quest for the best and the tiniest interface ever !! Got it, same power on a mini pedal enclosure.
The same year, October, our family at Manson Guitar Works invited us to attend their Manson Guitar Show, to unveil and demonstrate their new Manson DR-1 and Cort-Manson MBC-1. The M1N1 iNterface rocked them all, but everyone was looking the guitars hahaha and playing right after legends like Bernie Marsden and Steve Howe never helps !! We joined Manson Guitar Works and Orange Amplification team and some artists for an Indian dinner.
Next year February, once again we traveled with Manson Guitar Works to the Birmingham Guitar Show. What an amazing show, amazing demos and amazing Indian dinner (the poshest Indian dinner ever) with Mansons and Orange´s Rob and James Deacon. During the night we chatted about music, gear and my demos, they seemed interested about the particular usage of their amps (I connected my interface´s outs to both amps effects returns to use them as powered speakers).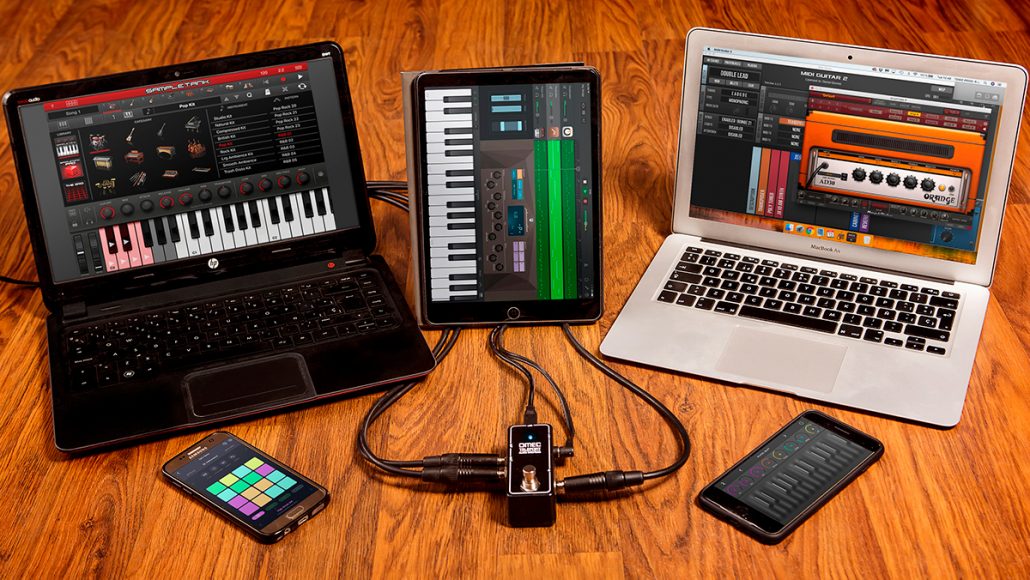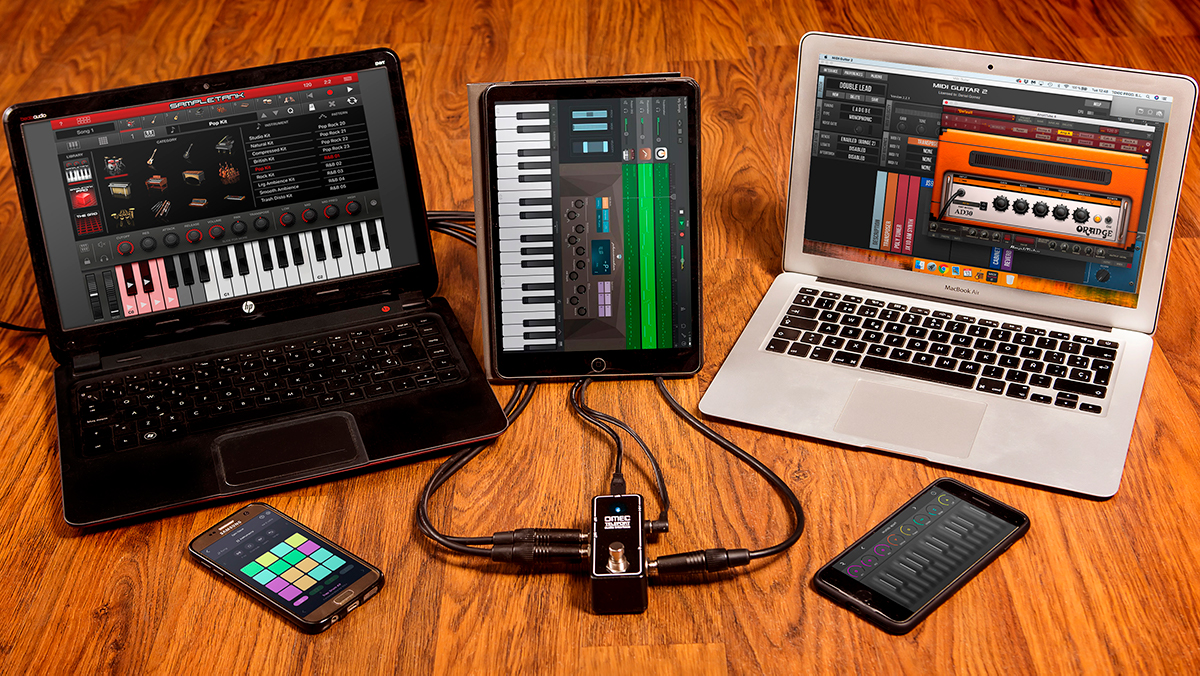 They asked me about that interface and my analogue pedal line and we agreed on a meeting at their booth for the next day. We spent an hour or so dissecting my designs and we exchanged our emails to keep in contact soon.
March, we were invited to Borehamwood Orange HQs to meet them all, including legendary Cliff Cooper and Ade Emsley !! We spent a couple of days there and we arrange a licensing contract… Orange Amplifiers would be manufacturing and distribute my interface worldwide !!
We started making some minor technical adjustments together (to work with the biggest boys in the industry, everything has to be highly detailed and it takes time). We decided to launch it as an OMEC product (O.range M.usic E.lectronic C.ompany) the 70s avant-garde division of the brand and John Dines came up with the Teleport name (retro-futuristic again… I loved it, thanks mate !!).
2017 NAMM !! More demos testing prototypes and new alliances (like our IK Multimedia deal that allow us to give you all this amazing Amplitube Custom Shop Orange edition with every Teleport unit purchased).
The Teleport was finished but it needed a route to market. We worked on all things marketing with the Orange amps marketing team, headed up by Charlie Cooper. That, plus the fact I was able to contact some of my idols with Alex Auxier (Artist Relations Manager) to get them on board, was amazing. Then getting their positive impressions about our new Teleport technology, was simply the icing on the cake.
2018 NAMM !! +20 private demos for media, dealers and pre-launch meetings. More supporters, more artists, more alliances, everyone is excited about the new Teleport technology !! Many brands offered their support on this pretty innovative launch: IK, Eventide, Joey Sturgis Tones, Cort, Positive Grid, MoForte, JamOrigin, T-Rex, etc.
Two years we´ve been working on this, absolutely no leaks and every proto better than the previous one, with the UK and overseas teams, testing prototypes on the road and international fairs (once again unlabeled and hidden from the public eye on my pedalboards)
… Now we are ready !! April 26th was the date, the date for launch!
https://orangeamps.com/wp-content/uploads/2018/05/Dani-Gomez_Fly-17_0026.jpeg
853
1280
Danny Gomez
https://orangeamps.com/wp-content/uploads/2018/04/Orange-Pics-logo-307px-279x103.png
Danny Gomez
2018-05-22 14:00:55
2018-11-29 11:59:24
The history of the OMEC Teleport