The Dark Horses of the Leyton Blues Jam
So, I had this guy around my house earlier this year installing internet, and as soon as he saw my bass and guitar in the corner that regular, awkward forced small talk was replaced by genuinely pleasant conversation:
«Do you like the blues?'» He said.
«If I like the blues? I sure as hell hate feeling blue, but I do love the blues.» Is what I should have said – I said 'yes'.
He told me about this pub five minutes down the main road called Coach and Horses where they apparently host the best blues nights in town every Wednesday, and before he was off, made me promise that I'd go check it out. I wasn't convinced as I spend a lot of time up on my high horse when it comes to music and don't really trust strangers to know what they're talking about, because I'm a dick like that – Anyway, a few weeks later I finally got a group together to go see what all the buzz was about. There is a £2 entry fee to enter the blues room which has seating on either side, and a blue neon 'Blues' sign above the stage that would have way more effect if they at any point of the night dimmed the lights just a little bit – they won't, and to be honest, the whole living room kinda vibe in there is very much a part of the experience. People, mostly elder gentlemen, starts to arrive, and it's time for the blues to commence. The band starts to play, and BT wifi guys was right, these guys were incredible. Who were these incredible musicians shredding away at my weekly blues jam? While doing some research at home, I found out one of 'survivor from the late 60's Dublin scene' Jimmy Gaynor. I knew I had to find out more about him, and he kindly agreed to share some of his story: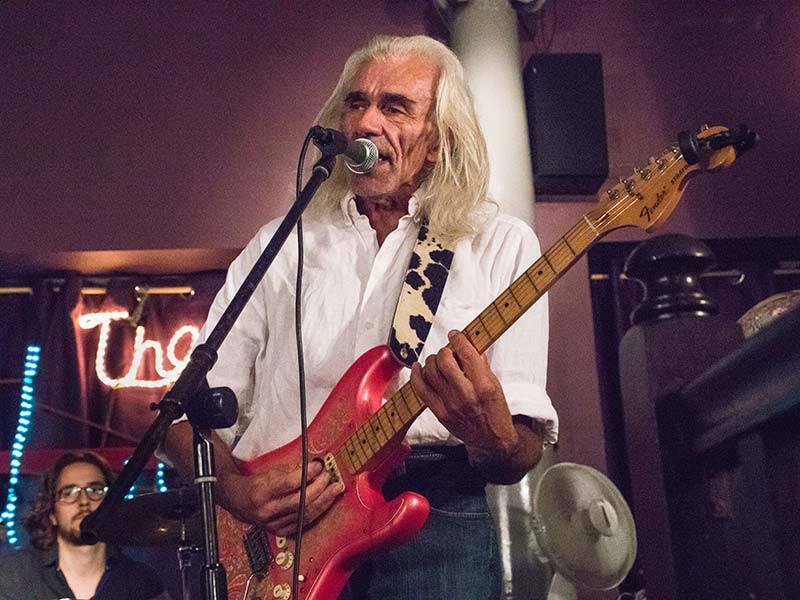 Photo via the Coach and Horses Blues Jam FB page.
«I was a young boy living in Dublin and had a really good friend Paddy who played guitar, he tried getting me to play as well but I never had any interest in doing so. We used to hang out and play records when his mum and dad was out and this one evening he told me 'just wait until you see what I've got!', and it was a fuzz box. Now, this was in 1969, so a fuzz box wasn't something you'd see every day, especially not in Ireland. Hendrix had one, Jimmy Page, Jeff Beck, all those guys were using them, and when Paddy started playing we couldn't believe the sound of his guitar! He talked me into giving the guitar a go, and showed me how to play 'Born to be wild' by Steppenwolf and I couldn't believe it – I was playing! After borrowing and playing a few different guitars, my mum lent me the money to buy my own electric one. I had this Gibson guitar that was very Chuck Berry.  I was into Sabbath and Zeppelin, and didn't want a boring Chuck Berry 'rock 'n' roll' guitar. My dad got my brother and me tickets to go to London, where we went searching for a place I could swap my Chuck Berry for something else. We ended up in the old Orange shop in Soho where Cliff Cooper swapped it for this blue SG, which ended up being the guitar I played for the next couple of years. The next time I came across Orange was back in Dublin when we went to watch Skid Row with Gary Moore about a year later, a band I ended up joining for a bit in 1976. The rest after that is history, I went back and fourth between Dublin and London playing various bands, one of them being The East Coast Angels. We had a song called Punk Rockin' which had a bit of a Thin Lizzy kinda vibe. Later on I ended up moving to London where I eventually settled and kept pursuing music. My band 'Jimmy Gaynor on the Tube' later got featured on the Jools Holland show as well. As for now, I'm doing what I love, I play the blues, and I travel to collect, buy and sell vintage guitar and amps.»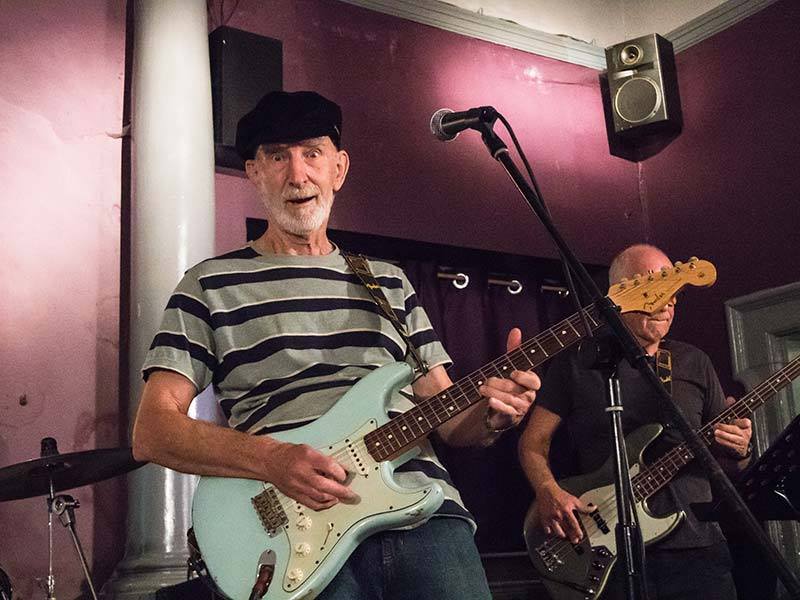 Photo via the Coach and Horses Blues Jam FB page.
Another guy that caught my eye was John Edmonds, the jam's MC and a member of the Coach and Horses house band:
«I was 14 years old when I started playing, I heard Duane Eddy's 'Peter Gunn' and I just really wanted to play that riff. I got an old Spanish guitar for three pounds and started practicing. After that, Elvis and Cliff Richards and the Shadows came out, and then a band formed. The next big thing was The Beatles, and we were sort of a Beatles rip off band, and we had this contract with BBC radio that whenever The Beatles would release a song, we'd go record it as well so they could play us on the radio – they couldn't afford The Beatles, but they could afford us. We stayed together until I was about 24, then the brit blues hit the UK, with bands such as Cream and Eric Clapton so I did that for a bit. After that it went sour as soul was taking over and I hated it, so I gave up and got married.  I sort of drifted back into playing again and ended up playing pop, before I at 39 was fed up of that kind of music, and gave up completely to raise my family. I didn't play for 20 years after that, not even as a hobby. I put my guitar in the attic – that was it. It wasn't until my son was 14 and heard Eric Clapton's Leyla that he asked me to teach him that riff. I was teaching him for about a year after that and we started jamming together. My friend then took me to this blues jam at The Half Moon in Bishops Storford, and I started properly playing again at 59. I had never heard proper blues before and I was just knocked out, I couldn't believe it. This young kid Matt Schofield walked on stage and started playing, and I just wanted to be Matt Schofield. I practiced and practiced to get somewhat close to the level he was on, before going down to the Hot Hob in Brentwood as a jammer, a jam I now run, as well as being in the house band and MCing this one. I've retired from playing in bands, but I'm still playing at various jams about three nights a week and I love it.»
In the video above, you can see both Jimmy and John going at it with the jamming, as, luckily for us, they film every single jam. I've been pretty much a regular since I discovered this place and I've had friends such as San Diego psych band Sacri Monti's Brenden Dellar go up and play, as well as Rich Noakes of London based heavy stoner psych band Derelics. I guess the moral of the story is; Support your local blues jam – you never know what, or who, you'll find.
https://orangeamps.com/wp-content/uploads/2017/08/eastcoastangels78-phx.jpg
501
798
Ella Stormark
https://orangeamps.com/wp-content/uploads/2018/04/Orange-Pics-logo-307px-279x103.png
Ella Stormark
2017-09-05 14:00:31
2017-12-21 23:00:22
The Dark Horses of the Leyton Blues Jam