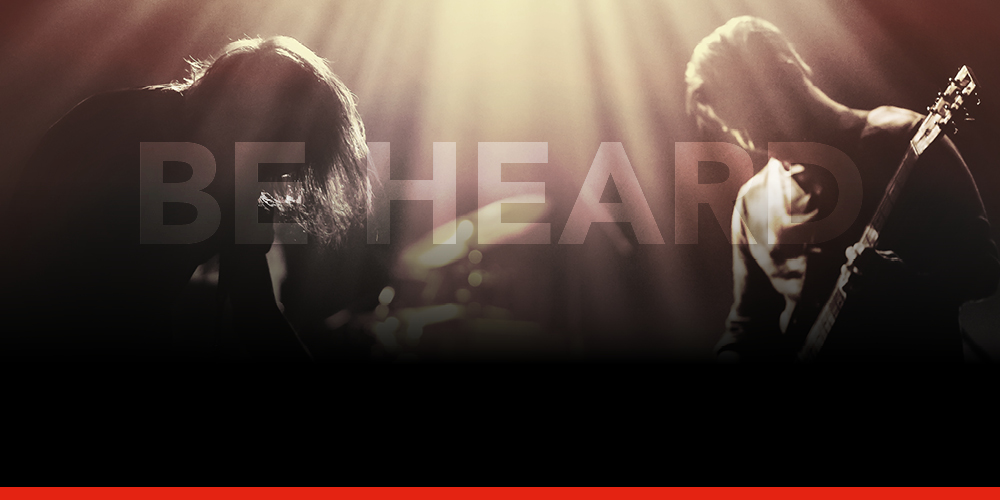 "How To Make It In The Music Business" was a book I read years ago around the time I decided that I didn't want to spend the rest of my life in an office forever dreaming about leading the musician's life – out there on the road, on a mission, and living for the next gig. The time had come to just do it.
One of the main points made in that book really surprised me. Success is down to three things, condensed into the acronym A.I.M. These letters stand for your ATTITUDE, IMAGE & MUSIC – and in that order of importance.
"Whaaaat?!" I thought as I read that, so the music you make ranks only third. But the author was right. Attitude is crucial. Ed Sheeran's massive talent was clear to all as he headlined solo at Glastonbury 2017. But what got him there, when only a few years back he was playing pubs and occasionally having to grab precious sleep on an early morning London Circle Line Tube train?  Attitude and self-belief. Massive talent alone is not enough.
Image counts greatly too. Take The Spectres and Parva. Don't know of them? Yes, you do – they were Status Quo and the Kaiser Chiefs before breaking through with a name that worked. Then Quo did a very daring thing image-wise in the psychedelic late-1960s; whilst other bands' stage attire was kaftans & frilly shirts, Quo opted to dress down in jeans, T-shirts and pumps, to look like their fans. Music-bizzers told them they were mad. Nope. They were spot-on. Grunge bands like Nirvana did a similar thing at the turn of the 1990s intuitively reacting against the New Romantics/Spandex-big hair, dressed-up 1980s.
And isn't it hard to believe that as Parva the Kaisers did play the occasional pub/club gig where maybe there were more people in the band than the audience?
But that's where it begins. You live for your music; you've experienced the adrenaline high of performing for an audience – however small – that is REALLY into your music and you want to go for it full-time.
Starting out, everyday practical things can be issues – insurance for instance. I got a nasty shock when I updated the occupation on my car insurance from advertising exec to musician; the underwriters for my company wouldn't accept anybody from the entertainment industry. End of. And the premium was way more when I did find a firm that would. You must insure your gear as well – music venue and pub car parks are dodgy places.
Promoters. Sadly there are rogues in amongst the good guys who are truly in it for the music. Be wary of the cash-in-envelope payer you haven't worked for before and always open it in his or her presence – ideally before the gig – and check you've got the agreed fee. Also send band promo posters on well ahead of the booking which make it clear what kind of music you play, and ring back a few days later and just politely check that they have been put up. Weirdly, I've found that some promoters are too disorganised to do this. For festival gigs, read your contract carefully, checking for any restrictions on playing other nearby gigs around that time.
Try contacting local radio stations if not too far away and offer to do an unplugged set or interview in the studio ahead of the gig. I was surprised by how many accepted – no fee but great publicity.
Publicity-wise, a band website, social media profiles and YouTube clips of course are key. These also mean you can sell your CDs/merch online and not be always thinking about landing that elusive record deal. Have promo cards/flysheets to be handed out at gigs flagging upcoming gigs nearby. Also Google the gig a couple of days afterwards. Why? Sometimes I've been nicely surprised by blogs posted by people who enjoyed the gig enough to post a positive review – useful info to post on your website.
Starting out, you're likely to play support slots. Be prepared – and not at all fazed – by the two-minute rushed sound check or no sound check at all because the headline band can and do take their time.
I'll finish this blog where I started. Attitude. There will be the inevitable issues and set-backs: bad gigs, travel-fatigue, weeks when your gig diary is scarily blank, gear and transport that needs fixing just when funds are stretched. It can get tough.
But then you have to tough it out: you are doing what you love doing – playing live, rocking audiences and raising smiles. I've found that to be a priceless freedom and privilege which I've never lost sight of.
Orange is a partner in this year's Firestone Battle of the Bands, a competition that gives unsigned acts the chance to showcase their musical talents and be in with a chance of winning a great set of prizes.
To find out more and enter, simply visit http://battleofthebands.firestone.eu, fill in your details and #BeHeard
Best of luck!
Writer Martin Celmins' official biography of blues legend, Peter Green, is now in its 3rd edition.
As blues solo artist, Jet Martin,  he has been support on concert tours by Peter Green's Splinter Group and Walter Trout amongst others.
In 2007 he began research on The Book of Orange. As a keen lifelong collector of Orange amps the ensuing 3 years were fulfillingly spent collating and writing that illustrated book, first published in 2011.
Celmins has contributed to several guitar monthly magazines and written general features for the UK national press.
He is currently researching the life and times and music of Brit-blues ace and former Rolling Stone, Mick Taylor.
https://orangeamps.com/wp-content/uploads/2017/10/0145-BOTB-Orange-blog-1000x500.jpg
500
1000
Martin Celmins
https://orangeamps.com/wp-content/uploads/2018/04/Orange-Pics-logo-307px-279x103.png
Martin Celmins
2017-10-10 14:06:40
2018-12-18 13:00:14
So You Want to Be Heard?