Rig of the Month – January 2021
Every month we reward one lucky winner with a prize. All you have to do is post your Orange rig to any qualifying social media using the hashtag #OrangeRigOfTheMonth. Please note we are not accepting entries via email.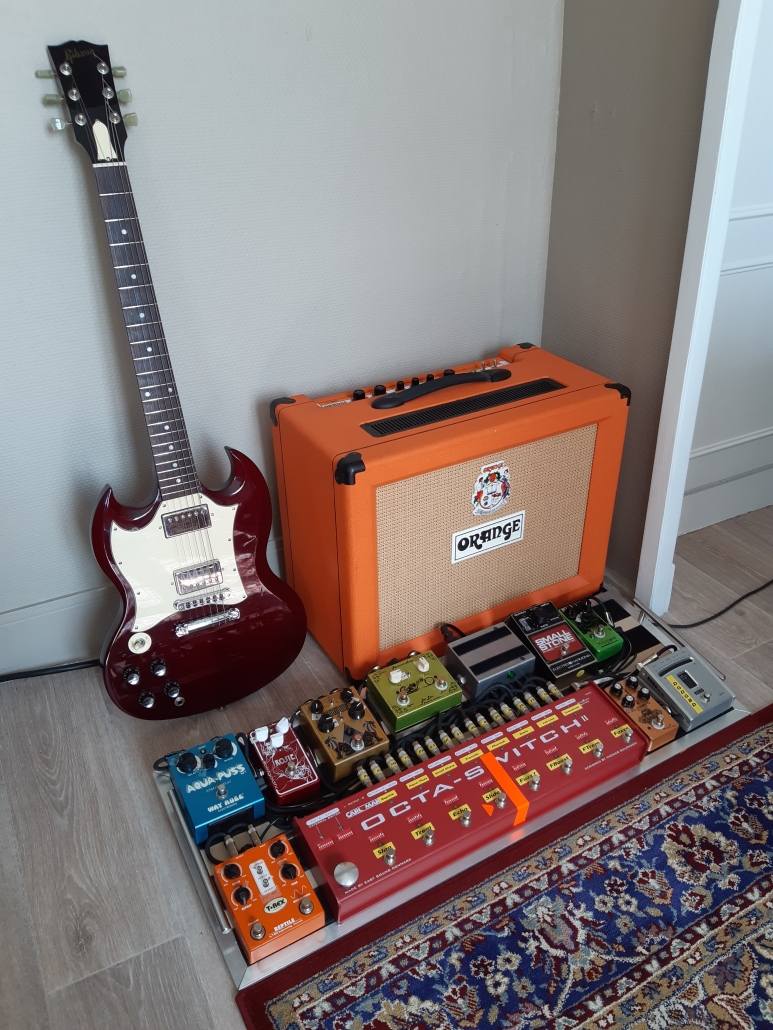 What's your name, age, occupation?
Yann Goraguer, 46, Aerodynamics Research Engineer
How'd you first hear about Orange?
I started building my own amp back in 2005 and was looking for some "alternative" inspiration, at least for the aesthetic. Being a Stoner/Doom/Sludge enthusiast, Orange was the obvious choice.
What gear is in this rig?
Orange Rocker 30 combo and Gibson SG. For the pedals : Pharaoh and Rosie Fuzz, Small Stone, Aqua Puss and Reptile delay, DIY Les Lius, Overdriver and power supply. Since I swap a lot between open G for slide and standard/drop tunning for the rest, the Octa-Switch helps me to stay  calm during a show. The only thing I bought brand new is my 2005 SG Special (50's neck with custom pickguard and SD SH-59 set) everything else is second hand or DIY.
If you've got any, can you share links where people can go to hear how this sounds?
What do you use your rig for?
Rehearsals, shows and recording with my band : Rancune Ducks.
How often do you update the rig?
More often than I can afford…
What guitar do you use? Why?
Since I'm a lefty, it is difficult to find decent guitars at decent prices, still nowadays. I only play Gibson or Gibson like. Most of the music than inspires me is played on that. The SG is my main guitar, tuned to E standard and drop D. I also have a Les Paul Standard with a Classic 57 set and a Gordon Smith GS1, same tunning. A Custom 77 "China Girl" (French brand, SG like) with P90 and mini-humbucker, tunned to open G for slide. And finally, a reversed Ibanez GAX30 in C standard.
When was the first time you saw an Orange amp?
Early 2000′ at a local show with a Pop Punk band. A full set of sub two minutes, almost identical songs….but a Rocker 30 half-stack on stage with no pedals. I spent the whole gig on the first row….and I bought the combo version a couple of month later.
If you could own any piece of gear, old or new, what would it be and why?
It's not really a piece of gear but the only thing I do want now is a proper place to play and record music. With Anthony, the other guitar in the band, we became addicted to the recording process a couple of year ago now.
Who is your guitar hero?
I don't like the "hero" concept, so I would quote bands rather individuals, but it's easy to find out : The Who, early Black Sabbath, ZZ Top, Black Keys, Kyuss, Sleep and everything with Jack White in the line-up.

During the lockdown, we tried to stay busy by doing videos like this :
Any social handles if you want included?
Twitter : @RancuneDucks
https://orangeamps.com/wp-content/uploads/2021/02/20200516_100558-scaled.jpg
2560
1920
Ella Stormark
https://orangeamps.com/wp-content/uploads/2018/04/Orange-Pics-logo-307px-279x103.png
Ella Stormark
2021-02-08 13:47:52
2021-02-08 13:49:44
Rig of the Month – January 2021