Rig of the Month – February 2021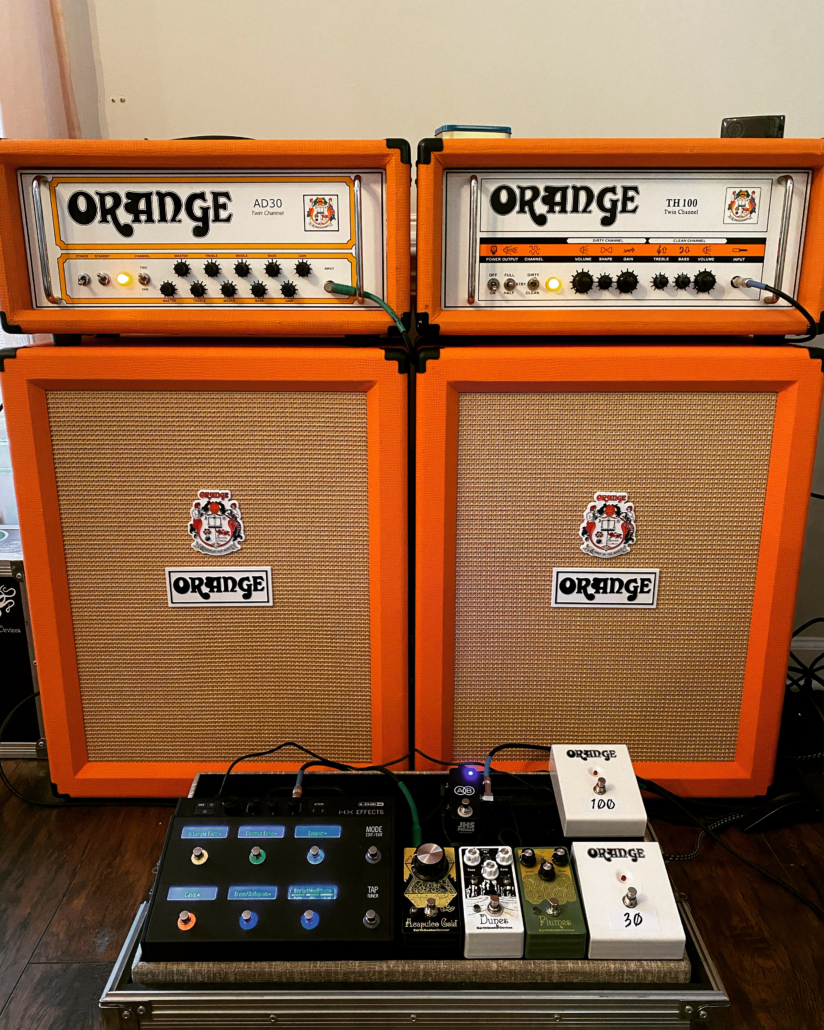 Every month we reward one lucky winner with a prize. All you have to do is post your Orange rig to any qualifying social media using the hashtag #OrangeRigOfTheMonth. Please note this is a social media competition and we are not accepting entries via email.
What's your name?
Justin Bowlin
How'd you first hear about Orange?
I think I first became interested in Orange when I saw Omar Rodriguez-Lopez playing them and heard him talk about his love of the Orange sound. I remember trying out a Tiny Terror at a local guitar shop when they first came out and was just enamoured. That CRUNCH, haha.
What gear is in this rig?
I A/B/Y between a TH100 and an AD30. Each one is running through identical PPC212Vs loaded with neo-Creambacks. I love the clean sound and massive headroom of the TH100, and I love the way it takes fuzz. Right now I run a Line 6 HX Effects into the front end, which I'm still in the process of learning how to use, haha. The AD30 is my favorite for just plugging a guitar straight in and rocking (although I do also like to boost it with a few different Earthquaker drive pedals….the Plumes, Dunes, and Acapulco Gold especially).
Have you got any links for us to hear how this sounds like?
So, I'm in a Carrboro, NC based band in the U.S. called Dave Hedeman & The Gone Ghosts. And while I did not use this exact set up to record my band's new record (which should be coming out later this year), both amps were used at different times to track my guitar parts. And the AD30 was used to track my parts for our first EP, which is currently available on all streaming platforms, as well as our website: thegoneghosts.com

Justin's personal IG here & The Gone Ghosts IG here.

What do you use your rig for?
This TH100/AD30 combo will become my primary live rig when we are able to start playing shows again.
I will also be using this rig for my recently formed Smashing Pumpkins tribute band, haha. A totally different sound from my more roots-rock oriented original band, The Gone Ghosts. But that's essentially the idea behind this rig. It can cover a TON of sonic territory.
How often do you update the rig?
I'm a gear-head. I alter my rig fairly frequently (once a year, maybe?). But Orange will always be part of my sound.
What guitar do you use? Why?
I've always been a Tele/Strat guy. I got a Strat when I was 16, and a Tele a few years later. So that's what I've always been comfortable with. My two main guitars are a Fender Strat (with Billy Corgan's signature DiMarzio pickups) and a Fender Tele (with a Fender Vintage Noiseless in the neck and a DiMarzio Chopper T in the bridge).
When was the first time you saw an Orange amp?
Like I said earlier, my earliest recollection of Orange amps being on my radar was when I first noticed Omar using them in At the Drive-In. Then I remember when Tiny Terrors hit the shelves in the mid-200s. I tried one at my local guitar shop and just thought it was the coolest little thing ever. Been an Orange fan ever since.
https://orangeamps.com/wp-content/uploads/2021/03/Rig-of-the-Month-Feb-2021-scaled.jpeg
2560
2048
Ella Stormark
https://orangeamps.com/wp-content/uploads/2018/04/Orange-Pics-logo-307px-279x103.png
Ella Stormark
2021-03-09 15:02:41
2021-03-09 15:14:31
Rig of the Month – February 2021