Record Store Day Special: Fire Fences
In a day and age where most things are becoming digitalised, it is pure joy and excitement we feel about the growing return of the vinyl after it's downfall in the early 90s when CDs emerged. Record stores are booming, and it's actually financially viable to open a record store, and survive! What a time to be alive, hey?
While in London recently, we met up with three quarters of last year's Firestone Battle of the Bands winners, Welsh band Fire Fences, in Soho's Berwick Street, where you find Reckless Records and Sister Ray records only seconds apart. Why? To find out more about their appreciation of music, and their love for vinyl. As we let the guys loose in the shops, they are overwhelmed with options.
«We don't have places like this in Bridgend! There's an HMV, but nothing with the amount of options like Sister Ray, or high quality second hand vinyls at bargain prices like Reckless Records!"
We ask them to roam around, and pick out a few albums that have shaped their taste in music, and maybe inspired them as musicians.
James: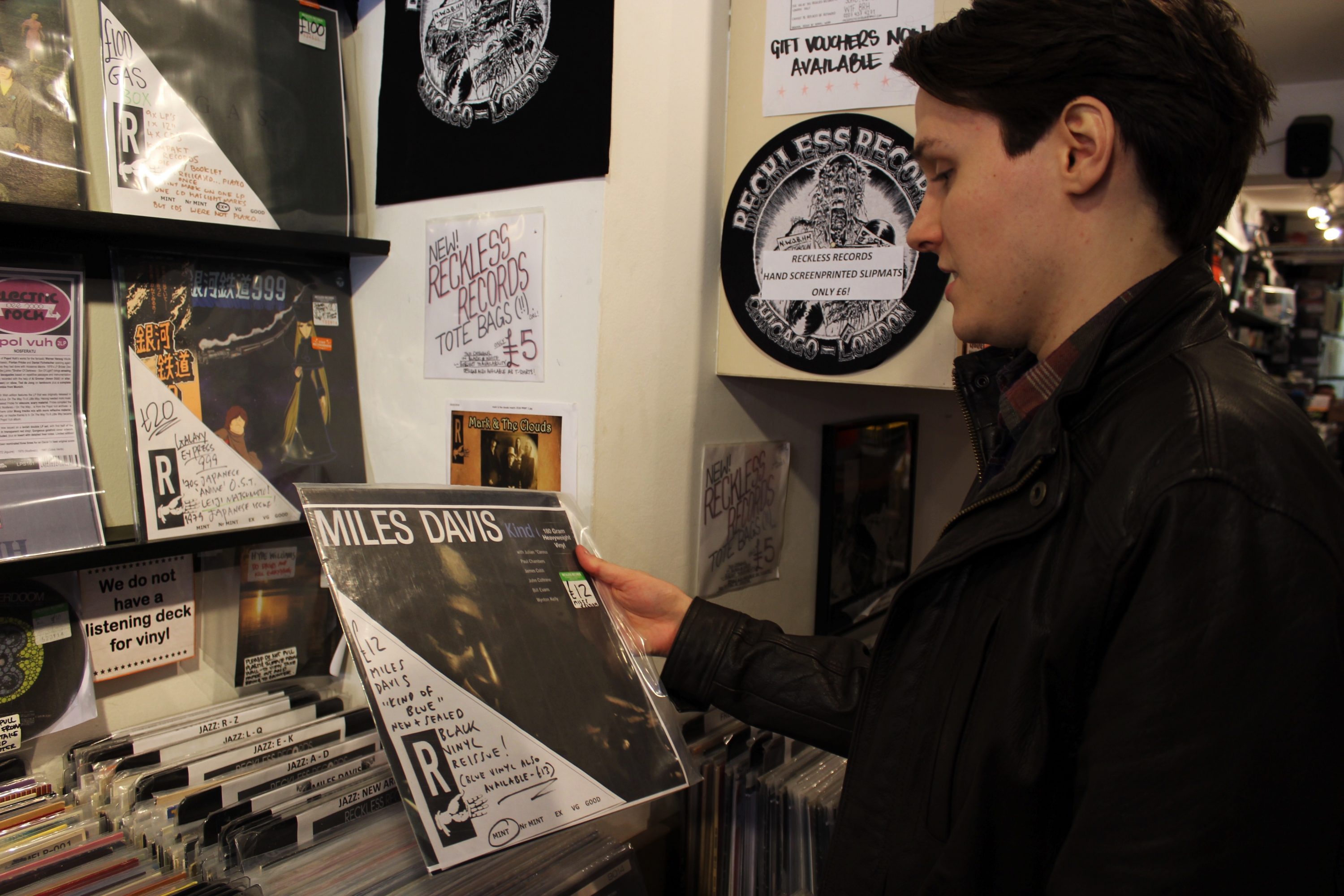 Miles Davis 'Kind of Blue' – Released: 1959
There was no one in my family that showed me jazz which was quite nice, that I was able to venture on my own journey and explore jazz for myself without my opinions being tainted by anyone else's. Miles Davis for me was the gateway into a whole new world of music, so unbelievably expressive, without saying any words. That for me, that someone can express themselves so well simply by just playing their instrument, that said a lot. This album, 'Kind of Blue' which has also got John Coltrane on it, is incredible. I can put it on anytime, sit back, relax and just enjoy it for exactly what it is.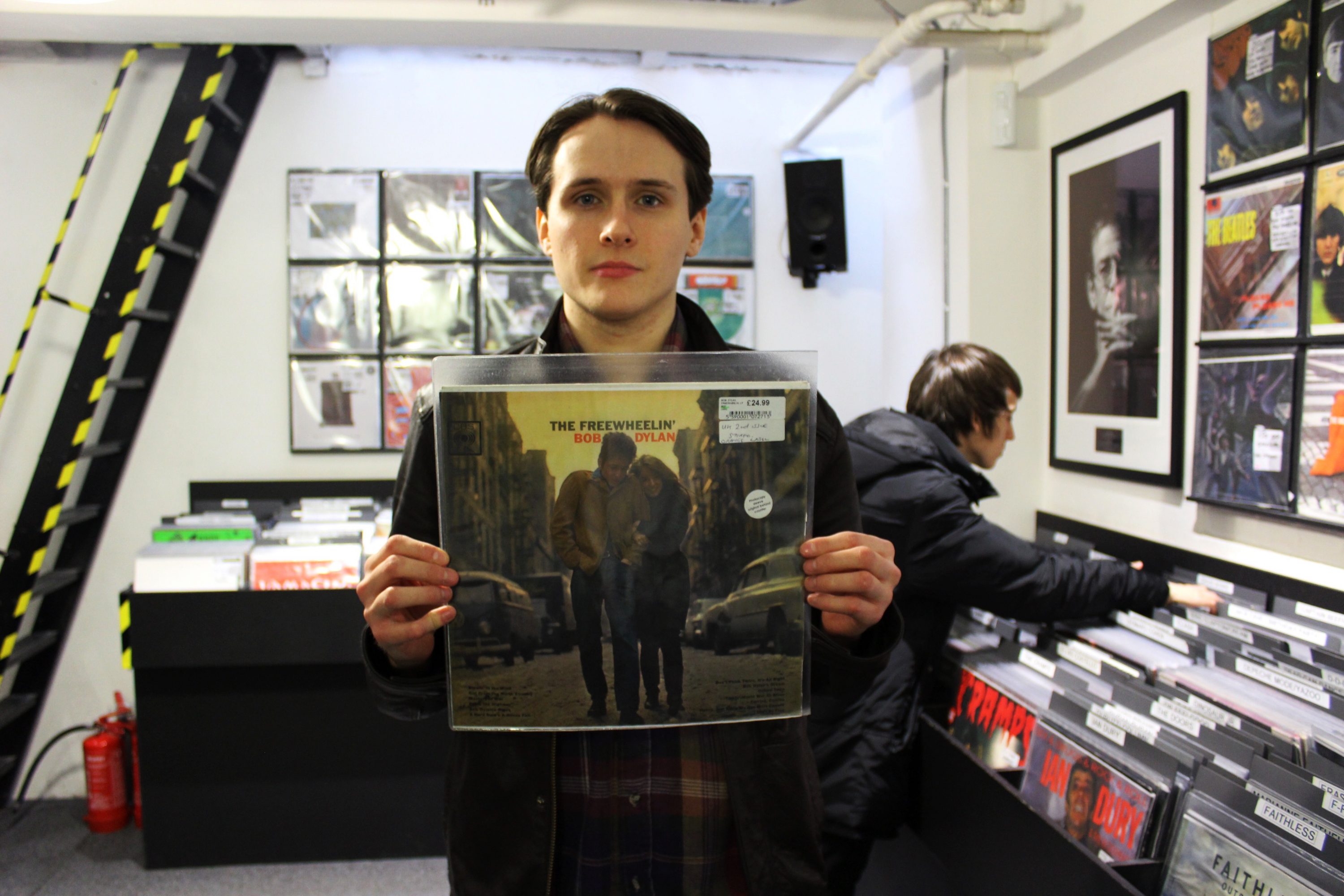 Freewhelin' Bob Dylan – Released: 1963
Growing up my dad would play guitar, and he'd always play music such as Stones and Dylan around the house and the one that stood out to me was this record, 'The Freewheelin' Bob Dylan'. It's an absolutely amazing record and totally reflective of the time when it was released. Dylan himself is just magical, I always liked him as a kid but I appreciate him a lot more now I'm older. This record also has this nostalgic feeling of growing up and my dad playing it. I think this is the record Dylan really made a mark for himself with, and made people understand what he was about. Personally, I think this is by far his best record and a good representation of the culture at the time. Take 'Masters of War', it's so angry but at the same time just absolutely amazing songwriting, just another level.
Aaron: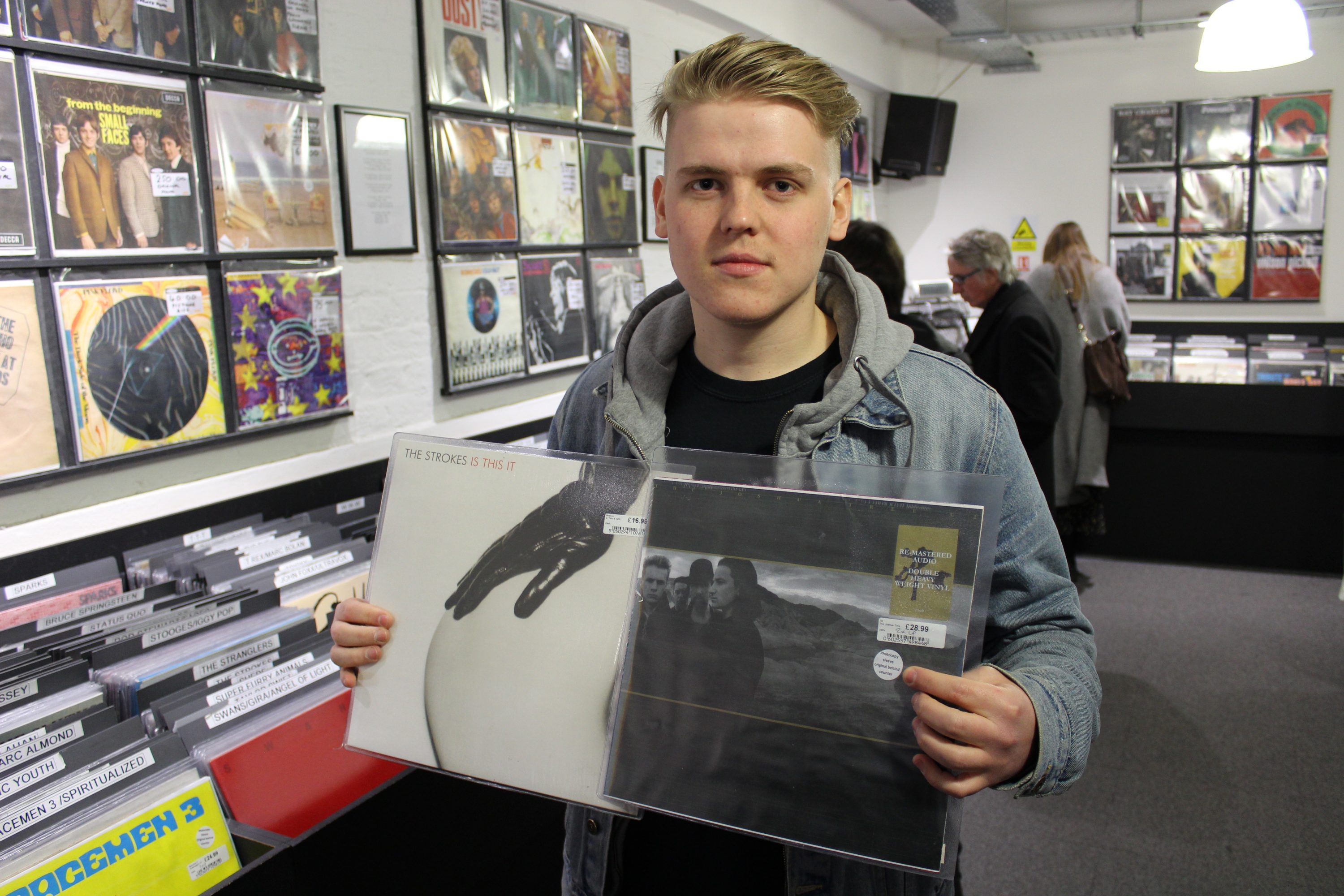 The Strokes 'Is This It' – Released: 2001
The Strokes didn't reinvent the wheel when they released this album, but they just did it really well; the album's got incredible songs, and carries itself really well. Especially for a first album 'Is This It' really is quite something – all the singles on there are huge, hit after hit. Their songs are easy listening but at the same time incredibly well constructed. I just love the fact that despite not doing anything new, it was groundbreaking because they did it so well. The album could have been released yesterday and it would still have been as big as it was.
U2 'The Joshua Tree' – Released: 1987
I went to see these guys last year in their hometown for their 'Joshua Tree Tour', and it was absolutely mental. I think this album was just ahead of its time, using guitar effects that hadn't really been used much before. My least favourite track on here is 'With or Without you', which tends to often be the only song anyone knows, but then the rest of the songs on there are just amazing. Another timeless album, as these songs are all pretty relevant today.
Will:

Mac DeMarco 'Another One' – Released: 2015
I feel like a lot of music today is very over produced, and often a product of people wanting to get stuff out there as quick as they can without taking too much consideration into the end result. Then there's records like this, where you can tell so much time's gone into it, especially with the songwriting behind it, which you don't really find that much today in newly released music. To find that sort of deep meaning in music you often have to go back all the way to the 70s. My favourite track on there is 'Without me', a song that just really chills you out after a long and busy day.
Black Sabbath 'Masters of Reality' – Released: 1971
This record seems pretty obvious, because it's Black Sabbath. I was torn between Vol. 4 and 'Masters of Reality' but ended up going with 'Masters of Reality' due to the variation in the songs – you start out slow but heavy with Sweet Leaf, and then just a few songs later you've somehow got 'Children of the Grave' which is just mental and completely takes off. I actually ended up buying this record as well as it was lacking in my Sabbath collection; between my brother and myself we've got them all now except for Vol. 4, I guess that's next on the list.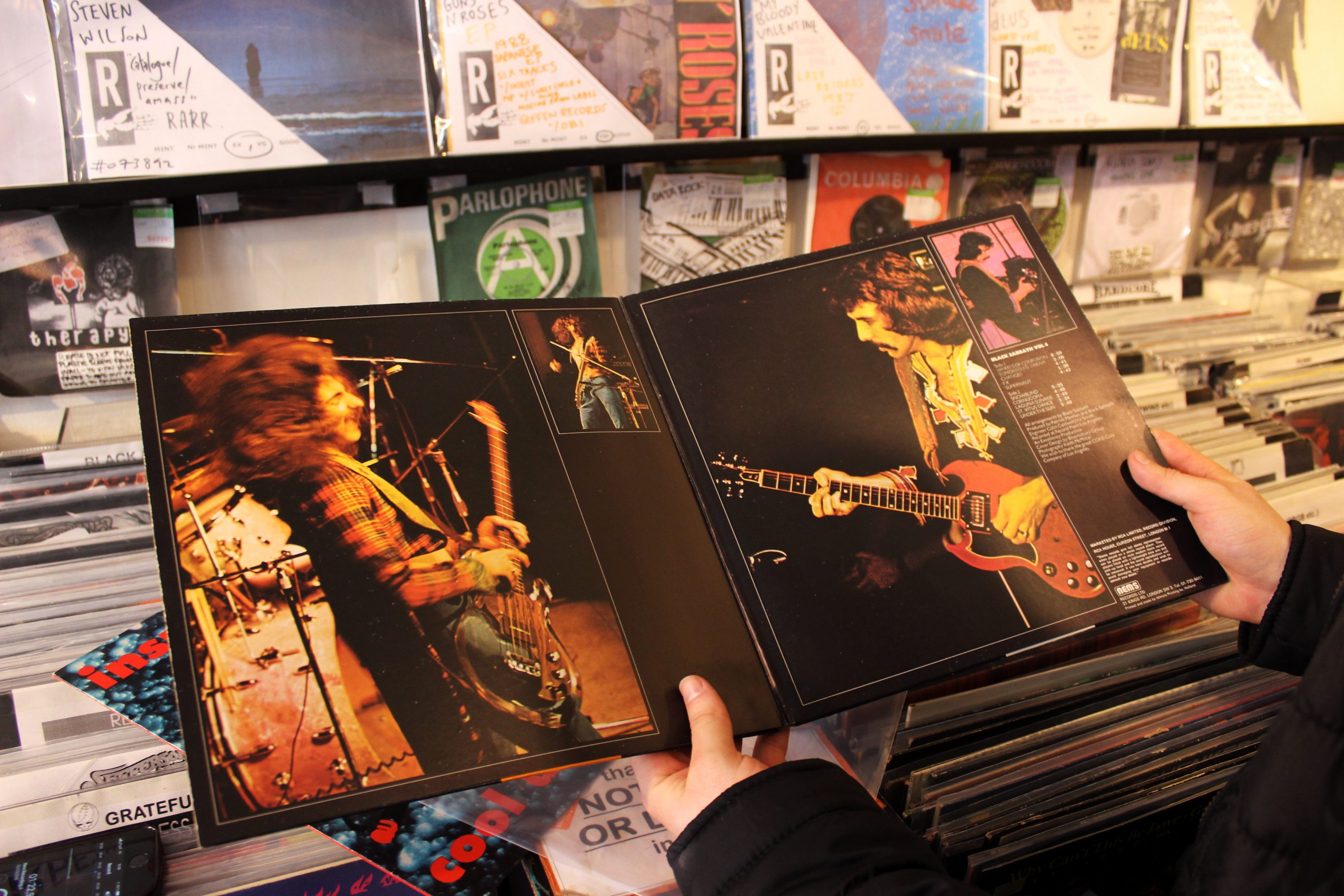 I did actually buy another record today as well, an EP from Inspiral Carpets, a band Noel Gallagher used to roadie for. Noel Gallagher and Oasis have always been a big influence for myself and my music, so it's interesting to get some more background there and hear some of the stuff Noel Gallagher was around and listening to before his Oasis days.
---
"Digital music just doesn't feel the same, or as real, as a vinyl does. There's something about putting a record on your turntable and carefully dropping the needle and waiting for it to play, holding the artwork in your hands, and admiring all the time, work and love that's gone into it."
– James Lee, Fire Fences drummer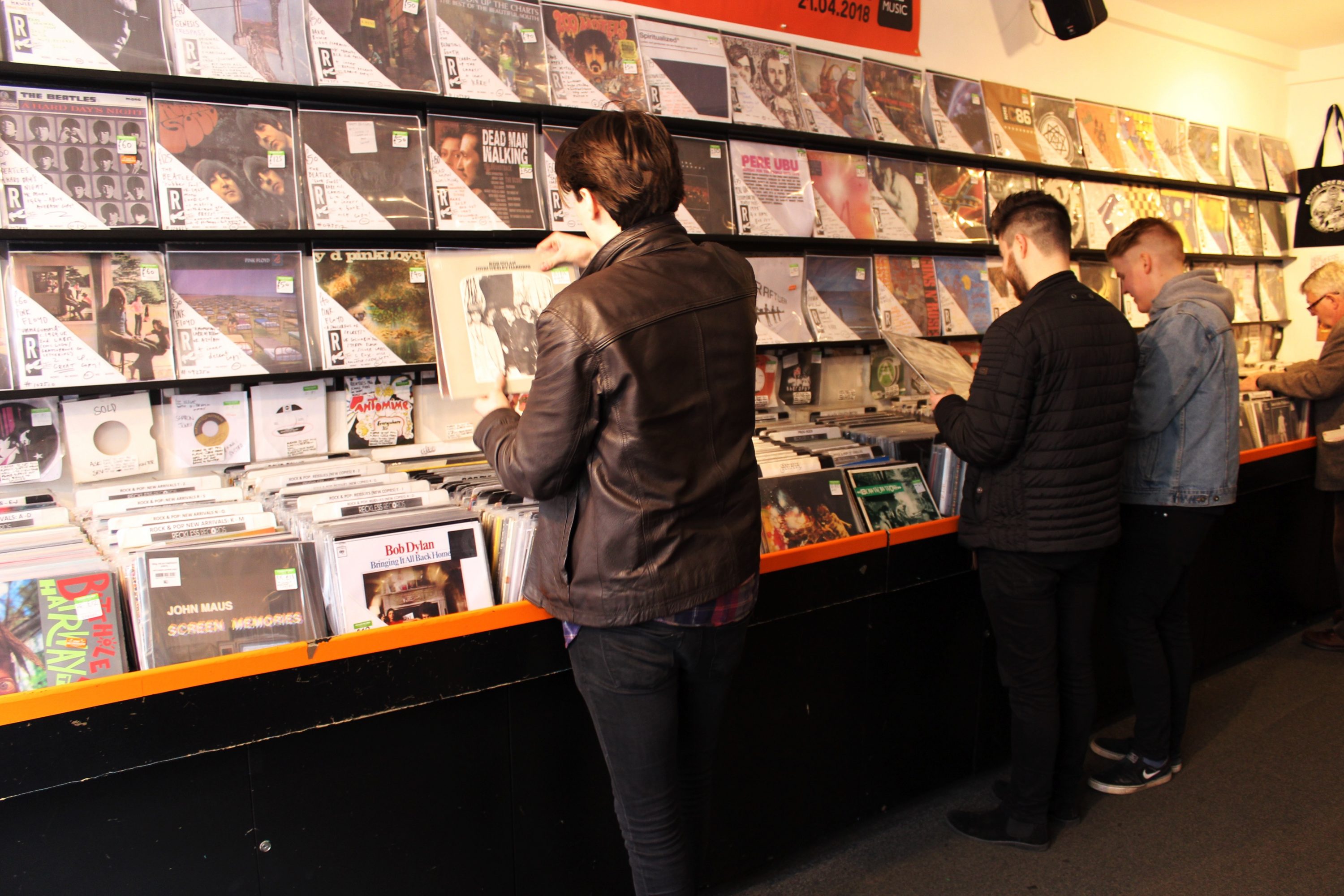 https://orangeamps.com/wp-content/uploads/2018/04/IMG_8975.jpg
2000
3000
Ella Stormark
https://orangeamps.com/wp-content/uploads/2018/04/Orange-Pics-logo-307px-279x103.png
Ella Stormark
2018-04-17 13:00:53
2018-04-17 19:35:49
Record Store Day Special: Fire Fences