Playlist: Drummer's Delight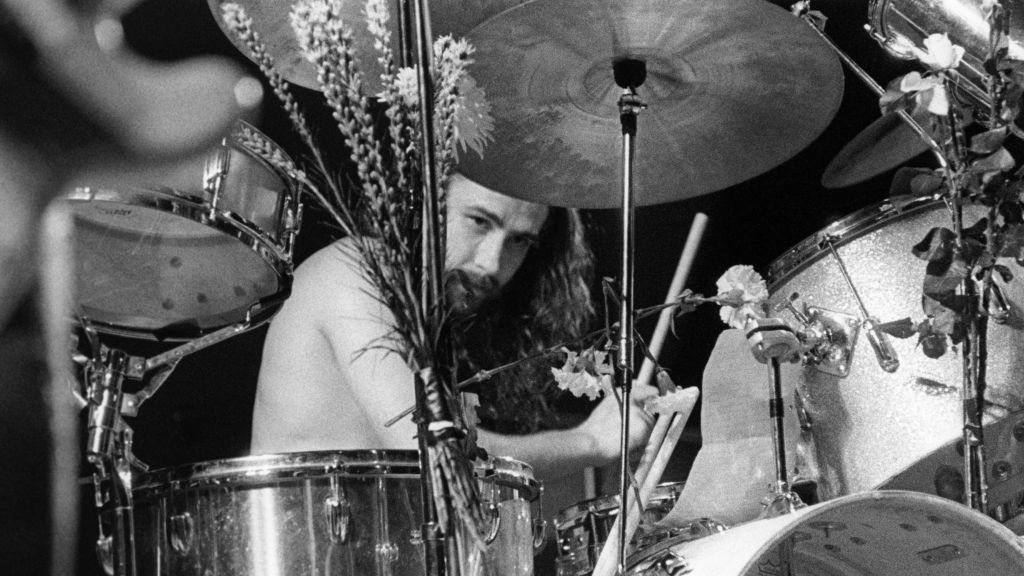 We're all probably going bat shit crazy at the moments, and while we've been catering for our string playing friends in the form of practice amps to play at home, we can only imagine what our drummer compadres are going through, locked up and most of them unable to play as, let's face it, drums aren't exactly welcome in densely populated areas and cities. So, to shine a light on our drummer friends who are currently held up at home with an abundance of excess energy, we decided to ask a few drummers to share some of the songs that inspired them to start playing.

Massive thanks to Joey Castillo of The Bronx, Tomas Järmyr of Motorpsycho, Michael Amster of Nebula & Mondo Generator, Tom Marsh of Haggard Cat, Ken Pustelnik of The Groundhogs, Adam Bulgasem of Dommengang & Black Mountain, Thomas DiBendetto of Sacri Monti, Robby Staebler of All Them Witches, Rich Noakes of Derelics and Marco Ninni of Swedish Death Candy for contributing. Full playlist & artist overview of who picked which song below.
Joey Castillo, The Bronx, formerly of QOTSA
Circle Jerks – Red Tape
Motörhead – Motörhead
DEVO – Satisfaction
Led Zeppelin – Misty Mountain Hop
Fear – Camarillo
Tomas Järmyr, Motorpsycho
Meshuggga – Spasm
Cult of Luna – Finland
The Dillinger Escape Plan – 43% Burnt
Switchblade – 19:30
Tool – Schism
Michael Amster, Nebula & Mondo Generator
The Melvins – Honey Bucket
Thin Lizzy – Massacre (LIVE)
Poison Idea – Deep Sleep
Black Flag – The Bars (Live '84-Live)
Russian Circles – 309
Ken Pustelnik, The Groundhogs
When asked about his top 5, Ken had this to say:

"This is tricky since I've spent my entire career trying to avoid listening to "just" the drumming for its merit alone. Why have I done that? Simply because I have attempted not to be influenced by other players so that I can preserve any natural originality in my own playing. Saying all that, here are 5 songs I have enjoyed today."

The Who – Won't Get Fooled Again
Mahavishnu Orchestra – Meeting of the Spirits
King Crimson – Starless (Live with 3 drummers)
Spirit – Fresh Garbage
Santana – Soul Sacrifice
Dave Brubeck – Take Five
Tom Marsh, Haggard Cat
Issac Hayes – Run Fay Run
The Mars Volta – Roulette Dares (The Haunt Of)
The Locust – Hot Tubs Full Of Brand New Fuel
Zach Hill – Face Tat
Lightning Bolt – 2 Towers
Adam Bulgasem, Dommengang & Black Mountain
CAN – Pinch
The Police – Next to You
Mahavishnu Orchestra – One Word
Slayer – Jesus Saves
John Coltrane – A Love Supreme, PT, III
Thomas Dibendetto, Sacri Monti
Colosseum – The Kettle
Mahavishnu Orchestra – Vital Transformation
Dust – Chasin' Ladies
Captain Beyond – Mesmerization Eclipse
Beck, Bogart, Appice – Lady
Robby Staebler, All Them Witches
Pink Floyd – Echoes
Led Zeppelin – Whole Lotta Love
Sun Ra – Dance of the Cosmos Aliens
Bill Frisell – Big Shoe
Miles Davis 'Agharta' full album
Rich Noakes, Derelics
Jimi Hendrix – Fire live at Woodstock (It has to be the Woodstock version)
Jeff Beck – Led Boots
Dhaffer Youssef – Odd Elegy
Mars Volta – Take the Veil Cerpin Taxt
Antibalas Afrobeat Orchestra – Dirt and blood
Marco Ninni, Swedish Death Candy
Black Sabbath – War Pigs
Deep Purple – Speed King
Queens of the Stone Age – Sick Sick Sick
Sleep – Dragonaut
The Claypool Lennon Delirium – Boomerang Baby
Follow us on Spotify for monthly playlists.
https://orangeamps.com/wp-content/uploads/2020/05/Bill-Ward-by-Colin-Fuller.jpg
576
1024
Ella Stormark
https://orangeamps.com/wp-content/uploads/2018/04/Orange-Pics-logo-307px-279x103.png
Ella Stormark
2020-05-01 19:30:00
2020-05-01 19:30:11
Playlist: Drummer's Delight