Orange Marketing Magic: From launch to Voice Of TheWorld in 6 months
From the launch of their respective brands in the mid-1960s, it took Jim Marshall, Hiwatt's Dave Reeves and Laney's Lynton Laney at least a year to achieve what Cliff Cooper did in just six months. Namely, international brand familiarity thanks to endorsement by exactly the right artists. In that short space of time – autumn 1968 to early spring 1969 – Orange grew from what today would be called a newly-established boutique amp maker, into a major brand competing with Vox, Marshall and Fender.
In truth, in spring 1969 Orange was still really a boutique operation with hand-wired amps being built – but built in big numbers – and rigorously tested in the back of a tobacconist/radio repairs shop in Huddersfield's King Street up north. But by then Orange Amps' image was way bigger than this.
The move to a small factory facility just outside of town in Cowcliffe took place at the start of 1970. By now, Brand Orange was the choice for many blues-rock and blues artists such as the Father of British Blues, John Mayall, who used a full Orange PA with column speakers and 200 watt amps.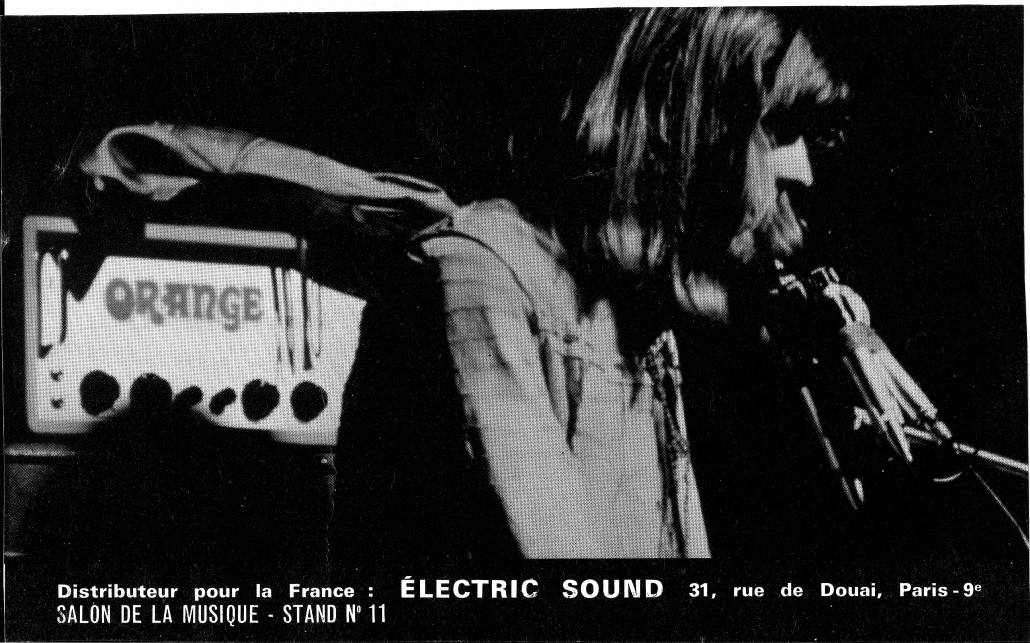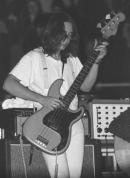 And it was BB King no less who had proved to be a major influencer in this.
On King's April 1969 UK concert hall tour supported by Fleetwood Mac, he informally endorsed Orange: even though he had his Fender Dual Showman with him he tried out and then preferred to use Mac's PA throughout the tour. What better PR can there be for a very young and new amp company than to have stage shots taken at London's Royal Albert Hall of one of the blues greats using an Orange backline… photos which then appear in music papers worldwide the week after?
But of course it was Peter Green's Fleetwood Mac who set off this meteoric rise in Orange's profile. They took delivery of the six 100 watt Orange Matamps with standalone reverb units, 6 offset 4×12 cabs, 1 8×10 bass cab plus PA speakers on November 3rd whilst gigging in the north of England, at Bradford.
Just two weeks later Mac's legendary roadie, Dinky Dawson, took this first-ever Orange PA across the North Sea to Denmark and Sweden for a packed one-week tour. On the same bill in Copenhagen was Rory Gallagher's Taste.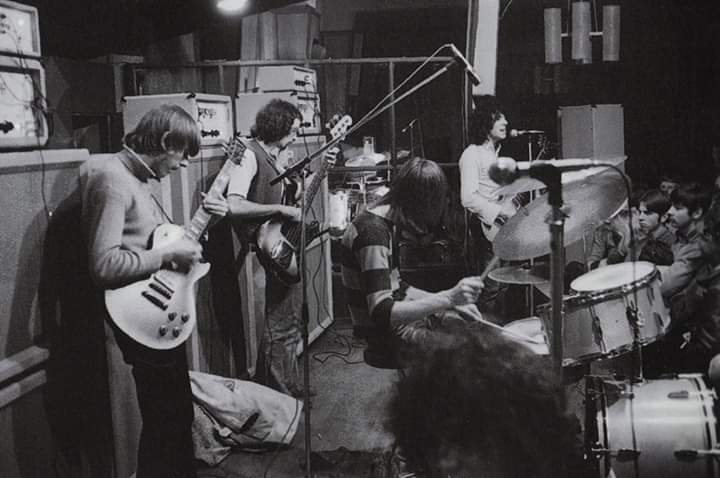 Bass player, Richie McCracken must have been impressed with John McVie's bass rig that night: he was soon a convert who most notably was then seen with an Orange 200-watt amp head onstage at the 1970 Isle of Wight festival.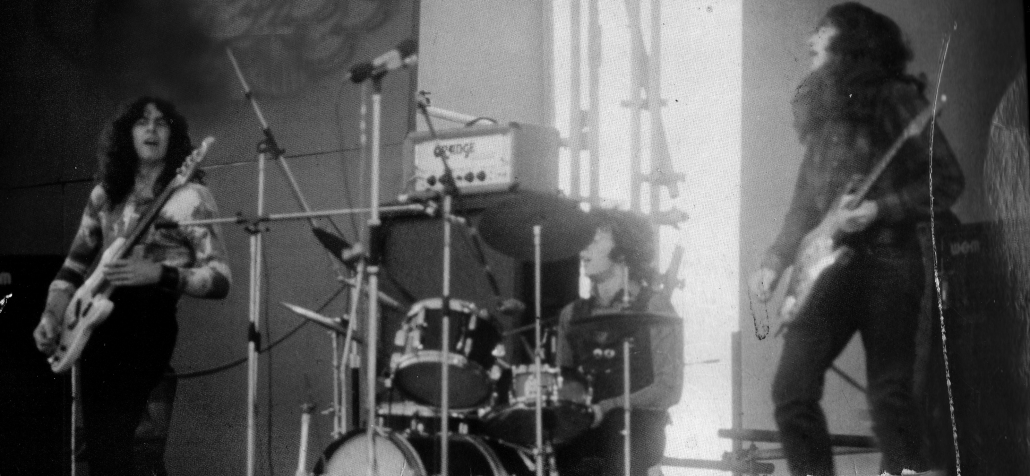 So within just one month of the inauspicious and local Bradford debut, musicians and music fans across Scandinavia were 'Orange aware'. Then two weeks after that the gear was flown across the Atlantic in time for the band's first gig at New York's Fillmore East venue on December 6th. A two-month tour right across America followed.
Pennsylvanian blues guitarist, Rick Vito (who was in the late-1980s Behind The Mask Mac lineup) recalled seeing the band for the first time on the tour and immediately noticing and wanting his own Orange amp. Now this begs a marketing question: would Rick Vito have noticed and remembered the name of a new and hitherto unknown UK-made PA if it had been in standard black livery? Cliff Cooper's marketing finesse in choosing the name of a colour for his products undoubtedly boosted visibility and brand-name recall.
But this crucial Mac-Orange tie-up wasn't to last overly long.
It's ironic that (as Mac's Jeremy Spencer explained in 2006) at the start of that UK '69 tour whilst BB King was trying out and liking Orange, all three Mac guitarists checked out his Fender Dual Showman and were equally impressed. So much so, that by the end of the summer and with the exception of John McVie, Mac had switched to Fender and mainly Dual Showmans. That said, Peter Green still sometimes took his OR200 and Orange standalone reverb on tour during 1970.
Undoubtedly Mac's endorsement era was a fruitful time for the company not just in terms of publicity but also product development. The band's original six 100 watt Orange amps made in October 1968 were powered by a pair of KT88 tubes, and had a 2-tier aluminium chassis with an 'umbilical' linking the preamp to output stage. These heads were taller than the subsequent OR100s in order to accommodate the KT88s. It is thought that at most 50 of these were made and as such today they are serious collectors' items: there have been rumours of one or two still being in existence but no hard proof so far.
The next OR100 development stage was to switch to a single stove-enameled steel chassis and four EL34 tubes. Soon after that, in early 1969 the OR200 was introduced featuring four KT88s with a sleeve that was one inch taller and seven inches deeper than the OR100.
With first-rate endorsement having established Orange as an international brand throughout 1969, Cliff Cooper's next marketing move was product placement. He did this in two stages: first, he set up Orange Hire which soon saw Orange PA's onstage at many major summer festivals.
Then, partly thanks to this increased visibility – and just as he was looking to up Orange's share of the German market – out of the blue he got a phone-call from Mike Leckebusch, producer of the Beat Club German television show. Colour TV was rapidly replacing black & white and Mike thought that the visual appeal of an Orange backline was just right for his weekly show. Cliff was only too pleased to oblige and supply. And so, in the early 1970s the stellar artists seen using Orange on nationwide German television included: Stevie Wonder, Status Quo, Canned Heat, Ike Turner, Muddy Waters, Black Sabbath, Free, Chuck Berry and Alice Cooper.
Sales in Germany soared as a result and so in 1971 Cliff formed a German subsidiary – Orange GMBH – in Frankfurt to meet this demand. One significant outcome of this was that Orange GMBH signed a deal to provide the PA for the 1972 Olympic Games at the Munich Stadium. No surprise then that sales of Orange right across Europe increased as a result.
"The 4 P's of Marketing" has been a foundation business model for many decades. In order to succeed you have to get four broad marketing decisions just right: these are Product, Price, Promotion and Place. From 1968 onwards Cliff Cooper and Orange clearly got it right …. but they got it right not by formal study but by intuition, learning from mistakes made and adapting to a constantly evolving music business.
https://orangeamps.com/wp-content/uploads/2019/09/Orange-016.jpg
4056
5955
Martin Celmins
https://orangeamps.com/wp-content/uploads/2018/04/Orange-Pics-logo-307px-279x103.png
Martin Celmins
2021-03-25 21:12:30
2022-03-25 21:35:26
Orange Marketing Magic: From launch to Voice Of TheWorld in 6 months