Interview: Monolord's Mika & Thomas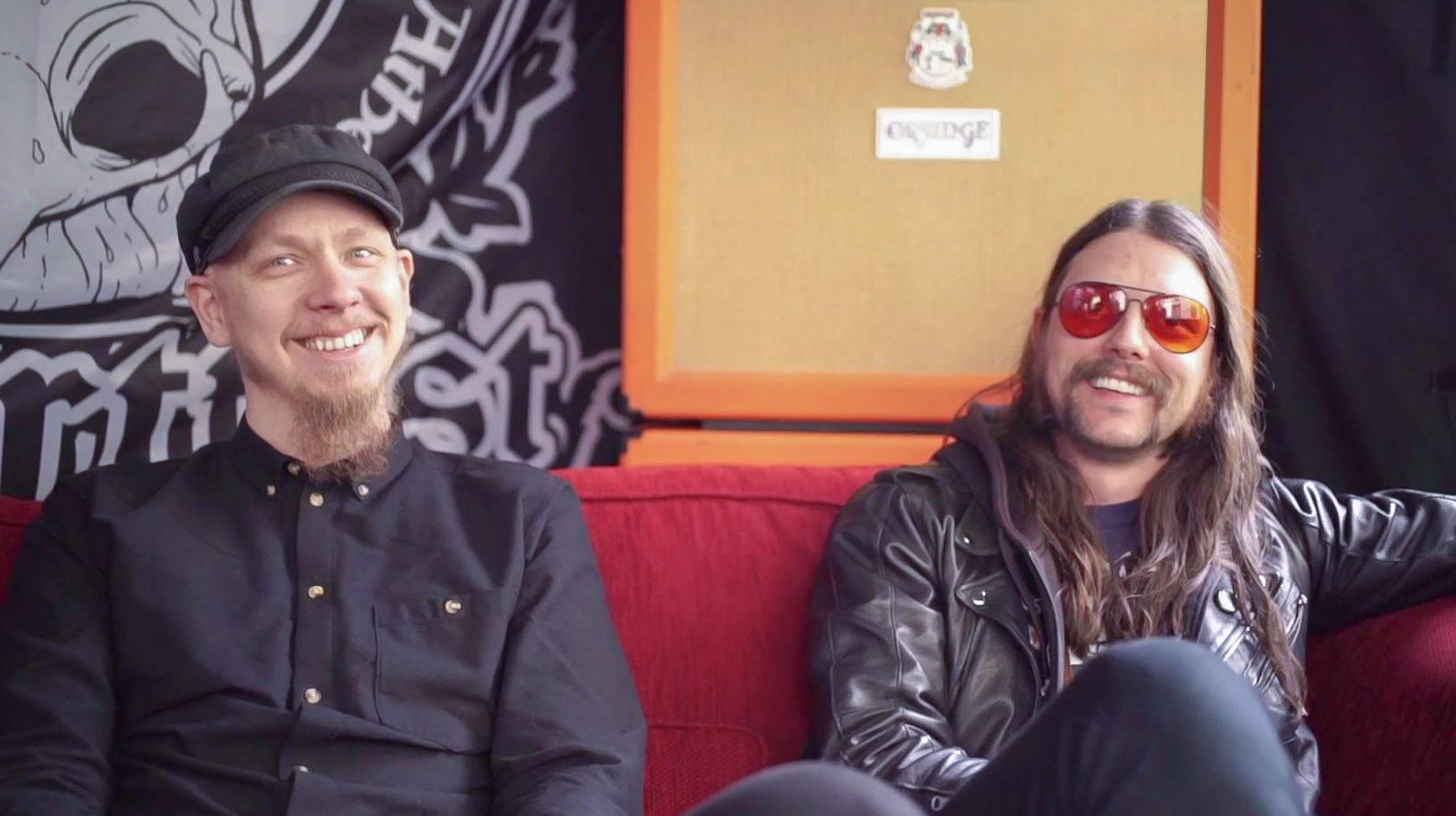 Monolord's Mika & Thomas talk Orange at Desertfest 2016

Thomas: Hi my name is Thomas. I play guitar and sing in Monolord.
Mika: Hi my name is Mika and I play the bass in Monolord.
When was your first experience of Orange amps?
Mika: My first memory of Orange amps is from 23 years ago when i was just a small kid learning to play guitars. I was with my best friend. We were learning how to play guitar together. His farther had a huge stack of amps and guitars. Of course he had orange there.
Thomas: I think it must of been at an old beat club concert with black sabbath. They had their classic paranoid video, I think that's the first time I saw an Orange amp.
Mika: The first time I played an orange amp I was about 20. I was with my friends at a rehearsal.
Thomas: When I was about 25 I bought my first Orange amp for recording an album in my old band.
What is your current set up?
Mika: Right now I have an 8 x 10 speaker cab and an OB1500 amp which I'm very happy about it has a lot of power in that. I had to try the OB1500 because of how good it sounded in previews. Now I am looking at getting another 8 x 10 speaker cabinet and an AD200.
Thomas: I have the OR100H. with a high powered 400W cab. Then I have two old cabs, one is from 79 and the other from around 2006. I have an old modified slave head from 73 that was modified a while back. They had put a Matamp face plate on it but now I have found an old Orange face plate that was from 73 as well. So now it's back to a normal Orange again. It's reliable, built like a tank! And if you play a smaller club or a bigger club it doesn't matter, it still works and sounds great.
Thomas: We have been working really hard to get our sound that we can use together, not only sound great separately but to sound great together
Mika: We have gone through quite a lot of gear
Thomas: Ye but now it seems like we have found our thing. It sounds good on stage but we like that it even sounds good out side the stage.
Mika: I get all excited about it every time I get out the amps!
Thomas: ye like ooooo (excited expression)
Mika: Like a giggling small boy
Thomas: Like Mr Burns eeeexcellent (strums fingers together)
Mika: For my main sound I just use one fuzz pedal but of course I combine it with some effects here and there. But basically the main sound is one fuzz pedal straight to the amp and its perfect with the OB1500, you can really turn up the gain there!
Thomas: Ye the sound is more or less the guitar, a fuzz pedal and the amp. It's nothing more really, I have some delay and flange and phaser just to broaden the sound a little more.
Of course we were really really happy when we talked to Alex in Atlanta and we also visited the office outside London. When we became ambassadors I felt … well it was like a dream!
To be able to use Orange I'm really thrilled about it!
Mika: Ye I'm stoked about it!
https://orangeamps.com/wp-content/uploads/2016/07/Monolord-Screen-Shot-2.jpg
943
1683
Harry Plant
https://orangeamps.com/wp-content/uploads/2018/04/Orange-Pics-logo-307px-279x103.png
Harry Plant
2016-07-04 10:55:13
2018-12-21 12:30:09
Interview: Monolord's Mika & Thomas