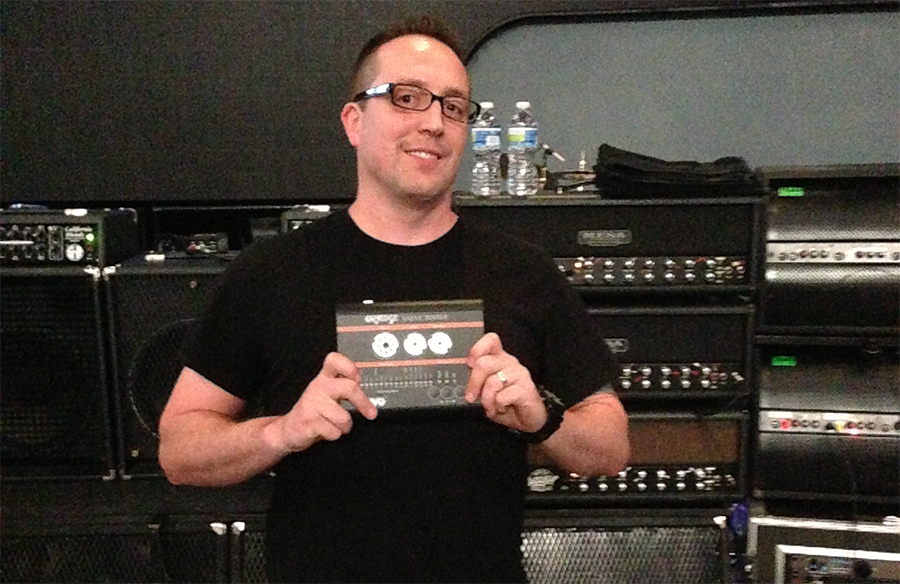 Welcome to the first AMPLIFIED!
The AMPLIFIED! series is about those dedicated behind the scene road warriors. The people who keep the tubes glowing and the speakers moving. They are the lubricant in the cogs of the rock and roll machine. They allow the Herculean's of music to stampede into your town and entertain you night after night. These people are the zenith of the road, they are THE AMPLIFIER TECHNICIAN (amp tech for short).
———————————————————————————————————————–
We kick the blog off with road veteran Drew Foppe. We have chosen Drew because we have big love for the man and because he is at the top of amp tech game. Over his fourteen years on the road he has travelled everywhere and has been the chain that has held together bands such as Slipknot, The Used, Deftones and Evanescence. He currently works with one of Oranges first artist endorsers, Fleetwood Mac, providing amp care to the songbird Lindsey Buckingham. The guitar wizard Peter Green (Fleetwood Macs early guitarist) complemented his wonderful playing style with Orange Amplifiers. We asked Drew a few questions regarding his day to day life on the road, what's rocking his stereo, saving fifty tubes from hitting the skip and his favourite parts about Orange amps.
Firstly, tell us how you got involved working in the tech business.
Well, as with most techs I've worked with, I really got involved with teching by first playing guitar in a band. I have always been a guitar/gear nerd since I can remember and I would constantly modify my own personal gear to create different tones that you just couldn't get with stock equipment. I started out modifying pedals, different guitar wiring scenarios/options, often adding different switching/pickup options, and it eventually led to amplifier modification. While on tour in my own band, I was constantly fixing gear for myself and for other bands we would meet along the road. This was great because I met so many amazing people along the way. When I finally decided to leave playing behind, I really wanted to try and distance myself from the music business in general. I guess I just couldn't escape it though, because people started finding out that I was doing repairs out of my garage and business started to pick up pretty quickly. One day, a friend of mine told me I should go on tour and start fixing gear for bands that could really use some help. Little did I know that my friend already knew a band that was looking for a tech and suggested me for the job (Thanks Chico!). I ended up deciding that I would just take a chance and go on tour, this time as a tech. I absolutely fell in love with my job and have been lucky enough to still be touring all these years later with some fantastic bands and even more amazing people
Drew was once Amp tech to the metal giants Slipknot.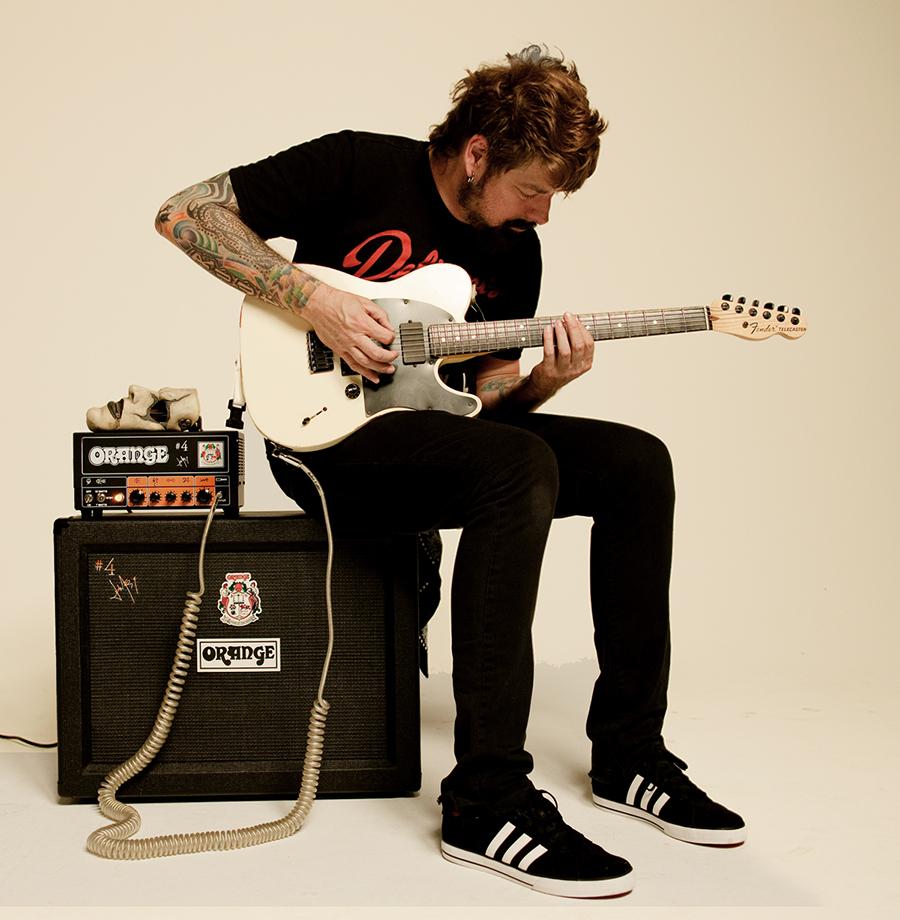 Favourite Bands?
I love listening to all types of music, so I usually have several bands that I could call my favourite at any given point in time. Currently I'm listening to Tom Petty, Foo Fighters and a local up and coming Arizona band called, The Black Moods.
What's a typical day life for you on tour?
I am currently out on tour with Fleetwood Mac. My main role out here is to be Lindsey Buckingham's amp tech, however, I am also the guitar tech for the keyboard player, Brett Tuggle, as well as the general backline amp tech. I am constantly looking after and maintaining our huge inventory of amplifiers on tour (29 of them to be exact!). My day starts out by waking up on a tour bus after a playing a different city the night before. I'm an early riser, so I get to catch breakfast every morning before work. The rest of the tour starts loading in around 7am each day marking out the arena floors and hanging motors for lights and the PA system, but our backline team usually starts the day at 10am. We carry our own stage out here, so everything is marked, measured and always put in the same place night after night. Consistency is absolutely necessary for this band! Although the venues may be different inside and they usually sound completely different from one building to the next, the guitar amps/cabs, pedalboards and risers are always in the same places at the same angles and the same distance to the front of the stage each and every night. We do this so it will feel the same up on the stage for the band when everything else feels different. Once the show is over, we pack everything back into their cases and then load everything back into the truck. After the truck is packed, we have a bit of time to take a quick shower and then it's off to the next city to do the whole thing over again.
A hot topic question for all guitarists is what's inside their amps. Valves, Solid-state or a mixture of the two? Techs know their game and work with a wide array of musicians. We decided to ask them this divided questions, VALVES OR SOLID STATE, which do you prefer?!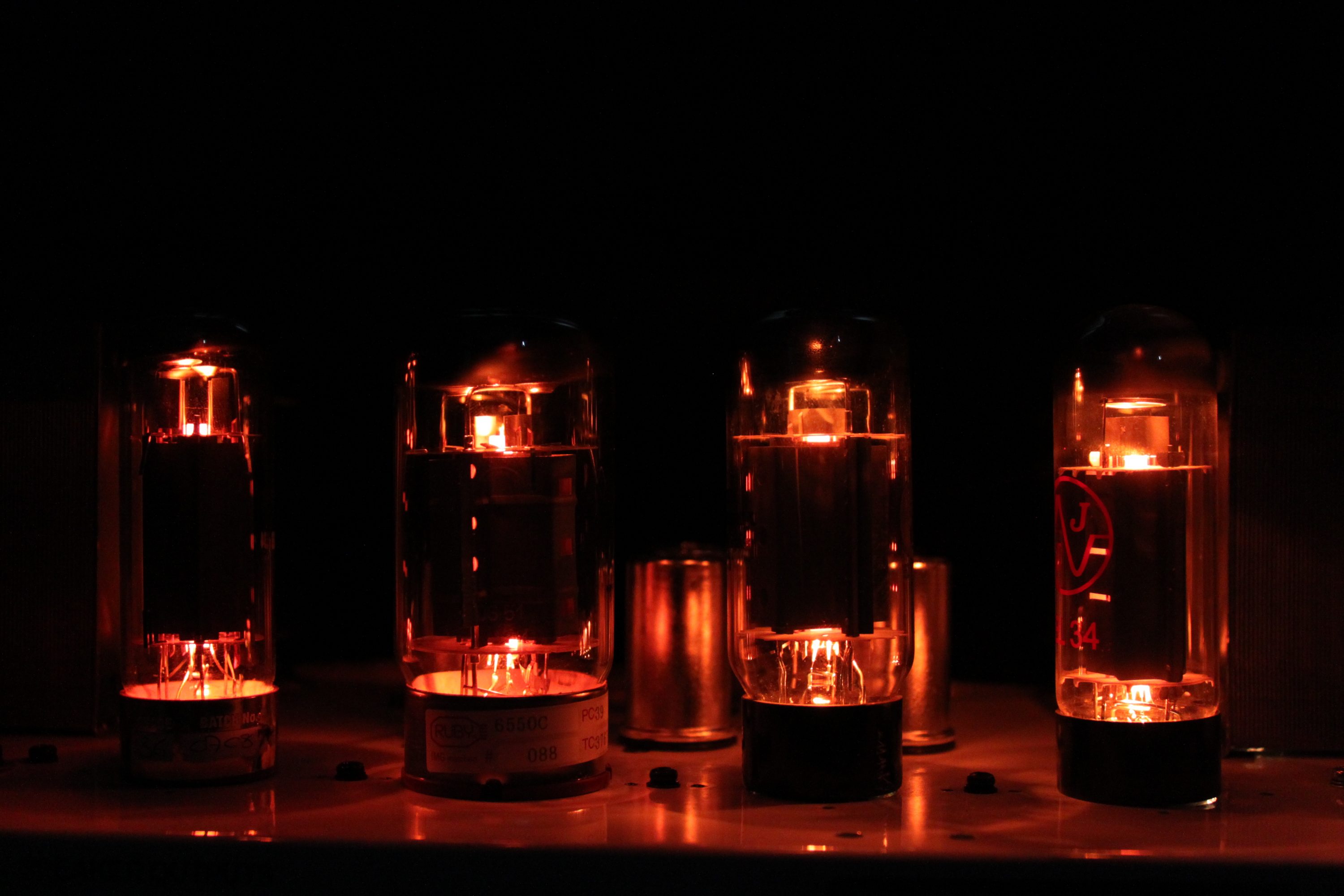 You know, this can be such a touchy subject for some people and I think it usually comes down to personal preference, budget/price and unfortunately often times I've heard people simply trying to justify an extremely overly expensive tube amp purchase by slamming everything else out there as inferior because it was less expensive and not what they had. I do not understand the mind-set that a great amp must have a high price tag, must have valves or the statement that any amp that doesn't use valves is inferior. Tone is tone, and if you never actually knew what was in a particular amp and you like the sound of it, then I would have to say that particular amp is a great amp for yourself. It might have tubes, and then again, it might not have tubes. I personally do not like a crystal clean tone and therefore do prefer to use a vintage lower wattage all valve amp for a 'semi-clean' type of tone. For heavier distorted and overdriven tones I like to use a mixture of pedals and multiple amps if possible. There are some fantastic options for people out there who want either valves or solid-state amps. . You learn very quickly what type of guitar amps you prefer, whether it be tube, hybrid, solid state, digital, etc I was able to switch the other Deftones' members Chino Moreno (Orange Thunderverb 50 Heads / Orange PPC4x12 Cabinets) and Sergio Vega (Orange AD200 MK3 heads / Orange OBC810 Cabinets) over to Orange amplifiers because the Oranges were exactly what they needed for the type of tones they wanted to create.
If an amp creates the sound you are looking for, then valves or no valves, it just doesn't matter. I personally prefer to play and to collect vintage tube amps because they provide me with the tones I like for myself, and the more basic the amp design, the easier it is just to turn on and play! Find what type of amps you prefer for yourself and just focus on playing, because at the end of the day you could have a $20,000 guitar rig and still sound horrible if you can't play your guitar…end of story!!!
Lets talk about more specific Orange products. What is it about Orange amplifiers & cabinets that you like?
There is something to be said about Orange amplifiers in regard to their reliability, great tone and versatility! I have literally used every Orange amp model that is available today (as well as several vintage models) on tour over the years. From the Dual Terror heads with Deftones for fly dates, to the 100 watt Rockerverb Heads in the studio and on stage with Slipknot, Orange has played a huge role in my job as a technician. Whenever I'm out working with an artist who uses Orange amps, I always get asked, "Hey man, what amps does your guy play because they sounded awesome!" Haha. I couldn't agree more!!!
The speaker cabinets are seriously over-engineered and are some of the heaviest cabinets out there. Anyone who has ever had to move an Orange 4×12 cabinet by themselves knows exactly what I'm talking about. The cabinets really do sound great and the wicker on the front of the cabinets is actually part of the Orange tone. If you change this material out for a different type of grill cloth material, you will notice a harsher high end and grit when recording with a microphone. If you don't believe me, try it yourself. We did tests to prove this fact while in the studio with Slipknot.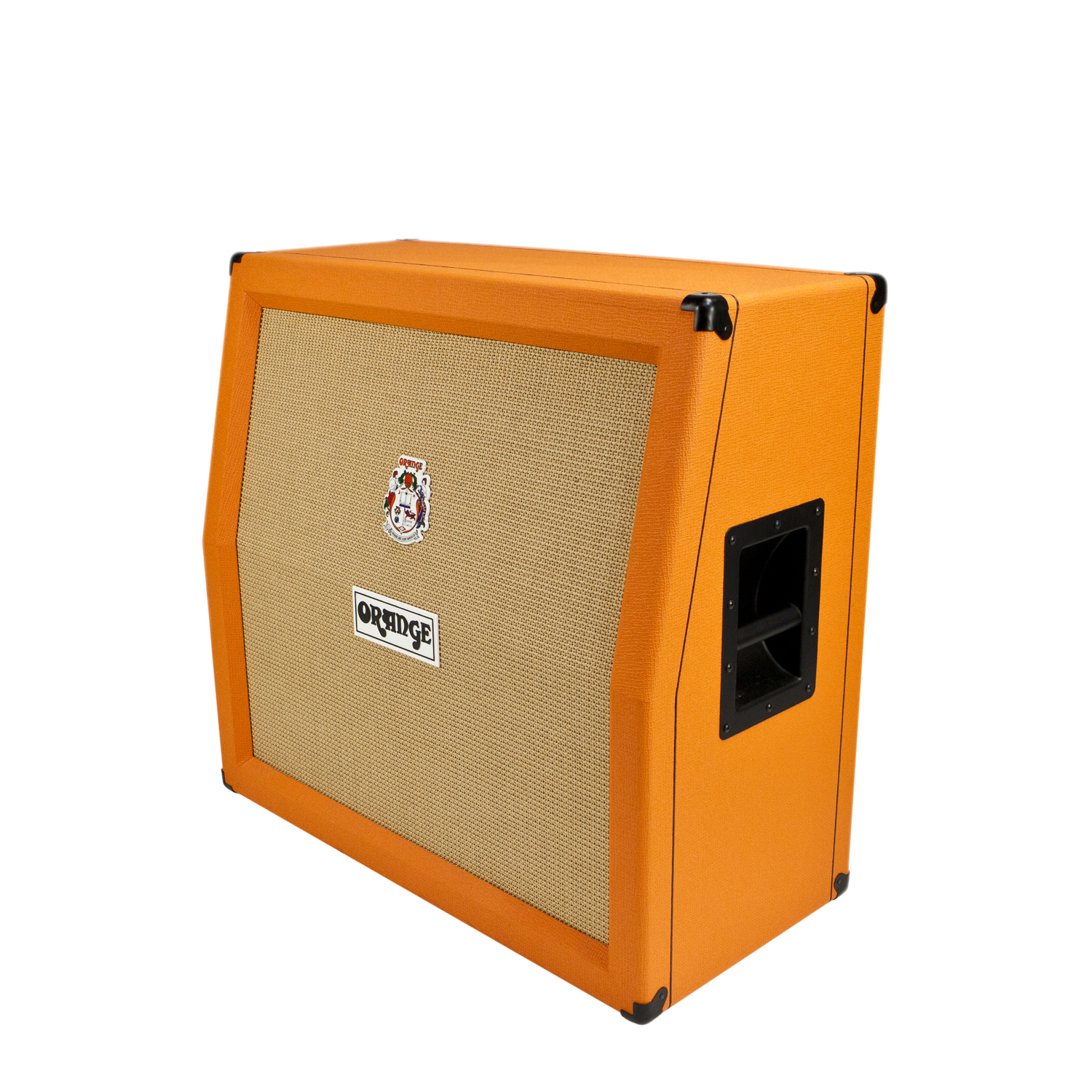 Heavy cabs with a heavy sound
We spend many months and in some cases years perfecting our amplifier designs. When they go into production we have made it sound the way we know you will love and the need for mods is not recommended or encourage. However, we know some techs might mod amplifies to a particular artists needs.
Are the Orange amps you are working on stock or have they been modified in any way? If modified, how?
Orange amplifiers have an excellent design team who create their amplifiers. Orange amps are one of the only companies out there that are not heavily modified too often because there really isn't anything you would want to do different or could do to improve them. With the updated ability to change power tube types in most of the Orange MKII guitar amps, all you have to do is re-bias the amp and you have your power tube mod already built in the amp from the factory. Anyone who has ever owned an Orange amp knows that they own a fantastic piece of gear. I think that the lunchbox Dual Terror is one of the best sounding and priced 30-watt tube amplifiers out there on the market! It is loud enough to tour with (I have used it with bands who played arenas with it) and it can be switched down to 7 watts for cranking it up at home. This is probably my favourite Orange amp at the moment and it sounds killer on both channels!
Orange have developed two products which have taken valve amplifiers into the new age. These systems are the DIVO (Dynamic Intelligent Valve Optimisation) and the VT1000. The DIVO comes in two models, the OV4 and OV2 (four and two valve amps respectively). The DIVO system is designed to be retrofitted into fixed-biased amps in order to improve their reliability and performance. The system also gives diagnostic if the amplifier breaks and keeps logs of information such as their bias current and time in the amp.
(http://www.orangeamps.com/products/accessories/amplifier-management/divo-ov4/)
The VT1000 is a new breed of valve tester. It's small and portable and allows it's users to check their valves for a number of conditions and grade them in order to make sure you are running matched pairs in your amps. This blog allows us to see these tools in action by asking the techs how these pieces of kit have changed their day to day lives on the road.
(http://www.orangeamps.com/products/accessories/amplifier-management/vt1000/)
First, tell us about your use of the DIVO system.
Although I do not currently use the DIVO system out on tour with the Mac, I have used it in the past and I think it is a great tool to monitor tube usage and to constantly regulate the bias of an amplifier. The software that comes with the DIVO system is easy to use and I personally like the fact that you don't have to have an Orange amp to use the DIVO. If you want to know what is actually happening to the tubes in your amp this is a great device to have installed. It will work with most vintage or modern amps and will actually protect your amp from any major internal damage caused by tube failure because it will shut down the tubes if it detects any issues. As an amp tech I think this system is great because I can keep a digital log of any changes made within any amp that uses the DIVO system. I can log the bias from a previous set of tubes to another and know exactly what happened if there was a tube failure in an amp with the DIVO.
Although this system is a great tool to use, I still check everything on an amp the way I would if it didn't have the DIVO installed. I used it more as a reference point and visual tool to see what is actually happening to the tubes of a specific amp. The DIVO is a very nice piece of gear as well as a great addition for a guitarist/bassist who may not have their own techs out with them to monitor the tubes in their own amps.
And the VT1000?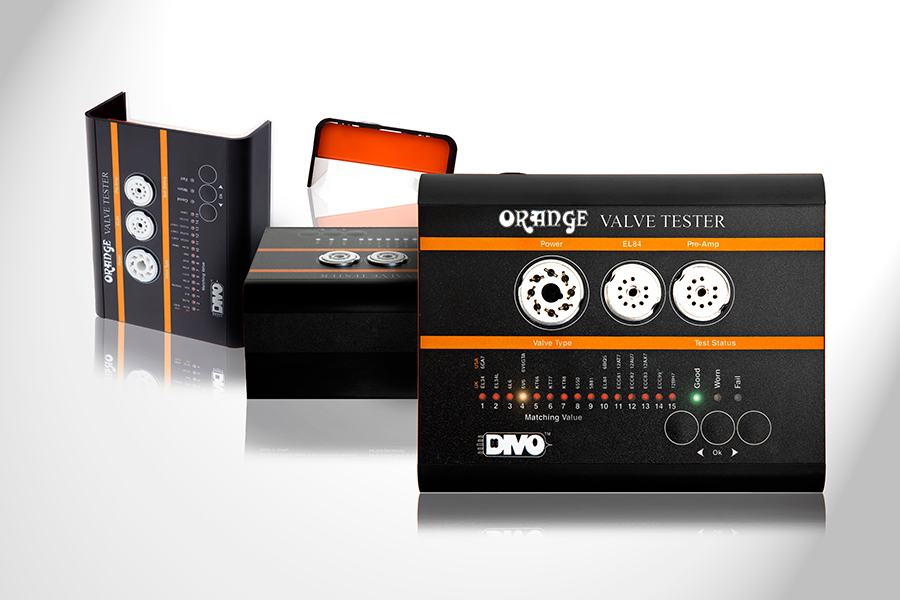 I just recently picked up a VT1000 Valve Tester and it is an amazing little box. With all the tubes I have to go through out here with Fleetwood Mac, it has become one of my most valuable tools and I have used it to test and match over 500 tubes so far in a few months I've owned the unit. In that time the Valve Tester has caught 3 brand new tubes that would have been put into regular rotation of factory matched sets and eventually would have failed. I put these tubes in a spare amp just to see if the Valve Tester was correct and to see if I could get them to fail, because I just had to know!! Each of the tubes that tested faulty were either microphonic new out of the box or had internal damage which caused the tube to arc and glow red immediately. I have also been able to match and group all of my preamp tubes that I had lying around that were unmarked or slightly used. This was amazing because I had about 50 preamp tubes that I was just going to throw away because I didn't know where they came from or if they were going to be any good. Turns out that 5 of them tested bad and the rest were in great condition. Because the Valve Tester tests both halves of the preamp tubes, I can now create completely matched sets of preamp tubes, which I have never been able to do while on the road with a band. It is my favourite electronic device to come out in a very long time and it has already paid for itself in tube matching fees and tubes that I would have simply ended up getting rid of because I didn't know if they were any good or not.
The VT1000 is a pocket sized life safer for all owners of valve amplifiers
Special thanks to Drew for his contribution to this blog. All these techs are really busy and to get such wonderful answers to our questions really is an honour!
https://orangeamps.com/wp-content/uploads/2013/09/Drew_Foppe.jpg
584
900
Charlie
https://orangeamps.com/wp-content/uploads/2018/04/Orange-Pics-logo-307px.png
Charlie
2013-09-06 17:32:37
2016-03-21 17:27:37
AMPLIFIED! with Amp Tech Drew Foppe