1969 – Manufacturing Orange before Bexleyheath and Cooper Mathias, LTD
More than forty years on, many Orange and Matamp enthusiasts are mistakenly under the impression that 'Orange Matamp' was an amp manufacturer co-owned by Cliff Cooper and Mat Mathias. The black name-plates on the back of the very early amps probably added to the confusion, in that the wording on them implies that Orange Matamp was actually owned by Cooper Mathias Ltd.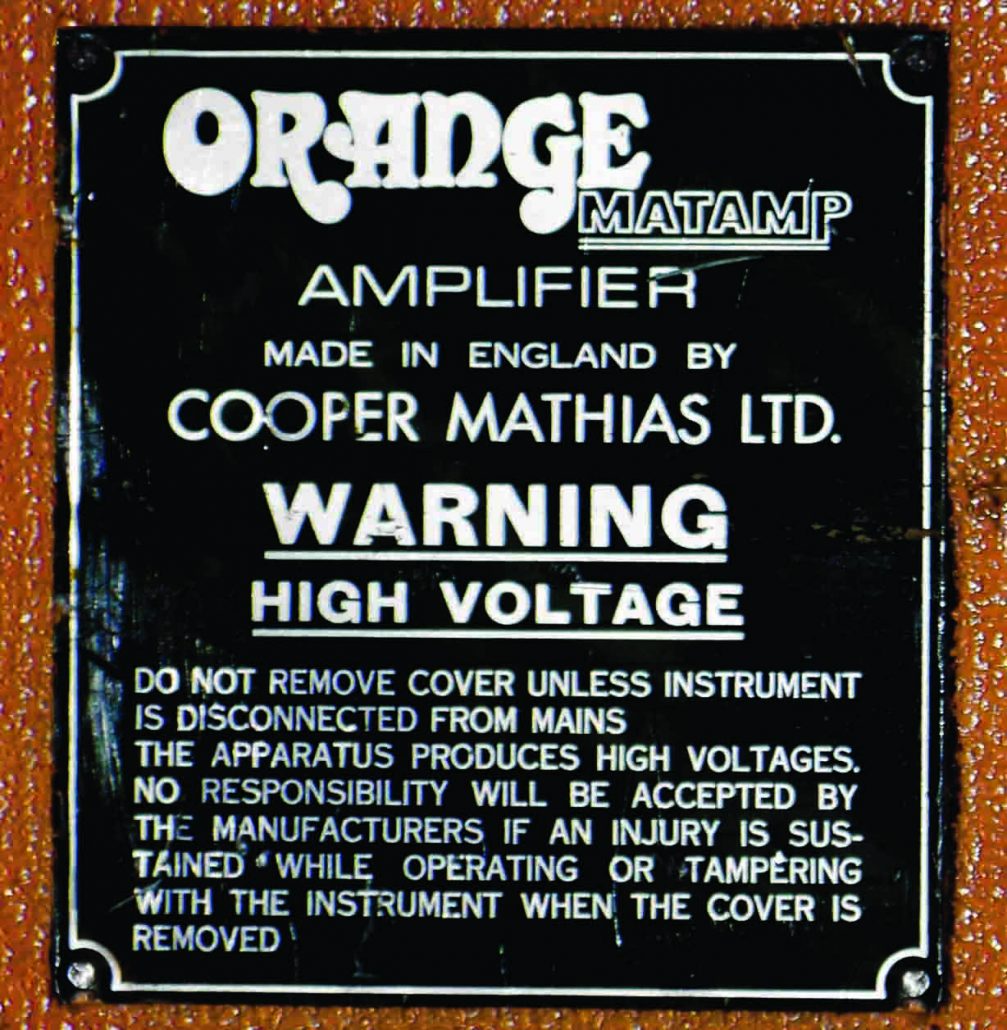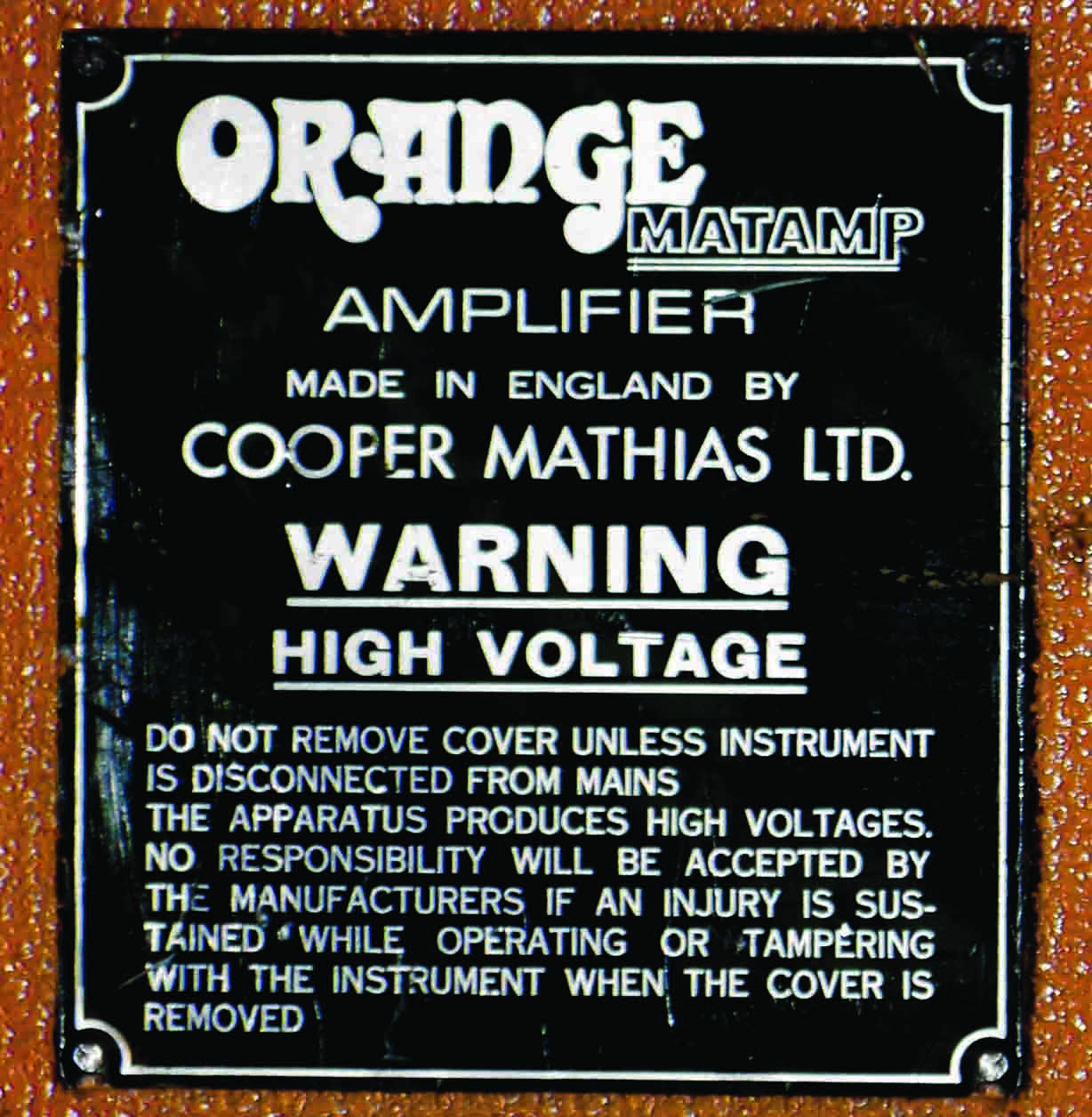 Cliff's amp company was initially called Orange Music. In autumn 1968, Orange Music appointed Mat Mathias' company, Radio Craft, as the sub-contractor to supply their amplifiers. The first Orange amplifiers were branded Orange Matamp after Mat requested that Matamp's logo be added to the front panel. Out of courtesy, Cliff agreed to this but In reality, there never was a manufacturer called 'Orange Matamp'- that was a brand name.
As demand for Orange Amplifers rapidly increased, Radio Craft was unable to keep up with orders and was producing amps in very small numbers at the back of Mat's tobacconist shop.
Mat couldn't finance the move to the larger Cowcliffe factory in Huddersfield on his own. So, in August 1969, Cliff formed a company with Mat called Cooper Mathias Ltd, to replace Radio Craft as the sub-contractor supplying Orange Musical Industries, as it was now called.
Cliff explains the background to Cooper Mathias
"Because we were making a lot of money, I was able to bankroll Mat's move to the Cowcliffe factory. I could have simply loaned Radio Craft the money for Mat to expand, but I had the feeling that a 50-50 partnership could work to everybody's advantage.
Even forty years later, there's still a lot of confusion about the first few years of Orange. A lot of people don't realise the fact that Cooper Mathias Ltd was set up as a sub-contractor to OMI. When I first thought about forming the partnership with Mat, my vision was a manufacturing company based in Huddersfield which would benefit from having lower overheads than would be the case in London.
Initially, Cooper Mathias would handle all of OMI's orders, but central to my plan was that the firm's capacity and productivity would increase to a level at which we could then also manufacture amps for other companies. That was my intention for Cooper Mathias, but sadly it wasn't to be…
The Cowcliffe factory opens: early 1970
The Cowcliffe factory opened for business in early 1970. By that time, business for us in London was moving very rapidly, but in Huddersfield the situation was much slower. When I drove up for a production meeting, the first thing I noticed was everything seemed to move at such a slow pace. It was extremely frustrating as we were so back-ordered. The people there were very nice, and it was therefore very sad that I had to pull out of our business arrangement. I had no choice but to do this simply because the operation was just not cost-effective. The Cowcliffe factory wasn't turning out amps fast enough to meet our demand and it was not covering its overheads. Soon after that, OMI moved to Bexleyheath.
After the split
"The split was amicable. Mat and I always remained very good friends. He carried on making his black-covered amps and we became a main agent for Matamp and sold Mat's amps and cabs in the Orange shops. Another thing I really liked about him was that he never copied our picture-frame speaker cabinet design. Mat was a real gentleman for whom I have always had nothing but the greatest admiration."
https://orangeamps.com/wp-content/uploads/2018/04/Cowcliffe-Factory-in-2007-Converted-into-offices.jpg
787
1181
Charlie
https://orangeamps.com/wp-content/uploads/2018/04/Orange-Pics-logo-307px-279x103.png
Charlie
2018-04-12 14:21:51
2019-08-19 15:13:51
1969 – Manufacturing Orange before Bexleyheath and Cooper Mathias, LTD