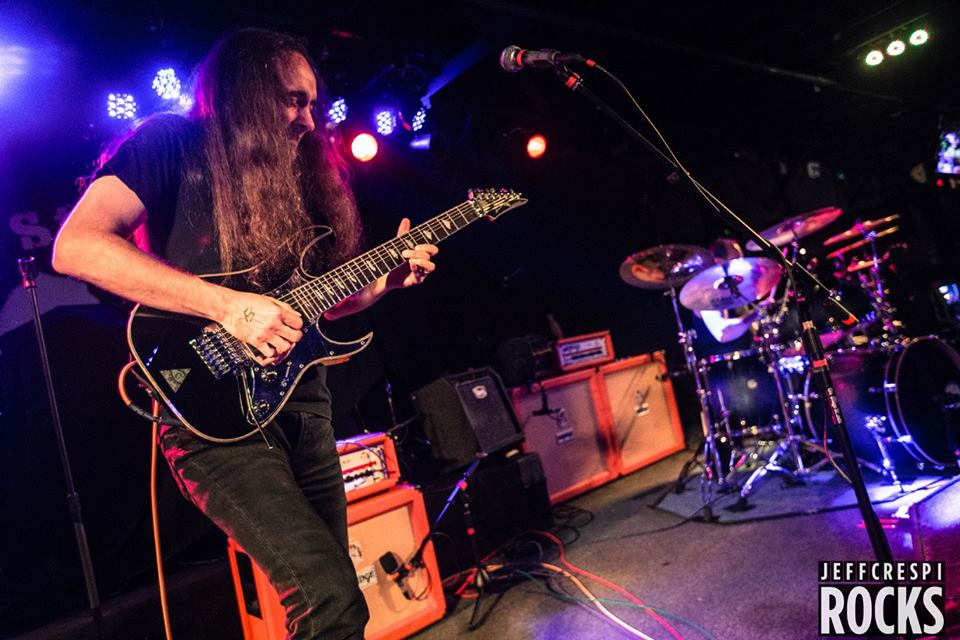 Who are you, and what are you about?
My name is Steve Bello, and I was born at an early age. Been a guitar player for 38 years, turned professional in 1988, and have been a teacher for 21 years as well. I've had my own band, in various incarnations, since 2003, and recorded six albums to date. Right now, my line-up features bassist Jimmy Donegan and drummer Tommy Irwin. I released my sixth album back in December 2015 called LAYERS OF TIME, which can be streamed and purchased on stevebellorocks.com
So it's been nearly 40 years since you picked up the guitar, do you remember what sparked your interest and made you do so?
I heard Led Zeppelin when I was four years old, thanks to my aunt, not that she was aware of it at the time. My grandfather was a jazz guitarist way back when, so while I liked that there was a guitar player in the house, I wanted to play heavy rock from the start. Grew up listening to Zep, Queen, Aerosmith, Kiss. Started learning guitar at age 9 but didn't take it seriously until I saw Ritchie Blackmore on MTV smashing his guitar, and seeing videos of Jimi Hendrix lighting his Strat on fire. Both of those moments made me think "I have to play guitar for life!" I've never smashed or burned one…yet.
Having been a professional guitarist for nearly three decades I'm sure this is a tricky one, but is there any highlights that sticks out in your career?
Getting endorsed with Ibanez guitars back in 2003 was a major life-changer. I've had small victories along the way. Opening for Uli Roth at Starland Ballroom in 2012 was another biggie. And then when I played with TM Stevens and TC Tolliver in Germany in 2014, I saw that as a huge boost. Opened for King's X recently at Stone Pony, so that's another nice notch in my bedpost. 
What do you look for in an amp?
First of all, the tone has to hit me the right way. I don't like futzing with too many knobs and controls, just want to get a good clean and solid rock sounds out of the box. There has to be versatility too. Having just one staple sound isn't enough for me personally.
You've mentioned before that your daughter introduced you to Orange – clearly you raised her well – does music run in the family?
She unknowingly introduced me to Orange, let's put it that way. She plugged an Ibanez guitar into a Rockerverb 50, and as soon as she hit that low E string, I said "Gimme that guitar!" Music does run in my family, for sure. Emma was a bass player but now she's more focused on singing and studying music theory. My son Julian plays clarinet in high school band, and was fooling around on drums for a bit. 
Can you tell us about your relationship and experiences with Orange?
I've had nothing but amazing experiences and relationships with Orange since I started writing to Alex back in 2013. I got to meet him at NAMM 2014, and he introduced me to Cliff Cooper. I plugged into the CR120 head in the demo room and was sold. Ever since then, Alex has been prompt with returning my emails and helping me get the right gear in my hands. And he likes my cat Linus too.
What's your dream set up?
I have all Ibanez guitars, main ones are my 7-strings, but I have some 6s for other gigs. For amps, I have the CR120 head into the PPC212OB cabinet. Also have a CR35RT combo as well as the CR20. And I had to get a Micro Terror because it's just too damn cool! As for pedals, I have Morley, Digitech, Electro-Harmonix, Boss, Ibanez, and my signature Nuclear Paradise pedal designed by Checkered Pedals. Why all of this? Because it makes my legs look longer…oh and it sounds good too. I also stick to Von York strings, and my signature Spectraflex guitar cable called BelloFlex.
You also teach music, what would be your advice for people wanting to get into playing?
Find a good lawyer after you learn your first E chord. From there, learn as much as you can, as best as you can. You will have the one staple genre that moves you the most but it's good to dance around other platforms. 
I've seen you've got quite a few shows lined up at the start of the year, how is the rest of 2017 looking? Are you working towards a new record?
Got a couple of shows lined up in 2017, working on getting more of course. I have 11 new songs written and demoed for my next album, so if all goes well, I will begin recording in the Summer of 2017 and release the album in the Winter.
Last words of wisdom?
Never cook bacon with your shirt off. 
https://orangeamps.com/wp-content/uploads/2017/01/15109549_1213141868771808_2398163991795013325_n.jpg
640
960
Ella Stormark
https://orangeamps.com/wp-content/uploads/2018/04/Orange-Pics-logo-307px-279x103.png
Ella Stormark
2017-01-05 00:04:16
2018-12-18 17:18:06
Interview: Steve Bello