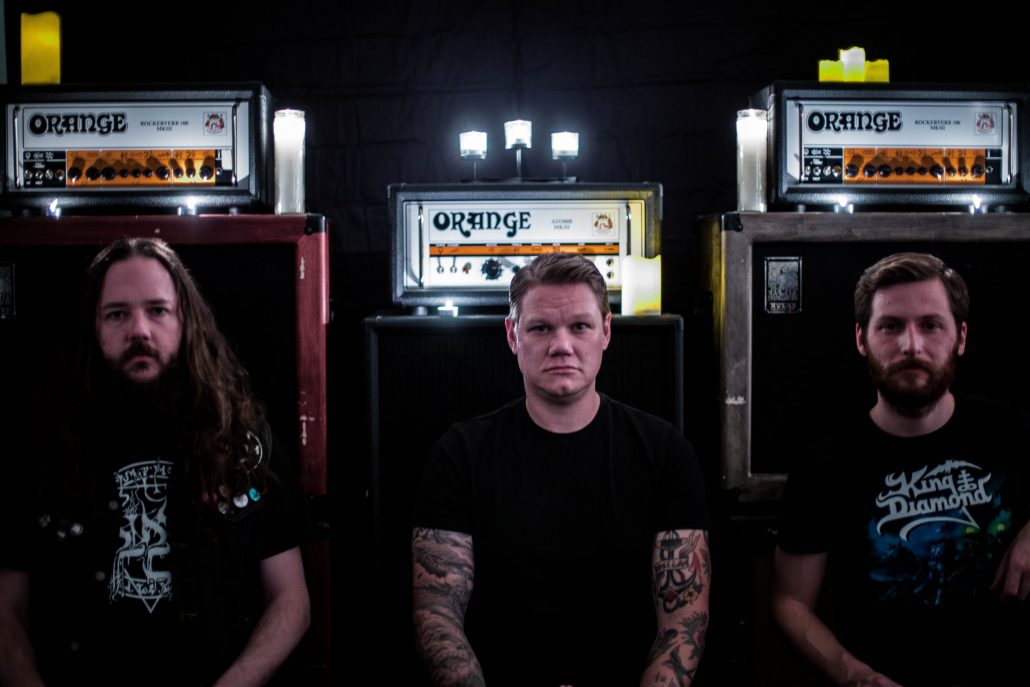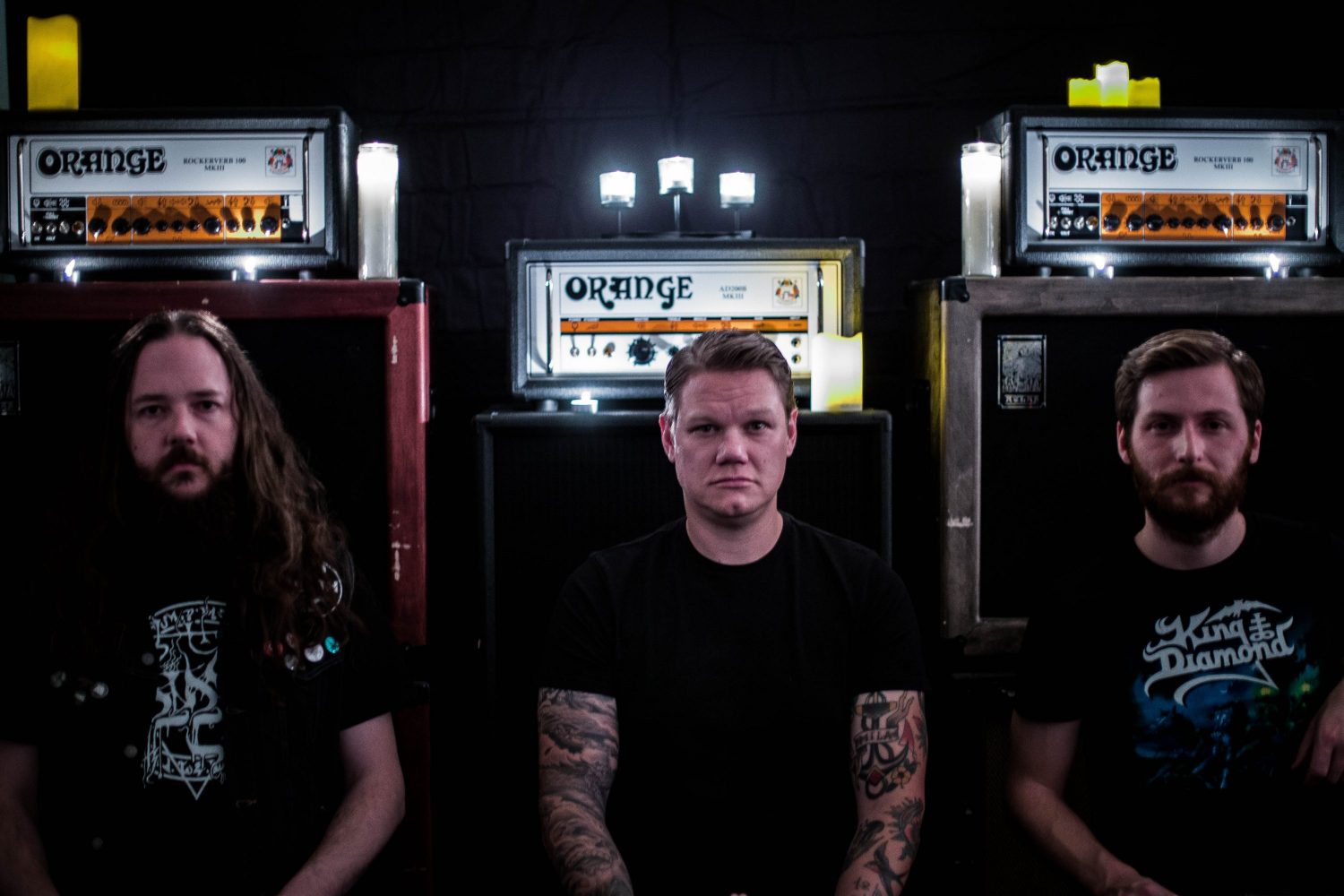 For those who's not familiar with Khemmis, can we get a brief introduction?
Ben: I moved from Mississippi to Colorado in August 2012 to begin my PhD at CU Boulder. I put an ad on Craigslist looking for some folks to play heavy music in the style of Neurosis, YOB, Rwake, etc, and nobody responded. I reposted it with a picture of Jawas carrying a Sunn Model T and Dan responded fairly quickly. We met up at TRVE Brewing to grab a drink and talk music. We didn't know it at the time, but the head brewer, Zach, had recently relocated from Texas and was itching to create some heavy tunes too. Phil was actually a student in the same PhD program that I'd just entered, and I mentioned to him that some folks and I were putting together a band and were looking for a singer. Although he had never sung in a band before, he had cool gear and good taste in music. After the two of us got together and jammed on a bunch of riffs through obnoxiously loud amplifiers, I immediately knew we'd found our Huckleberry.

Khemmis was an ancient Egyptian city, any particular reason why you went with that as a name?
Naming a band sucks. We landed on Khemmis because it's short, doesn't tie us to any singular sound/style, and someone else hadn't already taken it.
For the average Orange reader, how would you describe your music?
Khemmis: We call ourselves doomed heavy metal. We draw inspiration from a wide variety of metal subgenres such as death, black, sludge and trad, but we strive to ground our music in the feeling(s) most strongly associated with doom metal. That said, I recently saw someone on Twitter describe us as "Candlemass meets OSDM" (old school death metal), and we really dig that description as well.

….aaaand how would you describe it to your grandma?
The Devil's Music.
Okay – let's talk gear; what are your different history and experiences with Orange?Ben: Shockingly, I don't think I ever played an Orange amplifier until our set at Psycho Las Vegas in 2017. I plugged into a Rockerverb 100 and a pair of PPC412s that night and conjured the best tone I'd ever had in this band. I knew and loved the magical Orange cabs, but that amp blew me away. As luck would have it, our friend Eddie of the Rock 'n' Roll Beer Guy podcast was in attendance along with Alex from Orange Amps. We got off the stage, took our guitars to the hotel room, and then saw a message from Eddie saying that Orange wanted to talk to us about working together. We soon sold off the amps we'd been using and all switched to the same kickass Orange heads we're still using today. Though that was the first time I'd played a Rockerverb, I own a PPC412 with v30s and WGS ET65s in an X-pattern that has been "the cab" on everyKhemmis recording. Dave Otero, our producer, has been trying to buy the cab from me for years!
Dan: Ben sounded amazing that night. I saw Sleep with Matt's wall of amps, mostly of the Orange variety. I was sold in that evening, and knew that nothing crushes like an Orange.
Phil: That Orange sounded so much better than the Marshall I played that night. It was night and day what the better amp was.
What's your current set ups?
Ben: We're not the sort of band that throws a Muff or Rat in front of an amp from the 70s and calls it a day. That's not to say that approach is flawed—it just isn't the one for us. Phil and I both use Rockerverb 100 MKIII heads, which are simply the perfect amps for our sound; the gain channel is thick with just a touch of fuzz while retaining the clarity to allow complex chord voices to ring out without turning into a pile of mush. Even though we both use the same head, our guitars and signal paths allow for two decidedly different flavours of heaviness. My main guitars are both Dunable Asteroids (flying Vs). My go-to has a mahogany body and neck, burl maple top, ebony fretboard, and Seymour Duncan JB and 59 pickups. It is the best guitar in the world. My other Asteroid has a maple body and neck with a claro walnut top, maple fretboard, and SD Nazgul and Sentient humbuckers. I use a lot of "flavour" effects to add texture to our music, but my main rhythm tone is a Seymour Duncan 805 into the dirt channel. I switch from the 805 to a KHDK Ghoul Jr to shape my lead tone a bit differently, cutting some lows and adding a bit of grit to make my solos slice through our wall of riffs. I use a Fortin Zuul, which is the best noise gate I've ever used, to keep things quiet and under control.
Phil: I try to keep things relatively simple while complementing and filling out the space not occupied as much by Ben and Dan's sounds. I also use a Dunable Asteroid (mine is mahogany with a maple cap), loaded with some humbucker sized p90s that Dunable built for me, and I play very, VERY hard with my picking hand. I have a Reverend Volcano with p90s as a backup, which sounds very similar and is also a great guitar. Naturally the p90/heavy handed playing combo produces a lot of upper mid range and very 'present' sounds, so I have my Rockerverb and pedals tailored to emphasise that. My main dirt is a Way Huge Saucy Box overdrive, which I like because it doesn't really effect the tone of my guitar other than adding a bit more "push" to the amp, and I use the Orange Two Stroke EQ in the effects loop for solo boosts to get some additional volume, cut low end, and boost the upper mids a bit more. Other than that I rely on Mr Black pedals for some ambiance, their Wolfmoon for reverb and the SS 850 for delay, which I absolutely love and never take off my board.
Dan: The first time I plugged into an AD200, I knew it was exactly right for me. Tubeyness and plenty of headroom… but just enough to still get that growl. The Orange 810 is dark and doomy without losing expression. I don't know if a cab can be tight and fat at the same time, but if it is indeed possible, the Orange has achieved it. I am keeping pedals quite simple these days. Before the amp, the venerable Darkglass Alpha Omega Ultra is the go-to, mostly-on, pedal. On occasion I'll add the DOD Preamp 250 in front of the UltraOmegaOk. A touch of the Seymour Duncan Pickup Booster in the back reintroduces some thickness. Much or all of this may be replaced with the Orange Bass Butler, which I experienced for the first time at NAMM. Ade and Alex hung out with us during the demo, from which I am still recovering. I've enjoyed playing Dunable Basses for many years. However, like all true gear heads, I've had fun mixing and matching a bit. The mainstay for touring in 2019 was the Sandberg California Grand Dark TM4. I also have a very cool Sandberg VS4 that is far too nice to travel with. The Grand Dark is very versatile, sounds great, and plays oh so very nice.
You're heading to the UK for the first time ever in a couple of months where you'll be playing Desertfest London, are you pumped?
Ben: We are honored to be part of Desertfest and can't wait to finally perform the UK. The lineup is nuts! Quite a few folks in the Nuclear Blast UK office have been asking when we'd finally make it over there, and we can't imagine a better debut than being part of Desertfest.
Dan: So very excited. I love London. I was able to visit for the first time in 2018 and I just couldn't get over the rich history, architecture, and musical pedigree of the city. Desertfest is a tremendous honor.
Phil: I've never been, and I'm am super excited! It is a great fest in a really cool part of the world that I've always wanted to visit. I'm hoping to stay after for a bit on my own and make a vacation out of it.
Your latest album 'Desolation' was released in 2018, will there be a follow up soon? Maybe some new material played live in London….?
Khemmis: We recently began writing for album #4, but these things take time to get right. That said, we might have a new track ready for Desertfest, who knows? Regardless, we do have new material coming out this year. We contributed a song to Magnetic Eye Records' reimagining of Alice in Chain's Dirt, one of the most important albums ever to me. That should arrive this spring. We also have something special that we'll be announcing sometime next month. What could it be? Stay tuned, hellions!

Give us your best joke – GO!
How do you think the unthinkable?
…
With an itheberg..

https://orangeamps.com/wp-content/uploads/2017/10/Khemmis-Rockerverb-100-AD200.jpg
2000
3000
Ella Stormark
https://orangeamps.com/wp-content/uploads/2018/04/Orange-Pics-logo-307px-279x103.png
Ella Stormark
2020-03-01 09:00:51
2020-02-11 15:41:02
Interview: Khemmis