Interview: HECK's Jonny Hall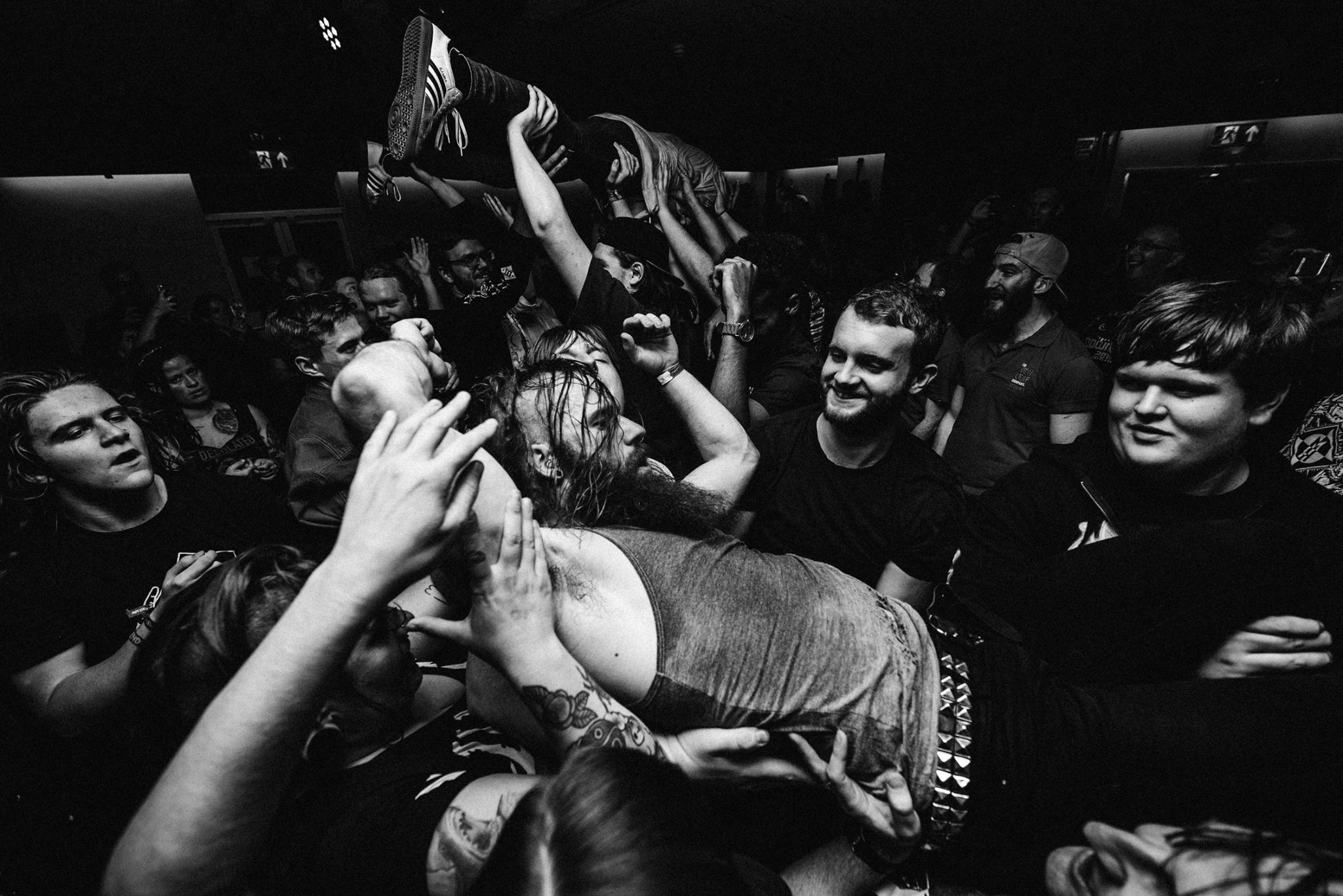 Photo: Jennifer McCord
Hey dude, who are you and what are you about?
Hi, I'm Jonny Hall, the one with the bigger beard in HECK. I play guitar and bleed on things a bit.
How would you describe HECK's music and live performances to a stranger?
Musically, HECK are an intense beast. We have always seemed to thrive off relentlessness. It's like that moment when you have that secret scream at the mirror to purge your frustration, except very public. The live shows are essentially an arena for everyone to sack off inhibition and join us in accepting that most of real life is bollocks, 'so let's do whatever the fuck we want for an hour'. It's chaotic, extreme and powerful, and it's fucking fun.
You released your debut album 'Instructions' earlier this year, how has life been ever since?
It's been difficult but rewarding. Self releasing the album means there was no one to do our dirty work for us, so we plunged headfirst into a world we knew nothing about and we're thankfully still afloat! We've done some amazing tours and played to thousands of incredible people. We're frankly amazed by the response we've had, people seem to have really 'got' the album, bizarrely. The only downside is that everything awesome that you do only makes you hungrier for more. I'll never be completely satisfied.
Can you tell us a bit about your history and experiences with Orange?
When I was a nipper just learning to play orange amps seemed like some unobtainable relic of guitarness. Pro's played Orange, I couldn't play it too, as I was clearly not good enough. I played about with a few different amps in my youth but nothing ever gave me the huge sound I'd been after. I wanted something with balls. Preferably several sets. The more superfluous the better.
When I started jamming with Matt (the smaller beard in HECK) he had a Rocker 30 running into a PPC212. It sounded to full that, despite the fact that my rig was considerably more powerful than his, I genuinely couldn't hear my guitar due to it being made to sound so thin by his. I immediately applied for a credit card because clearly, owning an Orange rig was more important than any hint of financial security. Totally worth every penny of debt.
What's your set up?
I currently run a Rocker 30 into a PPC212 and PPC412, drive channel only, with a ProCo RAT as a 'death' pedal before it. When i kick that in, it sounds like the amp-apocalypse.
Back to the band – if you were all zoo animals, who'd be what animal, and why?
Paul Shelley would be a walrus. He's mighty, girth, stubbly and wise, with a touch of class and an air of authority. The rest of us would be the shitty pointless grubs they feed to the lizards in the reptile house. We're there out of necessity.
You recently did a massive co headline tour with Black Peaks around the UK and Europe, how is it being back home after a month of madness on the road?
It's rubbish. It's difficult being in a touring band as it's like getting post holiday blues every time you get home, but from the best holiday you'll ever have, where you feel like you're actually achieving something with your life, but it's actually your job, that you love, and you want to do forever. Then one day it stops and you find yourself sitting in your pants eating microwave Tesco Value macaroni cheese and dry bread, watching six consecutive seasons of Friends because you can't be bothered to click 'back' on Netflix. I do get to see my girlfriend though, which is nice.
Top ten songs played in your tour van:
Talk Dirty – Jason Derulo
(Repeat)
(Repeat)
(Repeat)
(Repeat)
(Repeat)
(Repeat)
(Repeat)
(Repeat)
(Repeat)
https://orangeamps.com/wp-content/uploads/2016/10/Jonny-Hall-HECK.jpg
1367
2048
Ella Stormark
https://orangeamps.com/wp-content/uploads/2018/04/Orange-Pics-logo-307px-279x103.png
Ella Stormark
2016-10-27 18:42:15
2018-12-19 11:54:12
Interview: HECK's Jonny Hall