Interview: Graveyard's Truls Mörck
You've just released your newest album 'Innocence and Decadence,' how has the tour been so far?
It's been good! We started by doing some shows around Sweden, which was pretty cool. Besides from playing some festivals in Sweden earlier this year, it had been a few years since the last time, and we got the impression people were glad to have us back. We've also played some big shows in Germany, so it's been really good so far and I've had a lot of fun.
You were originally the guitarist in Graveyard, how is it being back after all these years as a bassist?
Swapping instruments hasn't really made that much of a difference, it's more the fact that the band has grown so much over the last couple of years, whether it's the fact that they've made loads of good music while I've been away, or playing bigger venues. Last time I was in Graveyard we played at people's houses and tiny clubs.
How long have you been using Orange?
I've never used Orange when playing guitar, so it's actually just been the last year or so, after I returned to Graveyard as a bassist.
Why did you decide to give Orange a go?
Rikard, who used to play bass, recorded the last two albums using Orange, so it kind of came natural that when playing those songs, I would use the same equipment. I did experience a bit trying a few different brands like Ampeg and Fender, but Orange just seemed like the best fit for the kind of music we're playing. They're pretty straightforward without too many buttons, so it's quite easy to get good sound.
Can you run us through your current set up?
I'm using the AD200B MK 3 head and the OBC810 8×10 cab. I tried some of the smaller cabs as well and they sounded pretty similar, but when playing big venues it kind of just looks better with the big one, you know.
Do you remember the first time you ever saw an Orange amp?
I'm pretty sure it was Black Sabbath or one of the other old school British heavy rock bands. After that I think it was Witchcraft when we opened for them in Örebro. That was years ago though.
You released a solo album last year; do you play most of the instruments on it yourself?
Yes I do, I can't drum so I had to get someone else in to do that, but besides that it's mostly me.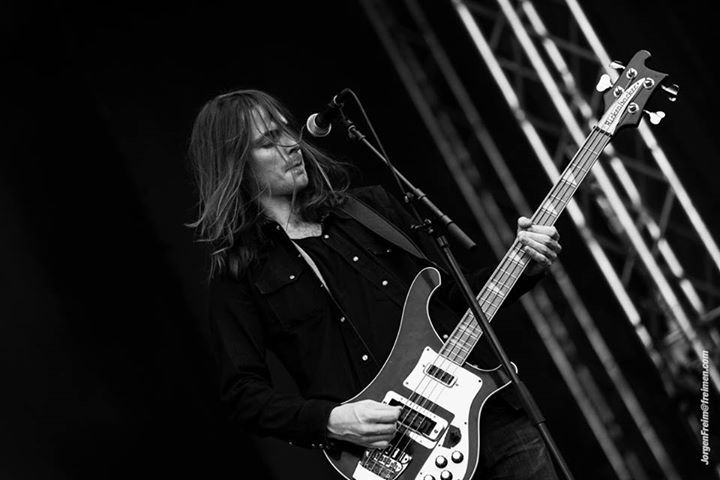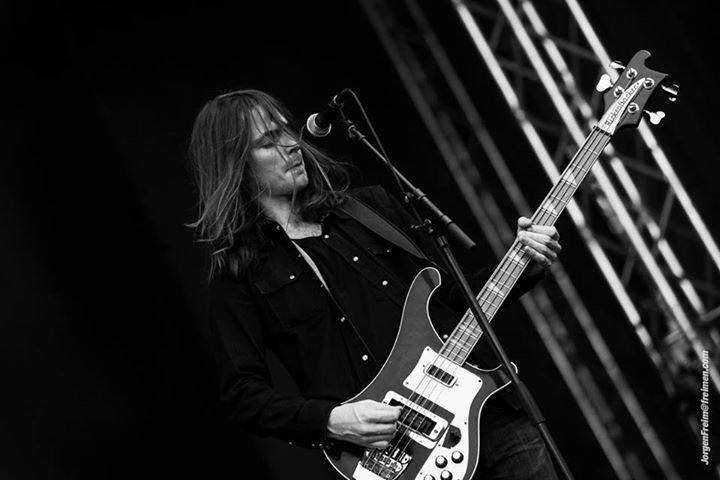 How is it making a solo album compared to recording with a band?
I've been in bands for such a long time, so I kind of just felt the need to do it all on my own, not because I necessarily think it's better that way, but just to try it. Sometimes it can be frustrating to work with other people as things might not always turn out the way you thought it would, but that can also mean that sometimes it'll be better than what you originally had in mind, there's pros and cons. I guess just was pretty curious to find out how it would be to do it all on my own, and even though I found it quite difficult and it took me a long time, I feel like I learnt a lot from it, and I really enjoyed it.
Well I'm glad you did, it's a great record!
Oh you think so? Thank you! It's very different from what I do with Graveyard, and how we've done our new album.
How is it balancing a solo career with being in Graveyard?
Impossible really. You can't really combine the two. I did have my own band for a bit during summer and did some gigs and festival promoting my album, but now that our new album's out I just don't have the time. I do have my own studio though, so when I'm not touring I still make my own music.
Have you got any other hobbies when not on the road?
I'm quite interested in old analogue synthesizers and vintage electronic music, so I spend most of my time in the studio and writing song.
When you're not busy making your own music, what do you listen to?
Oh, that's a tricky one. If you take a look at my record collection there is a lot of sixties and seventies rock, American West Coast psychedelia and British progressive hard rock, but then there's also some experimental music in there like German electro from the seventies, Tangerine Dream, Klaus Schulze…spaced out instrumental music. I guess I've got a bit of everything.
If you had to pick a favourite album, which one would it have to be?
Shit, that's tricky! After all these years I'm still not sick of Bob Dylan's 'Blonde on Blonde'. I haven't listened to it in a while, but it seems to be one of those albums that can just stand the test of time.
Oh really? I'm actually quite surprised by that, I would have expected something heavier, like Black Sabbath or something.
Yeah, well it's really difficult to pick just one album. Sabbath would definitely be in there if I could pick my top five.
Go on then..
King Crimson – In The Court of The Crimson King
Black Sabbath – Paranoid
Pink Floyd – Meddle
George Harrison – All Things Must Pass
Bob Dylan – Blonde on Blonde
GRAVEYARD's album 'Innocence & Decadence' is now available!
Place your order here: http://nblast.de/GRAVEYARDdecadence
SUBSCRIBE to Graveyard YouTube: http://bit.ly/subs-graveyrd-yt
https://orangeamps.com/wp-content/uploads/2016/03/Graveyard2015b.jpg
2182
3000
Ella Stormark
https://orangeamps.com/wp-content/uploads/2018/04/Orange-Pics-logo-307px-279x103.png
Ella Stormark
2016-01-13 16:39:27
2019-07-01 14:59:53
Interview: Graveyard's Truls Mörck