Interview: Cheap Trick's Tom Petersson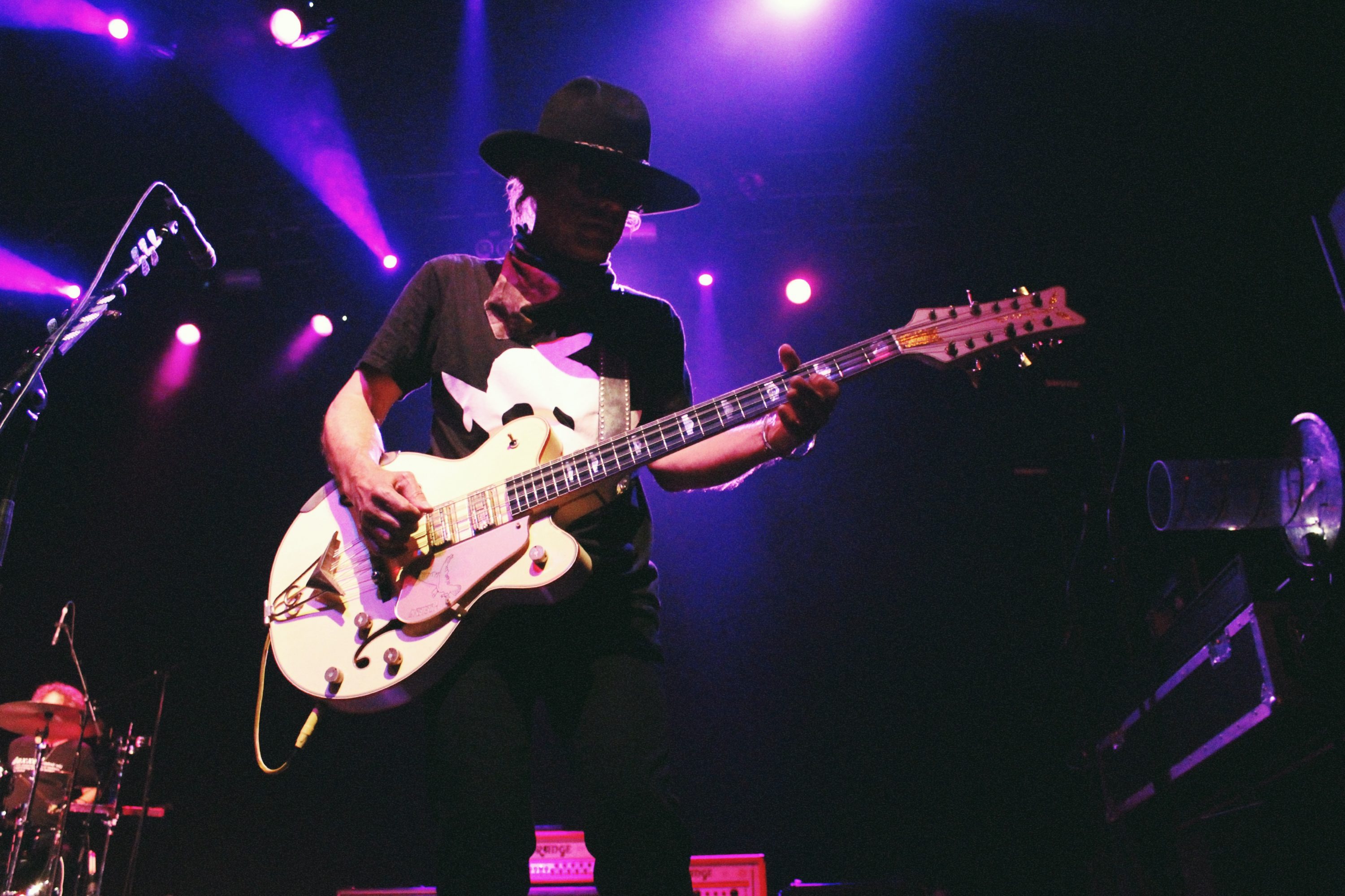 As Cheap Trick embark on their 2017 tour, which marks the 40th anniversary of their '77 self titled debut record, I met up with bassist Tom for a quick pre-gig chat. As I arrive at the Kentish Town Forum for my interview, I seek shelter from the rain while chatting to one of the main security dudes who pretty much find me roaming the backstage area there on a monthly basis with all sorts of bands, as the venue almost seem to be a Mekka for Orange ambassadors.
While waiting around as a drowned cat dreaming of the remaining of my pint that's been left in unsafe hands with my mate at the pub (low and behold – it was still there when I got back!), Cheap Trick's tour manager and Tom comes to find me, leaving me to wish I could time travel back to 1978 to tell my 18 year old dad what was about to go down. Tom brings me upstairs to his hospitality room, where he introduces me to his wife and two kids, his daughter being sat on the sofa chilling out and playing the bass – cool kid = level expert. We take a seat, and I make myself as comfortably as humanly possible sat face to face with rock royalty and a Rock and Roll Hall of Fame inductee.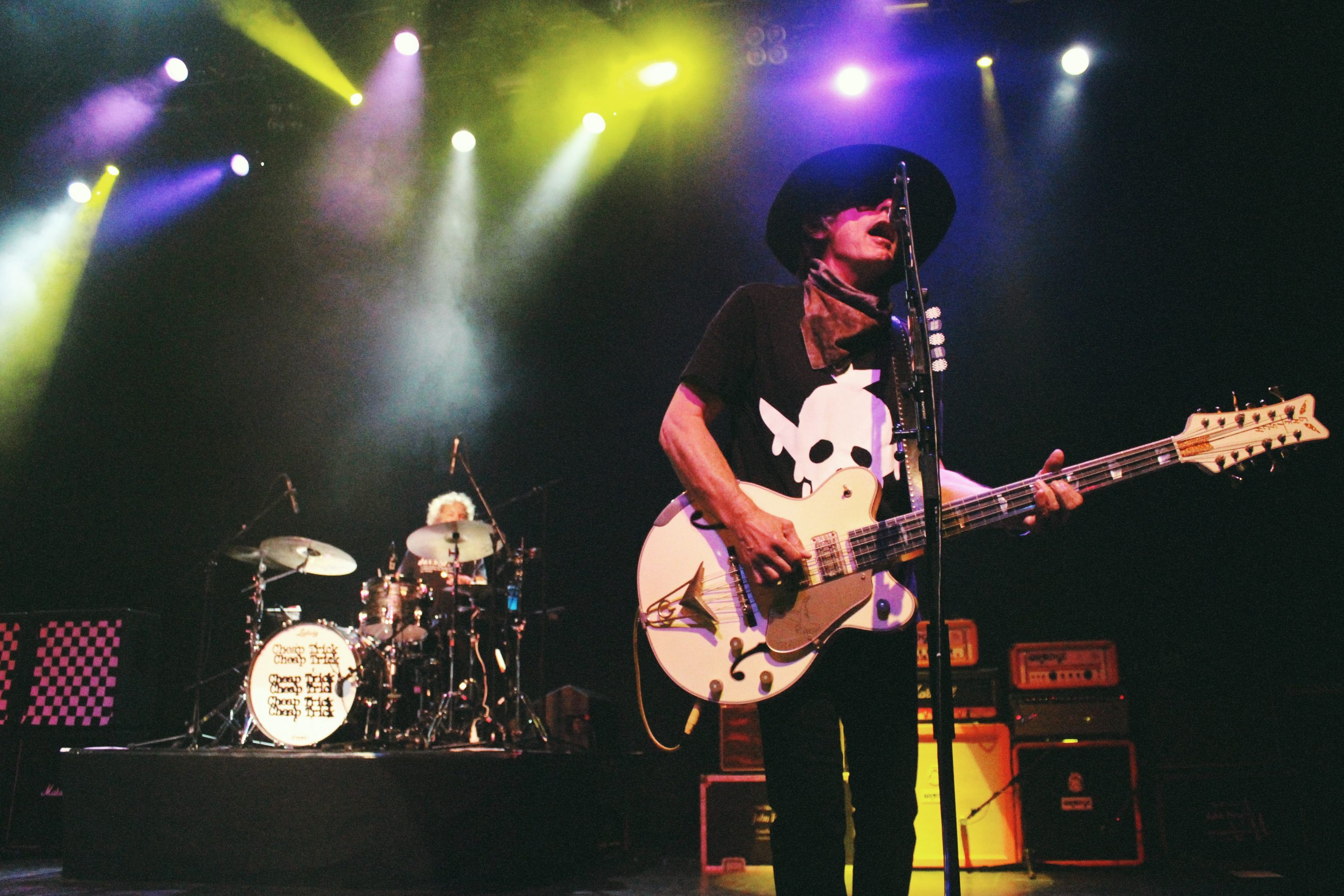 First of all – congratulation on the 40 year anniversary of your first record! How does it feel to still be going that strong after four decades in the industry?
Well, we've always just been taking it one day at a time, it was never anything we did while trying to plan our future, it's just something that's been happening – You do a record, you do a tour, and at first it was a massive thing just being able to do it and survive, and we've just been lucky enough to be able to just go along with it. It's not like we had some master plan on how to do it or how to make it, we fell into it and did our best, got extremely lucky, and made it.
I had a quick chat with you last year right before you got inducted into the Rock and Roll Hall of Fame, and you mentioned then that your plan was to release a new album every year?
And we went and did it, didn't we?! And even more to come, as we've actually just finished recording a Christmas record about two months ago, which will actually make it three records in two years! The Christmas record will be released around Halloween, and it came out great! We did one standard, and then all sorts of different songs on there, it's really cool.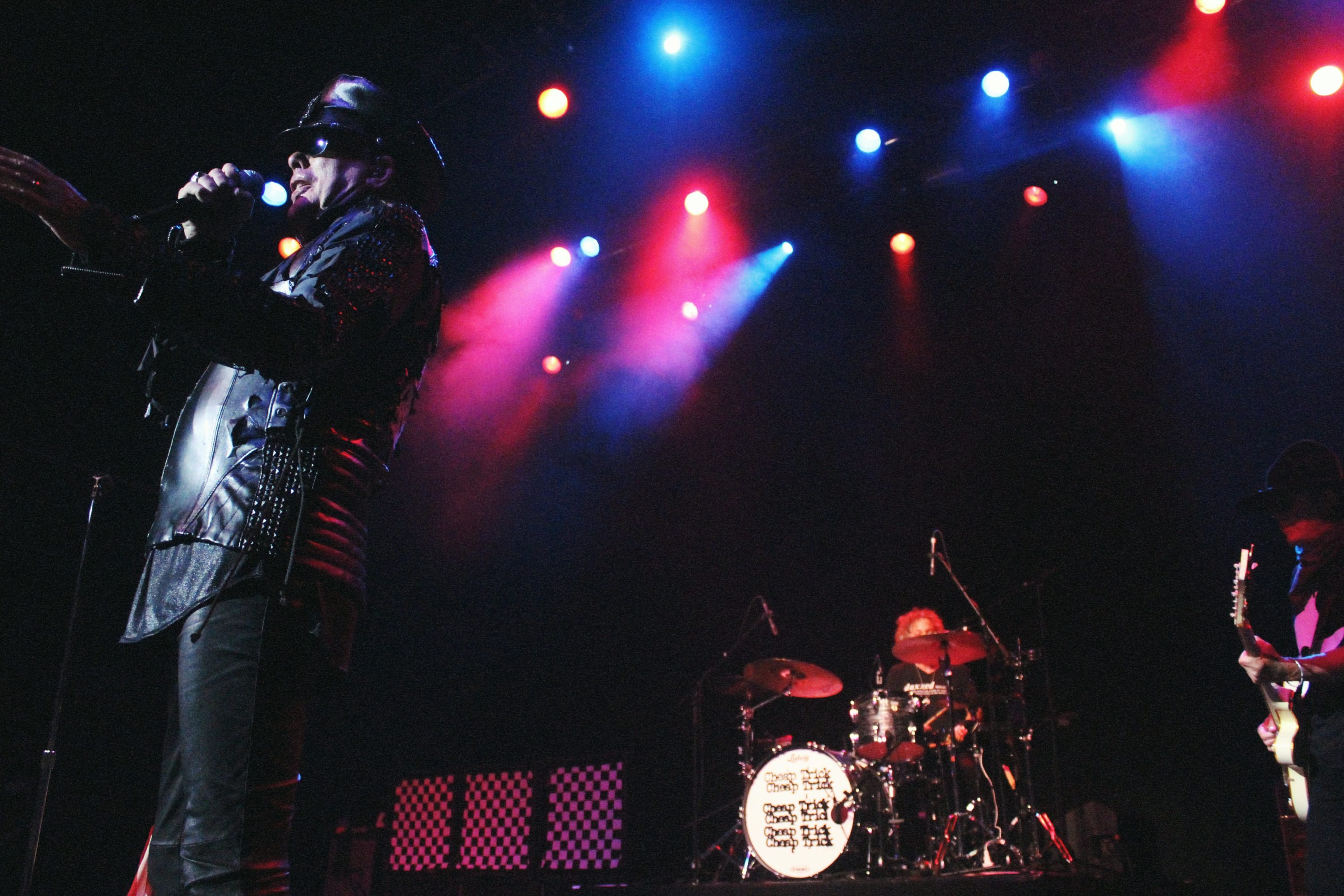 Are they your own Christmas songs, covers, or a little mix of both?
We've got a few originals, and we covered songs from artists that we really like which have done Christmas songs we think's really cool, you know, Roy Wood and that sort of thing. The only confusing thing about recording this record, is that every song had the word Christmas in it, so we could never keep it straight during recording, trying to figure out which song was which; 'Ok guys so let's do the Christm….. the sleigh song next.'
That's so awesome, and the fact that after all these years playing together you're still hungry for more and keep coming up with great new material.
It just seems very natural for us, I can't really explain it. People will ask for advice, and, I just dont have any. We love recording and writing together, and we always search for that perfect record which you can never achieve, so I guess that might be one of those things that keeps us going, there's always room for improvement and change. Occasionally you get this one tone and we're all just like 'No one moves, stand in this spot – THIS.IS.IT!'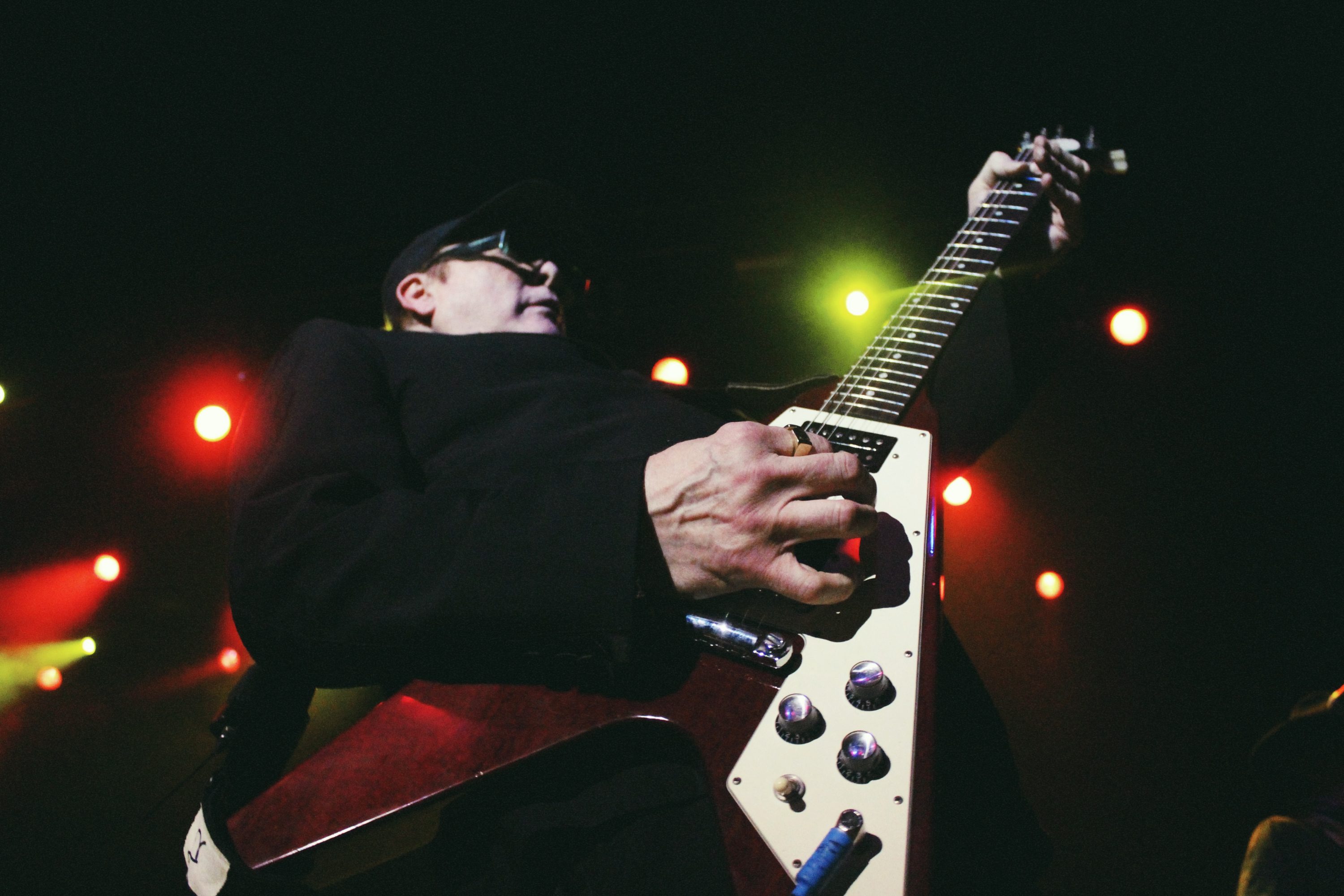 So, the reason we're both here today; Orange Amps.
Yes, and you know what? Our guitar player Rick Nielsen and I were friends before we started working together, so in 1968 we came to London, I was 18 and he was 20, and everything we loved, came out of London. It was the British invasion, and we were totally into it. So when we came here, we went to Cliff's shop, and he was telling us all about his plans of putting out a line of amps which he was building in the back of the shop, and the first ever band I saw using Orange was Fleetwood Mac. They came to the US in '69, and it was so great. At that time they had those really big ones, you know, giants. The cabinet was like ten feet tall, it was a joke. After that, we all just absolutely loved Orange Amps, and I've loved them ever since.
How long have you been using Orange yourself?
For a very long time, I don't even know what year it was. I've had an Orange guitar head which I've had for years that I use when I record, but I dont take that one on the road. I love the AD50 and the AD200, and what's so great with Orange having done so well for themselves, is that I can go pretty much anywhere in the world and get those amps, the exact rig that you want.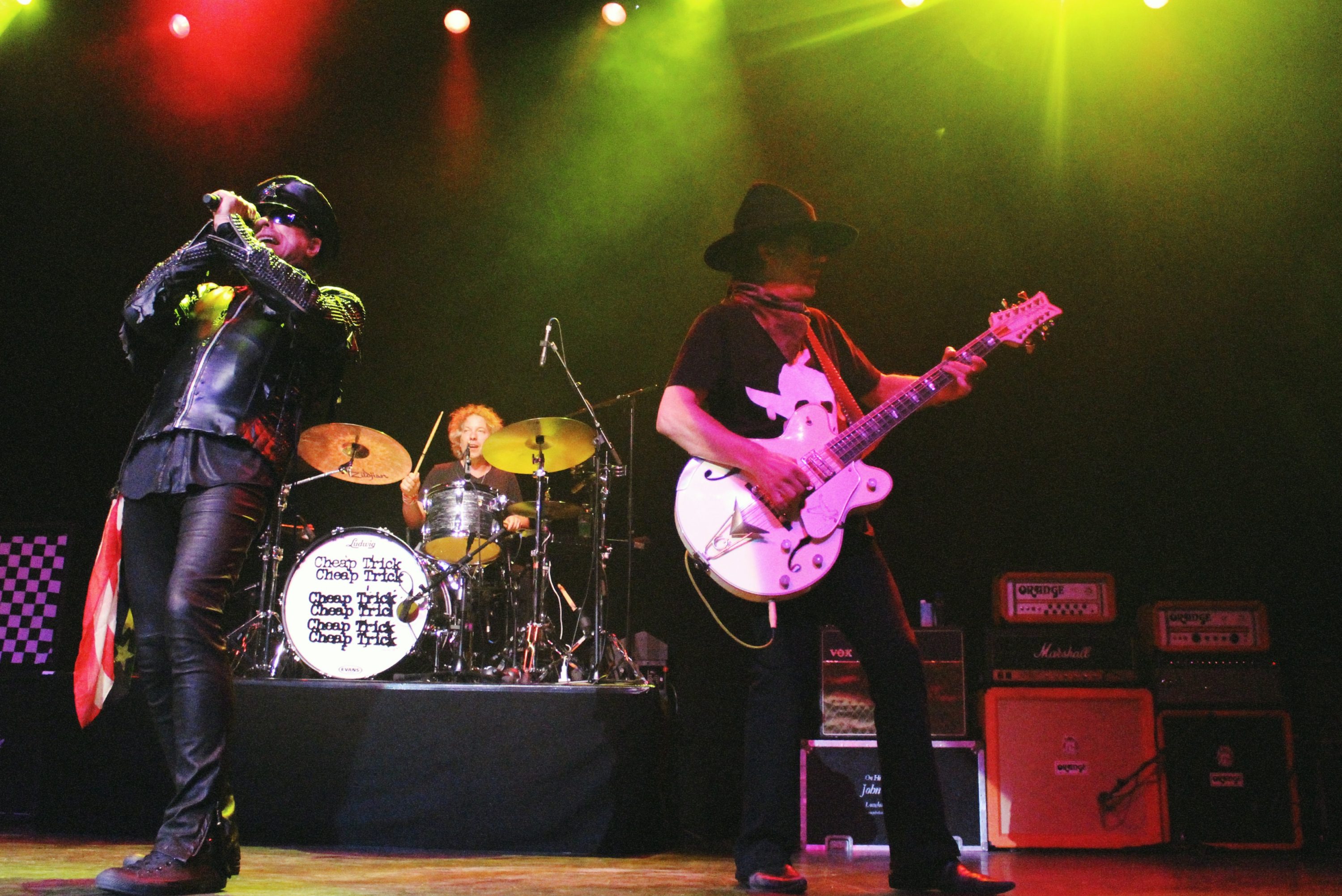 So what is it about the Orange Amps that draws you to them, is it the fact that you can pretty much just plug in and play?
Yeah absolutely! I don't use any pedals, none of us do, so it's just straight out, and I really like the push. Orange is great because you can push them and make them sound great at low volume too. Mainly I get a guitar sound, and add low end to it for bass, which I find especially useful since I've got a 12 string bass.
Let's talk some more about your famous 12 string bass…
Well, when I decided I wanted a 12 string bass, there was no such thing as a 12 string bass, there was an 8 string, but that was a crummy lil' thing that didn't have any low end, they didn't fret out, and they just weren't all that great. We just wanted our sound to be as big as possible, so I thought, 'Why don't I just get a bass with a whole bunch of strings, so it'll sound kind of like a guitar player just playing along with the bass player?' I originally started out as a guitar player, so it's sort of just like a huge, giant rhythm guitar.
Well, you mentioned your Christmas Record being released later this year, are you still planning on sticking to the whole 'releasing an album a year' thing after that as well?
Yes, absolutely! As long as the label allows it, and they were the ones who suggested it, so there'll definitely be more new music coming your way…
https://orangeamps.com/wp-content/uploads/2017/07/IMG_3173.jpg
1999
3000
Ella Stormark
https://orangeamps.com/wp-content/uploads/2018/04/Orange-Pics-logo-307px-279x103.png
Ella Stormark
2017-07-04 14:14:31
2018-12-14 13:14:41
Interview: Cheap Trick's Tom Petersson