An Appreciation of Orange (by Orange ambassadors)
Since the birth of Orange in the late sixties, musicians all over the world have fallen for the indistinguishable brightly coloured Orange amps, who in themselves have become a symbol of rock 'n' roll. I spoke to four talented musicians who all hold Orange close to their hearts, about their first encounter with Orange, and why they decided to spend their hard-earned money on the most colourful amps on the market.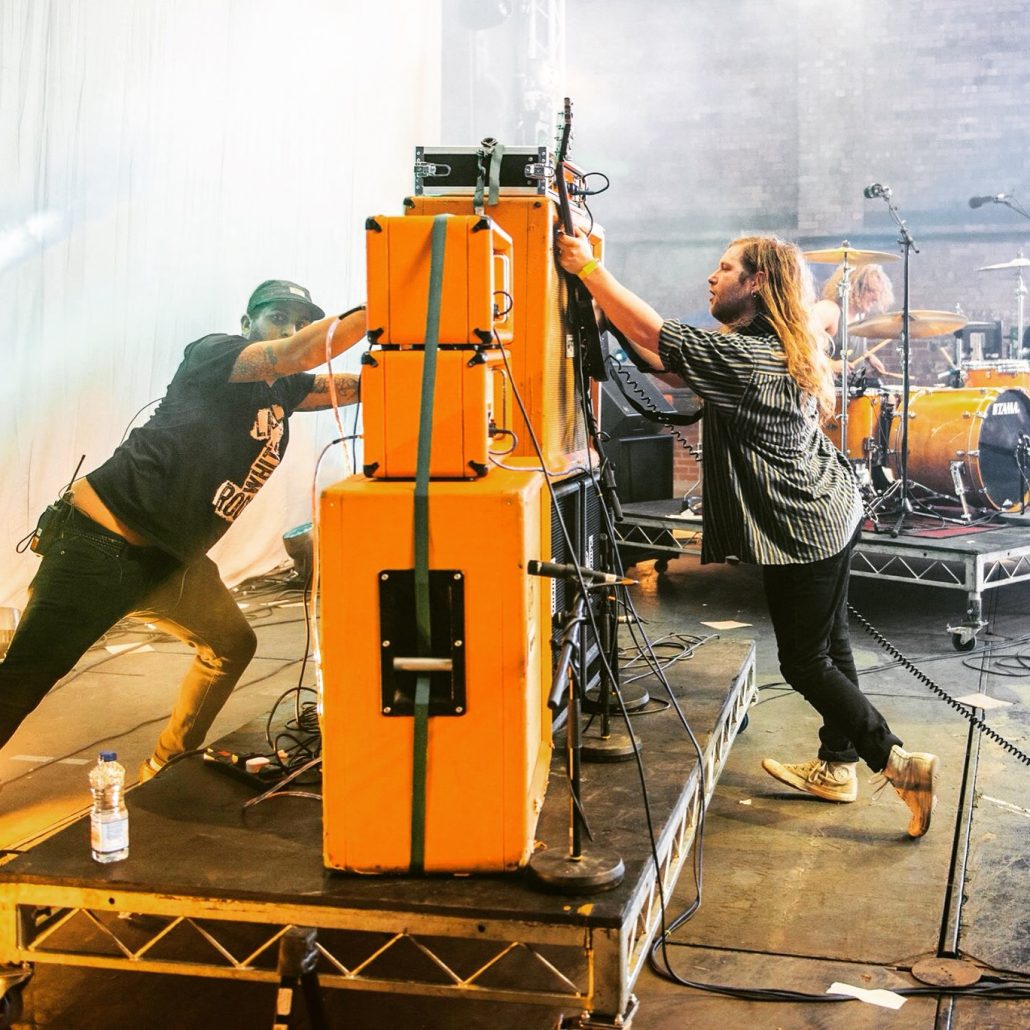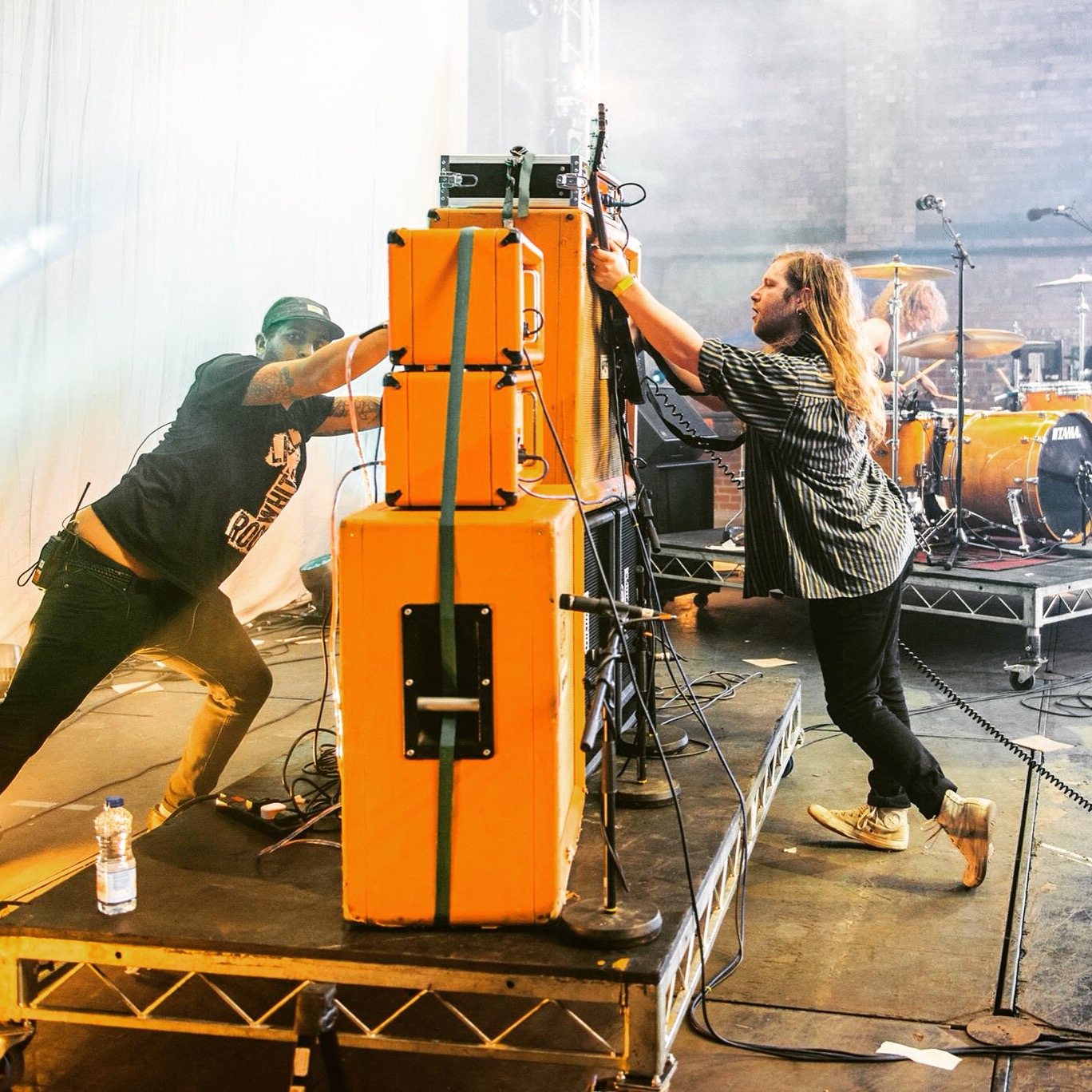 Thom, God Damn (https://www.facebook.com/goddamntheband)
Hello, My name is Thomas Edward and I'm a guitar tone and decibel addict.
I play in a noisy fuzz rock band called God Damn. I used to be a Fender twin and Vox Ac30 guy and then I tried some grown-up high power Orange heads and cabs and was a convert, rigs of doom territory.
We're a two-piece band as it stands, so covering as many frequencies as possible with one guitar is the name of the game. My drummer is the loudest drummer I've ever heard so volume from a backline is a must too.
I'll run you through the rig.
Orange 1972 Or120 with matching 4×12- 120w of vintage power and has a whole bunch of clean headroom and volume till about 5, I have this on 1 and it's the loudest thing going. It deals well with my loops and layers of Fuzz.
Orange 1997 OTR 120 with matching 4×12- This is the master knob version of the OR120 and has this really full sounding and honest crunch tone to it, very responsive, straight up no nonsense power, this is my main sound and is on constantly for clarity, you can happy run some really subby sounds through it and it doesn't bat an eye lid.
Orange OB1-500 with 2×15 cabs – This covers all my bass and low-mid sounds, good ole doughnut in that thing for some real power and tone. I've blown so many SVT's and other bass heads… this thing seems to be taking the battering night after night. I prefer 15inch speakers for my bass end as I'm running guitar through them.
My whole shtick now is using large amps and a few of them so that I've got headroom for my effects, the worst thing is a farting out amp.
Fernando, New Candys (https://www.facebook.com/newcandys)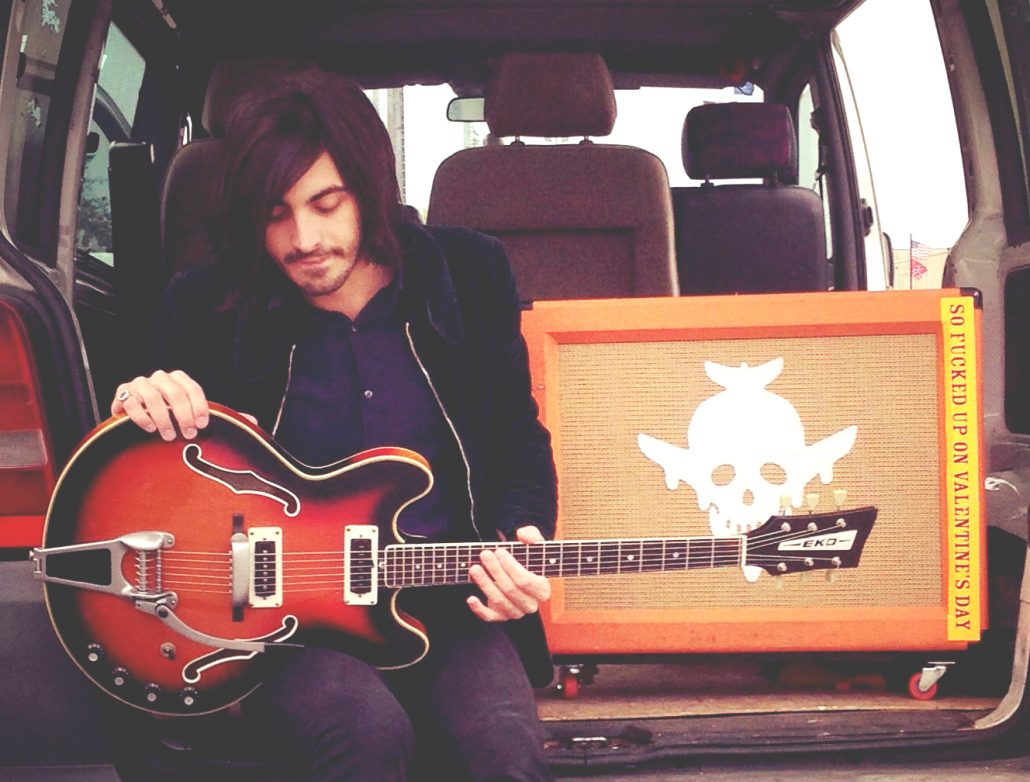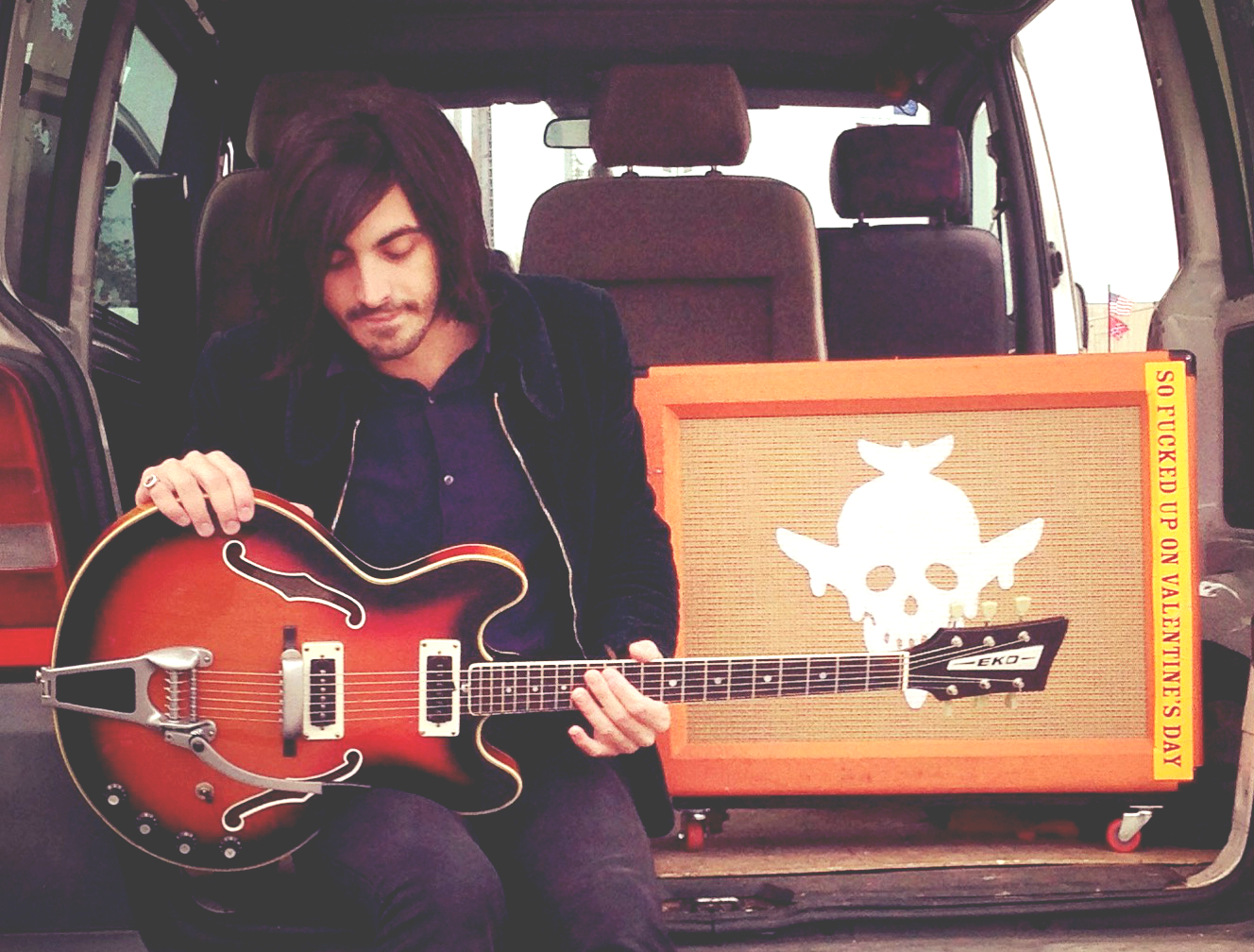 I remember well the first time I saw an Orange amp, the bright colour really stood out amongst all the black, and as I tend to describe music using colours and pictures instead of words it just caught my eye instantly. Back in 2013 I was in the studio recording with my band New Candys, and they had an AD30TC available. We all really liked the sound, and we actually ended up using it in every single song. One of the main characteristics is the thick sound, which both myself and all of my bandmates find crucial. I bought my first Orange amp two years ago and ended up with an AC30TC. In the past I always played amps without switch, but now that's my main pedal I don't use screamers of overdrives as much as I used to, instead I just push with the second channel.
Apart from the switch, I use an effect (which sadly is now out of production) called Back Talk by Danelectro, I use that for solos all the time. I've always loved customizing my instruments aesthetically to make them look a bit older and worn, and more personal, and I've done that to my amp. I've added the skull logo of Pete International Airport, which is the side project of The Dandy Warhol's guitarist Peter Holmstrom as he's my favourite guitarist, I've also added the title of a song by The Warlocks, just because I found it absolutely hilarious, and I love The Warlocks. Even with the Pete International Skull where the Orange logo is meant to be, everyone can obviously still tell that it's an Orange amp.
We're currently in the process of writing our next album, which hopefully will be released next year. Next month we'll be playing our last shows of 2015, starting in the UK, with Friday the 13th (yikes!) at Fuzz Club Festival in London Fields Brewery, Sunday the 15th at The Hope and Ruin in Brighton, before heading back home to Italy for a gig right outside Venice in a place called Spazio Aereo, and we're really looking forward to them all!
Reno, Derelics (https://www.facebook.com/Derelics)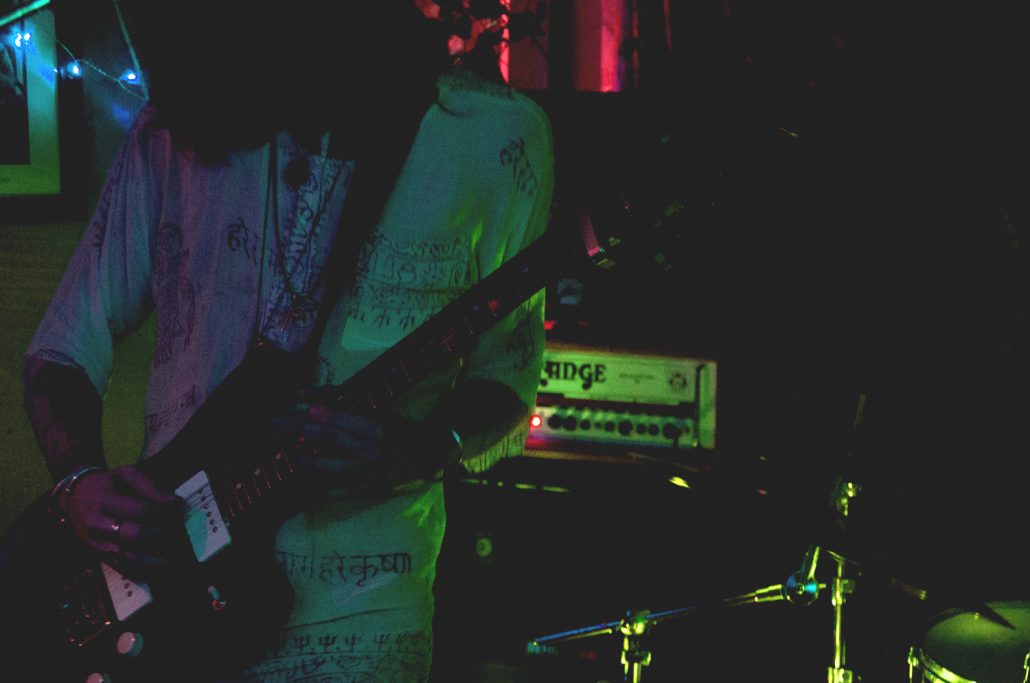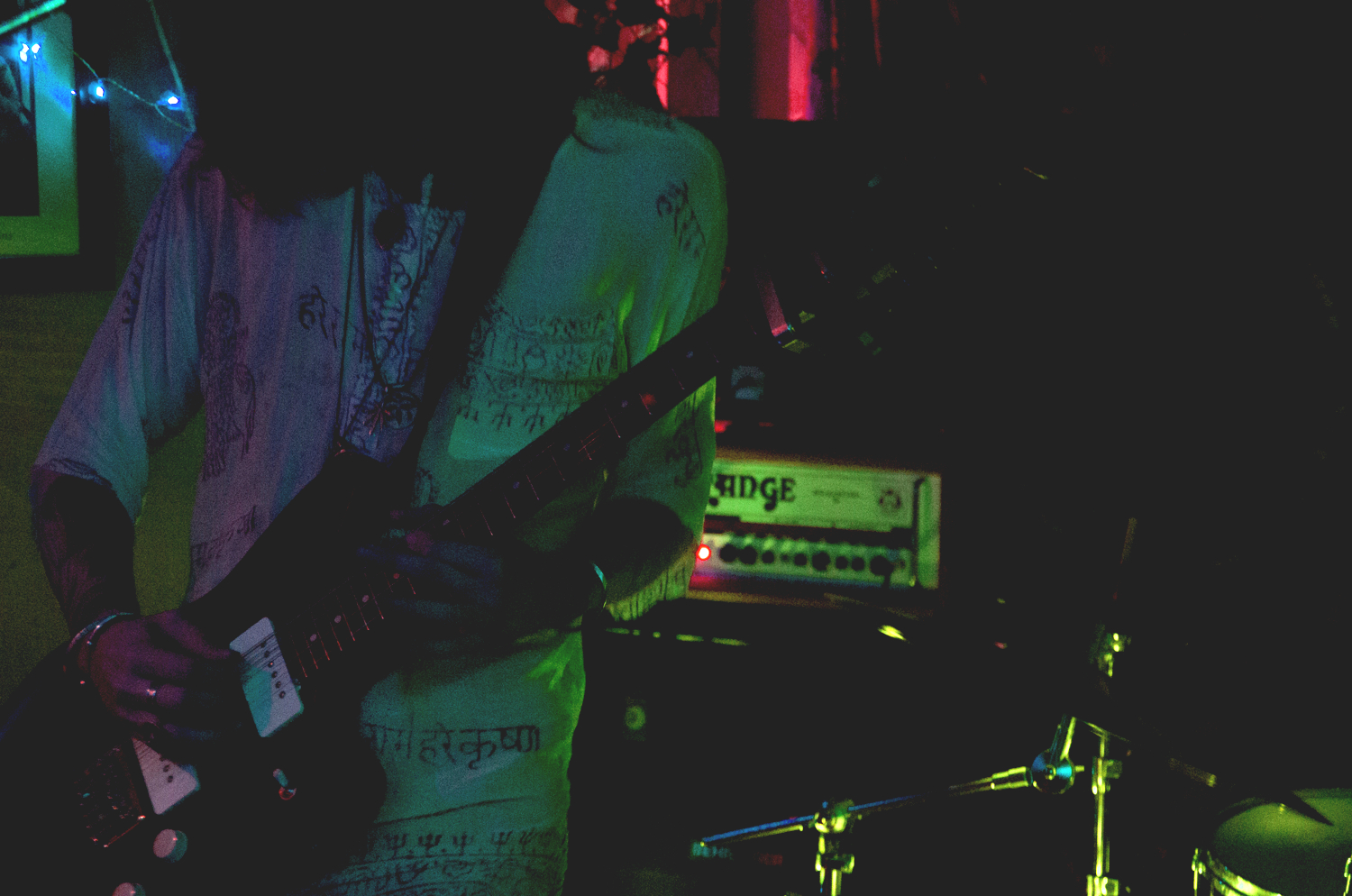 I had the pleasure of playing an Orange cab and head for the first time in Paris about three years ago (I think it was a Rockerverb 50), when I was playing in a stoner project influenced by non-stoner bands such as BRMC and Mars Volta. (This was what made me go in the direction I'm going now with my current band Derelics) The sound was the creamiest of the cream, the oozy boogie-woogie… Too good! I was playing a Gibson Les Paul Special 55-77 through an old Russian big muff, and it was the tits. I had just seen the Led Zeppelin reunion show with Page playing through stacks of Orange, so having the opportunity to play it myself was a bit of a fan boy fantasy!
I ended up buying a Rockerverb 50 off a nice French guy (yet another) that was running out of money like the rest of London. I've got it going through a 1960A Marshall cab, and it sounds great! I'm going out through two heads that are way better than anything I'll ever be able to play on for gigs unless I get my driver's license so I can bring them along with me, a Marshall JTM from the 70's and another straight cut Marshall cab. They compliment each other really well as one is pretty sharp, and the Orange is really creamy and thick. I swap between my three guitars, the first one being an old Gibson LP that I spent about six months wages on (After 15 years of playing I'm allowed to spend a fortune on a guitar, despite the fact I'm not Steve Vai). I've also got a pink paisley Japanese Strat and a Warmoth 12 strings.
I think my favourite effects to run through it are this old big muff PI, a ZVEX Fuzz Factory, a Wampler Black 69′ (very) transparent OD that never leaves my board (because it costs a nut and is just as good as it's expensive), an old TS9 (the 4 knobs version with mids adjustment, the best feature of this pedal!) and a Way Huge Swollen Pickle, which is a bit too heavy for what we play with Derelics but which is so satisfying to crank up (thus erasing the drums, the bass, and the vocals… worth it) and any wah pedal that will truly make it cream and cry.
The good thing about this head is that it has character, and you can recognize an Orange very easily, and as with Derelics we're going in a lot of different directions and it keeps our sound personal. We can do a Black Angels inspired sexy heavy blues and go back to a Kyuss tainted fuzz jerkoff, through a poppy Stone Temple Pilots sunny vibe, without losing the plot too much… just enough for it to sound strange.
Jamie, Psyence (https://www.facebook.com/psyenceuk)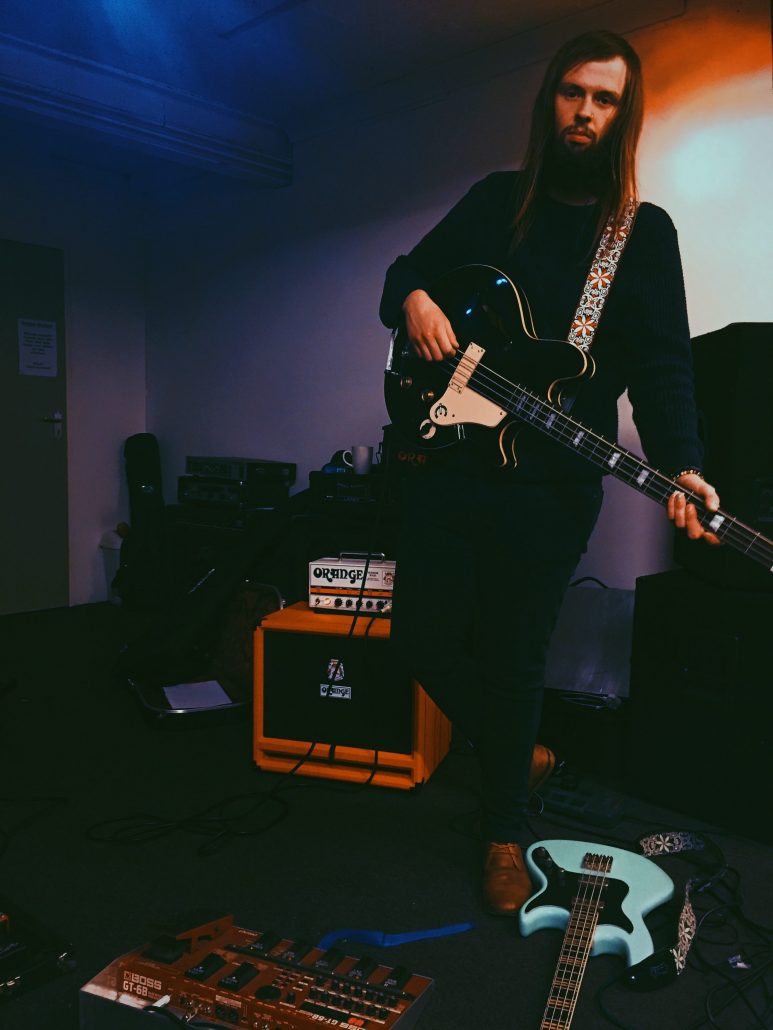 I'm Jamie Bellingham (Jay) from a band called Psyence, we're a 4 piece alternative rock band from Stoke-On-Trent and I'm the lanky one lurking at the back with 4 strings! I think the first time I saw a band use an Orange amp, it was possibly The Wombats or The Enemy (don't judge me, I was young!) they were on the same bill at the NME Rock n Roll Riot tour back in 2006, with Lethal Bizzle haha! Other than that it was just the local bands who'd occasionally have a bright orange beacon on stage. Oh, and obviously Jimmy Page, Geddy Lee and John McVie, legends!
The set up I'm currently using is an Orange OBC212 and a 500w Orange Tiny Terror Bass, I'm also looking at getting a second OBC212 to link them up because they sound so good! I'd had a really bad run with amps, I kept blowing them and one even set on fire in the studio! That's when I turned to Orange for something sturdy and reliable, and it happens to be the best sound I've ever had!
I'm running my basses through a Boss GT-6B Multi-Effects Bass Processor, and it sounds monsterous! Like seriously, it could dislodge vertebra! I swap my basses around too, I use a Hofner Violin, a Hofner Galaxie and a Fender Jaguar, but I've settled on an Epiphone Jack Casady Signature at the moment, and I've never been happier with my sound! All the equipment seems to go so well together!
I decided to use Orange because I was getting sick of getting my equipment repaired and continually looking for new stuff. I'd been recommended it and just decided to go for it one day. Also, one of my mates uses a Tiny Terror in his set up and it sounds phenomenal, that's what made my mind up I think.
I love Orange because they look cool as f**k, and sound even better! There's a whole vintage air to them and they're right workhorses, I've never had a problem with any of it! And that's coming from a destroyer of amps! Orange is the best equipment I've ever owned, and that's a fact!
https://orangeamps.com/wp-content/uploads/2016/03/image2.jpg
1368
1368
Ella Stormark
https://orangeamps.com/wp-content/uploads/2018/04/Orange-Pics-logo-307px-279x103.png
Ella Stormark
2015-11-13 15:51:11
2017-12-21 23:00:32
An Appreciation of Orange (by Orange ambassadors)