1970 – Creating the Orange Identity
Cliff Cooper – Founder & CEO
Our amps were covered in orange, but I believed that we should also make claim to the fruit. The Orange tree was the first thing that came to mind, so the Orange World Tree was included in the design – its roots encircling the world.
We came up with slightly different visuals for the World Tree as we developed the idea.
Creating the Orange Crest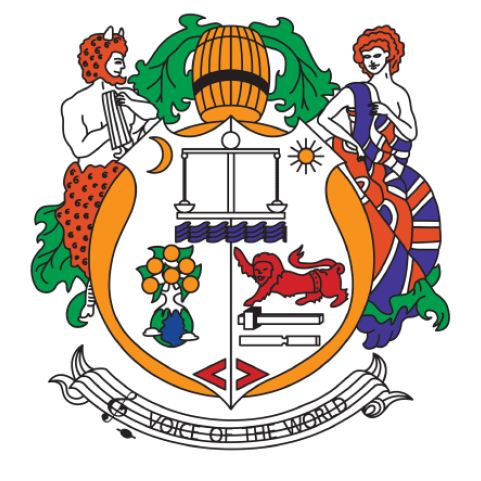 Crests and coats of arms are very British, heraldic and expensive looking – everything I wanted our amps to be. I decided we should design our own crest – it would certainly make our amps different. One of the things that I never understood about the music equipment industry back then was that everything looked so similar.
We were a very small business with very small money but we tried to appear bigger, hence slogans such as 'Voice Of The World' – we did even consider 'Voice Of The Universe' – and our advertising tried to project this. The photo [below] was taken of me in early 1970 in the back of the Orange Shop with early artwork for the Orange 'Voice Of The World' tree idea. This ended up on the crest as well as a stand-alone logo. In the early days I used to live and sleep in that back office using a Vox column speaker cab plastic cover as a sleeping bag.
The Crest: Forever part of the brand
Some four decades later, the Orange Crest remains an essential part of our brand's livery, and I'm pleased that it has stood the test of time and still attracts interest – as the cheeky 2003 press cutting from Playmusic Magazine shown below illustrates.
We spent a lot of time designing and creating the symbols used in our crest. To promote our new company, in 1970 we created a different style of advertising for our music equipment retailing – the cartoon comic strip. The comic strip shown below explains what the Orange Crest symbolises, but in other cartoons, we took good-humoured swipes at our rivals. These ads appeared regularly in the trade press and were extremely successful. The artist who sketched these cartoons was Brian Engel, who was in a band called Mandrake Paddle Steamer, and was also a talented songwriter and vocalist. It was Brian who painted the previously mentioned psychedelic fascia on the front of the Orange Shop.
https://orangeamps.com/wp-content/uploads/2018/06/tree.jpg
468
352
Neil Mitchell
https://orangeamps.com/wp-content/uploads/2018/04/Orange-Pics-logo-307px-279x103.png
Neil Mitchell
2018-06-21 15:04:46
2019-08-19 16:02:51
1970 – Creating the Orange Identity